A zen garden is a relaxing spot designed for the mind.
After a busy day, there is nothing more calming than visiting this tranquil spot.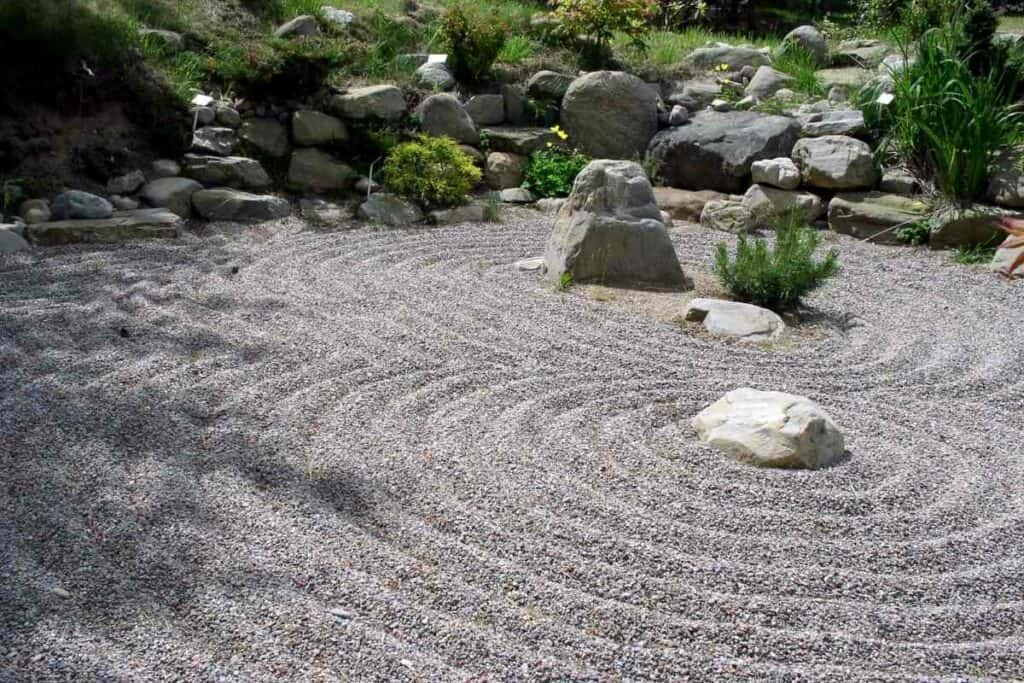 Read this article if you want to build a spot of your own, and are wondering what choice of sand is best. 
1. Alternative Imagination White Sand 
Not only is this a great choice for your very own garden, it can be used for activities to enjoy with children as it is non-toxic and available in a variety of colors.
Perfectly granulated, this choice of sand will give your peaceful spot the elegant, smooth finish it deserves. 
Pros
Good quality
Can extinguish embers and flames easily
Can be used in fish tanks
Cons
Would need a lot for an outdoor zen garden
Small quantity for price
2. ICN Buys Professional Zen Garden Sand
If you plan to use your tranquil spot regularly, then ICNbuys could be the choice for you.
This extremely fine sand is ideal for drawing patterns in – it is even finer than beach sand.
With little to no impurities, this product is ideal for table top gardens. 
Pros
You can purchase a zen garden at the same time
Fantastic customer ratings
Cons
One bag may not be enough to fit a large tray
Cannot be used alternatively 
3. Pure Organic Ingredients
This high quality quartz sand is produced in Idaho and can be used inside hourglasses as well as decorative pieces.
If you want your spot to look more realistic, then Pure Organic is the way forward. 
Pros
It's the real deal with no hidden extras.
Sturdy and fast-drying
Comes with a 100% satisfaction guarantee
Cons
May be too grainy 
You're paying for sand that you could collect with no cost at all.
4. Activa Decor Sand
This claims to be the preferred choice for home decor specialists and sand designers.
This can be used for an array of artistic flair as it is available in a whole host of colors. This fine grain sand is ideal to use in plant pots too. 
Pros
100% natural 
Durable 
Non toxic and safe for children to use
Cons
Overpriced for the amount received
Poor packaging resulting in leakages
Not recommended to be used with candles. 
5. Art Of Bali Zen Garden Granules
Impeccably soft and white, the Art of Bali zen garden sand arrives perfectly packaged every time.
With 4 pounds of sand to play around with, this will surely be enough to cover any miniature indoor zen spot without running out. 
Pros
Naturally white in color
Great quantity 
Fine grain
Cons
Doesn't come with a guarantee
Packaging of product can be poor
What Is Zen Sand Made Of?
This is a mixture of granite, black mica, white feldspar and quartz.
Pea gravel is another option that is commonly used as it is cost-effective and available in most gardening or hardware stores.
Whichever sand you choose should be easy to comb through with your rake. 
Things to Add
This is your peaceful spot, so you should add whatever makes you feel calm and relaxed. Most zen gardens contain the following:
Rocks
Plants
Pathways
A rake
Moss
How Deep Should The Sand Be?
A typical garden is filled with 4 to 5 inches of sand.
This should suffice if you enjoy raking it. There are no limits however, so feel free to fill it as much as you like. 
The History 
There is evidence to show that zen gardens have been around as early as the 8th century during the Heian period (794-1186).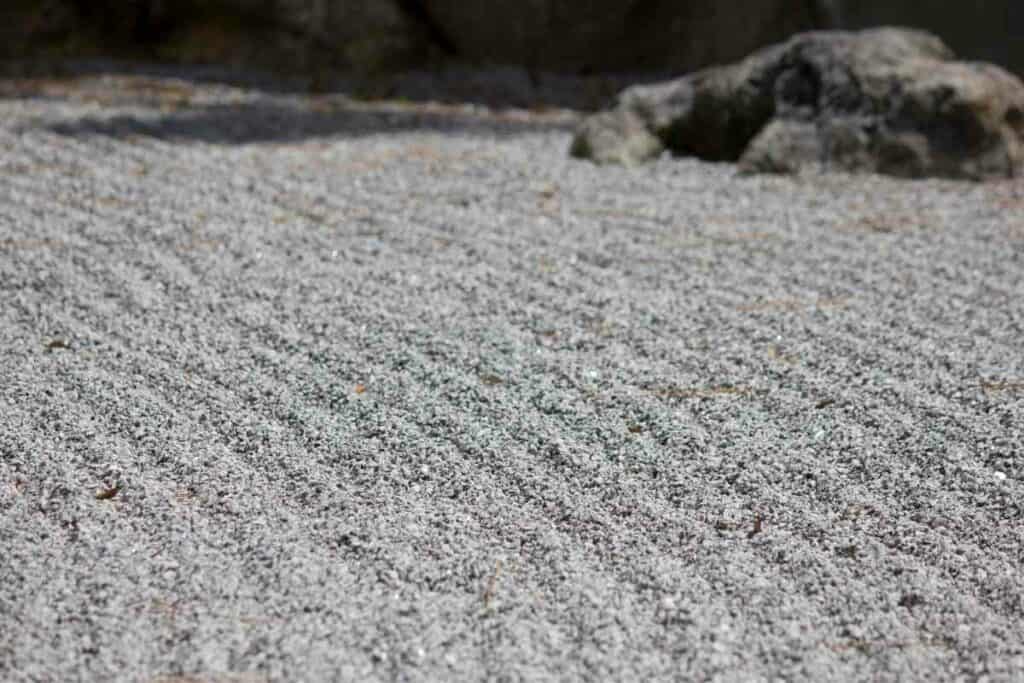 These ancient beauty spots were designed with rocks to symbolize Mount Peglai.
This famous mountain has been favored by many famous painters, and is thought to be a place of immortality according to Chinese mythology. 
Nowadays – They are a place of relaxation and prayer with the rocks being the most important feature.
You don't need to look too deeply into the history and meaning behind these tranquil landscapes, and you can design it in any way you wish. 
How To Do It Yourself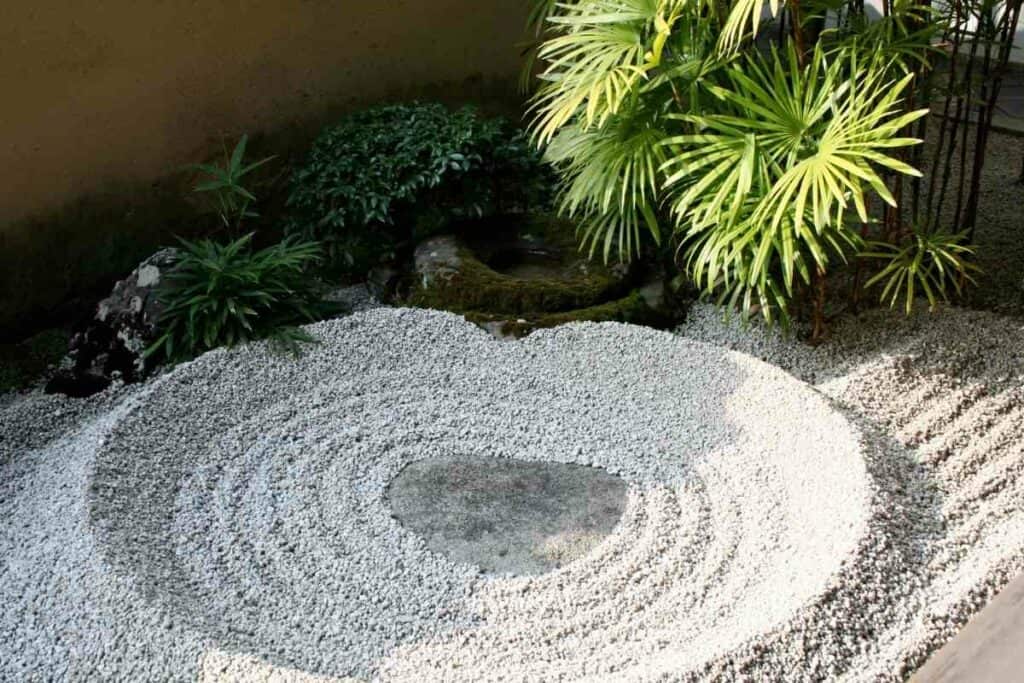 Step 1
Decide where you would like to build your zen garden.
If you have the space, you may want to build a large area outside. If you don't have the means, a miniature version indoors can be just as peaceful.
Step 2
To begin building, you will need a base.
This can be created with planks of wood such as railway sleepers or beams. If using indoors, a small wooden tray will be sufficient. 
Step 3
Bring the base together and line with an impermeable material to prevent weeds seeping in and climbing up into your garden.
These are cheap to purchase and are sold in most hardware stores.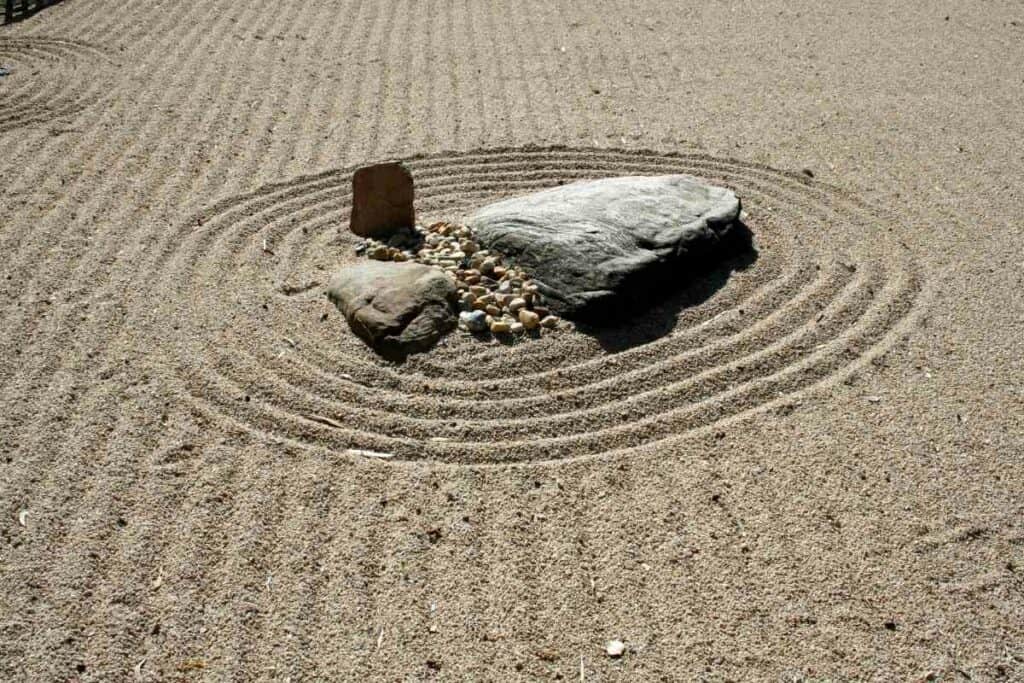 Step 4
Fill with your choice of sand or gravel.
As discussed above, a typical zen spot is is filled with around four to five inches high. 
Step 5
Add your items of choice. This may include logs, rocks or small plants. Try not to overdo it. They are designed to be simple and peaceful, so avoid crowding with items. 
If using rocks, you should pile no more than 3 in one spot. Simplicity and balance is the look you should try to achieve. 
Step 6
Now you are ready to draw patterns using your rake.
This symbolizes ripples made in moving water. You can do this as many or as little times as you want. You will start to feel the weight of the world lift from your shoulders as you do this. 
An End Note
When it comes to creating your very own place of peace, it isn't always necessary to buy the most expensive sand.
You could even collect your own from a local beach, or use children's play sand. 
As long as your rake can easily glide through the grains, then you need not worry. So what are you waiting for?
Follow our guide and start building your own place of meditation today! 
You Might Also Read