The summer months are rolling by and soon the chill of autumn and winter will be on its way.
Prepare yourself for colder, darker evenings with the warming flavors of the Japanese nabe dish, a hot pot treat where diners cook an assortment of meats, vegetables, and noodles in a simmering broth right at the table.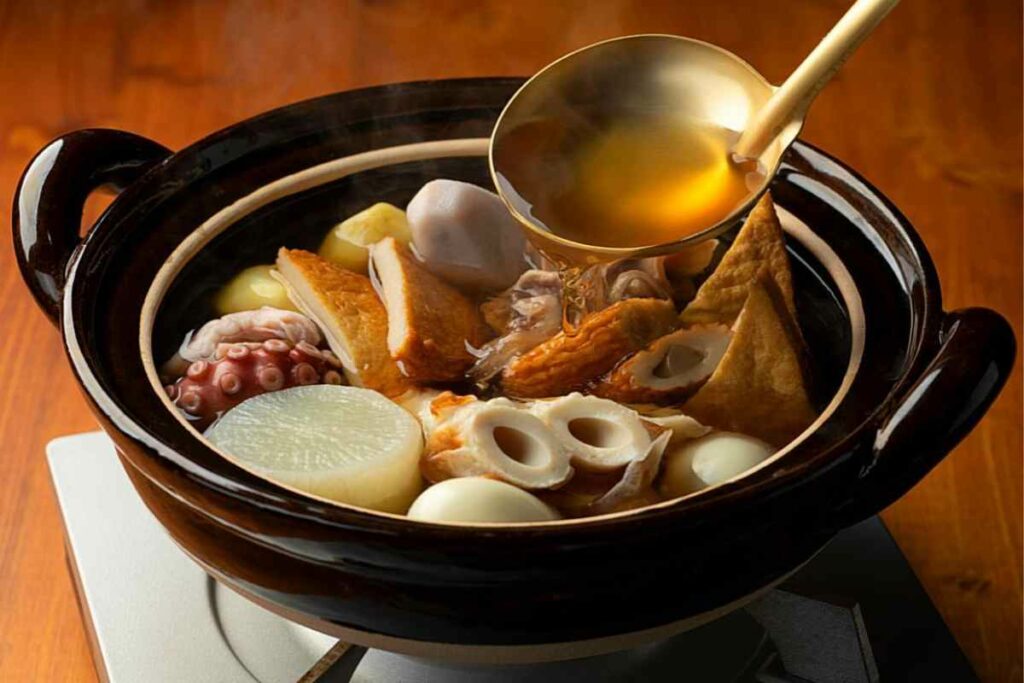 The key to a successful nabe is having the right pot, which should be able to retain heat and distribute it evenly.
Read on for my roundup of five of the best nabe hot pots for authentic flavor and a satisfying meal!
09/21/2023 10:19 am GMT
Authentic Japanese Nabe Needs the Right Hot Pot
A delicious nabe is an event. Gather family and friends around a burner on the dining table and assemble a delicious, lidded hot pot with ingredients that include meat, seafood, vegetables, noodles, and broth.
Read later – Nabe (Hot Pot) Guide
Nabe can even be enjoyed as a decadent meal for one too, with a smaller pot packed with your favorites and a rich dashi broth!
The nabe pot is essential to making this traditional Japanese food that has been enjoyed for centuries.
Nabe pots are made from various materials such as clay, cast iron, and stainless steel. Each material has its pros and cons, and the choice ultimately depends on personal preference.
These pots also come in different sizes so can select a pot that is suitable for the number of people you plan to serve.
The key types of Nabe pot include:
Donabe:  a traditional Japanese clay pot that is perfect for slow-cooking stews and soups. 
Shabu-shabu: a nabe pot that is ideal for cooking thinly sliced meat and vegetables. 
Yosenabe: a nabe pot that can be used to cook ingredients, including seafood, vegetables, and meat. 
Sukiyaki: a shallow iron nabe pot that is perfect for cooking thinly sliced beef and vegetables.
5 Best Nabe (Hot Pot) Pots Revealed 
I'm looking for a nabe pot of my own, so I've put in the hours to research and test various nabe pots to identify the ones that are the best in terms of durability, heat retention, and ease of use.
Here is my shortlist for the best nabe hot pot for a heartwarming meal.
For 3 People
Japanese Donabe Pot
This 2.1-liter authentic donabe pot is made with renowned Banko-Yaki ceramic in the city of Mie, Japan.
It is perfect for a delicious and authentic nabe that can fill three hungry individuals and will look great on your dining table as you prepare your hot pot.
This pot comes with a lid and is very versatile, though you cannot use it with an induction hob.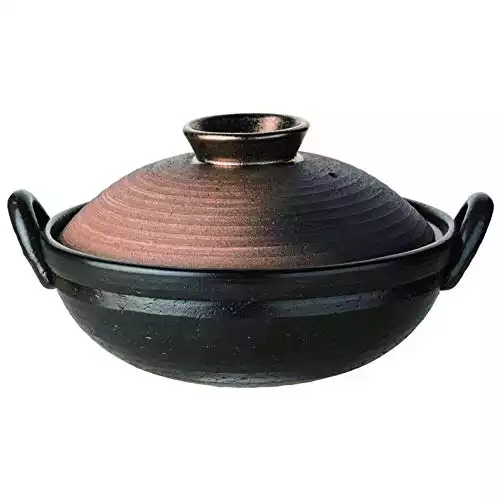 We earn a commission if you make a purchase, at no additional cost to you. Thanks!
For 1 or 2 people
TRUMDAKE 7" Cast Iron Japanese Sukiyaki Pot
This Sukiyaki pot is perfect for authentic nabe cooking for one or two people! I was impressed by the cast-iron unit that includes an integrated heating space for charcoal or briquettes.
The heat retention is excellent and you can use the elegant wooden lid to keep your hot pot ingredients covered while you cook.
Because this is a cast iron item, you will need to season it with oil to prevent rust.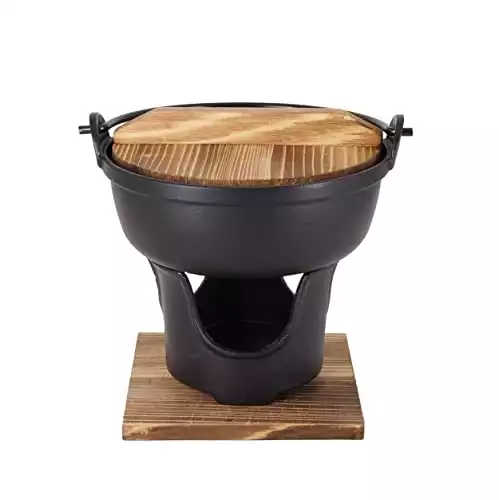 We earn a commission if you make a purchase, at no additional cost to you. Thanks!
For 2 to 3 cups
DONABE Clay Rice Cooker Pot
I love the rustic charm of traditional clay pots.
This beautiful pot is made in Yokkaichi, Japan, and has a capacity of 50 fluid ounces.
It is only suitable for gas stoves and microwaves, but you can use it to make beautiful rice as well as the nabe.
The clay is robust and beautifully finished with a smart double lid.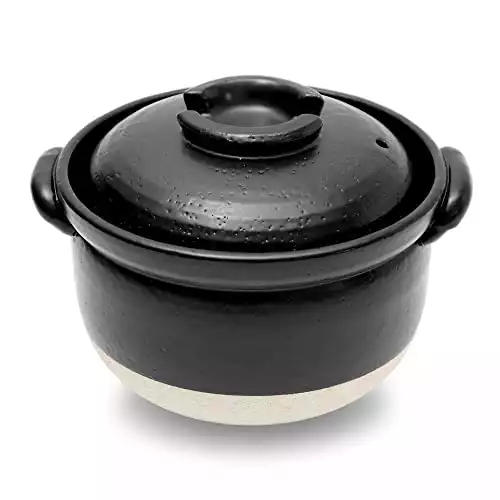 We earn a commission if you make a purchase, at no additional cost to you. Thanks!
Single Serving
DOITOOL Japanese Sukiyaki Pot
This smart cast iron pot is ideal for a single serving of classic Shabu Shabu or Sukiyaki nabe.
It features great quality cast iron, complete with a handle if you want to safely move the full pot.
A robust wooden lid is included to cover your nabe ingredients as they simmer!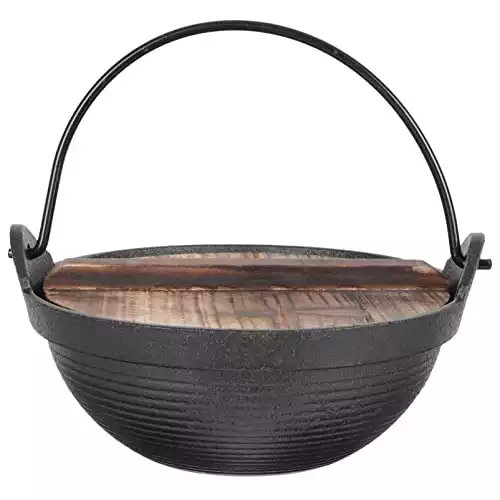 We earn a commission if you make a purchase, at no additional cost to you. Thanks!
For 3 – 4 People
Japanese Clay Pot Donabe
This stylish cream Banko-yaki donabe clay pot includes a lid and clay handles. It is 100% authentic, made in Mie, Japan.
This nabe pot uses far infra-red rays for consistent cooking and tender, savory ingredients and its 2-liter capacity can serve up to four hungry dinner guests.
It is also very insulating and will keep food hot long after you serve it.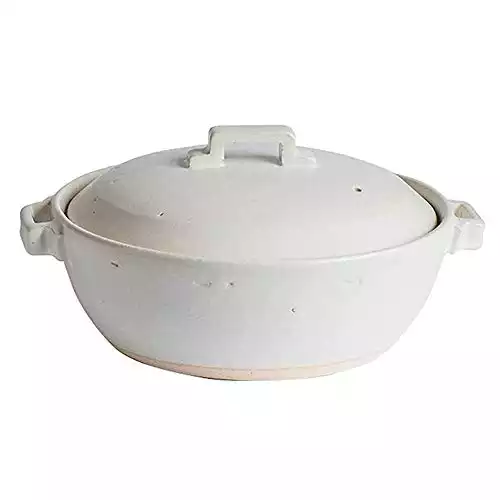 We earn a commission if you make a purchase, at no additional cost to you. Thanks!
Best Nabe (Hot Pot) Pots: Buying Guide
Here are the key features I looked for to find the best Nabe pot.
Nabe Pot Material
The nabe pot cooks your hot pot supper to perfection. Choose rustic clay pots (Donabe) or a heat-conductive material, such as cast iron or stainless steel.
A good quality nabe pot uses materials that distribute heat evenly, so your food is cooked thoroughly.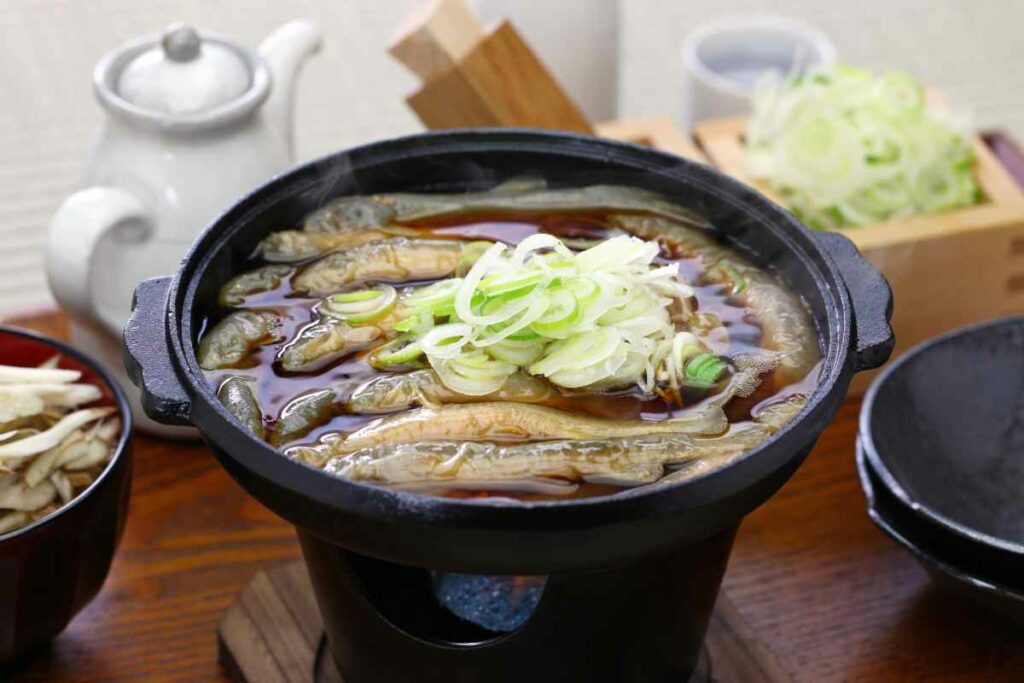 Nabe Pot Size
The size of your Nabe pot will depend on how many people you plan on serving. Cooking nabe for a large group requires a pot that is at least 12 inches in diameter.
If you're cooking for a smaller group, a pot that is 8-10 inches in diameter should suffice.
Shape
The shape of your Nabe pot will also affect how your food is cooked. Choose from round pots that are ideal for cooking meat and vegetables, while a rectangular pot is better suited for cooking whole fish as part of the meal.
Nabe Pot Lid
The lid of your Nabe pot needs to be a tight-fitting lid that will keep the steam inside so your food is cooked evenly. Look for pots that come with a steam vent, allowing excess steam to escape.
Nabe Pot Accessories
Some Nabe pots come with helpful accessories such as a burner or a strainer. These accessories can be helpful, but they're not necessary.  
Best Nabe (Hot Pot) Pots: Frequently Asked Questions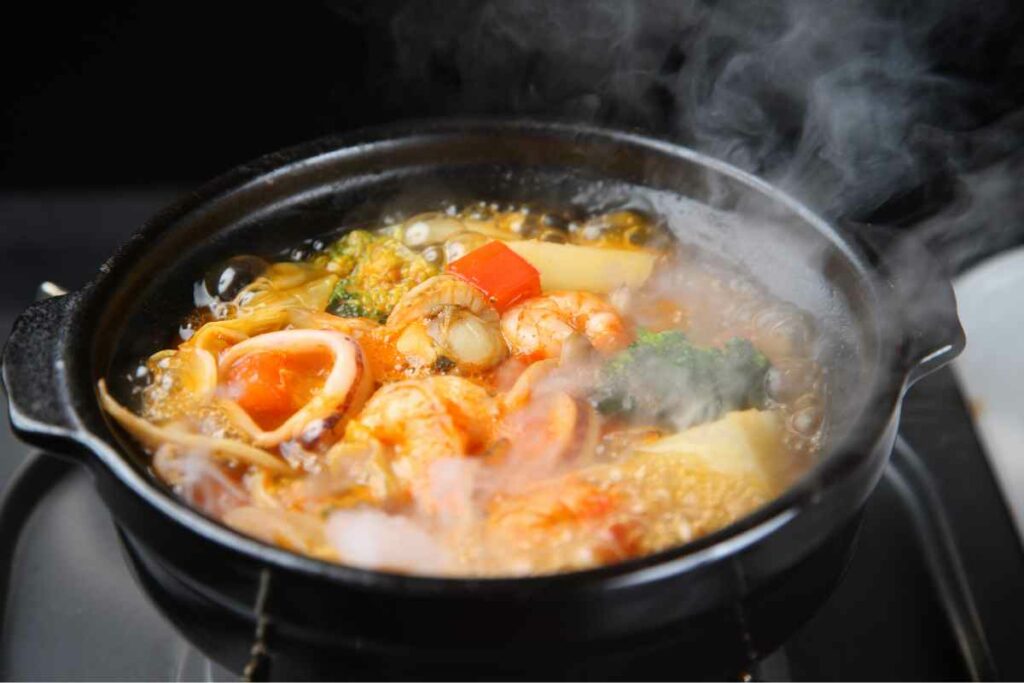 What is the best soup base for a Japanese hot pot?
The best soup base is entirely up to you! Popular soup stocks used for nabe include miso, soy sauce, and dashi. I particularly enjoy the rich and savory flavor of Miso. Seafood nabe is set off by dashi, a traditional Japanese soup stock that is made from dried fish and kelp. 
What is the most popular Japanese hot pot?
Shabu-shabu is the most popular of the nabe dishes as people love cooking thinly sliced meat and vegetables. The name "shabu-shabu" describes the sound of the ingredients being swished around in the hot pot. The meat and vegetables are cooked in a flavorful broth and then dipped in a variety of sauces before being eaten. Shabu-shabu is served in many restaurants for a great night out.
How do you make chanko nabe?
Chanko nabe is a hearty hot pot traditionally eaten by sumo wrestlers. To make chanko nabe, you will need chicken or pork broth, vegetables such as cabbage and carrots, and protein such as chicken, pork, or seafood. The ingredients are cooked in the broth and served with rice.
What are some traditional nabe ingredients?
Traditional nabe ingredients include tofu, mushrooms, fish cakes, and udon noodles. Regional nabe dishes may also include local ingredients such as salmon and crab. Learn about delicious nabe cuisine in my article, "The Complete Guide to Nabe (Hot Pot)".
Conclusion and final thoughts 💭
For me the TRUMDAKE 7″ Cast Iron Japanese Sukiyaki Pot takes the prize as the best Pot. The reviews on Amazon and other shopping stores also see to backup my choice.
Hopefully, the warmth and aromas of delicious nabe will stave off the cold of winter and keep me well-fed until spring. I'll certanly be using my new pot to try out some amazing new recipes.