If you know your umeboshi from your edamame, chances are a generic Japanese cookbook just isn't going to cut it. After all, there is so much more to this amazing cuisine than ramen and chicken yakitori for one.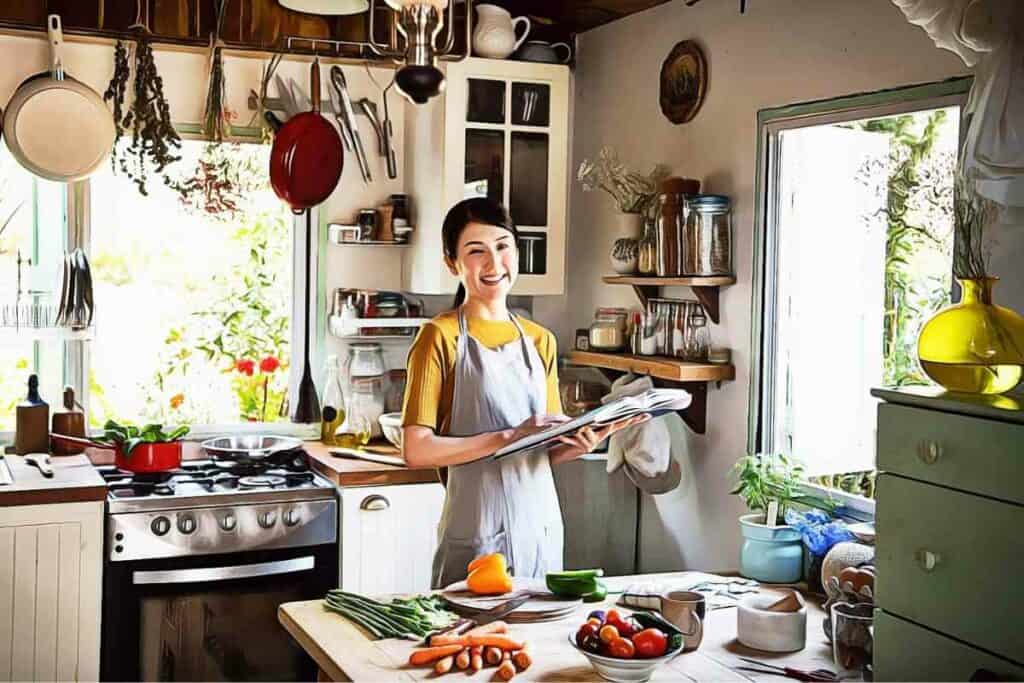 If you are looking to up your game with Japanese cooking, recreate old favorites from travel or simply learn more about this amazing cuisine, the best Japanese cookbooks will get you there.
In This Article – We share the best Japanese cookbooks, along with author profiles and some of their most delicious recipes. 
Best Japanese Cookbooks, 3 Classic Volumes
The skillful preparation of Japanese food takes a lifetime to truly master, but if you want to deepen your understanding of this cuisine, a cookbook is a great place to start.
We have selected three excellent Japanese cookbooks that would suit anyone who is passionate about home cooking and wants to include some outstanding Japanese recipes in their repertoire.
Here are our top picks for the best Japanese cookbooks.
1. Japanese Soul Cooking
We've all admired the elegance of well-prepared sushi and sashimi, and perhaps tried and failed in our home kitchens.
But this colorful and lively Japanese cookbook isn't about sophisticated cuisine.
Cuisine covered
Japanese comfort foods and home cooking: 
Gyoza
Tonkatsu 
Furai 
Curry 
Korokke
Kara-age
Tempura
Soba 
Udon
YoshokuItame
Chauhan
Donburi
Okonomiyaki
Vegan/vegetarian recipes?
A few vegetarian recipes
Author website
www.matsurinyc.com
Author social media
www.instagram.com/japanesefoodreport/
It's about the nourishing comforting and filling food we eat when recuperating from a cold, or nursing a bad breakup.
Japanese Soul Cooking nails the tasty, moreish dishes that you'd expect your mom to bring to your out-of-town home or dorm – if she was Japanese!
Read later – Nabe hot pot guide
This is soul food – Japanese style!
This 2013 bestseller is published by Ten Speed Press, an imprint of Random House.
Japanese Soul Cooking transports you to Japanese home kitchens, and those late-night hold-in-the-wall type eateries you visit after a night out. 
Authors Tadashi Ono and Harris Salat are great storytellers who will guide you through recreating the thirteen most popular types of Japanese comfort food.
This beautifully illustrated book digs deep into the origins of the comfort food of Nippon and really champions and showcases it in all its crunchy and slurpy glory.
Expect to be intrigued by the local, national, and international influences on some of your favorite Japanese soul food.
Their homey cuisine doesn't hold back on the meat, salt, or fat, so be prepared to stuff yourself, friends, and family with their delicious recipes. 
About the author(s)
Tadashi Ono 
Tadashi Ono is a leading chef who has mastered the cuisine of France as well as his native Japan.
Ono was born and bred in Tokyo, moving to LA in the eighties after training as a chef in his native Japan.
He is known for his innovative French-Japanese cuisine and for being the executive chef of La Caravelle in NYC, one of the country's best French restaurants. 
Despite his success with French cuisine Tadashi Ono remains an eternal student of Japanese food and culture as well as an accomplished ceramicist.
Ono has authored numerous cookbooks and written for leading publications like the New York Times and Epicurious. He is married with daughters. 
Read next – 5 Best Nabe Hot Pots
Harris Salat
American journalist Harris Salat is a certifiable Nipponophile and has a 20-year love story with the land of the Rising Sun.
He has had an eclectic career including periods working as a dairy farmer, baker, and chef, giving him the credentials to produce immersive journalism on Japanese Cuisine.
Salat has worked for media outlets and publications that have included the New York Times, CBS News, CNBC, and Gourmet.
He is known for his outstanding storytelling and detailed journaling of Japanese food culture forged in the restaurant kitchens of Tokyo, Kyoto, and NYC. 
What home chefs think of Japanese Soul Cooking…
This book is a great investment for the home chef who wants a bit of escapism in the culinary repertoire.
Emboldened by hype-men Salat and Ono you'll be ready to tackle these crowd-pleasing dishes. 
Home chefs love that all the popular dishes are covered. People who have visited Japan and are missing ramen, kara-age, okonomiyaki, and yoshoku will have their cravings more than satiated. 
The high-quality photography makes following the recipe steps easy. Salat and Ono have taken care to show how to complete essential prep like cutting fish for frying, which makes all the difference to the result. 
If you're vegetarian or vegan, you'll struggle with this book which is unashamedly all about meat, fish, eggs, and chicken.
There are one or two vegetarian dishes that won't disappoint a veggie guest at your dinner party. 
Top recipes from Japanese Soul Cooking
This Japanese cookbook includes special recipes along with some great weeknight dinners and meals for one: 
Wafu pasta, a westernized spaghetti dish topped with meat-rich sauces.
Tatsuta-age, homey fried chicken prepared with a rich marinade. 
Chauhan fried rice, a classic Japanese fried rice.
2. Kansha
If you are looking for a cookbook that addresses authentic Japanese cuisine, you could find no safer pair of hands than those of Elizabeth Andoh.
Her cookbook, Kansha: Celebrating Japan's Vegan and Vegetarian Traditions is a seminal work for any vegan bookshelf as it authoritatively addresses the principles and practices of Japanese vegan cuisine. 
Cuisine covered
Vegan tradition and modern Japanese cuisine: 
Stocks
Soups
Rice
Noodles
Soy
Tsukemono
Vegan/vegetarian recipes?
100% vegan
Author website
tasteofculture.com/
Author social media
www.facebook.com/people/Elizabeth-Andohs-Taste-of-Culture/100063924811335/
This book is excellent because it is not about vegan food masquerading as standard non-vegan Japanese fare, but because it celebrates the vegetables, stock, broths, herbs, and aromatics for themselves and calls you to appreciate their unique properties as you cook. 
An 'appreciation' of authentic Japanese vegan cuisine
The vegan chef can confidently cater a Japanese dinner party with this collection of over 100 recipes that artfully capture the nuances of Japanese cuisine.
As a reference, Andoh has drawn on specific areas of Japanese cuisine including shōjin ryōri (religious fare), historical cuisine, and modern classics. 
Her insights and knowledge of lore will help you master the basics like cutting.
You'll be able to confidently prepare meals using a wide range of cooking techniques, enhancing the flavor of fresh seasonal ingredients. 
Your pantry will also be filled with the correct staples for Japanese vegan cooking making it easy to craft your go-to recipes daily.
About the author(s)
Elizabeth Andoh
Elizabeth Andoh is an American ex-pat who has lived in Japan for over 50 years and is an authority on Japanese culinary arts. 
Adoh learned Japanese at the International Christian University in Mitaka, Japan and subsequently trained at Tokyo's Yanagihara School of Traditional Japanese Cuisine in Tokyo. 
By the 1970s Elizbeth Andoh has developed her own Japanese cooking program and newsletter called A Taste of Culture which continues to the present day.
In Japan, Andoh offers a program that combines cookery skills with an exploration of Japanese food culture that is popular with foreign residents and international visitors to Japan.
Listen to her insights in this interesting TEDX talk:
Elizabeth Andoh has been honored in Japan for her contributions to Japanese cuisine with numerous awards and accolades including membership in the Japan Food Journalists Association, and instances of serving on committees of the Japanese government.
She has also been named Yokoso Taishi, an honorary ambassador of Japanese culinary tourism.
The Taste of Culture newsletter is published six times a year and is an excellent accompaniment to any of Andoh's cookbooks. In addition to authoring cookbooks, she has been a correspondent for Gourmet Japan.
What home chefs think of Kansha: Celebrating Japan's Vegan and Vegetarian Traditions
This handbook of Japanese vegan cuisine is especially rarefied and detailed.
The book s highly technical with many ingredients that aren't easily accessible to the average American home chef. 
Be prepared to sub, sub, sub, or schlep to the very best Japanese food stores for the right herbs and spices.
However, the insights into the composition and seasoning of Japanese food will prove invaluable if you want to dig deep into Japanese cooking.
The consensus is that Kansha's recipes are delicious and varied enough to be used often. The book is encyclopedic and a little light on images, which would be great in an updated edition.
Top recipes from Kansha: Celebrating Japan's Vegan and Vegetarian Traditions
Delicious vegan recipes from this authoritative Japanese cookbook include
Creamy sesame pudding
Hand-pressed and toasted brown rice with hijiki (algae)
Scrambled tofu served with leafy greens
Robust miso
Pungent pickles 
Eggplant sushi
3. Japan: The Cookbook
The determined Japanese home chef who is looking to stretch themselves will be pleased to have this authoritative volume of Japanese cuisine which features well over 400 authentic recipes along with insights, tips, and tricks that will give you the authentic presentation and taste that you and your guests crave.
You'll be impressed by the unusual binding of this book with unique reinforced panels that are like bamboo or wood, complete with grain.
Cuisine covered
Soups
Rice
Noodles
Vegetables
Pickles
Fried 
Simmered
Grilled 
Raw
Dressed
One-pots
Stir-fries
Steamed 
Vinegared
Sweets
Vegan/vegetarian recipes?
Yes. A vegetarian edition of Japan: The Cookbook called Japan, The Vegetarian Cookbook is available on pre-order
Author website
www.nancysingletonhachisu.com/
Author social media
www.instagram.com/nancyhachisu/
Inside, eat clean with classic, unadulterated recipes covering all courses of a traditional Japanese meal including seminal recipes for soup, noodles, rice, pickles, and sweets.
A Japanese cooking encyclopedia
This is an authoritative cookbook but doesn't have the pressure of other works of national cuisine like the famous Cucchiaio d'Argento of Italy.
Instead, Haichu takes you through the definitive recipes you need to get a confident overview of Japanese cuisine. 
This definitive text covers regional cuisine from the length and breadth of Japan. This is not a book that is dedicated to one type of cuisine.
For Example – There are only seven sushi recipes. Instead, Haichu achieves a well-rounded compendium of diverse recipes, insightfully cataloged for informed catering to family and friends. 
About the author(s)
Nancy Singleton Hachisu
Nancy Singleton Hachisu is well-qualified to give her cookbook such a bold title.
Though she is a graduate of Standford University born and raised in California, Hachisu has lived in rural Saitama as the wife of a Japanese farmer for over 30 years.
From their home in a 90-year-old farmhouse, Nancy and her husband have labored to preserve many aspects of the Japanese culture and lifestyle. Her prolific writing of cookbooks reflects her assassins for Japanese farm food, ways, and artisanry. 
Japan has embraced Hachisu, who is a familiar face in the Japanese media.
Shows have been made about her rural lifestyle and Nancy has used the Japanese fascination with her to champion many obscure artisans and chefs who are preserving important food traditions.
Here is a clip from her talk at Google on her life and cooking:
What home chefs think of Japan: The Cookbook
Many owners of this large volume already own a Nancy Singleton Hachisu book and are familiar with her style and presentation.
Nancy explains cooking techniques and ingredients in great detail and delivers an accurate description of Japanese words and culinary principles. 
The book has been received as being a trustworthy and faithful presentation of Japanese food. The high-resolution color photography that accompanies the recipes is helpful.
If you're in a small studio or have a tiny kitchen you may find it hard to find room for this large book on a regular stand!
Japan: The Cookbook also is not a coffee-table cookbook, despite its beautiful visuals. Nancy Singleton Hachisu has laid out so much good information and detail in this text that it is well worth setting aside time for some in-depth study. 
Top recipes from Japan: The Cookbook
Delicious vegan recipes from this authoritative Japanese cookbook include:
Mountain yams, steamed with nori
Sardines dressed in a carrot-tomato sauce
Sesame-vinegar dressed asparagus
Chrysanthemum petals dressed with walnut
Ginger-soy bacon sando
What are the essential cooking utensils for Japanese cuisine?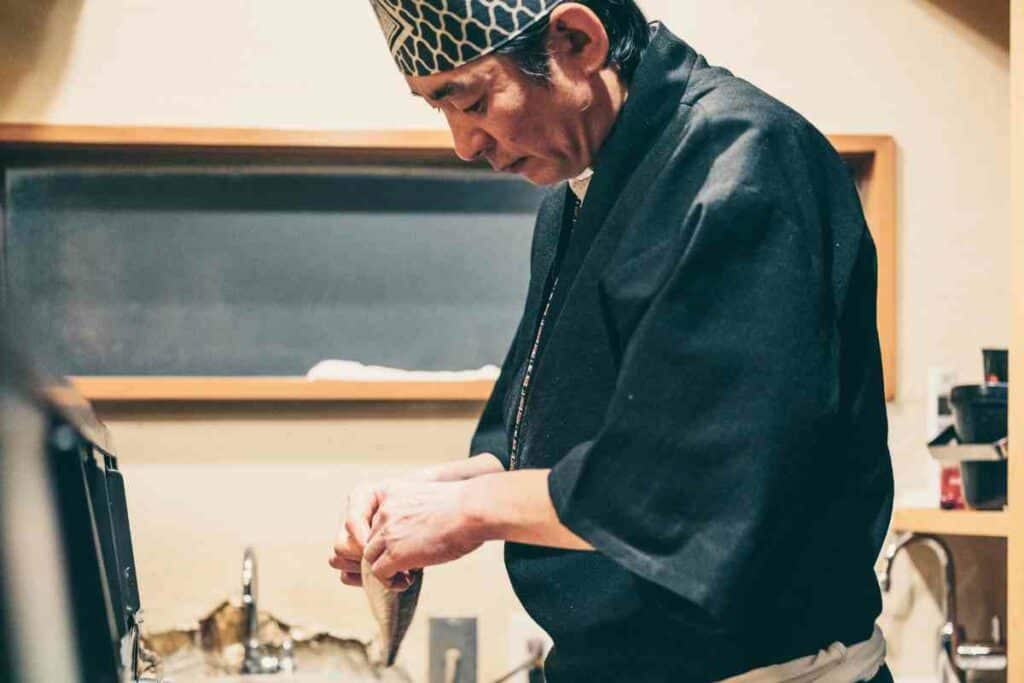 Having some or all of these key Japanese kitchen utensils adds extra authenticity to your cooking:
Hangiri and paddles: These are bamboo baskets and paddles for cooling and mixing sushi rice.
A Makisu: This is the bamboo mat that you can use to create sushi rolls or roll omelets.
Saibashi: These are long lacquer-free chopsticks that are perfect for retrieving deep-fried foods or turning items in a hot pan. 
Oroshigane: An ultra-convenient grater box that is perfect for preparing wasabi or ginger. One side of the grater coarsely grates while the other side purees. 
Otoshibuta: a special wooden drop lid that sits in your pan and supports the cooking of food while it is simmered.
What are the ABCs of Japanese cooking?
The basics of the ABCs of Japanese cooking are known as 'Sa-Shi-Su-Se-So'. Here's what it means:
Sa stands for satoh, which is sugar
Shi stands for shio, which is salt
Su stands for su, which is rice vinegar
Se stands for shoyu, which is soy sauce
So stands for miso, which is fermented bean paste
These elements can make any meal a Japanese meal, so keep your pantry stocked with them.
Best Japanese Cookbook FAQs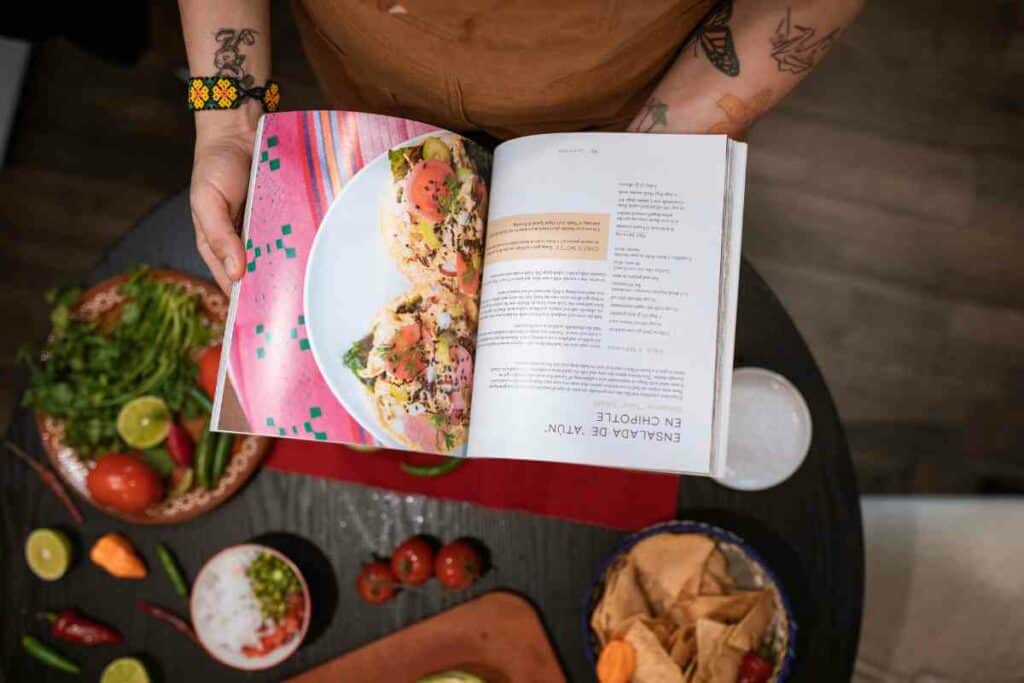 What is umami?
Umami (旨味) is a Japanese word that is similar to savoriness and is considered a basic taste after sweet, sour, salt, and bitter. It is associated with broths, meats, and pungent fermented fish. The umami taste is thought to have its own receptors on the tongue, making it a distinct taste.
How long can I keep a bottle of soy sauce in the pantry?
Soy sauce can last for up to three years without diminishing in quality if kept unopened. If the bottled is opened you can expect up to two years of storage if it is refrigerated, but an opened bottle should store perfectly well for at least a year on a pantry shelf. 
What's the most popular Japanese cookbook of all time?
One of the most popular Japanese cookbooks of all time is "Japanese Cooking: A Simple Art" by Shizuo Tsuji. This cookbook was first published in English in 1980 and has been widely acclaimed for its detailed explanations of traditional Japanese cooking techniques, ingredients, and recipes.
What's the oldest Japanese cookbook
The oldest Japanese cookbook that has survived to the present day is called "Ryori Monogatari" (which translates to "Tales of Culinary Arts"), also sometimes referred to as "Honzen Ryori Shu". The book is believed to have been written in the late 16th century, during Japan's Azuchi-Momoyama period (1568-1600), and was compiled by a woman named Sayo Murata.
What's the most expensive Japanese cookbook
One particularly rare and valuable Japanese cookbook is "Kyo Ryori: A Guide to Kyoto's Culinary Delights" by Kitaoji Rosanjin. Sold at auction recently for $56'000.
Kitaoji Rosanjin was a famous artist and culinary expert who lived in the early 20th century. "Kyo Ryori" is a beautifully illustrated cookbook that showcases the traditional cuisine of Kyoto, Japan. The book includes over 200 recipes, along with Rosanjin's own artwork and calligraphy.
In conclusion
Each of these cookbooks is an excellent investment for the home cook who wants to upgrade their washoku.
For the Japanese, cooking is more than the preparation of ingredients and requires study, contemplation, and lots of delicious practice.
Having great authors who are passionate about Japanese cuisine in the kitchen with you, albeit in book form, will help you master the nuances of good Japanese cooking!