Suntory Ltd サントリーホールディングス株式会社 is one of the world's biggest brewers, distillers, and beverage companies.
Nobutada Saji 佐治 信忠 is the grandson of Suntory founder Shinjiro Torii, so you can imagine just how amazingly wealthy he's going to be.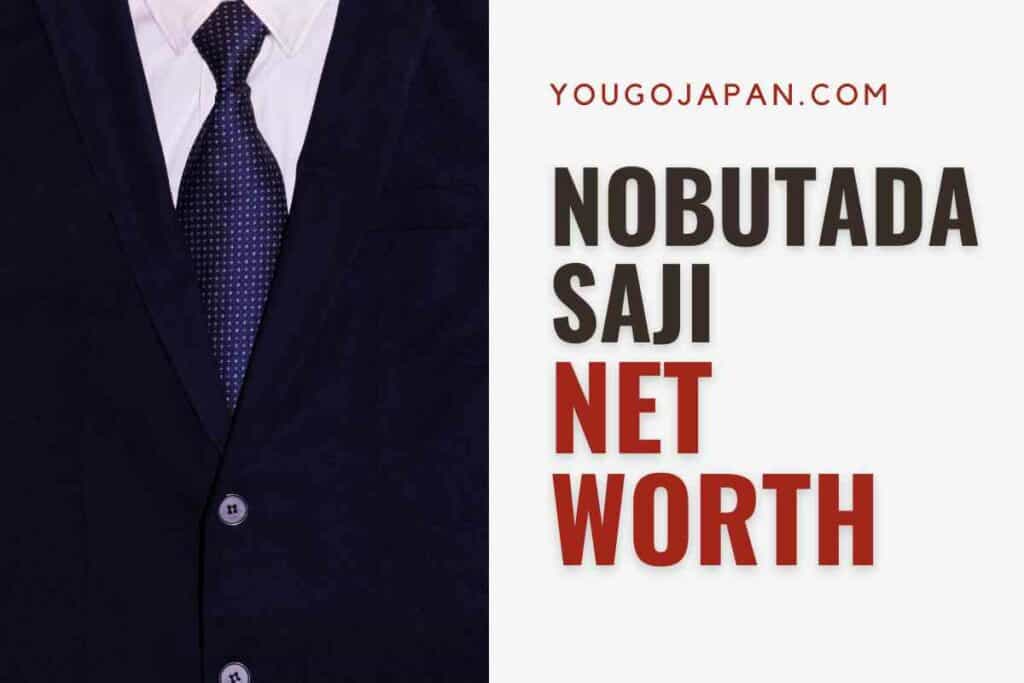 In this article, we take a closer look at the net worth of Nobutada Saji and the phenomenal wealth of this 120-year-old dynasty. 
The net worth of Nobutada Saji 佐治 信忠
77-year-old Nobutada Saji is Chairman of beverage powerhouse Suntory Holdings.
According to Forbes magazine, his family's combined stake in the company behind brands like Jim Beam, Orangina, and Ribena is worth more than $9.3 billion!
Nobutada Saji is personally worth $1.3 billion at the time of writing in 2023. This makes the Saji family the 4th richest in Japan and Nobutada the 2265th richest person in the world. 
A breakdown of Nobutada Saji's net worth
Nobutadad Saji's wealth is inherited from the vast food and beverage conglomerate, Suntory.
The descendants of Suntory founder Torii Shinjiro hold an 89% stake in the company, while Saji and his wife hold an 8.93%-sized portion of the company.
In addition, the Sajis also have a 5.45 percent of Suntory Beverage & Food Ltd. Suntory currently has total assets worth over $41 billion and reported an annual revenue of $20.2 billion in 2022.
Suntory Holdings Limited
Nobutada Saji is currently the Representative Director and Chairman of Suntory Holdings after stepping down from the position of President in 2014.
At that time Takeshi Niinami, became the first non-family member to become President and CEO of Suntory since the business was founded in 1899. In 2016, Nobuhiro Torii, Saji's nephew and the great-grandson of Torii Shinjiro became COO and executive vice president of Suntory Holdings.
Osaka-based brewery and distillery Suntory was founded as Torii Shoten in 1899. Shinjirō Torii started the company by opening a store to sell imported wines.
He went on to build Yamazaki Distillery, the first malt whisky distillery in Japan which was sold as Suntory Whisky Shirofuda (White Label). The name of Torii's business, Suntory, was taken from that first single malt. 
Suntory later diversified to brewing beer and bottling and distributing Pepsi products in Japan under license. In 2009, the company publicly traded as Suntory Holdings Limited.
It debuted on the Tokyo Stock Exchange in 2013. Suntory's subsidiaries include
Suntory Beverage and Food Limited 
Suntory Products Limited
Suntory Wellness Limited 
Suntory Liquors Limited
Suntory Beer & Spirits Limited 
Suntory Wine International Limited
Suntory Business Expert Limited 
Suntory acquisitions 
2009 Acquisition of orange soft drink company Orangina for $2.4 billion
2009 Purchase of Frucor energy drinks for $660 million
2013 Purchase of the beverage of division of GlaxoSmithKline, becoming owners of brands that included Ribena and Lucozade
2014 Acquisition of the US bourbon producer Beam Inc for $16 billion
The Beam deal made Suntory the third biggest distiller in the world. The acquired company became known as Beam Suntory.
Nobutada Saji 佐治 信忠 biography
Nobutada Saji was born on the 25th of November 1945 in Hyogo, Japan.
His father, Keizo Saji was an adopted son of Shinjiro Torii who later became the second president of Suntory. His aunt Haruko Torii was one of the largest personal shareholders in the company. 
Nobutada Saji went to Koyo Gakuin High School. He went on to study Economics at Keio University and later obtained an MBA at the prestigious UCLA Anderson School of Management. 
Saji joined Suntory and worked within the various operational departments of the company for many years before becoming President in 2001 after his father Keizo Saji and uncle Sinichiro Torii.
When he assumed leadership, Suntory was privately held, but it has since gone public and transformed into a multi-billion dollar conglomerate that competes on a global scale.
Nobutada Saji 佐治 信忠 personal life
Nobutada Saji continues to live in Hyogo, Japan. He is married but has no children. In his spare time, Saji is a keen golfer and swimmer. 
Facts about Nobutada Saji
The descendants of Torii Shoten are divided into two clans, the Torii clan, and the Sajii clan
In 2018 Suntory adopted the motto "Mizu To Ikiru", meaning "living with water". 
Kotobuki Realty Co is the founding family asset management company that has the family's Suntory shares.
Suntory still operates its two whiskey distilleries:

The Suntory Yamazaki Distillery in Yamazaki, Shimamoto-cho, Mishima-gun, Osaka.
The Suntory Hakushu Distillery is located in a forest in Hakushu, Yamanashi Prefecture.

Suntory owns a concert hall in Tokyo. The Suntory Concert Hall was opened in 1986 by Nobutada's father Keizo Saji. The Tokyo Philharmonic Orchestra often performs there and the hall has also hosted performances by the Wiener Philharmoniker. 
Nobutada Saji is also nicknamed 'Gary Saji
Integrating Beam and Suntory has not been easy due to the cultural differences and the different distilling techniques each company uses. 
Suntory is the maker of the popular Boss-brand canned coffee.
In the 2003 film Lost in Translation, Bill Murray's character advertises Suntory whiskey with the line, "For relaxing times, make it Suntory time".                                                                                                                                                                                                                                                             
Nobutada Saji quote 
"This combination will create a spirits business with a product portfolio unmatched throughout the world"
Rounding up 
As President of Suntory, Nobutada Saji has built this third-generation family business into a global conglomerate that is well-positioned to take on America.
In handing over the reins of the company to a non-family member for the first time in the company's history, Suntory has completed the transition to becoming a publicly traded company rather than a privately held family firm.