Our homes are our castles and, as we look around our space, we often think of ways that we could add meaning and life to the place we spend our time.
In modern life's busy and stressful times, we seek relaxation and comfort as well as inspiration within our habitats.
Japanese Ikebana offers these sensations and provides colour and light to our personal spaces.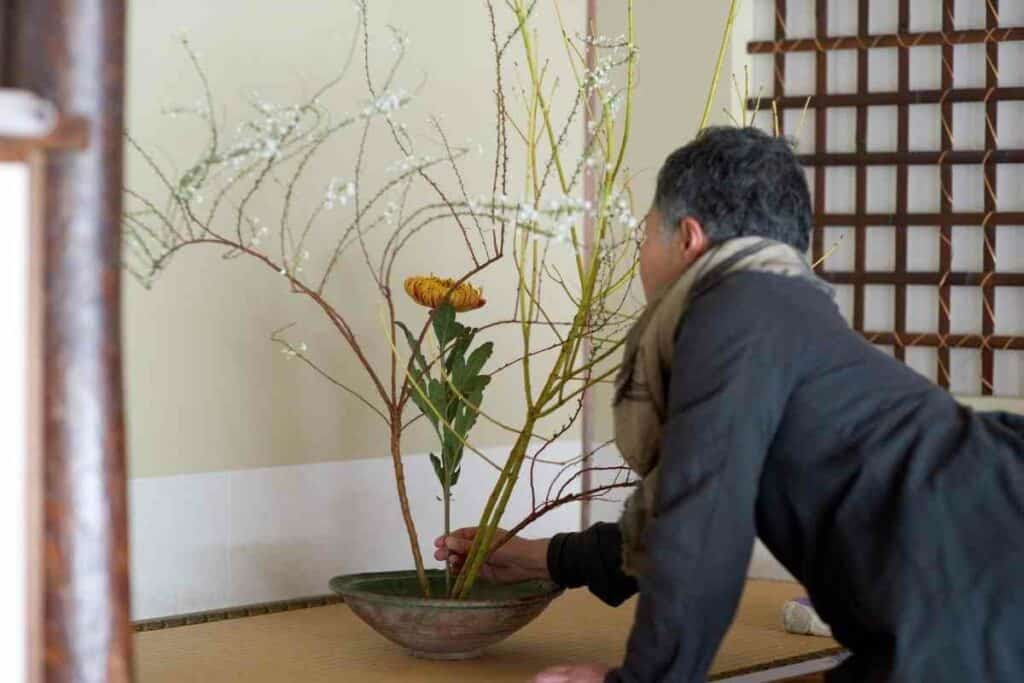 In Japanese, Ikebana is a combination of two words: ikeru and hana. Ikeru means "to have life" or "to arrange" and hana means "flowers".
Therefore, when combined, ikebana means "giving life to flowers".
It aims to showcase the natural beauty of the chosen blossoms, bringing nature closer to us and bringing forth feelings of inner peace.
This is achieved by neat, minimalist arrangements in ikebana vases. It remains a tradition today.
Ikebana Vases
Ikebana vases are not the same as a regular vases for flower arrangements that you might find in the western world.
They differ in both their function and their appearance. Despite having similar functions and patterns amongst themselves, they differ too.
There are many designers of ikebana vases, each with its own styles and designs.
As a Result – There are lots of choices of ikebana vases when it comes to choosing one for your centrepiece or favourite blooms.
Ikebana as an Art Form
Ikebana is not as simple as choosing some flowers and putting them in an ikebana vase that you like.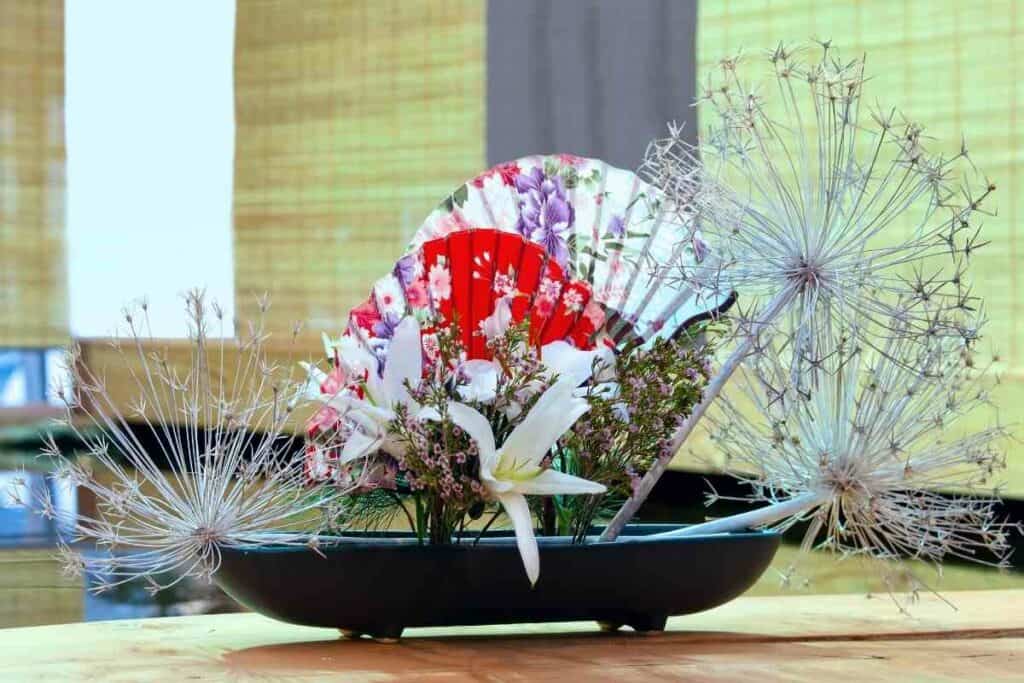 It is much more complex and is considered more like an art form.
It requires collecting different natural elements including foliage, flowers and even branches that will be used for your arrangement.
You would then need to choose a vase that suits the style of your arrangement.
Ikebana Styles
Before selecting a vase, you need to consider the style of ikebana arrangement that you will place into it.
Rikka is a traditional style of ikebana and is one of the first styles created. Rikka uses flowers to expand our perceptions of the universe and heavens. Buddhist monks developed this style with its nine positions used in its composition to infuse their teachings into the arrangement.
Seika is a little less prescriptive in its composition. Seika means "fresh living flowers". It uses three of the rikka positions to make unequal triangles. Its focus is on zen rather than the spiritual connections in rikka arrangements.
Nageire is similar to seika as it does not have as many 'rules' as when arranging rikka. Nageire translates as "thrown in", so it is not difficult to imagine the style here. This certainly reflects the style of ikebana vases that you will need to use: bottle, bouquet or cylinder vases are more appropriate.
Moribana's aim is in creating sculptures with living plants. This style of ikebana therefore often needs larger vases placed on the floor, offering feelings of importance and opulence within the space.
Ikebana Structures
Before we get onto the vases themselves, certain supporting structures need mentioning.
Firstly, the kenzan. Kenzans are essentially a place on which to fix your ikebana materials.
They're often called pin frogs and are usually made from brass though there are steel or plastic ones too.
The base of the kenzan contains needles where stems and branches are slotted to maintain their position and posture.
You can also bend individual needles to create different angles for your blooms.
Aside from kenzans, many use wires inserted into the stems of their flowers to straighten them and give them support.
It is important to consider the lengths of the stems that you wish to use in your arrangement before choosing a vase.
The longest stem is usually around one and a half to two times the sum of the vase's width and height.
If you're new to ikebana, this factor will help you to keep the proportions right when selecting your vase and materials.
Ikebana Vases
Choosing an ikebana vase is not something that should be done quickly or on a whim.
You need to consider the style of ikebana arrangement and the supporting structures needed before you make your choice as well as your desired location for your finished product.
That's why we've had a big build-up before introducing you to the 7 types of ikebana vases you should know!
So, now that we're familiar with the styles of ikebana and the supporting structures that we can use, let's take a look at some of the vases.
1. PuTwo Vases
PuTwo ikebana vases come as a set of two and give a modern, contemporary feel to your ikebana arrangements.
Each vase has a transparent glass vase that is held in a rose-gold frame. These vases are ideal for nageire and seika styles of ikebana, particularly if you prefer the minimalist look.
2. Wandic Ikebana Vases
There are lots of options out there when it comes to Wandic vases.
Their variety allows you to explore the different ikebana styles and really play around with your arrangements.
There are many ceramic Wandic vases in an assortment of shapes and colours, with many being shallow and oval-shaped in matte or glossy finishes.
Almost any ikebana style would be suited to a Wandic flower vase. Many of these vases come with a kenzan too to help you structure your ikebana flower arrangement.
These vases are suitable for the rikka style of arrangement due to their open structure at the top which allows for greater flexibility as to where you can place your materials.
3. Georgetown Round Ikebana Vases
Georgetown makes stunning ikebana vases that are perfect if you're just starting with ikebana.
The small vases have kenzans inside with a small hole at the top, so they are more suited to smaller, simpler ikebana arrangements.
Due to their small size, these vases are not the most suited to the rikka style of ikebana arrangement.
4. Craffancy Ikebana Vases
This variety of ikebana vases often come with a kenzan and are suitable for most styles of ikebana arrangements.
They are shallow in their designs with some on a raised pedestal to give them a little more height and intrigue.
Craffancy makes ikebana vases with stunning flower petal designs that adds a touch of elegance to the overall look of your ikebana arrangement.
5. Wazakura Vases
Wazakura ikebana vases are ceramic and come in a variety of shapes including fan shapes and square and rounded designs.
Ideal for any style of ikebana arrangement, they can easily be used with a kenzan to structure the arrangement.
6. Maya Star Japanese-Style Ceramic Vases
These larger vases make a great choice for simple ikebana arrangements.
With a more natural and rustic look, the dulled colours of greys, browns and black ensure that the arrangement stands out from its vase and offers a purer look, drawing attention to the colours of the foliage and flowers.
7. Shigaraki Pottery Vases
These taller vases are made in the Shiga Prefecture in Japan and add character to your ikebana design.
Shigaraki vases are designed purely with ikebana in mind and are made in one of the last remaining six ancient kilns in Japan.
Their pottery is both durable and stunning to look at.
They are largely grey in colour and have a textured appearance that is perfect for drawing attention to your ikebana arrangement.
Final Thoughts of 7 Types of Ikebana Vases You Should Know
When choosing your ikebana vase, it's important to realise that the vase should be a well-thought-out part of your arrangement and it is equally as important as the blooms themselves.
The shape, colours and material used in the vase can affect the emotional feeling or the symbolic meaning of your ikebana arrangement.
Given its beauty and tranquillity, ikebana is a popular choice for many homes, not solely Japanese homes, having deviated from its roots in temple offerings from centuries ago.
This living, innovative art form will no doubt maintain its popularity for centuries to come.
Read Next