A zen-inspired bedroom concept involves infusion of natural elements, use of minimalistic furniture and decorations, subtle lighting, earth-friendly floorings, paintings in earth and warm hues, relaxing fragrances, and a healthy splash of nature.
A bedroom is designed to be incredibly personal and cozy for relaxation and comfort from the world's troubles. Zen-space is more than just an aesthetic.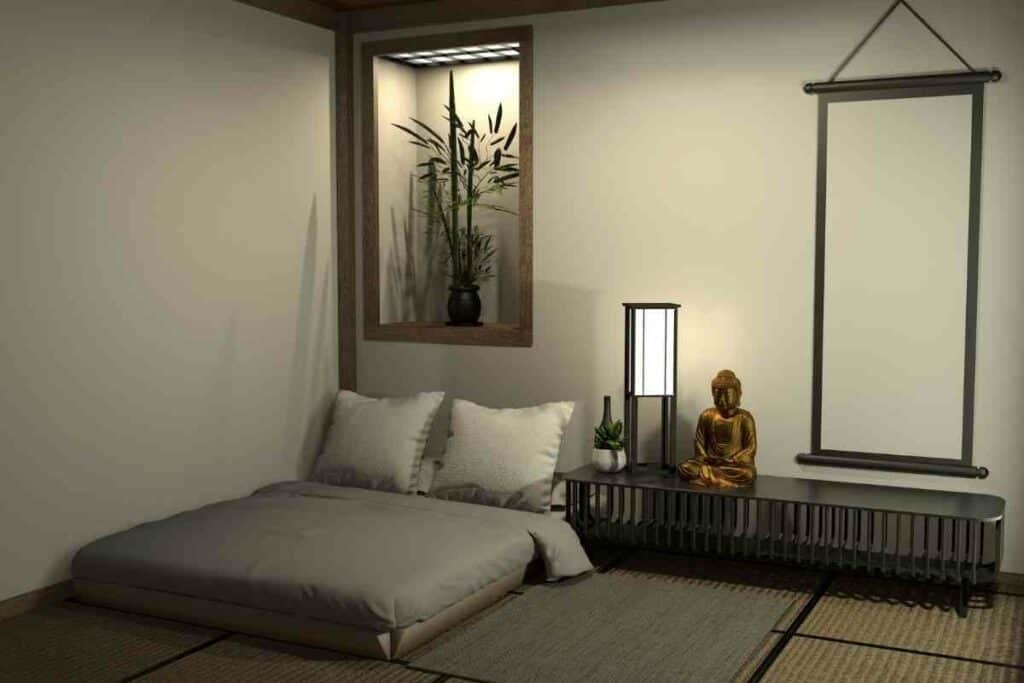 It allows you to relax, unwind, reduce stress and anxiety; increasing your motivation in life by creating moments of privacy, tranquility, peace, bliss, and a mindset of being organized.
What to Expect – Simplicity is the way you go when you decorate a Zen bedroom. Hence, creating a Zen space can be done on a smaller budget by using smaller pieces to spread the cost. Moreover, most ideas are very affordable to purchase.
It's as cheap as just decluttering the room, allowing enough natural lighting, painting the room with a minimal Zen color palette, and adding a few décor pieces.
7 Best Zen Bedroom Ideas On a Budget
1. Clear Clutter
One of the ultimate goals of a Zen-inspired bedroom is to keep clutter to a minimum.
Uncluttered space feels very spacious and speaks of order.
A distraction-free zone is a key to evoking calm in the bedroom.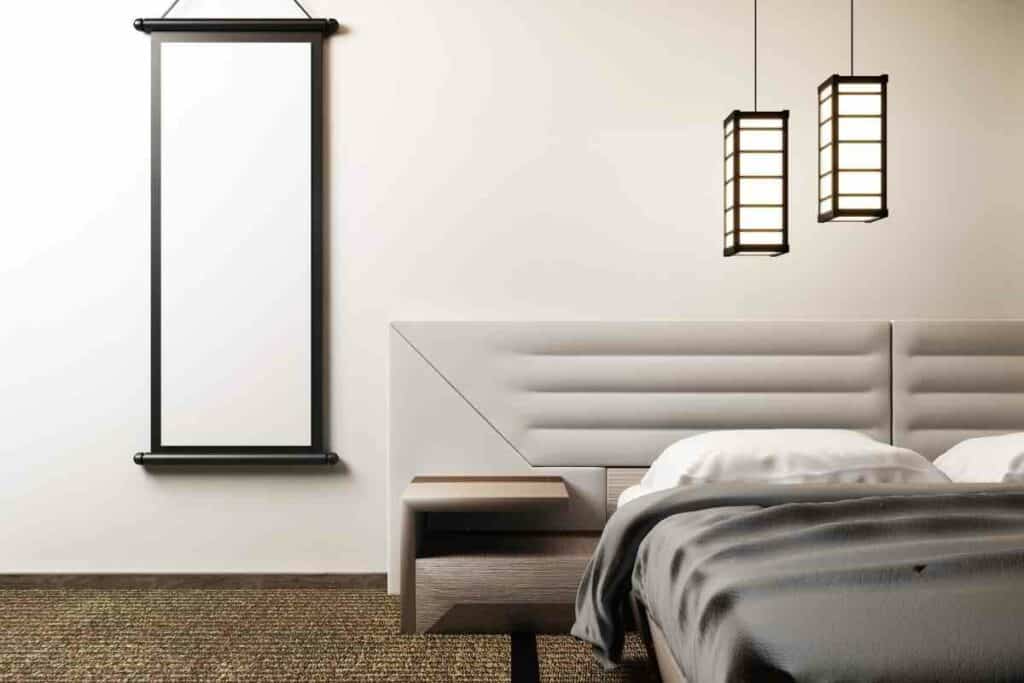 Because clutter can inhibit relaxation, decluttering is the first, simple, and cheapest method to achieving a Zen décor.
However, it is often easier said than done.
This Zen idea can be quite hard, especially if you have to let go of items that hold sentimental value – those that remind you of some nostalgic event.
Always Good Idea – No matter the attachment, go on with the decluttering process. The golden rule to eliminating clutter is to get rid of any item that you've thought twice on whether to take out or retain in the bedroom.
Space out the bedroom by clearing it of many unnecessary bedroom items as possible. Leave only the important stuff in the bedroom.
Keep your accessories to a minimum, but feel free to add anything that would make you more comfortable.
You can start taking out your wall-hung art pieces, bedding, the curtains, clearing closet contents in the dresser and underneath your bed.
---
This Way: The bedroom will breathe, giving you attention to simply being present in that very moment. So there is no disturbance or confusion.
---
2. Natural & Recess Light
Natural and recessed lighting are perfect Zen interior designs.
Lighting in a bedroom can change how the perceived size of the space looks and feels.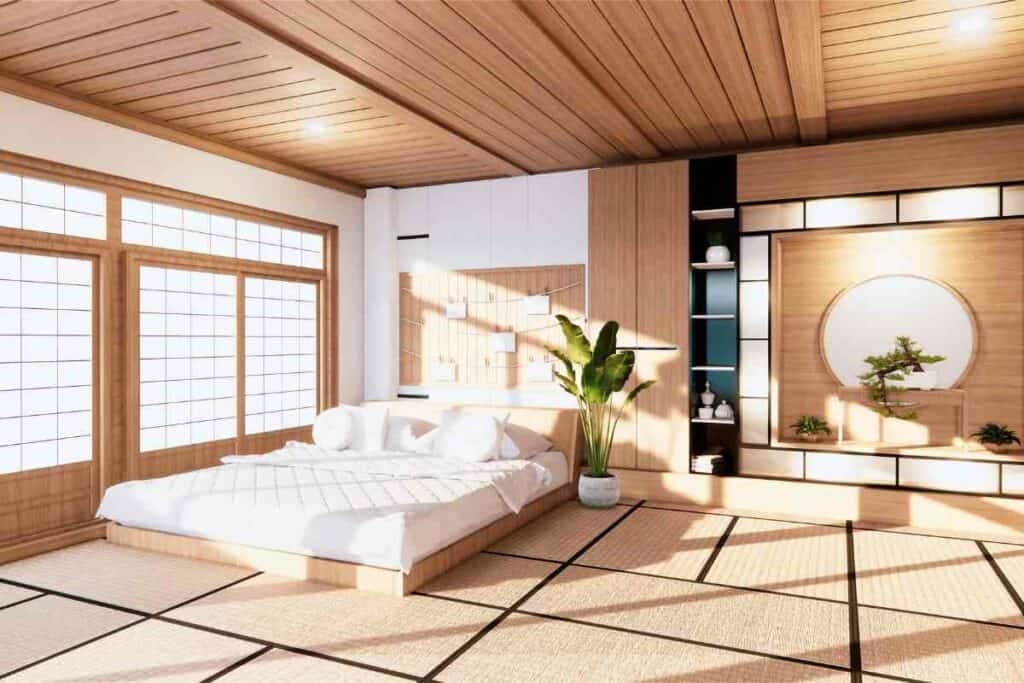 Zen bedrooms are designed to let in as much natural light as possible.
Not only is it cheap, but it brightens upa minimalist bedroom while ramping up a tranquil mood. You can choose not to install window coverings to allow more light to enter the space.
However, if you must use a window covering, select sheer curtains that let daylight through and warm up the spaces—preferably plain and natural sheer curtains with no patterns.
Window treatments like floor-length drapes will add elegance to the room.
The curtains you choose should be natural, light, and comfortable; for example, wool, bunting wool, or linen fabrics.
They should match with the rest of the bedroom's decor.
Also, give the fixation mechanisms significant consideration. Fix the beautiful curtains on matching rods.
If your bedroom windows don't allow enough natural lighting, you can add some rattan pendant lighting to keep the room well-lit.
The mood of the room will change:
Replace harsh fluorescent lights with soothing, nature-inspired, or diffused lighting (scented candle lights) for a completely relaxing space.
Place several light sources to regulate the intensity and the regions to be illuminated.
Avoid using a direct light source from the ceiling and instead use a combination of a floor lamp, a lamp set, and indirect light.
For correct accentuation in the bed area, utilize wall-mounted reading lights or bedside lamps with rice paper shades and plain lines.
For more privacy, you may use wooden or bamboo blinds as they'd easily harmonize with the room's natural elements. Also, stay away from elaborate ornamentation of your windows.
3. Minimalist Décor
Clear the bedroom of anything unnecessary and only introduce the bare minimum.
When it comes to a Zen style, less is more; hence getting rid of fussy pieces is a great idea.
Keeping the décor to a bare minimum keeps the room feeling peaceful and not crowded or cluttered, helping you relax, unwind and rejuvenate at night.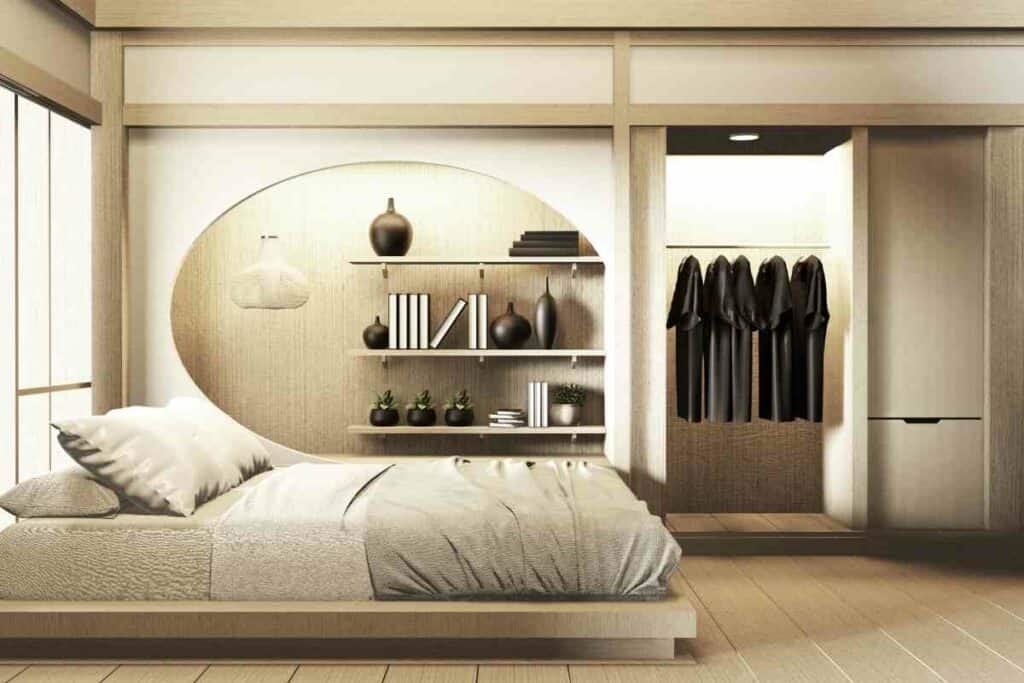 A minimalist bedroom should be simple.
Decorating with less is the interior design principle of minimalism. Keep the number of ornaments and decorations to a bare minimum.
To keep your bedroom tidy and lovely:
Avoid collections of artwork or décor pieces and maintain just those that are precious to you.
Only include a few elements and pieces of furniture such as a bed, a functional bedside table, and lighting elements that go in well with the overall design.
Use mohair, wool, or fleeced covers or throws for bed decorations, and don't go overboard with the cushions.
Choose different-sized pillows with different-colored pillowcases that you may arrange for sleeping or reading.
When choosing furniture, ensure the pieces have low lines and soft hues (solid neutral colors). The furnishings should be made of high-quality and natural materials with little embellishments.
No extreme patterns and ornaments as these will provide a sense of comfort and relaxation.
Avoid using pieces with elaborate designs or legs. Pick curved furniture pieces over ones with sharp angles to create a more peaceful environment.
4. Zen Tonal Palette
Colors evoke certain moods and emotions.
They can lift your mind and spirit or induce calmness. A Zen style is all about natural shades in neutral and gentle colors.
The secret to keeping the peace in your bedroom is sticking to a minimal color palette.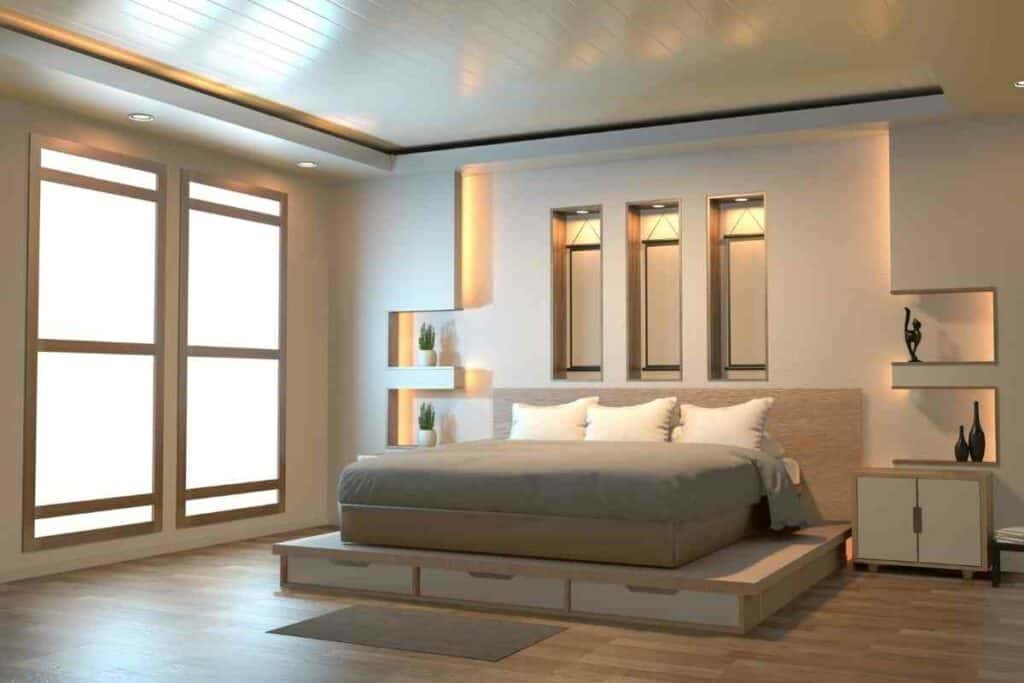 Nothing speaks volumes of Zen as a warm and neutral color scheme.
Neutral tones ensure a calm and serene sentiment so you can breathe easily without distraction and anxiety.
Bedrooms are designed to create a sense of relaxation.
As a Result – Select bedroom colors that might instill a sense of tranquility and quiet, and avoid highly pigmented shades that make you too energized and excited.
Paint your walls, trim, and ceiling in calming colors in pale and soft shades such as:
white
blush
beige
pale straw
white
pink beige
gray
and sky-blue
One of the most exciting features of these colors is the lack of distraction.
These colors are also very soothing, and when combined with a rug and quality plain white sheet beddings, you can safely enjoy your Zen space.
Ensure there is chromatic harmony between the various bedroom pieces and furniture and bedroom walls, ceilings, and, floors.
You Might Consider – You may also add contour to a monochrome bedroom by pairing a dominating color with complementary items and textured materials, such as white and moleskin or beige and rosewood. Or mix two matching colors.
5. Zen Flooring
Zen flooring is best when earth-friendly materials are used.
If you seek a natural theme, choose wooden or stony floors coupled with rugs or mats made from reed, sisal, or any other sustainable resource.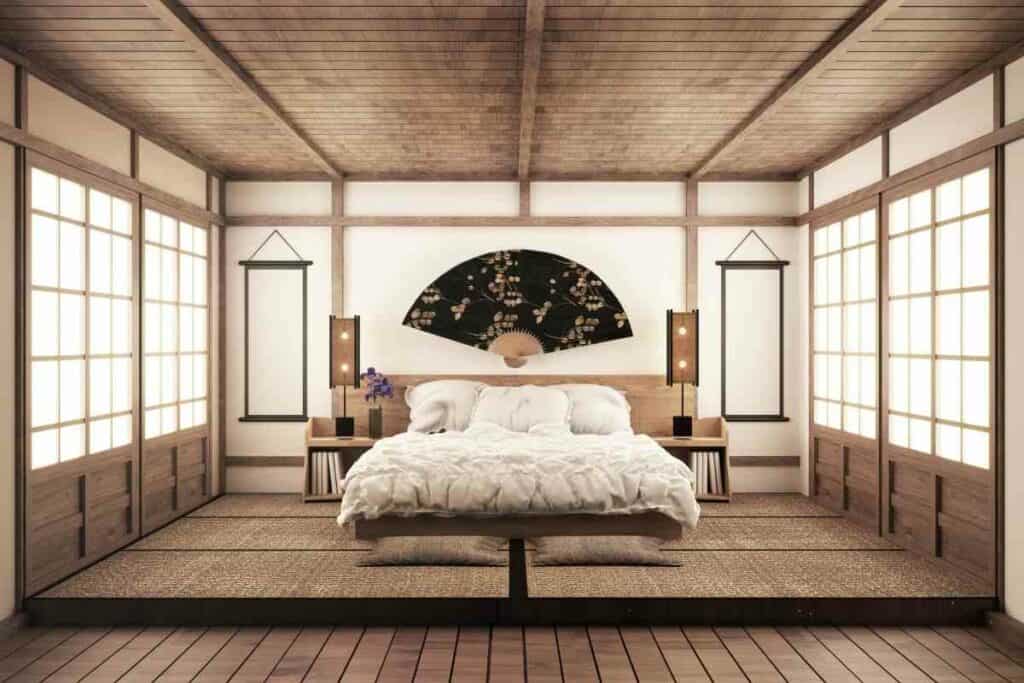 Ensure the carpet color matches the floor or is in the moleskin, grey, or khaki range.
Carpets, particularly woolen or cotton varieties, are an excellent choice since they create a genuine sensation of relaxation.
Wooden flooring is always a safe choice. Select white, greyish, or light-colored parquets.
Colored parquet may also be used as long as it complements the rest of the space.
6. Nature Splash
Zen and nature are intertwined.
When it comes to Zen décor, nature equals beauty and calmness. Plants add a pop of color to the interior and brighten up your bedroom space. 
They are also therapeutic as they provide oxygen and produce a relaxing impact with their soothing green colors.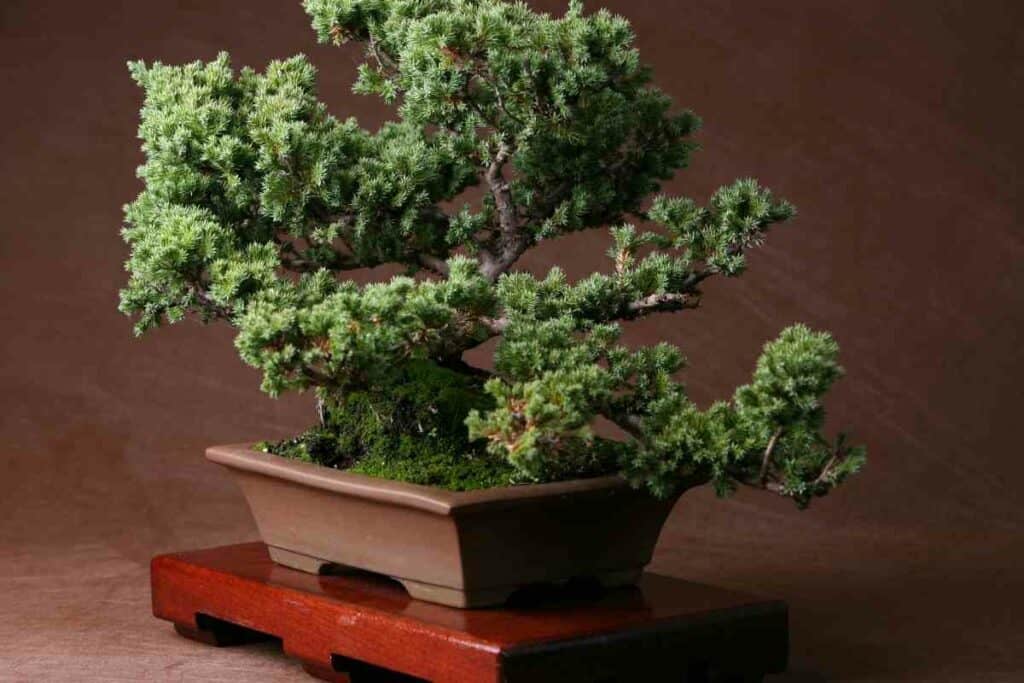 Thus, help to reduce stress and enhance well-being as the room looks livelier.
A green bamboo stand placed in a simple clay pot, softly rustling when windows are open, would be an excellent feature of a Zen bedroom. 
As much as possible, add anything that symbolizes nature and be creative about how they're displayed.
For Instance – A blossom placed in a clear glass flute vase can easily transport you into a meditation zone. You may also adorn your bedroom walls with hanging plants in the window.
Decorate the bedroom with stunning indoor plants, smooth stones (polished beach rocks), and water.
Avoid plants that require particular care or emit disturbing odors.
Bamboo, orchids, peace flower, lavender, bonsai plants, or hanging terrariums, for example, are popular Zen décor items.
---
From Experience: If you don't want to take care of a living plant, you can decorate the room with artificial trees or plants as they will also bring a natural accent to your room.
---
7. Zen Scents
A bedroom is a space you relax and unwind at the end of the day.
Creating a cozy bedroom oasis helps you relax and fall asleep.
Bedroom fragrance is an accessory and decor that can uplift your mood.
Zen scents are calming when it's time to sleep, making you feel relaxed and rejuvenated after the day's stresses. They also invigorate when it's time to wake.
Zen Scents are Powerful – They hold within themselves an abundance of memories. Because the human olfactory center is linked directly to the brain's emotional center, a simple sniff can be used to transport you into moments of bliss.
There are different fragrances like scented candles, essential oils, air fresheners, etc. Choose what fragrance is right for you.
Enhance your bedroom with relaxing, natural fresh scents such as essential oils, soy or beeswax candles, lavender, or linen spray.
Final Thoughts
A Zen bedroom is ideal if you want to achieve a balanced body, mind, and spirit at night.
It creates more space with a natural look with few organic and earthy décor pieces and soothing colors.
Whether you have a spacious suite or a tiny bedroom, you can easily design your dreamy and cozy bedroom on a budget with the above styling tips.
Choose your favorite minimalist design.
You don't have to incorporate all the above Zen ideas. You can save on your budget by selecting a few essential Zen elements.
You Might Also Like