For centuries almost every aspect of Japanese life and culture has been faithfully recorded and characterized by artists who mastered artistic disciplines spanning painting, printing, calligraphy, pottery, and sculpture.
Japan now is renowned for its art with its most famous prints and paintings exhibited all over the world.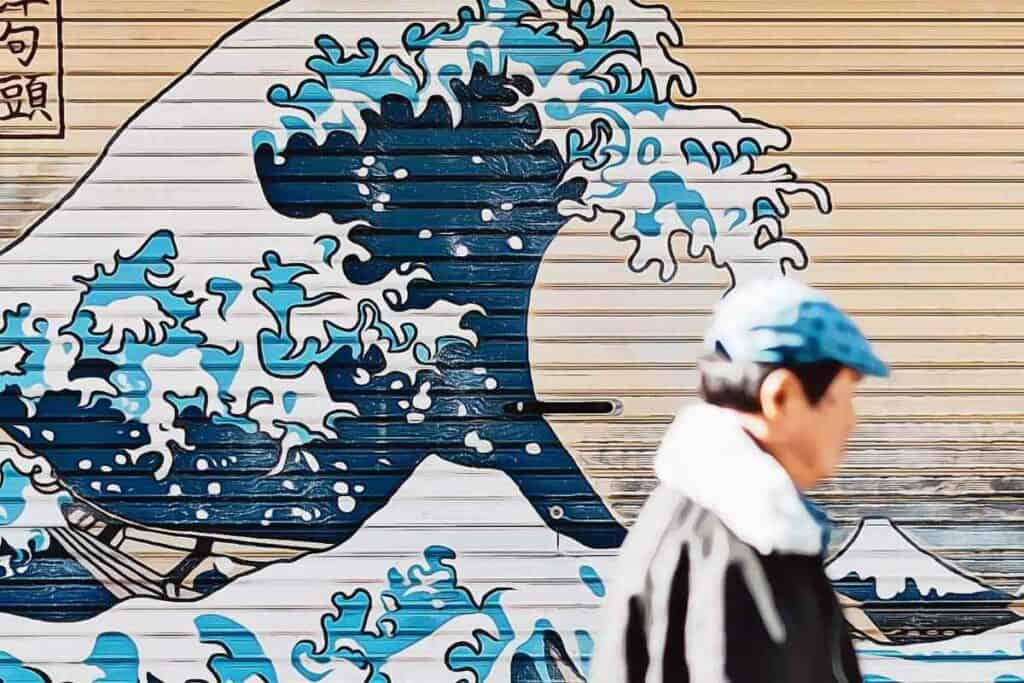 In this article, we share four examples of the best Japanese art, and how you can get hold of outstanding prints so you can display these iconic artworks in your home!
Japanese art chronicles the history and culture of Japan
Like many other cultures and civilizations, Japanese art provides an insightful record of many aspects of Japan's history with the art produced in the various eras reflecting political events, beauty standards, or religious contemplation. 
Over the centuries, Japanese art also reflects the changes in art media and innovative techniques like the introduction of block printing in the 8th century that massively expanded the reach of the work of individual artists.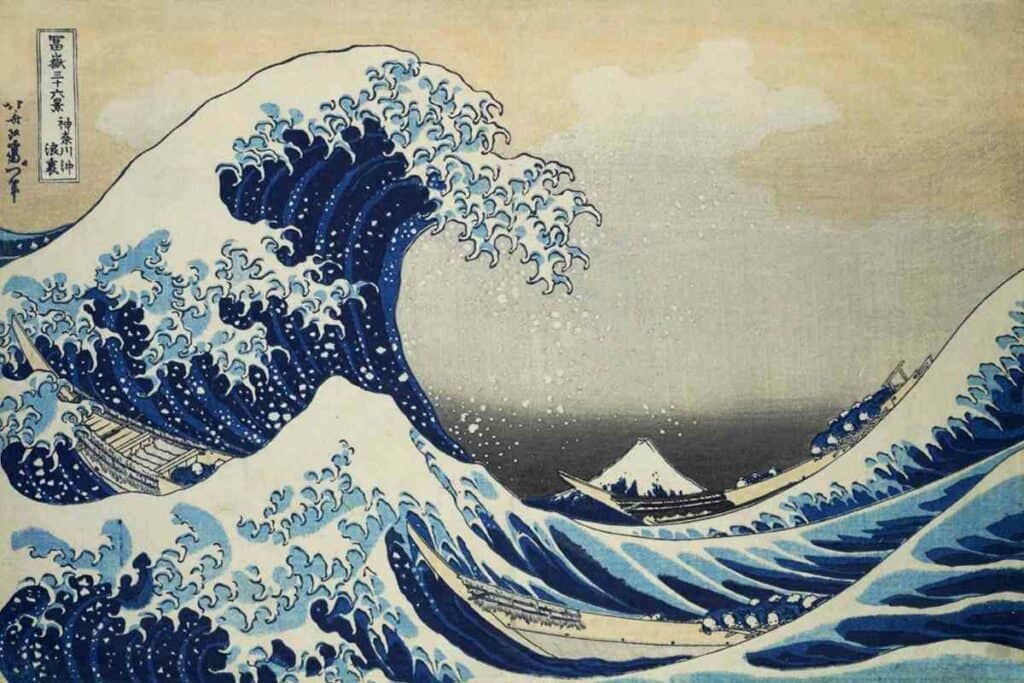 Many Japanese artists were also influenced by Chinese art and incorporated Chinese artistic techniques in their work. 
4 best Japanese art prints that every art lover should own 
We've selected four acclaimed pieces of Japanese art that are appreciated across the world.
Some of these Japanese artworks will be instantly recognizable, while others will be discoveries.
Enjoy these delightful Japanese paintings and prints! 
1. The Great Wave off Kanagawa (神奈川沖浪裏) by Hokusai
The Great Wave off Kanagawa, also known as Under the Wave off Kanagawa is an iconic Japanese woodblock print.
It is taken from the series Thirty-six Views of Mount Fuji by the artist Hokusai. The Great Wave is one of the best-known works in this collection of images and has made Hokusai famous throughout the world. 
This striking image depicts a great wave sweeping over three fishing boats in the storm-tossed sea.
Mount Fuji, muted and diminished is visible in the background at the center of the image.
This dramatic print has a lot of detail including fearful mariners crouched and packed like sardines with the boats.
The bold design, rich indigo contrasted with white, and clever use of perspective have made this an ageless image.
The print is globally acclaimed with copies held in private collections and museums and art galleries including the Metropolitan Museum of Art. 
Get a high-quality print of The Great Wave off Kanagawa
This timeless print will never go out of style, so it's no surprise that it is a popular print for home decor.
Here is a high-quality reproduction of this amazing piece of Japanese art to display in your home: 
The Great Wave off Kanagawa Triptych
About Katsushika Hokusai (葛飾 北斎)
Katsushika Hokusai who lived between 1760 and 1849 was one of the Edo period leading artists. He was a painter and printmaker working in the ukiyo-e style. 
Hokusai started creating art as a young child and became a prolific artist producing more than 30,000 paintings, sketches, and woodblock prints throughout his lifetime. 
His subjects came from a wide range of sources, including the popular courtesans and actors of the time and animals, landscapes, and the emerging interest in tourism that inspired his suite of images of Mount Fuji.
His renowned images are even credited with inspiring the 19th-century Japonisme movement and western Impressionist artists like Monet and Vincent Van Gogh.
What makes The Great Wave of Kanagawa an example of Japan's best art?
The Great Wave off Kanagawa is one of the world's most reproduced images ever! It is certainly the most famous piece of Japanese art.
Aspects of Under the Wave off Kanagawa that are unique include its use of Prussian blue and the western-influenced use of perspective. This print earned Hokusai great domestic and international acclaim. 
2. View of Ama-no-Hashidate by Sesshū Tōyō
The View of Ama-no-Haidate is a famous illustrated hanging scroll by the artist Sesshū Tōyō.
It was created with ink and color on paper in 1505, during the Muromachi Period. This exquisite painting is a bird's-eye-view of Amanohashidate, the renowned sandbar of Tango Province, just north of Kyoto.
The piece is a certified National Treasure and is held in the Kyoto National Museum, Kyoto. 
This artwork is not only exceptional because of its detail and beauty, but also because Tōyō would have been over 80 years old when he climbed to mountainous heights to paint the scene!
This artwork is always popular with the Japanese because Amanohashidate is one of the Three Famous Scenic Spots of Japan. 
Get a high-quality print of View of Ama-no-Hashidate
The View of Ama-no-Hashidate is a beautiful print for someone who has traveled to Kyoto, Amanohashidate, or just wants a classic print of the Japanese coastline:
View of Ama-no-Hashidate Framed Print
About Sesshū Tōyō (雪舟 等楊)
Sesshū Tōyō was a medieval Zen monk who became a master of Japanese ink painting.
His subjects were predominantly landscapes, animals, birds, and flowers. He was born in 1420 to a Samurai family but entered a monastery rather than becoming a warrior. 
His artistic gifts were recognizable from early childhood and over his lifetime he rose to become the greatest artist-priest of Zen-Shu.
He trained under the artist Tenshō Shūbun, later traveling to China which heavily influenced his work.
On his return to Japan, his artworks, including View of Ama-no-Hashidate, merged Japanese and Chinese artistic techniques and styles.
The view of Ama-no-Hashidate was painted in the later years of Tōyō's life. He died at the age of 87, on temple grounds, with his studio and materials inherited by his pupil, Shutoku.
What makes View of Ama-no-Hashidate an example of Japan's best art?
This lively painting is beautifully composed with skillful brushwork and insightful use of soft, wet ink tones.
It hides its years beautifully and has been carefully preserved. The Chinese influence is evident with echoes of Song and Yuan Dynasty art.
Tōyō has taken great care with this artwork to faithfully reproduce the landscape of this iconic scene.
The view is majestic, but the rough brushwork in places may indicate that Tōyō painted this scene in haste, to complete a single sitting, though it could also have been used to convey vigor and strength.
3. Three Beauties of the Present Day (当時三美人) by Kitagawa Utamaro
Three Beauties of the Present Day, Three Beauties of the Kansei Era, Three Famous Beauties, or Tōji San Bijin is a delightful 18th-century woodblock print by the Japanese artist Kitagawa Utamaro.
Though it is created in the often salacious ukiyo-e style, the women depicted are not courtesans.
The women in the print are:
the geisha Tomimoto Toyohina
teahouse waitresses Takashima Hisa and Naniwaya Kita
The Three Beauties are created in Utamaro's characteristic ōkubi-e style, which emphasizes the heads of the subjects.
He also took care to identify the ladies with the family crest of each woman depicted in the image.
This iconic image was lavish, with individual woodblocks prepared for each color in the image.
Utamaro took care to distinguish the facial features of each woman and used the fashionable triangular positioning of the subjects. The original artwork was even detailed by dusting it with muscovite for a shimmering finish.
Get a high-quality print of Three Beauties of the Present Day by Kitagawa Utamaro
This playful Japanese art print would make a great gift for the beauties in your life. If you are looking for a classic Japanese art print, The Three Beauties reproduces beautifully.
Here is a gorgeous copy that you can make your own.
Three Beauties of the Present Day Framed Print
About Kitagawa Utamaro (喜多川 歌麿)
Kitagawa Utamaro the famed Japanese ukiyo-e woodblock printmaker lived between  1753 and 1806.
He is best known for his pictures of beautiful women with characteristic large heads, known as bijin ōkubi-e, and scandalous satirical images of the ruler Toyotomi Hideyoshi, and other prominent personalities which led to his imprisonment in 1804.
| | |
| --- | --- |
| Title | Three Beauties of the Present Day |
| Artist | Kitagawa Utamaro |
| Date | 1792-93 |
| Style of Japanese art | ukiyo-e |
| Materials  | Woodblock print |
| Where exhibited/held | Museum of Fine Arts, Boston |
There is little record of his life before his prints came to prominence in the late 18th century.
Utamaro has at least 2000 works attributed to his name and enjoyed a significant degree of celebrity during his lifetime. 
Utamaro's work reached Europe in the 1800s, where it was well received in France, especially by the Impressionists who drew from the 'Japanese influence'.
What makes Three Beauties of the Present Day an example of Japan's best art?
This is a gorgeous print that has a lot of detail to contemplate. Though images aren't realistic portraits, Utamaro has taken a lot of care to add detail to the images with distinct eyes, mouths, and noses. 
You can see that these ladies have different personalities with the tea girls' girlish and playful features against the more austere features of the geisha. 
Look for the three-leaved oak crest, small flower crest, and ornate Japanese primrose crest of each of the ladies!
There are several prints of Three Beauties of the Present Day on display at museums throughout the world.
A notable ink and color on paper copy is displayed in the Museum of Fine Arts, Boston, and The Metropolitan Museum of Art also has a currently undisplayed copy.
4. Flower Basket (花がたみ) by Shoen Uemura
Flower Basket or Hanagatami by Uemura Shoen is a classic of the modern era that is painted by a woman. It was created in 1915 in the Nihonga style.
This famous Japanese artwork, is feminine, delicate, and nuanced with much deep thought behind the temperate and gentle image.
Flower Basket is exemplary of Shoen Uemura's artistic style which draws on old-wold Kyoto and retained elegant Edo period sensibilities.
Hanagatami provides a unique opportunity to experience feminine beauty depicted by a Japanese woman.
Rising above the more objectified images of Japanese women that are typical in Japanese art, Uemura achieves greater expression and depth of character, reflected in the numerous sketches she produced painting this piece. 
Flower Basket is exhibited at Shouhaku Art Museum in Nara, Japan, alongside these sketches for added perspective.
There is an unassailable dignity in the subject that is compelling and keeps her on the viewer's mind long after the image has been passed by. 
Get a high-quality print of Flower Basket by Uemura Shōen
Flower Basket by Uemura Shōen is a beautiful image that would enliven any room.
Finding a quality print is not easy but specialist printers have produced faithful reproductions that you can enjoy in your home.
Flower Basket by Uemura Shoen Framed Art Print 
About Uemura Shōen (上村 松園)
Uemura Shōen was the pseudonym of  Uemura Tsune, a female Japanese painter who lived between 1875 and 1949.
She is renowned for her portraits of women in the nihonga style and other artworks drawing on a range of historical and traditional themes.
| | |
| --- | --- |
| Title | Flower Basket |
| Artist | Shoen Uemura |
| Date | 1915 |
| Style of Japanese art | Modern & Contemporary painting |
| Materials  | Color on silk  |
| Where exhibited/held | Shouhaku Art Museum |
Though Uemura Shoen was a woman, she still painted pictures of beautiful women, known as bijin-ga, according to traditional beauty standards. However, her considered and more nuanced portrayals innovated this artistic genre. 
These pleasing images, created in a relatively contemporary period, did not reflect the emergence of women into the workforce and wider society.  Indeed, as a female artist, Uema Shoen was herself a rarity.
What makes Flower Basket an example of Japan's best art?
Flower Basket is an important bijin-ga artwork that Uemura Shōen executed masterfully, innovating the more common ukiyo-e style.
This Japanese painting is really easy on the eye and the scattering of flowers in the background adds whimsy and sentimentality.
Shoen has spent time on every detail of this piece so a high-quality print is a must!
FAQs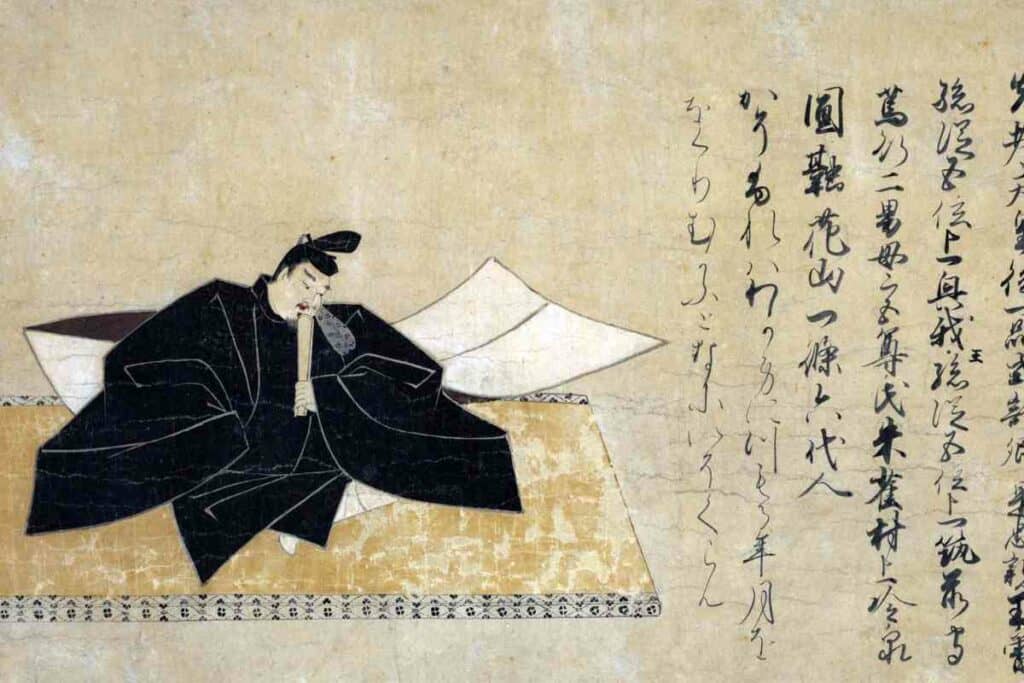 What is ukiyo-e?
Ukiyo-e, 'pictures of the floating world' is a historic Japanese art style that was used by Japanese artists from the 1600s through to the 1800s.
This iconic Japanese art style used painting and woodblock prints to produce vivid and characterful paintings of subjects like kabuki actors, sumo wrestlers, and courtesans. Examples of ukiyo-e include works by Hishikawa Moronobu and Kitagawa Utamaro. 
What is bijin-ga?
Bijin-ga is a type of Japanese art that celebrates feminine beauty. Artists make stylized images in keeping with the beauty standards of the era in which they work.
Bijin-ga depictions of women are not accurate portraits and are closely associated with the ukiyo-e block prints that were produced between the Edo and Meiji eras. 
What is a giclee print?
Giclee prints are high-quality inkjet prints used for fine art. This professional printing technology is expensive and produces a reproduction print with greater depth of color and longevity compared to conventional forms of printing. A giclee print is the best quality print for fine art. 
Were there many women artists in Japan before the 20th century?
Painting was a pastime of Japanese women in the 17th, 18th, and 19th centuries, and though women artists from this era are relatively unknown there were many accomplished female artists in Japan.
Uemura Shoen is probably the best-known of these artists, but other women artists in Japan included Ike Gyokuran (1727 -1784), Katsushika Ōi (1800 – 1866), and Ōtagaki Rengetsu (1791 – 1875).
What is the most expensive piece of Japanese art?
Japan's most expensive piece of art, Knife Behind Back (2000) painted by Yoshitomo Nara was sold at auction in 2019 for $25 million.
Are Japanese woodblock prints valuable?
Japanese woodblock prints are extremely valuable, because of their beauty and variety. The value of these prints ranges from hundreds to millions of dollars.
The price depends on the age, rarity, and condition of the print. Because the prints were made with natural inks and dyes, many have deteriorated with time. 
In Conclusion
Japanese art does not fail to excite the senses and stimulate the imagination! The best Japanese art is always a conversation starter and would be a tasteful enhancement to any home. Start your Japanese art collection with these iconic works.