Japanese author, organizing consultant, and media personality Marie Kondo is the millennial equivalent of Martha Steward.
Her 2019 Netflix series Tidying Up with Marie Kondo was an international hit.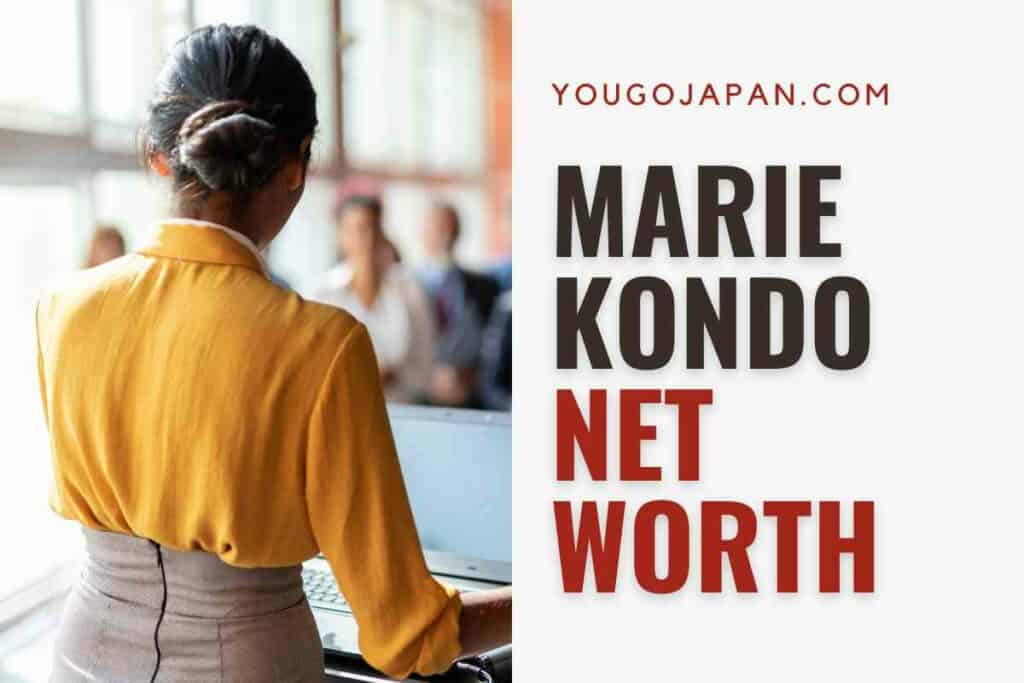 But have riches followed Kondo's worldwide fame?
In this article, we investigate the surprising net worth of Marie Kondo. 
The net worth of Marie Kondo 近藤 麻理恵
The bank is clearly where decluttering guru Marie Kondo is cleaning up. According to CEO Magazine, Marie Kondo has an estimated net worth of over $8 million packaged neatly in the family company KonMari.
A breakdown of Marie Kondo's net worth
Marie Kondo and her husband have built a multi-million dollar enterprise that straddles several continents.
Though Kondo's organizing methods and philosophy were initially aimed at women between the ages of 35 and 50, she has gained a massive millennial following that is driving sales of her books and products in Japan and abroad.
Here is where Marie Kondo's net worth comes from.
Marie Kondo books
Marie Kondo is still earning handsomely from the books that made her famous.
Royalties from the following popular publications will boost her millions:
The Life-Changing Magic of Tidying Up: The Japanese Art of Decluttering and Organizing (2014, Ten Speed Press) – This bestseller has sold more than 8.5 million copies worldwide.
Spark Joy: An Illustrated Master Class on the Art of Organizing and Tidying Up (The Life-Changing Magic of Tidying Up) (2016, Ten Speed Press)
The Life-Changing Manga of Tidying Up: A Magical Story (The Life-Changing Magic of Tidying Up) (2017, Ten Speed Press)
Marie Kondo's Kurashi at Home: How to Organize Your Space and Achieve Your Ideal Life (The Life-Changing Magic of Tidying Up) (2022, Ten Speed Press)
Marie Kondo's Netflix shows
Marie Kondo's Netflix shows were not just valuable because of the money she earned from presenting the shows, but also the fame they generated for her.
Kondo was an executive producer for both of her shows, meaning that she will have taken a big cut of profits. Production Company, The Jackal Group, received an order for an 8-episode series called Tidying Up with Marie Kondo from Netflix in 2018.
The show was most likely bought at the cost of production plus 30% of production costs which is typical of Netflix. 
KonMari Media
Kondo and her husband also have a company that trains and certifies consultants who can work for clients, decluttering using the KonMari method.
It was launched in 2015 and currently has over 850 fully trained consultants working in 60 countries. Seminars on Kondo's training program cost at least $2,000 per delegate. 
The KonMari online store
Marie Kondo also opened a thriving e-commerce business in 2019. Marie and her husband sought to raise more than $40 million in funding to take their brand to the next level.
The store sells a variety of tasteful KonMari products for home organizing, interior decoration, and personal care.
Many of the items available at the store are influenced by her Japanese heritage and the company is keen to promote products that have been produced in Japan. Organizing sets from Marie Kondo's store are upwards of $89.
Marie Kondo 近藤 麻理恵 biography
Marie Kondo, also known as Konmarie (こんまり), was born in 1984 in Tokyo, Japan. She grew up in the capital with her two siblings. Kondo credits her grandmother Noriko with instilling a love of cleanliness and organization from a young age.
On biannual family visits to Miyazaki Prefecture, her treasured grandmother would teach her many aspects of traditional Japanese culture including the famous tea ceremony. In particular, Marie London noted how few possessions her grandmother had compared to her family and how treasured her personal items were. 
Kondo recalls that during her childhood she was keen to organize in class and always wanted to be in charge of the bookshelves! She prized this role above physical activity and looking after the class pets. 
From early on Marie was obsessed with decluttering, but she often struggled with working out which items needed to be discarded. One day she had an epiphany, realizing that she should only keep the things she loves. The focus of her passion is helping people identify and keep the things that make them happy. 
A key formative experience included five years spent as a Shinto shrine attendant maiden. 
After high school, Marie London went to Tokyo Woman's Christian University to study sociology. She started her organizing business while she was a student. Tidying was even part of her university dissertation which explored tidying and gender. 
Media fame and fortune
At age 19, Marie Kondo started a tidying business that became the foundation of her professional life. She had initially tidied for friends and family and did not realize she could do it as a job.
The business was so successful that she amassed a six-month waiting list of clients, and became a celebrity in Japan. Later, Kondo started to write books to satisfy curiosity and demand for her skills. Her method for decluttering and tidying became known as the KonMari method.
Marie Kondo rose to international prominence through her books on organizing. They were originally written in Japanese, but subsequently translated into English and other languages, giving Kondo a much wider audience. Her 2011 book,  The Life-Changing Magic of Tidying Up became a bestseller and was available in more than 30 countries.
A US breakthrough
In 2014, New York Times journalist Penelope Green picked up Kondo's book and gave it a rave review, leading to Marie Kondo's books becoming US bestsellers.
In 2015 she was listed in TIME magazine's list of the world's 100 most influential people. The success of the books led to an offer from Netflix to make a series, Tidying Up with Marie Kondo. The show earned Kondo an Emmy Awards nomination for Outstanding Host for a Reality or Competition Program.
Marie Kondo 近藤 麻理恵 personal life
Marie Kondo met her husband and business manager, Kawahara Takumi in Osaka, where he worked in marketing and sales support.
They married in 2012. When Marie Kondo became famous, her husband left his job to manage her career and became CEO of the family business, Konmari-Media, LLC.
The young family initially lived in Tokyo but has since moved to America, settling in Los Angeles. 
Marie and her husband have three children, two girls, and a younger son. Kondo is noted for saying after the birth of her son that she has had to relax the rigorous tidying methods she is known for in her home, to prioritize family life.
Facts about Marie Kondo
Marie Kondo's first show sparked a decluttering frenzy in the US that led to many thrift stores being overwhelmed with donated items!
The KonMari storage boxes that are available via her website have been sold out pretty much since their launch in 2018.
The KonMari method is composed of discarding and sorting steps that leave you with items that you appreciate and enrich your life. 
Marie Kondo speaking about the KonMari method
Here is Marie Kondo talking at the SXSW conference in 2017 about the power of an organized life: 
Marie Kondo quotes
"Clutter is caused by a failure to return things to where they belong. Therefore, storage should reduce the effort needed to put things away, not the effort needed to get them out."
"Discarding hones one's decision-making skills."
"Keep only things that speak to your heart. Then take the plunge and discard all the rest."
Rounding up
Marie Kondo has built a multi-million dollar brand out of the art of tidying up. Enthusiasm for her simple and engaging methods shows no sign of waning. And thanks to the marketing smarts of her husband Kawahara Takumi, KonMarie may well be on track to become a billion-dollar brand!