Universal Studios Japan (USJ) has been Japan's #1 theme park for several years, attracting millions of Japanese and international visitors annually.
A stay in one of the official USJ hotels can make it even more memorable.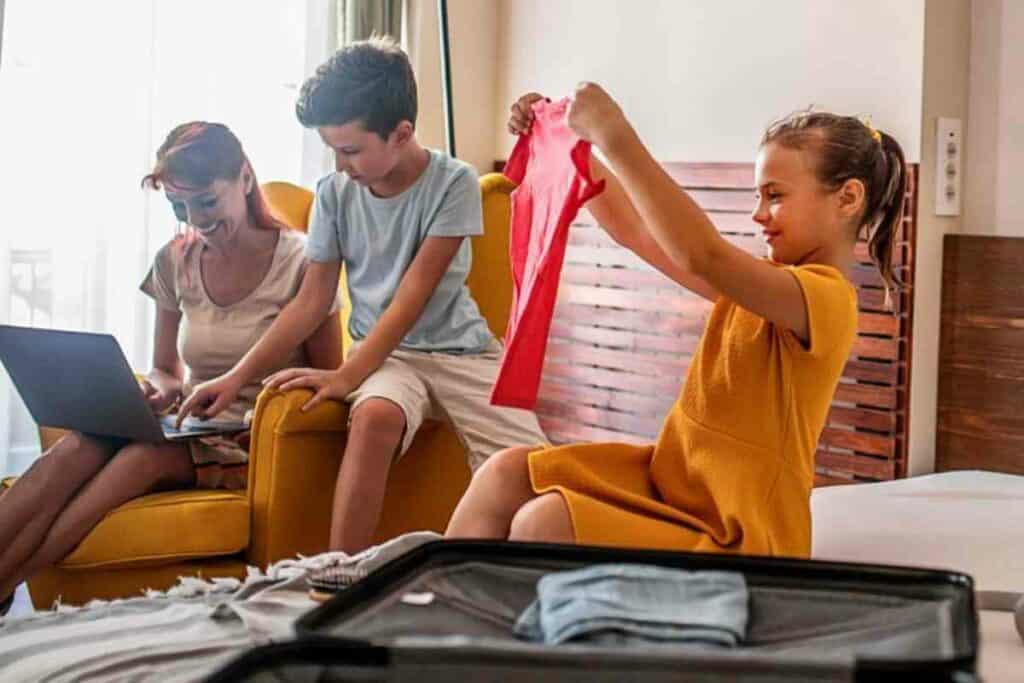 But the USJ hotels are expensive, and with so many great Osaka hotels nearby, is staying at a Universal Studios Japan Official Hotel worth it?
Find out in this short guide that includes all the benefits of staying at a USJ hotel. 
Is Staying at a Universal Studios Japan Official Hotel Worth It?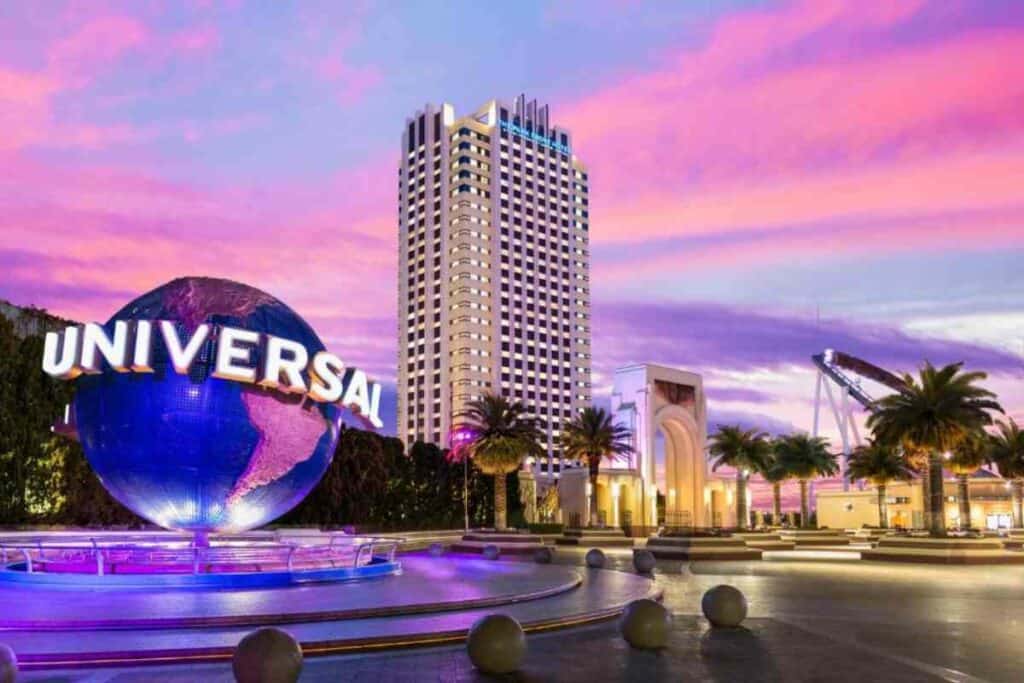 Universal City in Osaka has been home to the legendary Universal Studios Japan theme park since 2001.
The theme park is served by a collection of official hotels located in Universal City close to the park.
So far, there are eight official Universal Studios Japan hotels to choose from.
The official hotels deliver an enhanced experience that is designed to integrate seamlessly with your Universal Studios Japan visit.
Staying at an official hotel offers exclusive benefits other park visitors cannot acquire.
As a guest at a USJ official hotel, you can purchase Studio Passes and secure early access to the park, which makes a big difference during the packed peak season. 
These Aren't Just Any Osaka Hotels
The official USJ hotels have a-LOT going on.
I'm sure you'll be delighted with the themed rooms, amazing restaurants, and exclusive character meet and greets you can enjoy.
Yes, the official hotels will cost more, but if you are a Universal Studios fan who wants a great visit, the convenience and memorable experiences may just be worth the extra cash!
What Are the Benefits of Staying at a Universal Studios Japan Official Hotel?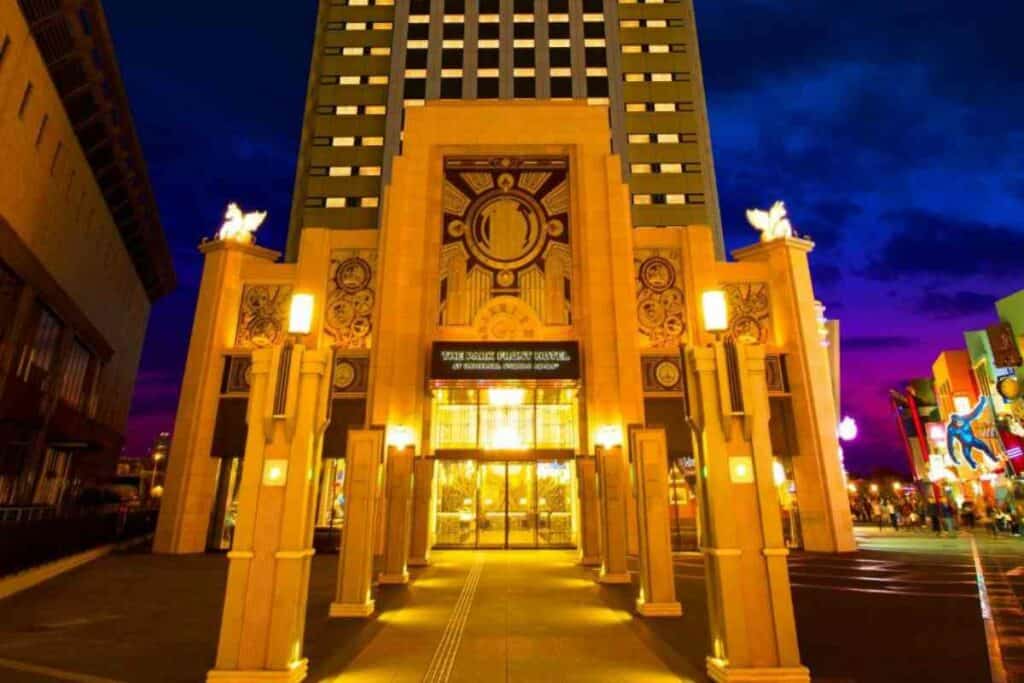 To help you decide if a Universal Studios Japan hotel is worth it, I've gathered all of the perks and benefits offered by the official hotels.
Rather than obscure offers and hacks, these are the authentic evergreen benefits you can expect from some or all of the official hotels.
Take a look at these 8 headline benefits of staying at a Universal Studios Japan official hotel.
1. Walking Distance From the USJ Park
All Universal Studio Japan official hotels are just a few steps away from the park entrance.
Other hotels cannot compete with the convenient location of these Universal City Osaka hotels. You can start your day at the park without the hassle of transportation or long lines after a fantastic breakfast. 
2. Early Park Entry
Early Park Admission is a stand-out benefit if you can secure it.
The application of this perk that allows official hotel guests to enter Universal Studios Japan up to 30 minutes before it opens to the general public is inconsistently applied among the hotel. 
At present, it may be only limited to certain travel packages, usually booked via JTB. 
However, if you can beat the crowds, it's amazing to walk straight into attractions like Super Nintendo World and  Despicable Me Minion Mayhem like the VIP you are.
3. Info and Updates on Attractions and Wait Times
If you've spent the last six months researching the perfect Universal Studios Japan itinerary, you won't want to leave anything to change when you visit.
By staying at an official USJ hotel, you'll be able to access real-time information on the status of the USJ theme park, including wait times for all your favorite rides. A little insider knowledge goes a long way.
4. Purchase Your Studio Passes at USJ Official Hotels 
All official Universal Studios Japan hotels and some of the associated hotels can sell you Studio Passes for the park.
You can buy 1, 1.5, and 2-day Studio Passes at the official hotels, perfect for an extended stay in Universal City.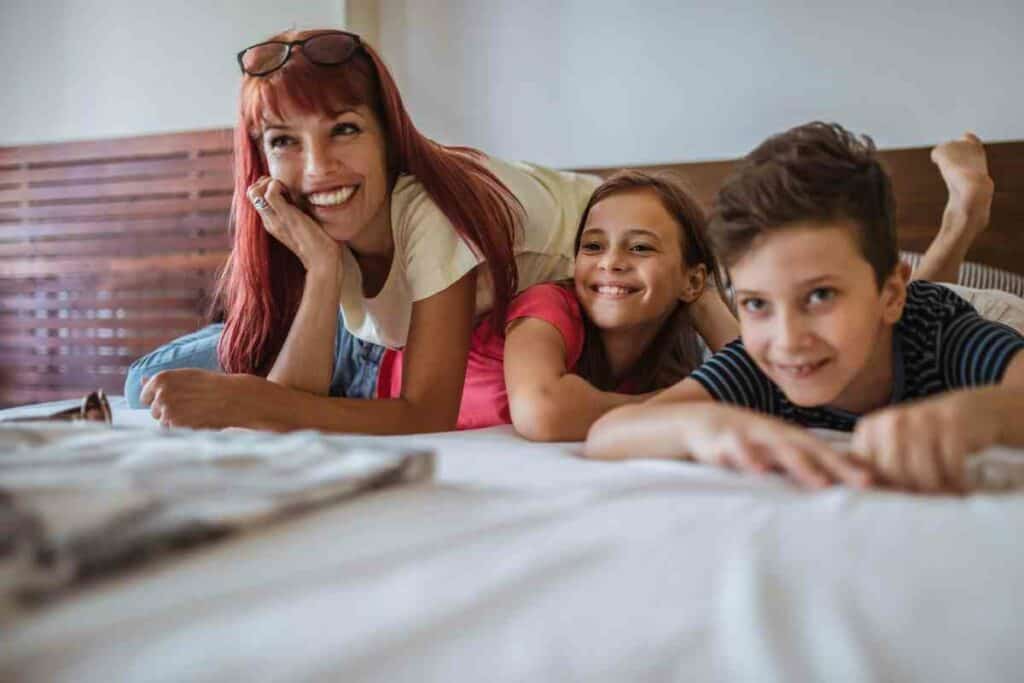 5. Buy All Your Express Passes in the Hotel
As a guest at a Universal Studios Japan official hotel, you can buy Express Passes that allow you to skip the regular lines for certain attractions.
The Universal Express Pass is currently available for Super Nintendo World, saving you heaps of time.
Express Passes are subject to availability and can sell out quickly. By staying in an official USJ hotel, you can get your hands on these passes early.
6. Themed Rooms
Many of the Universal Studios Japan hotels have themed hotel rooms that make your stay extra special. In particular, the Minions-themed Hotel Universal Port and Hotel Universal Port Vita hotels. 
7. On-Site Universal Studios Store
Official USJ hotels have their own stores with limited edition, seasonal and themed merch, making an excellent souvenir for your stay.
These are some of the only official Universal Studios stores outside the park, and you'll find them at the Hotel Kintetsu, Hotel Universal Port, and Liber Hotel Store.
And If you stay at a USJ hotel buying merchandise at the hotel store leaves you with more time to enjoy the park rather than browsing and queuing for goods.
9. Character Meet and Greets
Some hotels offer special meet-and-greet experiences with popular characters like Puss in Boots and the Minions.
These experiences often include photo opportunities and other fun activities. You can check with your hotel to see if there will be any character meet-and-greet experiences during your stay.
Rounding Up
A Universal Studios Japan official hotel stay does offer some great guest benefits, but many of them will depend on the hotel you stay at.
Because of this, you'll need to find out from the hotel you book the exact guest benefits that they offer.
There are also Universal Studios Japan Associate and Alliance hotels, that are further away from the park but offer related benefits like complimentary park transfers and tickets.
Whichever hotel you opt for, you're sure to have an amazing time at USJ!