Japanese people are real train lovers. The Japanese are among the world's top train travelers, nationwide, coming first, just before the Swiss passengers. Some call themselves .電車ファン or 鉄道ファン ( "train fans") on Instagram. They travel all over the country on train lines in order to take high-quality photographic shots.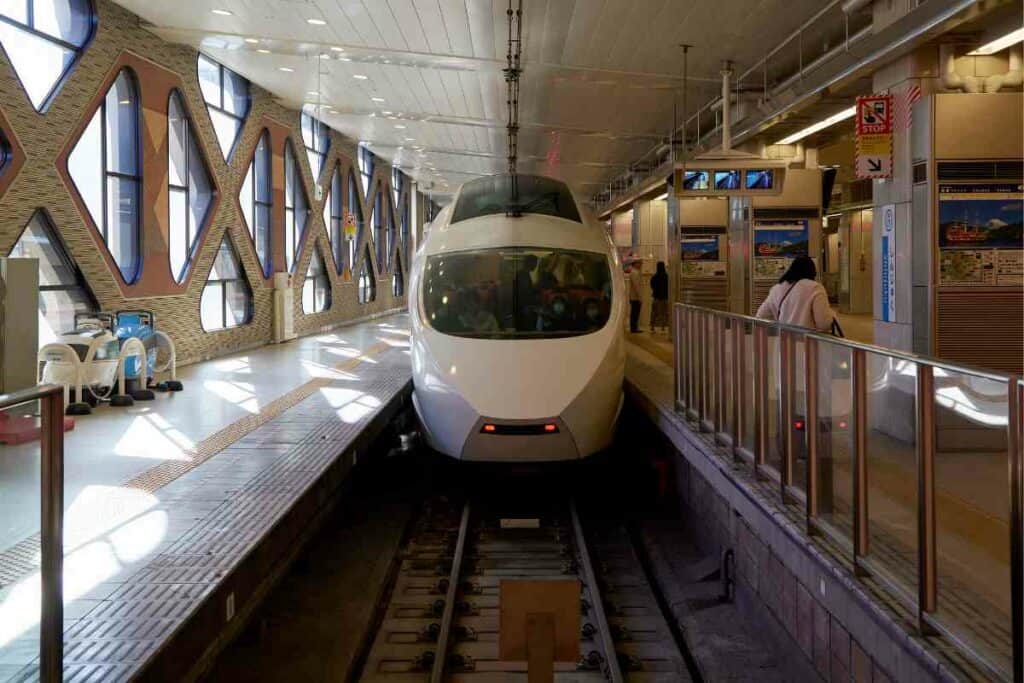 Japanese trains run like clockwork. Even if a train seems on time, Japanese rail companies often make announcements to apologize for a minute delay, a fact that is unknown in European countries.
So if the regular trains in Japan are already so convenient, and the bullet train is so well known, what about the real luxury trains in Japan?
There are numerous luxury trains in the different regions of Japan.
Let's take a look at some major ones.
East Japan: between Tohoku and Hokkaido (Shiki-Shima)
The JR East Japan train suite called "Shiki-Shima" is the most luxurious, and well-marketed as a "lifetime experience in Japan".
Elegant and sumptuous, with more space than a regular carriage, the Shiki Shima is an overnight luxury cruise train.
Launched in 2017, the industrial designer Ken Okuyama signed off the carriages' layout and color scheme. With a total of 17 suites, the train can carry up to 34 passengers.
The train's design is totally different than anything you may have seen in Western countries.
Like a tree, with branches as windows, for passengers to look outside the cars are real large spaces and modern furniture.
It gives the guests a panoramic view of their route.
With regards to gastronomy, Shiki-Shima offers a local East Japan menu, with dishes inspired by each destination and ingredients are carefully chosen. The menu items for 2023 include some typical Japanese dishes but also western dishes and a French dinner set.
There are various spots on the train itinerary where passengers can get off for excursions.
There is also on-board entertainment, with live shows.
The prices published on the train company website for journeys taking place between July and September 2023, cost JPY800 000 for three nights and four full days for two guests or JPY1 2 million for a single passenger.
There are also options for a shorter trip, with one night and two days, starting price at JPY370 000 for two guests.
Twilight Express Mizukaze (or "fresh wind")
Another great option to visit Japan traveling on a luxurious train! This is the Twilight Express, launched in 2017.
It gives passengers 5 different routes to choose from, with most inbound or outbound from Kyoto and Osaka.
The train itself has panoramic windows set as observation decks, all designed by industrial designer Tetsuo Fukuda.
Its bright deep green color found its inspiration in the older Twilight Express, which stopped running in 2015
The concept for this train is that it is a "hotel rolling through the beautiful Japanese landscape," as per the official website description.
In contrast with a regular train journey, where the main goal is to reach one's destination, the luxury train of Miyukaze fulfills another joy: the simple joy of traveling while enjoying the scenery and the food.
The aim of the train journey is also to communicate the charms of West Japan region to the passengers.
The train itself offers a journey into the past with a nostalgic design, but it also succeeds in satisfying every passenger's taste buds.
The trip includes sumptuous original cuisine planned by top chefs and top-class culinary artisans, with all dishes made on board. Mr Takeshi Tadokami, a celebrity food columnist, takes charge of the menu composition and the choice of ingredients.
As everywhere in Japan, chefs give real importance to seasonal ingredients in their dishes, as well as the dish aesthetic, often presented in seasonal ceramics.
During covid-19, meals were prepared in the guests rooms rather than in the main dining carriage.
The Royal Express from Tokyo to Ise shima
Launched in 2017, the Royal Express is another modern yet nostalgic luxury train in Japan.
It combines high technology and modernity but also lavish wooden furniture. On its external side, the train shines in a radiant deep blue color and a gold line.
Eights cars, for a hundred seats, Tokyu Corporation set a new standard for the Japanese luxurious trains. Eiji Mitooka signed all interior designs made of wood, washi, and calligraphy.
Shorter trips from Yokohama are available, but most guests pick the two days excursion plans, which include a stay at an authentic Japanese ryokan. Before departure, a luxury lounge concept welcomes guests in Yokohama.
Reservations come with a specific meal plan, with a Japanese meal choice or a Western meal choice.
At some specific calendar dates, such as February 2023, famous Ise artisans showcase their skills during the rail journey. 
Read later – Collecting Eki Stamps
On the second day of the rail excursion, a professional sushi master is on board to prepare Izu's fresh fish for nigiri-zushi.
A shop on board is also available, with crafts pieces and exhibits from Izu, such as Izuinatori". Finally, on some of the journeys, musical concerts, such as violin performance take place.
The package prices for a two-days excursion, including traditional ryokan accommodation in Izu for two guests, start from JPY 245 0000 up to JPY265 000.
The next voyage in April 2023, called "Sakura Namiki," with applications until the end of January.
This train journey is so luxurious, with rare seats, that a lottery process is in place if too many applicants show interest.
Kyushu, the Luxury Sleeper Train
A deluxe sleeping car train, also designed by Eiji Mitooka, the industrial designer.
The train's main marketing slogan is "a journey to discover a new way of life", through the scenery, but also the meaningful conversations with people you meet onboard.
The Kyushu Seven Stars train, featured in the Society of International railway travelers, starts its journey in Fukuoka with a private lounge welcoming passengers.
Operated by JR Kyushu, it launched in October 2013, and welcomed the first western group of tourists in 2016.
With only seven cars, including five sleeping cars, a lounge, and a diner, guests can also book two exclusive VIP suites, with their own observation window, at the rear of the train.
Scattered around the trains are subtle details such as a ceramic dog, tree frogs,
Two-day itineraries start in Hakata, Fukuoka, with a first-day journey to Nagasaki. The second day takes guests from mount Aso to Yufuin and back to Hakata station.
Four days itineraries take guests further to Miyazaki and Kagoshima.
There are stops on the way and excursions organized for the guests.
A particularity of this luxurious train is the showcase of Kyushu hospitality throughout the journey, with locals waving flags and flowers at the guests.
The Seven Stars train also requires an application process much ahead of travel, with registrations taken during a few days only for journeys from March through to September 2023.
The lottery process is also often used for this train, as there is excess in applicants for most journeys.
One of the most recent additions to the luxury trains in Japan is the JR Shikoku Toki no Yoake no Monogatari. Launched in 2020, it is a scenic sightseeing train following the path of the Bakumatsu warriors.
The journey starts at Kochi Castle and follows a path mostly unchanged for the last 400 years. The tracks run along the Pacific Ocean, with panoramic views. Guests can also enjoy local cuisine, with seasonal ingredients, from Shikoku. At this moment, reservations are made through JR counters in Japan.
The Premium Express Shimakaze, Ise Peninsula
For a slightly less expensive luxury journey, take a look at The Premium Express Shimakaze, Ise Peninsula. 
It is an alternative to the more luxurious train while having a fantastic experience on board a Japanese train.
Shimakaze is another scenic train in Japan, operated by the train company Kintetsu.
From large, comfortable leather seats with more than 125 cm space between seats to the private Japanese-style or Western-style salons, suitable for up to 6 guests, there are several options to travel on the Shimakaze.
Trips start either from Osaka, Kyoto or Nagoya, with journey ending in Kashikojima,
The meal options on this train are slightly less extensive, with a range from the typical train bento box, to a set of sweets and cakes and various regional fruit juices.
Final Words
In conclusion, let's admit that to explore further regions in Japan in a very traditional way, do not underrate traveling by train.
Of course, these luxurious trains are not included in the well-known economical JR Pass for international tourists. However, there is part of the Japanese vacationing ways, and therefore an additional way to explore authentic Japan.
So, if are traveling in Japan or planning a trip, would you consider boarding one of these luxurious trains? If yes, did you find which train, and which itinerary would suit you best? Let us know!