The self-styled 'Tuna King' of Japan is one of the country's most beloved personalities.
This shrewd publicist and owner of the Sushi Zanmai restaurant chain of restaurants hits the headlines regularly for paying record prices for bluefin tuna at the famous new year's tuna auctions of Tsukiji and Toyosu Fish Markets in Tokyo.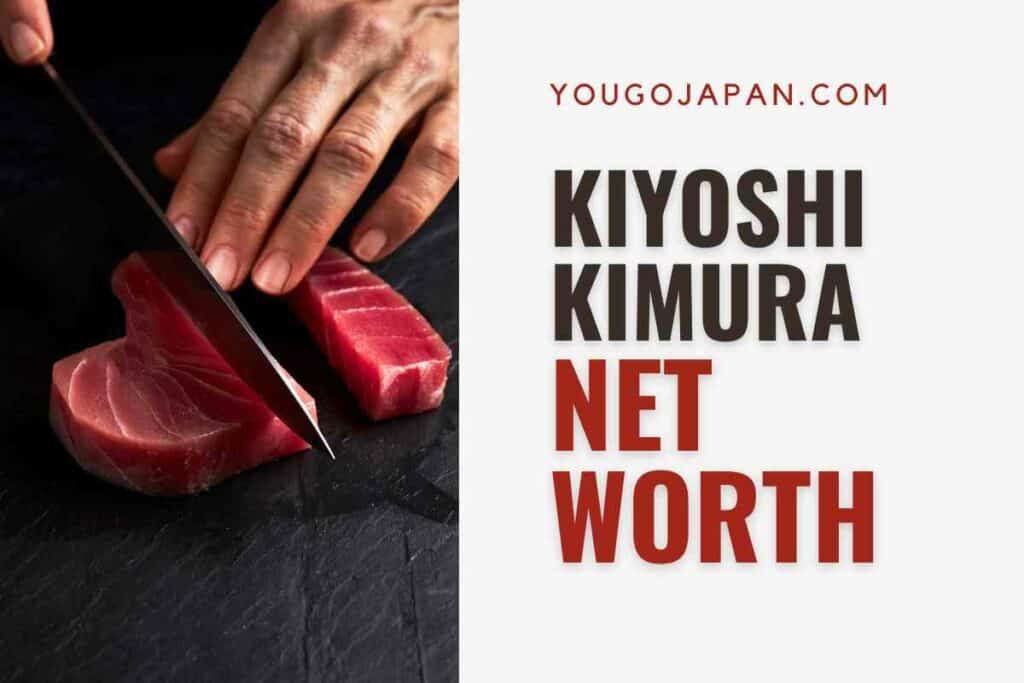 But behind this bigger-than-life character is an even bigger-than-life bank balance.
Let's take a closer look at the net worth of Kiyoshi Kimura. 
The net worth of Kiyoshi Kimura 木村 清
As Mr. Kimura is a sushi king, you'd expect his net worth to be a princely sum.
Estimates on just exactly how much Kiyoshi Kimura is worth vary massively, but his net worth is expected to be at least $10 million.
Given Mr. Kimura is comfortable paying as much as $2.5 million for a single bluefin (2019), he must have pretty deep pockets.
And as we will see below, this extremely shrewd businessman has built a formidable business empire that is capable of generating vast wealth. 
A breakdown of Kiyoshi Kimura's net worth
It is not just tuna that has made Kiyoshi Kimura rich.
His net worth comes from a variety of international business relationships which has even seen him work on diplomatic projects on behalf of Japan. 
Kiyomura Corporation
Kiyomura Corporation (喜代村) is Kiyoshi Kimura's privately held holding company for his various business interests and trademarks that include TUNA KING (filed in 2022).
It was first incorporated in October 1885 and is currently headquartered in the Tsukiji KY Building of the Tokyo fish market.
The main commercial activity of Kiyomura Corporation is the operation of Mr. Kimura's line of sushi restaurants and sushi training services that his company provides all over the world. It also has minor investments in startups such as the Japanese agri-tech company, MY FARM. 
Sushi Gakko 
Sushi Gakko is Kiyoshi Kimura's sushi school. He set up the school, due to a perceived decline in the number of sushi restaurants.
Kimura wanted to provide the environment necessary to become an excellent sushi chef and develop a line of successors for his restaurants and the wider Japanese food industry.
Mr. Kimura has considered taking his school overseas but wants to be confident that he can ensure that the standards of hygiene management for raw foods will be kept high. 
Sushi Zanmai
Kiyoshi Kimura's main business operation is the sushi chain SUSHI ZANMAI すしざんまい.
It is one of Japan's biggest sushi franchises with 41 restaurants across Tokyo and Kanagawa. Sushi Zanmai is loved by the Japanese for the high quality of its seafood and the competitive prices. Its stores are open 24 hours per day. 
Kiyoshi Kimura's priority with Sushi Zanmai is providing high-quality, fresh, and delicious products for a reasonable price.
Kimura knows that Sushi Zanmai is extremely popular with tourists who are looking for an affordable but authentic Japanese meal. Because of this, he serves the world's best fish cuts and experiences quality raw food.
Other interests
In addition to his culinary pursuits, Kiyoshi Kimura has wide-ranging international business interests and relationships including
An honorary directorship of the Japan Association for the Promotion of Latin America and the Caribbean
An invitation to Djibouti to help Somalia and Djibouti pirates return to fishing by buying their fish for his Japanese restaurants.  His strategy of transforming the pirates into fishermen stopped attacks off the coast of Djibouti.
Business interests in Japan, Sri Lanka, and the Caribbean
Kiyoshi Kimura 木村 清 biography
70-year-old tuna king Kiyoshi Kimura was born in the city of Noda in Chiba prefecture, Japan in 1952. He attended Noda Shiritsu Kimagase Junior High School. Little is known of his early life but his businesses have been entirely self-made.
Kimura is the original business maverick, having worked and owned a variety of businesses before starting Sushi Zanmai that span karaoke, rental video stores, and bento box catering.
Mr. Kimra is passionate about business and comes up with new ideas frequently. He sees no distinction between his work and leisure.
Starting Sushi Zanmai
Kiyoshi Kimura founded the Sushi Zanmai restaurant chain in 2001 when he was 50 years old. This was in response to the decline of the Tsukiji Fish Market which was largely shuttered.
Sushi Zanmai was started to help revive trade and footfall. When speaking of the company, Kimura said that he wanted to "provide things that would make people happy and things that hadn't existed before".
Legendary tuna auction bidding 
Kiyoshi is world-famous for being the record bidder at eight of the Japanese New Year tuna auctions in the last decade. These phenomenal bids, worth millions of dollars have made Sushi Zanai a household name. 
In 2019, Kimura paid $3.1 million for a single 613-pound (278-kilo) bluefin tuna at the new year's auction at Tokyo's Toyosu Fish Market.
This exceeded the record he set back in 2013, paying more than $1.78 million. The first tuna of the year is prized as a symbol of prosperity and good fortune. Kimura always serves his record-breaking tuna to his customers with zero markups in price!
Kiyoshi Kimura 木村 清 personal life
It is believed that Kiyoshi Kimura has an incredibly patient wife somewhere but little is known of his family and they are rarely in the public eye. Kimura often admits that his businesses are his whole life!
Facts about Kiyoshi Kimura
Kiyoshi Kimura's future goals include helping to improve the Japanese economy and working to achieve world peace.
In a recent interview, Kiyoshi Kimura said that he is driven by curiosity and things that delight people. 
Many Sushi Zanai restaurants feature life-sized statues of Kiyoshi Kimura!
Kiyoshi Kimura quote 
"Doing everything whole-heartedly. It seems easy, but it's actually difficult. I think hospitality is about welcoming people whole-heartedly."
Final thoughts
This gregarious businessman has brought entertainment and cheer to his customers and the wider Japanese economy.
His generous approach to business and life is an inspiration to many. We look forward to the next adventures of Kiyoshi Kimura and his sushi empire!