63-year-old Ken Watanabe is an internationally renowned Japanese actor, famous for his suave roles in blockbusters like Memoirs of a Geisha and The Last Samurai.
At home in Japan, he also thrills audiences with a variety of TV and stage roles.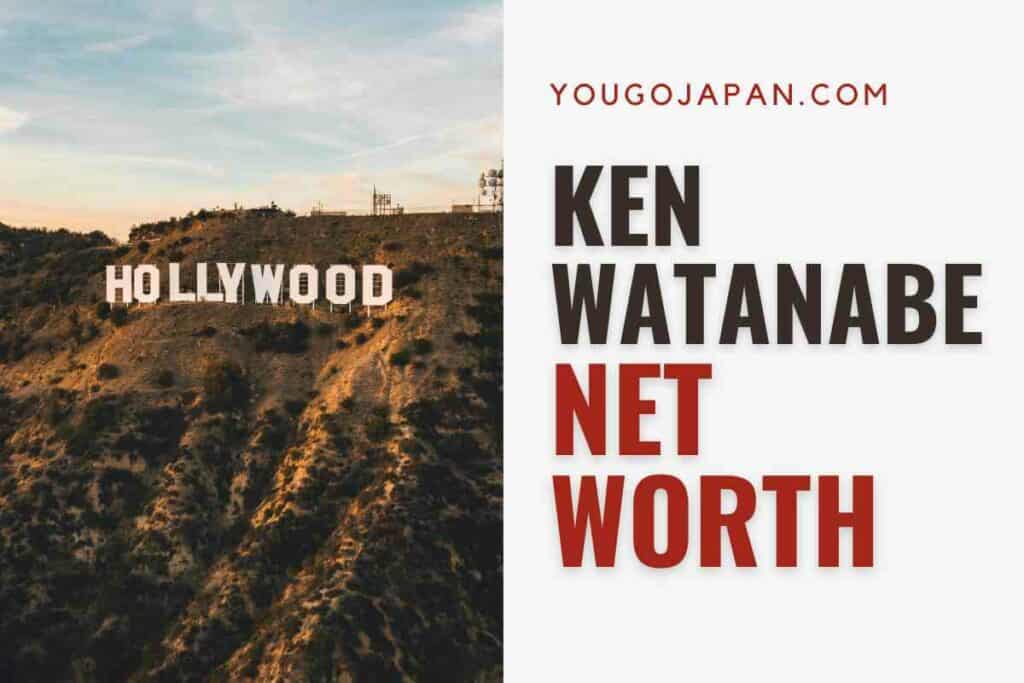 After over 40 years in show business, he has amassed a fortune fitting for a Hollywood star.
In this article, we deep dive into the net worth of Ken Watanabe! 
The net worth of Ken Watanabe
After decades as one of Japan's most sophisticated and prominent actors, Ken Watanabe has accrued a lot of wealth.
It is estimated that Mr. Watanabe has a net worth of more than $45 million, earning more than $3 million per year for his performances across film, stage, and screen. 
A breakdown of Ken Watanabe's net worth
Ken Watanabe's successful acting career has been the driver of his substantial wealth.
With over 40 films under his belt, his millions are primarily derived from the fees and royalties he has earned as an actor.
He is known for being discreet about his wealth but his assets likely include investments and property. 
Property
It is known that in 2009 Mr. Watanabe purchased a $1.1 million three-bedroom property in Santa Monica, California.
He likely owns other properties in Japan. He currently lives in the west side of Tokyo in a house near Kinuta Park, Setagaya.
Film fees
Though he now commands multimillion fees for his performances in films and shows, it has not always been that way.
Japanese actors are notoriously underpaid in comparison to their Western counterparts. According to Forbes, Ken Watanabe has had to fight to get to his financial position today.
One of the initial barriers to increasing his earnings and breaking through into the more lucrative Western film industry was his poor command of English.
For The Last Samurai, his casting director Yoko Narahashi taught him better English, an important investment that has helped him be marketable in both film industries. 
Endorsements
Back in the 2000s when Ken Watanabe was in The Last Samurai, he was the face of many advertising campaigns and endorsements. In the past, Ken has worked with American Express and Gap.
Ken Watanabe 渡辺 謙 biography
Kensaku Watanabe was born in 1959, in Koide, a mountain village in Niigata Prefecture. His father was a traditional calligrapher and his mother was a schoolteacher.
While growing up Ken moved around with his parents while they worked in different villages. In high school, he became a trumpeter in the school's concert band. 
Watanabe initially wanted to become a professional musician, but the family suffered a setback when his father became ill and unable to work. This meant that Watanae could no longer pursue music, but he tried acting as an alternative. 
Watanabe's early acting career
In 1978 Ken Watanabe graduated from school and went straight to Tokyo to begin his acting career.
He enrolled in the drama school of the Engeki-Shudan En theater company. While with the troupe he landed a starring role, directed by the famous director Yukio Ninagawa, which raised his public profile. 
Watanabe appeared in a wide range of Japanese TV shows and films. Early roles included the 1984 film MacArthur's Children. Watanabe also played a variety of Samurai and historical saga roles for which he is best known in Japan.
Setbacks and a resumption of his career
In the late 1980s, Watanabe had to pause his acting career to be treated for acute myelogenous leukemia, which recurred in 1991.
Once Ken recovered from leukemia, he resumed acting. His performance in the 1998 film Kizuna earned him a nomination for Best Supporting Actor in the Japanese Academy Awards.
He later won the Best Actor Japanese Academy Award for his 2006 performance in Memories of Tomorrow.
International breakthrough
Watanabe's breakthrough role was his memorable performance as Lord Katsumoto in The Last Samurai.
He was nominated for a Best Supporting Actor Oscar for this 2003 role. He also became internationally famous through his performance as the Chairman in Memoirs of a Geisha.
TV roles
Ken Watanabe is still making TV shows in Japan. His latest shows include a 10-part crime drama called Tokyo Vice for HBO Max, the NHK comedy You're a Genius and an upcoming remake of The Fugitive.
Ken Watanabe 渡辺 謙 personal life
Ken Watanabe was married to his first wife, Yumiko Watanabe for more than 22 years, throughout many of his health challenges. They sadly parted ways in 2005.
Ken and Yumiko share two children:
The actor Dai Watanabe, born in 1984
The actress and model Anne Watanabe, born in 1986
Ken married his second wife, Kaho Minami, an actress in 2005, with Watanabe formally adopting Minami's son from a previous marriage. This marriage ended after 13 years.
Facts about Ken Watanabe
Ken publicized and raised funds for the Tōhoku earthquake, tsunami, and the subsequent Fukushima nuclear disaster.
Watanabe loves his border collie called Dan!
Ken Watanabe also had a chocolate labrador called Harry back in the 2000s
Ken is a big fan of the Hanshin Tigers. He often travels by bullet train from Tokyo to the Hanshin Koshien Stadium, near Kobe, to see them play. 
Watanabe is a keen golfer and plays at the Fuji Zakura golf course near Mount Fuji.
After the 2011 earthquake, Ken set up a restaurant called K-port, to help the people of the devastated city of Kesennuma. 
Ken Watanabe loves to cook and has appeared on Youtube cooking a meal with his daughter Anne:
Ken Watanabe quote
"I can't become another person, no matter how much makeup I wear. Something of your past, your experiences, and personality always come out in the role, and that makes acting very risky."
Rounding up
Ken Watanabe is well on his way to becoming a legendary Japanese movie star. His international appeal and engaging off-set personality have been the key to his wealth.
He shows no signs of slowing down his career so we are sure that his resume and bank balance will continue to grow.