Akihito, the Emperor Emeritus of Japan reigned over the post-war rise of Japan, sharing his country and its ancient culture with the world.
His Heisei era, known for its pacifism, saw some of the major events of the 20th century take place.
But how much is the 125th inheritor of the Chrysanthemum Throne worth?
In this article, we explore the royal finances of Akihito, with fascinating insights into Japanese royal life.
The net worth of Akihito 明仁
If you think the Emperor is the richest person in Japan you're in for a disappointment.
Royal finances are complicated, especially when you're a retired Emperor and Emperor Emeritus Akihito's personal finances are completely separate from the amazing palaces, grounds, and treasures of the House of Japan.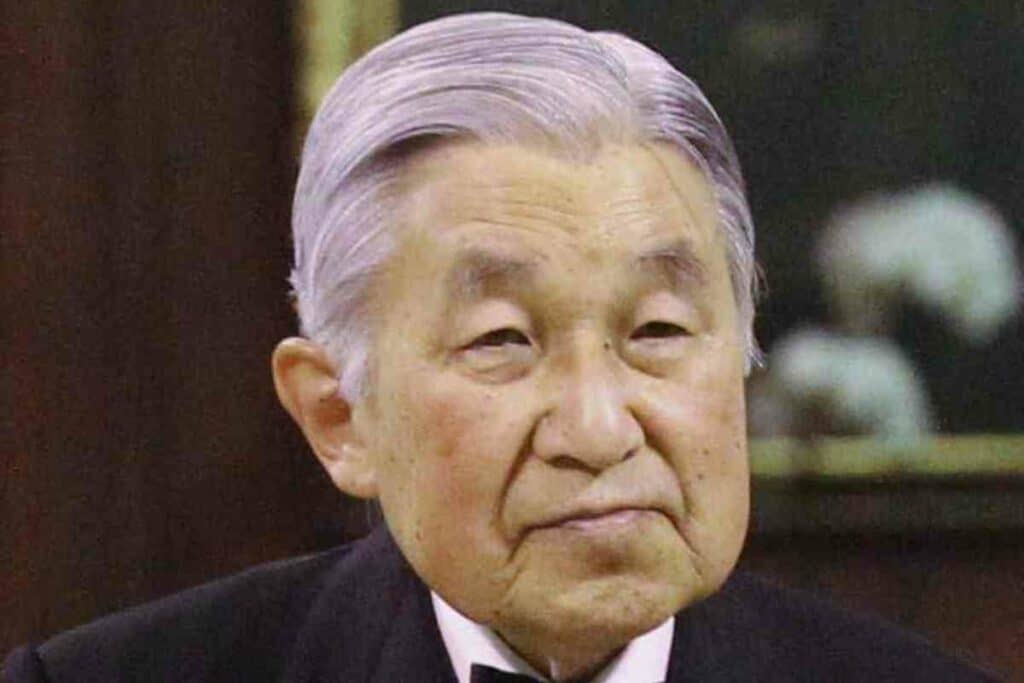 Emperor Emeritus Akihito's net worth is thought to be just $40 million, far less than you'd expect for someone who has been an emperor for 30 years.
The $40 million includes an $8.9 million inheritance from his father Emperor Shōwa in 1989.
Finances of the Imperial House of Japan 皇室
Before WWII Japan's monarchy was one of the wealthiest in the world, with Imperial Crown Estates being the Emperor's personal property.
When Japan was defeated in WWII, the House of Japan was hit with significant financial and constitutional changes that were directed by the U.S. Government.
 The following changes, under the Allied occupation of Japan, slashed the wealth of the Imperial House of Japan:
Abolition over 10 collateral branches of the Imperial Family.
Extended Imperial Family members were forced to sell their assets to the government.  to private or government owners.
The Imperial Household Ministry was reduced from 6000 to 1000 staff
The majority of the personal fortune of the Emperor was transferred to state or private ownership.
All Imperial palaces are owned and maintained by the State.
While he was Emperor, Akihito had a State allowance of approximately $185 million per year. As Emperor Emeritus, Akihito has access to:
Personal expenses: pooled funds of 324 million yen ($2.44 million) per year 
Allowances: pooled funds of 260 million yen ($1.96 million) per year
Palace-related Expenses: up to 6.72 billion yen ($47 million) for official visits, entertaining per year 
Gift giving: up to 18 million yen ($135,567) per year
Akihito can receive up to 6 million yen ($45,189) in financial gifts each year. 
Akihito 明仁 biography
Emperor Emeritus Akihito was born in 1933 in the Tokyo Imperial Palace. He was the fifth child and first son of Emperor Shōwa and Empress Kōjun.
Akihito has lived his entire life within the confines of the Imperial household, with education by private tuition. As part of his training, he requested not to be made an army officer. 
During WWII, the young prince was evacuated from Tokyo which was bombed heavily.
During this time he was tutored by Elizabeth Gray Vining, an American librarian who taught him English and Western etiquette. 
His Crown Prince (Rittaishi-no-rei) investiture ceremony was in 1952. From this point, he undertook a wide range of formal engagements including representing Japan at the coronation of Queen Elizabeth II.
Life as Crown Prince of Japan 
Akihito married his Catholic wife Michiko Shōda in 1959.
The union was opposed by many in the Imperial household because Michiko Shōda was a commoner and no commoner had married into the household in over 2000 years, but Emperor Shōwa approved of the marriage. Children soon followed in the 1960s (see below).
As Crown Prince, Akihito primarily lived in the Imperial Palace but also undertook official visits on behalf of the emperor to 37 countries. His last official visit as Crown Prince was in 1987.
Ascension to the Chrysanthemum Throne
When his father the Emperor died, Akihito acceded to the throne. On the 7th of January 1989, he became the 125th Emperor of Japan.
His enthronement was on the 12th of November 1990. His reign was associated with worldwide peace, strengthening diplomatic relations, and bringing the Imperial household closer to the people of Japan. 
This largely ceremonial role saw him visit many Asian nations to make atonement for the suffering they endured under Japan in WWII.
He and his wife also visited every prefecture in Japan and honored the dead at war memorials. 
Later life and abdication 
In 2016, reports surfaced that Emperor Akihito wanted to abdicate in favor of his son Crown Prince Naruhito.
The reason was because of old age. To be able to abdicate, the National Diet had to pass a specially created "Emperor Abdication Law".
At the end of 2017, Prime Minister Shinzo Abe announced that Emperor Akihito would abdicate on 30 April 2019. His son Naruhito became Emperor the following day.
Akihito 明仁 personal life
Empress Emerita Michiko Shōda is the love of Akihito's life.
Though a commoner and Catholic by birth, Michiko Shōda rose to the pinnacle of Japanese society and has been a consort to Akihito during his 30-year reign.
The couple met playing tennis in Karuizawa and Akihito pursued her.
Once married in 1959, Akihito had the following children who were born and raised in the Tokyo Imperial Palace:
Naruhito: born on the 23rd of  February 1960. Now Emperor Naruhito, Japan's 126th Emperor 
Fumihito: born on the 30th of November 1965. Now styled as Prince Akishino
Sayako Kuroda: born on the 18th of April 1969. Now married and a commoner
Facts about Akihito 明仁
Emperor Emeritus Akihito currently resides with his wife at the Takanawa residence in Tokyo which is now the Temporary Emeritus Imperial Palace.
In Japan, an emperor who abdicated the throne is called a Dajō Tennō (太上天皇).
64 Emperors have abdicated in the history of Japan.
Akihito 明仁 quote
"I am marrying her because I love her."
In conclusion
Emperor Akihito has lived a storied life that has seen many of the great events of the 20th century.
He and his Empress consort worked hard to build the relationships and goodwill that Emperor Naruhito will rely on in the coming years.
As part of an ancient dynasty with hereditary wealth, the successful transfer of power to a subsequent generation is more valuable than private net worth.