I love Japanese cuisine and was so surprised to find out that some of my favorite moreish Japanese dishes are in fact based on Western cuisine!
Apparently, the Japanese have been mimicking Western cuisine for hundreds of years, meaning classics like Tonkatsu, and Ebi furai are cover versions of Western fare.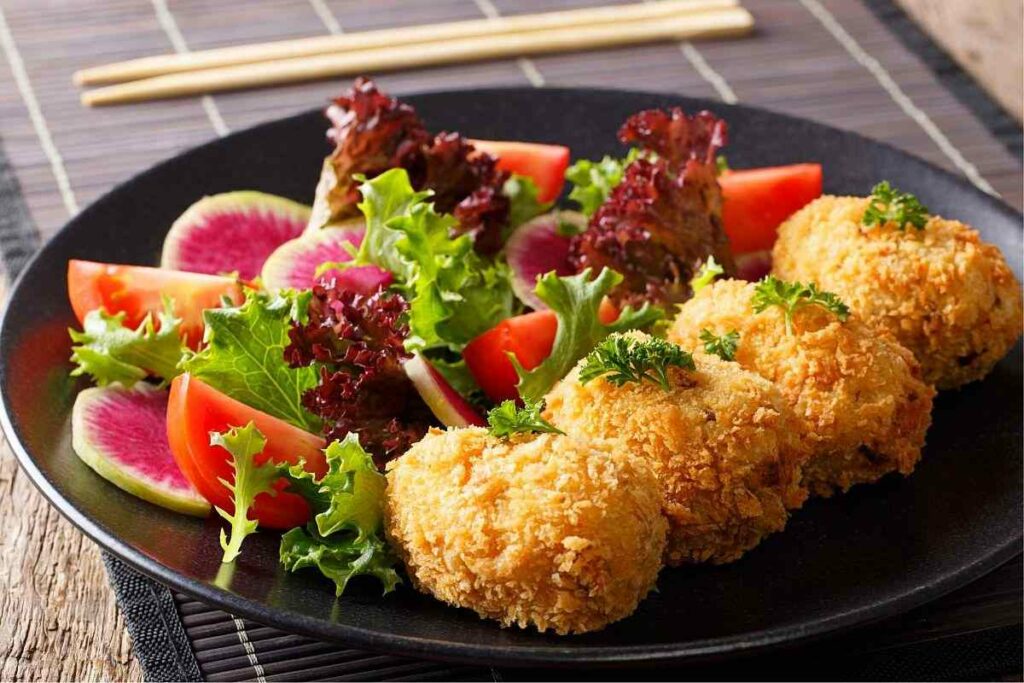 I hope you'll find this guide to Yōshoku cuisine as fascinating as I do. 
What is Yōshoku Cuisine?
Yōshoku (洋食), which literally means 'Western food' is the Western-influenced cuisine of Japan.
These dishes are based on European recipes that were introduced to Japan during the Meiji Restoration and now are staples of Japanese cuisine.
The Japanized foods in Yōshoku are different from Washoku, which is traditional Japanese cuisine.
It is also distinct from contemporary fusion or international cuisine and often features Western names written in katakana. Yōshoku cuisine is eaten with chopsticks and a spoon, rather than the knife and fork used in the West.
In contrast, authentic Western cuisine is called seiyō ryōri, and is eaten with Western cutlery.
The History of Yōshoku Cuisine
Japan's Meiji Restoration (1868 to 1912) marked a massive shift in the social, cultural, and economic development of Japan.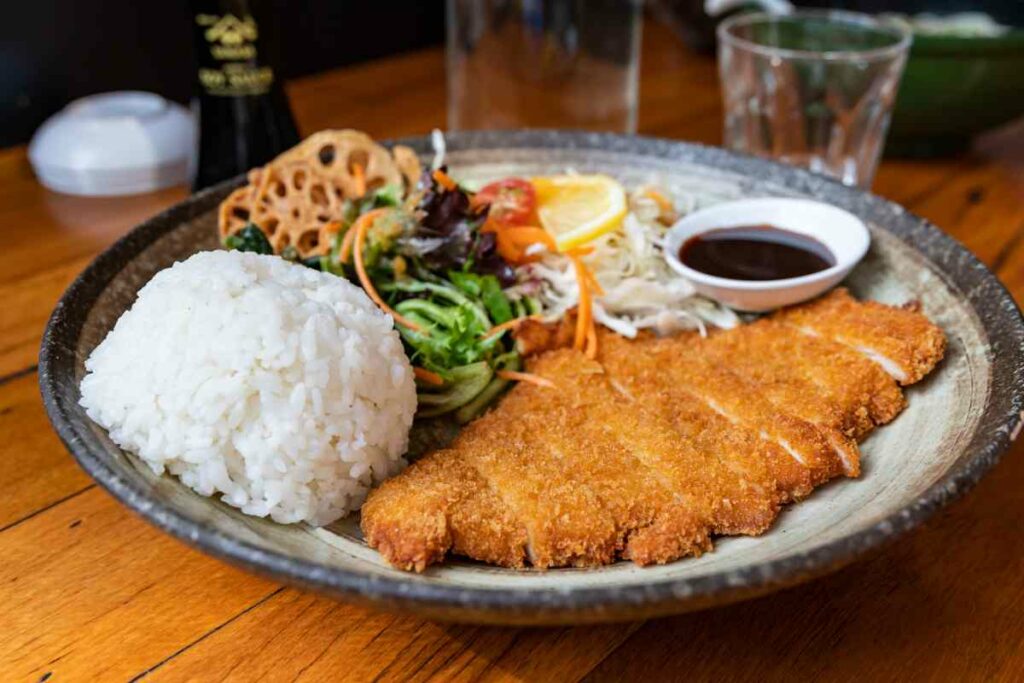 This period ended the prolonged national seclusion that had persisted in Japan as the Emperor led the people in adopting progressive Western ideas.
A major step was the lifting of a long-standing ban on the consumption of red meat, after noting the taller stature of Westerners.
The Japanese believed that by adopting a Western diet they would become taller too. So a popular menu of rich, meat-based Japanized dishes was devised to improve nutrition. These dishes were collectively known as Yōshoku and are predominantly meat-based. 
The term was coined in the late 19th century when it transitioned from being the term for foreign, Western cuisine to being a novel style of Japanese cuisine.
At this time in Japan, expats had opened many restaurants serving European food, particularly Dutch, French, and Italian cuisine. A Japanese writer called Kanagaki Robu created a cookbook for the Japanese that adapted these recipes.
Interestingly, Western dishes had become Japanized well before the Meiji Restoration. The 16th-century Portuguese community in Japan had introduced tempura to the Japanese. Though it is not truly Yōshoku, it is often served in Portuguese restaurants. 
Key types of Yōshoku cuisine
Yōshoku dishes vary in how Japanized they are. For the Western traveler to Japan, all of these dishes will be considered traditional Japanese fare.
Many are served as if they are traditional washoku, with rice and miso soup on the side!
However Yōshoku names, often written in katakana, indicate they are foreign.
Here are some classics:
Kareraisu (Curry and Rice)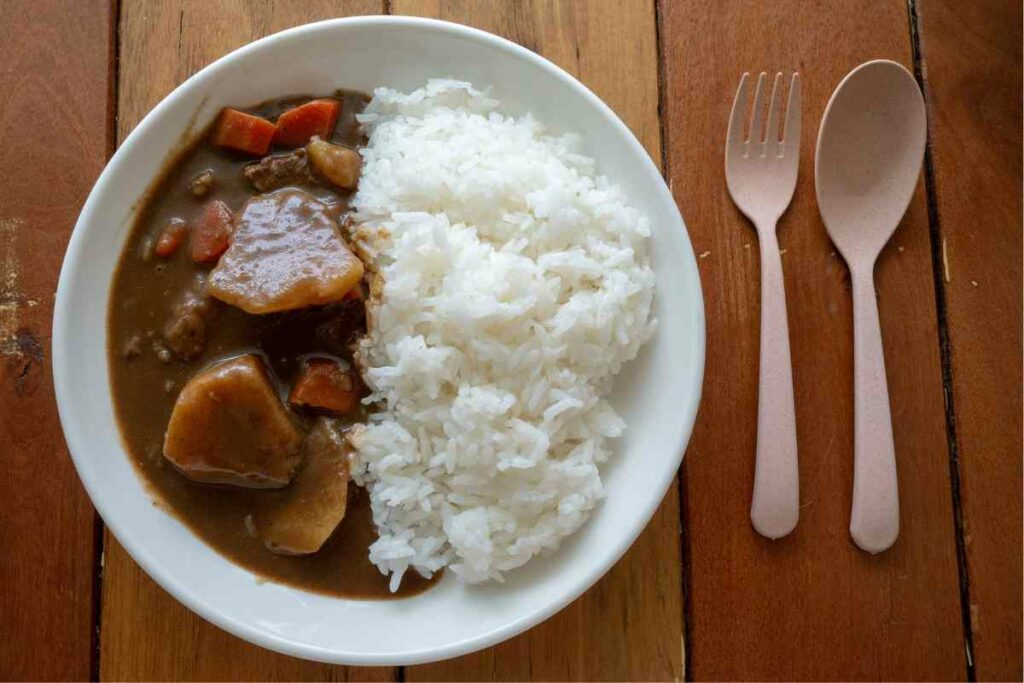 This classic dish consists of the curry, karē (カレー) that is served on a plate of fresh rice called raisu (ライス).
Curry was introduced to the Japanese by the British Navy, who served curry to the sailors on their ships.
Japan's adapted form of curry is not a national favorite that often includes a sauce with onions, carrots, potatoes, or breaded 'katsu' cutlet. 
Katsu and Tonkatsu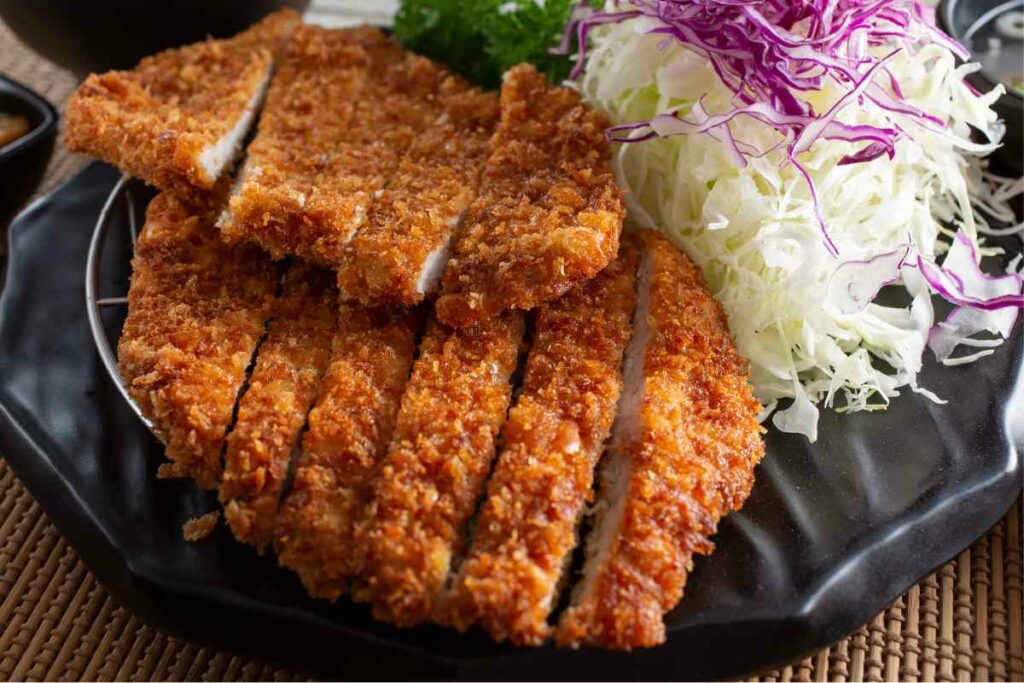 Katsuretsu (カツレツ) or katsu, is the classic panko-crumbed and deep-fried chicken breast dish that is served on a bed of rice.
The breaded pork cutlet version is called tonkatsu, with the word 'ton' (豚) meaning pork. This delicious dish is served with a rich brown sauce or ketchup known as tonkatsu sauce. 
Omurice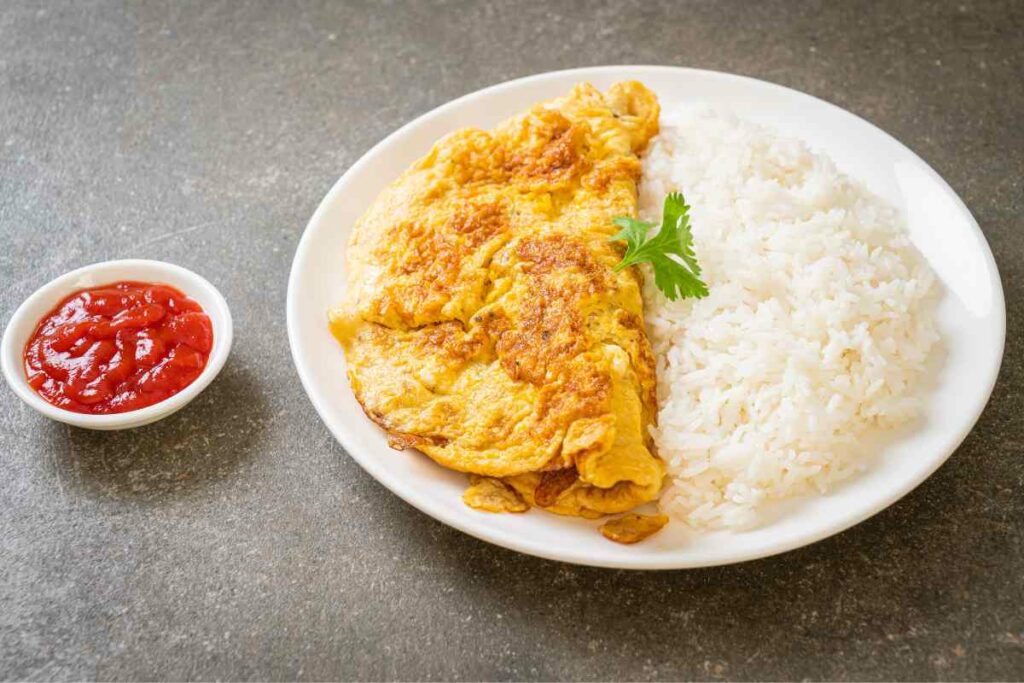 This dish literally combines an omelet and rice.
There are so many regional variations of omurice which wrap tasty seasoned rice in a fresh omelet, dressed with ketchup and other garnishes.
The most delicious versions include meat in the fried rice filling or noodles as an alternative. 
Hamburg steak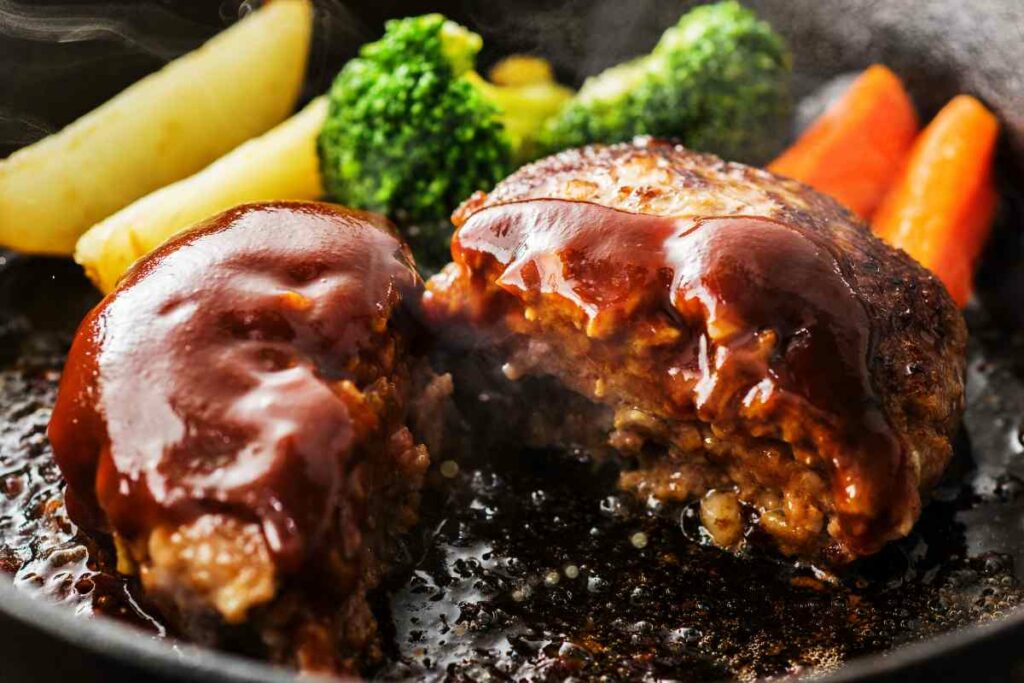 Hamburg, Hamburg steak, or hanbāgu (ハンバーグ) is the Japanese version of a beef hamburger.
It is a large, hearty oval patty made with ground beef, panko, egg, onion, and various seasonings. It is always thick and shallow fried to taste.
The Japanese eat it with a brown sauce, demi-glace, or ponzu over rice. 
Korokke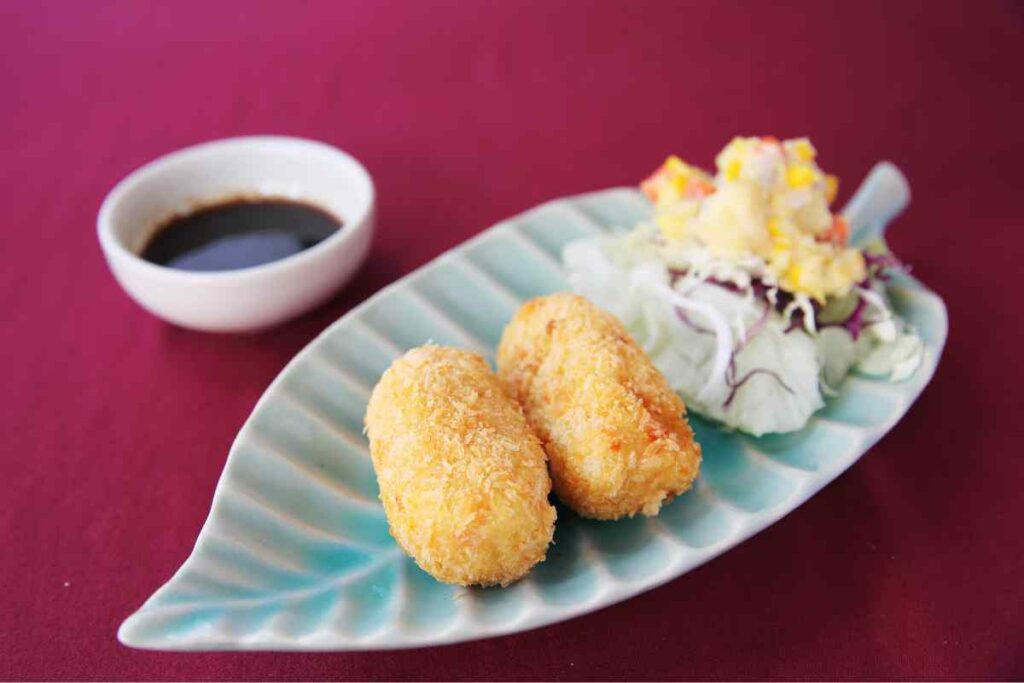 Korokke (コロッケ) or "croquette" is a potato dumpling that includes meat, seafood, or vegetables that is coated in panko and deep fried.
It came into fashion in the 19th century, using potatoes for its creamy consistency due to a lack of dairy. Korokke can be eaten as a sit-down meal or takeaway food served in fast-food restaurants. 
Spaghetti Naporitan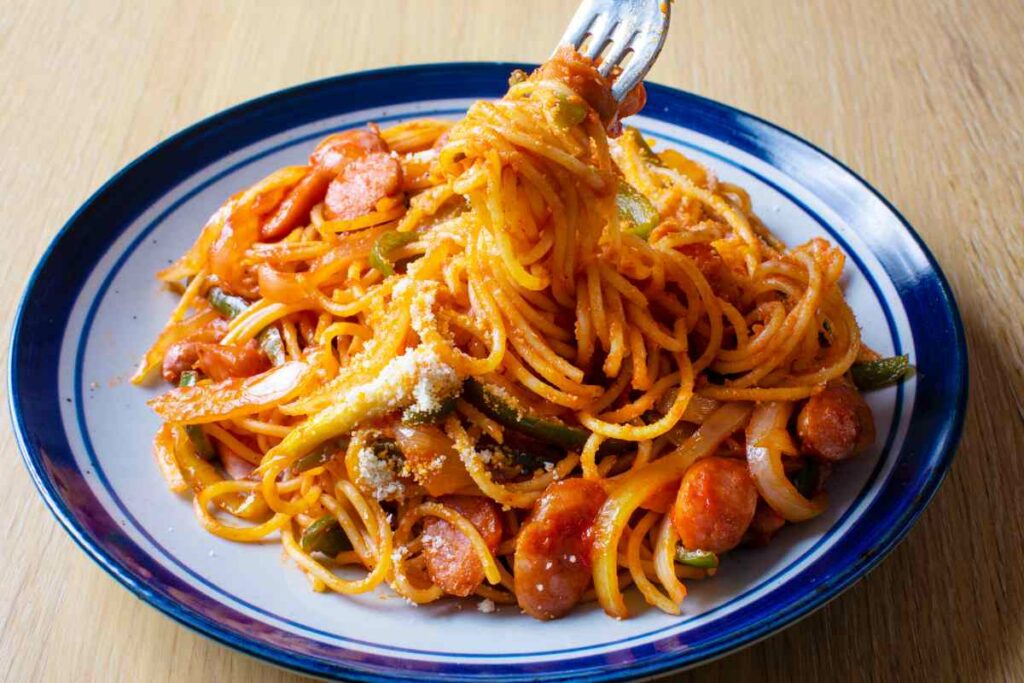 Spaghetti Naporitan (ナポリタン) takes its name from the region of Naples in Italy.
It is a widely eaten pasta dish that combines soft cooked spaghetti with onions, bell peppers, mushrooms, bacon, and ground sausage.
It was originally created at the Hotel New Grand in Yokohama by the Japanese chef Shigetada Irie.
Where can I try Yōshoku in Japan?
Japan has many restaurants and cafes that specialize in Yōshoku cuisine. You can find Yōshoku specials like katsu or curry on menus across the country.
If you're traveling to Japan soon, here are some restaurants that have a great reputation for classic Yōshoku dishes:
Yōshoku Ogata 
This Kyoto restaurant is feted by the Michelin Guide for its comprehensive menu of Yōshoku cuisine prepared using the finest and freshest Japanese ingredients. 
Yōshoku Wine Fritts
Yōshoku Wine Fritts is an elegant Tokyo establishment that specializes in the deep-fried elements of Yōshoku cuisine. Specialties of this restaurant include the Hamburg Steak and its Gratin. 
Executive chef Chef Kameoka has extensive training in French haute cuisine, which shines in his Yōshoku menu and signature demi-glace sauce. His Hamburg Steak is renowned in the city of Nara. 
If you're planning the trip of a lifetime to Japan, tasting authentic Yōshoku will be just one of the amazing experiences you'll enjoy! Get the best value flights, accommodation, and travel insurance set up now so you plan your perfect Japan itinerary hassle-free!
Rounding Up
Yōshoku cuisine is another great example of the talent of the Japanese in learning about foreign cultures and adapting them to their own.
This delicious cuisine is great for Japan travels where you want something a little bit familiar with flavors that everyone can relate to.
Try Yōshoku cuisine in Japan, or closer to home, as most Japanese restaurants overseas will serve at least one of these dishes.