The crazy antics of Hajime Syacho, like attempting to gorge on 120 chicken nuggets in a single sitting, have earned him millions of views and dollars on YouTube.
In this article, we detail the net worth of Hajime Syacho along with other fun and fascinating facts about this famous Japanese YouTuber.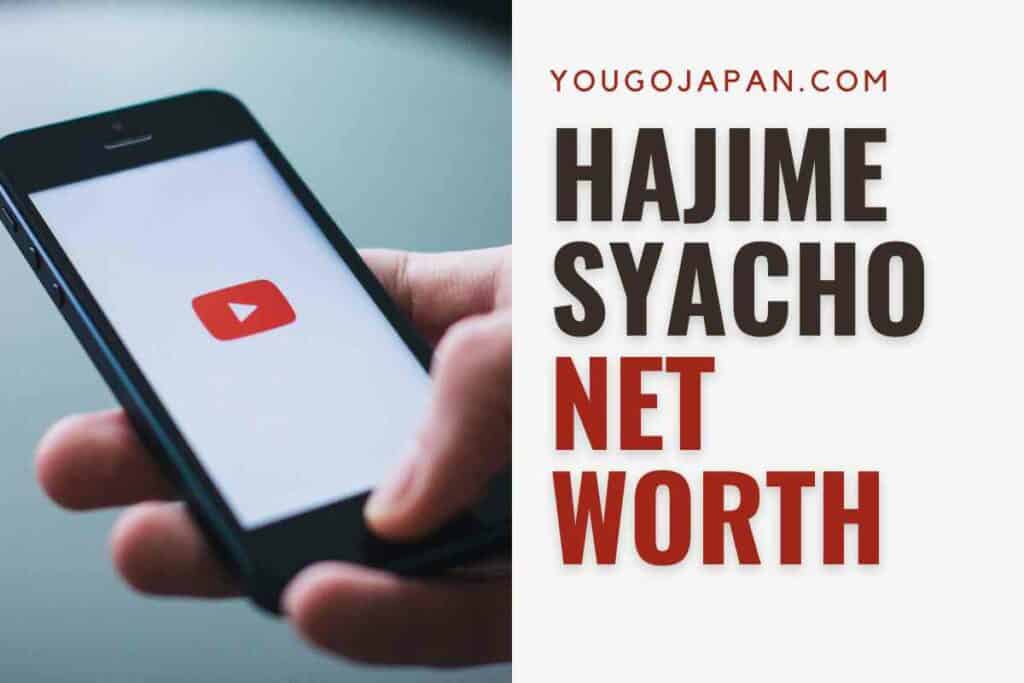 The net worth of Hajime Syacho はじめしゃちょ
Various sources have concluded that Hajime Syacho has a net worth of between $5 and $7.8 million.
Since Hajime Syacho's financial information is not in the public domain, this is an estimate based on the number of subscriptions he has and the monetization methods he is currently using. 
He must be worth much more as his Shizuoka prefecture house alone is worth at least $3 million as this epic house tour shows:
Where does Hajime Syacho's net worth come from?
Hajime Syacho's net worth has been generated through his prolific production of fun and zany YouTube content.
This is his primary medium for content creation and has earned him massive numbers of subscriptions and views from the Japanese youth.
Here are some of his possible monetization strategies:
Earning ad revenue by partnering with YouTube
Working as an influencer to promote partner brands and products
Affiliate marketing 
Creating licensed content
Hajime also has a fee-based fan site called Hajimeno
To give you an idea of the earning rate of Hajime Syacho, a YouTuber who has 1 million subscribers earns approximately $60,000 per year. 
Who is Hajime Syacho はじめしゃちょ?
Hajime Syacho is Japan's #1 YouTuber and has amassed over 11 billion views across his three YouTube channels. 
His 10.4 (million and climbing) subscriptions have made his channel Japan's biggest.
If you love Japanese contemporary culture, it will have been hard to miss the outrageous antics of this popular 30-year-old, who also goes by the names of Moyashi (もやし) and Hajimen (はじめん).
The @hajimesyacho YouTube channel is part of the Japanese multi-channel network UUUM that manages its channels, merchandising, and sponsor relations. Interestingly UUUM was founded by Japanese YouTubers HIKAKIN and Kamada to help other YouTubers profit from their fame. 
In addition, you can find @hajimesyacho on Twitter, where he has more than 5.4 million followers, and on Instagram where the @hajimesyacho account has 1.1 million people keeping up with his day-to-day antics.
Hajime Syacho はじめしゃちょ biography
Hajime Syacho is currently 30 years old. He was born in 1993 in the city of Tonami in Toyama prefecture. His real name is Hajime Eda. Hajime's name is a common Japanese boy's name meaning 'first' or 'beginning'.
Hajime has described his upbringing as strict and academically focused, which has driven his desire to express himself freely using YouTube videos.
He was part of the student council at school and due to his 6"1' height, excelled at basketball. His grades were not amazing due to his focus on basketball and his hobby of making funny videos.
He just about scraped a place at Shizuoka University, despite lower than the benchmark score in the National Center Test for University Admissions. Despite his academic challenges, he graduated in 2016.
Hajime Syacho's Youtube career
Hajime did not have the greatest time at university. He decided to focus on his own interests and began to post videos he was making with college friends on YouTube.
In March 2012, he set up Hajime Company, a video team, and started to systematically produce and upload content His first video was uploaded that year but achieved three views.
Later that year, he changed the name of his YouTube channel from Hajime-shachō はじめ社長, meaning President Hajime to its current name, Hajime Syacho.
Hajime Syacho's Youtube content
Hajime Syacho maintains 3 YouTube channels that mainly record his crazy experiments and challenges:
A main channel on which he posts a random selection of videos including experiments, product reviews, Q&As, and challenges. 
A second channel that covers aspects of his day-to-day life and includes his hobby of collecting Yu-Gi-Oh! cards and other interests.
A third channel that diarizes his lifestyle with his roommates. 
Hajime is also running one of the largest Twitter accounts in Japan. His video content posted on Twitter has earned record viewers. 
In 2015, Hajime was able to gather 740 participants to Yokohama for a record-breaking game of statues. Other activities via the channel include events and campaigns on behalf of a wide range of sponsoring companies. 
Crazy challenges from Hajime Syacho include 'wasting Nivea cream', 'destruction of golf clubs' and the must-see 'turning a broken computer into tempura'!
Hajime Syacho also produces Korean-style mukbang, or 'eating show' videos, where he undertakes crazy eating challenges.
If the challenges he attempts are too dangerous he usually posts a disclaimer warning viewers not to copy him. Some of his content has had to be made private because it has simply been too risky. 
Hajime Syacho はじめしゃちょ personal life
Hajime Syacho is currently single, though he may have had a relationship with the YouTuber Yuka Kinoshita.
He lives with roommates in his $3 million house in Shizuoka prefecture. Syacho has had recurrent problems with strangers coming to his home, which he shared with his YouTube audience.
He was also stalked by a female fan who received a restraining order from The Japanese police.
Facts about Hajime Syacho はじめしゃちょ
Hajime studied English in the UK between 2013 and 2014.
Hajime has not been tempted to post English-speaking videos on YouTube. This is because his level of English is basic and would not be able to convey what is really happening in his videos. He has experimented with English subtitles after a fellow YouTuber suggested it. 
Hajime has struggled to move into his $3 million mansion as it requires extensive work and management to make it livable. He claims his lifestyle is too busy to manage the property and live there full-time.
Many Japanese parents are concerned that Hajime Syacho is not a good role model for his fanbase which consists of children and teens. People were also concerned about the paid membership of his fan club which cost $39 per year, a lot of money for a child. 
Rounding up
Hajime Syacho's rise to fame has brought him wealth, but also the challenges of being incredibly famous. We're sure that his millions of fans are keen to see how his thirties play out under the inescapable lens of YouTube.