Jiro Ono is one of Japan's best-loved sushi masters. He has the honor of holding no less than three Michelin stars and runs the world's most expensive sushi restaurant, Sukiyabashi Jiro.
In this article, we look at the net worth of Jiro Ono, and this talented chef's amazing life and personality.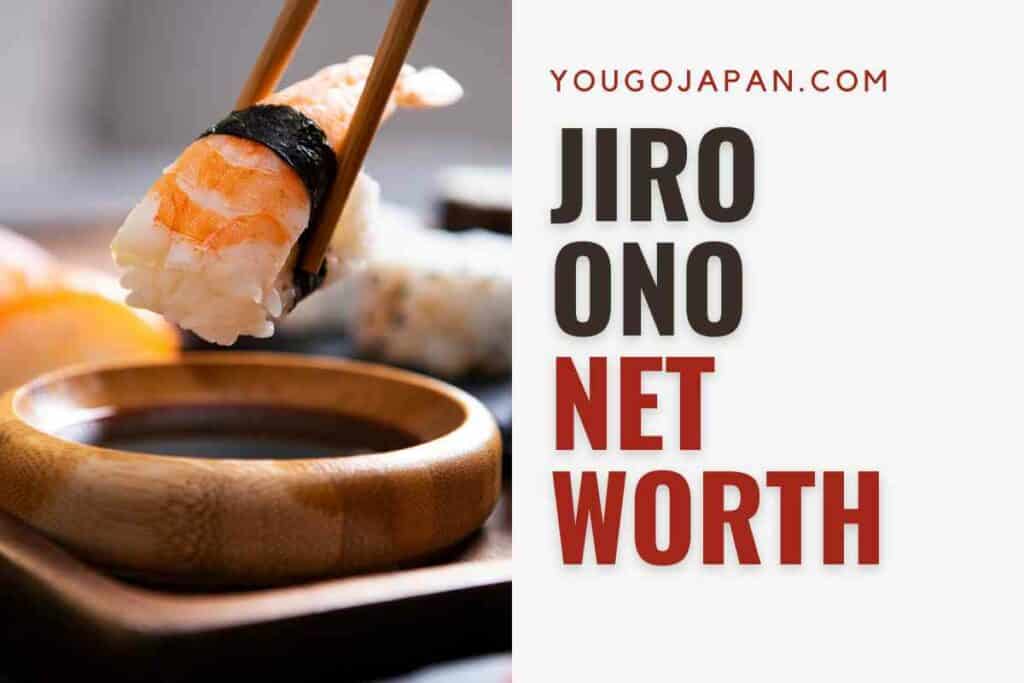 The net worth of Jiro Ono 小野 二郎
Jiro Ono has accumulated significant wealth throughout his long career as Japan's premier sushi chef. At age 97, Jiro Ono's net worth is estimated to be more than $9 million.
His wealth is primarily derived from Sukiyabashi Jiro, his sushi restaurant in Ginza, Tokyo which he has run since 1965 and continues to run to the present day. 
How did Jiro Ono achieve his net worth?
It's easy to understand why Jiro Ono has amassed such substantial wealth. Sukiyabashi Jiro, すきやばし次郎 is Japan's only restaurant with three Michelin stars.
It is also Japan's most expensive and exclusive sushi restaurant with a 55,000 yen ($420) omakase menu served to only ten counter seats.
Currently, the general public cannot obtain a seat at Sukiyabashi Jiro. Bookings can only be made via the concierge of a luxury hotel. 
Along with Japan's elite, Sukiyabashi Jiro attracts international diners who join a waiting list to dine with Japan's #1 sushi master.
Ono is famous for serving Barack Obama and the late Shinzo Abe back in 2014, bringing his restaurant international attention.
Jiro runs his restaurant alongside his eldest son and heir Yoshikazu Ono while a younger son, Takashi Ono runs a Michelin-starred branch of Sukiyabashi Jiro in the Roppongi Hills.
The Ono family also has its own line of sushi rice, nori, and sushi accessories that are sold online at Jiro International Co., Ltd.
Jiro Ono biography
Jiro Ono's rise to becoming one of Japan's greatest sushi masters is an amazing one. His beginnings were extremely humble.
Ono was born in 1925 in Hamamatsu in Shizuoka Prefecture. At age 7, the family was abandoned by his father who was an alcoholic.
This left the family in poverty, with Ono working from age seven at a local restaurant. 
Becoming a sushi master
At age 9, Jiro left his family home and headed to Tokyo to become an apprentice sushi chef. This was the start of his journey to becoming a sushi master, the job he has kept for over 8 decades.
Conditions were extremely difficult and it was difficult to retain work, especially in the immediate post-war years.
His perseverance paid off with Ono becoming qualified as a sushi chef in 1951, and later opening his own sushi bar in a subway station in Ginza, where he has remained at the counter ever since. 
A legendary work ethic and solid values 
At almost 100 years old, Jiro is still going strong. He has no intention to retire as he considers that his work in mastering and innovating the art of sushi is never done.
Both his sons, who are his apprentices, can attest that Jiro is highly critical, with high standards for himself and others. 
Aside from days when the restaurant is closed for national holidays or, given his age, funerals, you'll find Jiro at the sushi bar perfecting his craft.
He advises young people to dedicate their lives to mastering a skill, as he considers this the key to success. 
Running Sukiyabashi Jiro
Discipline at Sukiyabashi Jiro is high as Ono and his team have to turn around multiple services of omakase, with 20 pieces of sushi served over a 20-minute dining session.
The working day starts extremely early with a trip to Tokyo's Toyosu Market to bid for the finest tuna and other seafood delicacies.
Though the menu is simple, it is entirely unique with Ono handcrafting his selection and sizing sushi pieces for each diner.
Jiro Ono personal life
Jiro Ono has two sons. Little is known of his wife or any other relationships he may have had.
His sons are his heirs and partners in his business:
Yoshikazu Ono: born in 1959, 64-year-old sushi chef Yoshikazu Ono still works under his father at the original Sukiyabashi Jiro.
Takashi Ono: the younger sibling is a sushi chef with two Michelin stars. He independently runs the sushi restaurant Sukiyabashi Jiro Roppongi.
Jiro Ono facts
Sukiyabashi Jiro Roppongi runs very differently from Jiro Ono's restaurant. Guests can book easily, take photos and even speak with Takashi Ono who speaks some English. 
Jiro Ono has written at least four books on the art of sushi making and has been the subject of many more.
Jiro's sushi uses a bowl of specially vinegared rice that is served at the temperature of human skin.
Nigiri served as part of Jiro Ono's omakase including sea urchin, mackerel, kobashira, and striped jack.
Jiro Ono documentary
In 2011 Jiro Ono and his sons starred in the David Gelb documentary 'Jiro Dreams of Sushi'.
Gelb has exclusive access to Jiro and pulled off a heartwarming film that provides great insights into the drive and determination of Jiro.
You can read more about Jiro Dreams of Sushi in the article: 5 Best Japanese Films That Will Blow Your Mind
Jiro Ono quotes
"Once you decide on your occupation, you must immerse yourself in your work. You have to fall in love with your work. Never complain about your job. You must dedicate your life to mastering your skill."
Rounding up
Jiro Ono is a national treasure. His commitment to the art of sushi making has undoubtedly elevated its standard in world cuisine. And amazingly, just shy of becoming a centenarian, he has zero intention of slowing down. A great example to all.