Anyone who watched cartoons in the 1990s and beyond will have come across one of Japan's most famous anime series, Dragon Ball.
This worldwide hit was the work of manga artist and creative genius Akira Toriyama.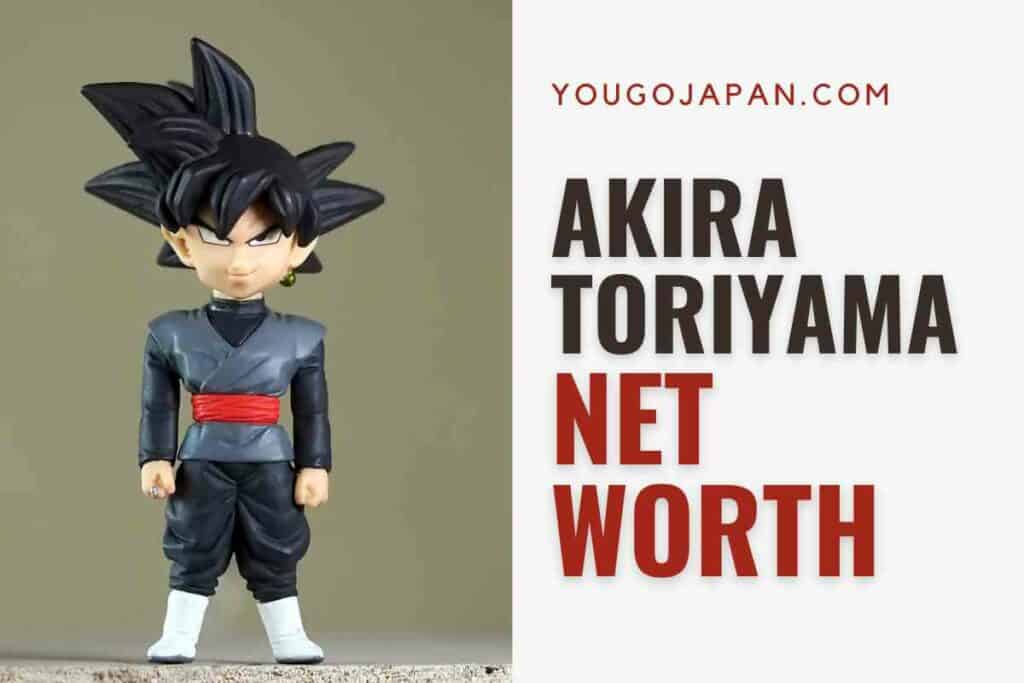 In this article, we take a look at the net worth of Akira Toriyama and how he became one of the world's most famous mangaka!
The net worth of Akira Toriyama 鳥山 明
Akira Toriyama is one of the world's most influential manga artists (known as manga-ka – 漫画家).
In 2023, his net worth is estimated to be at least $55 million. This is no surprise given the runaway success of the Dragon Ball manga series that he created in the 1980s.
The Dragon Ball franchise is still going strong with over a third of a billion volumes of this manga sold across the globe. 
Akira Toriyama and his family are set for life through the characters he created that span, comic books, gaming, animation, and live-action. 
Akira Toriyama 鳥山 明 biography
Akira Toriyama was born on April 5th, 1955 in Nagoya, Aichi prefecture.
Toriyama was obsessed with drawing from a young age and was inspired by the animation he saw in Disney's 101 Dalmations to become an artist.
Later as an elementary school student Toriyama was exposed to manga and anime through the comic books of a school friend and the cartoon Astro Boy.
Akira's interest in drawing and manga continued as a hobby only because his parents were keen for him to receive a good education and a decent job.
His high school did offer the opportunity to study creative design and upon graduation, Akira Toriyama chose to enter the workforce rather than attend university. 
Frustrations at his first job
He joined a Nagoya-based advertising agency as a poster designer but struggled with the disciplined work hours and smart dress code. This led to him quitting the job after two-and-a-half years. 
Later, in 1977, Akira Toriyama entered the Monthly Young Jump Award, Japan's largest manga art contest sponsored by a leading publisher. Though he did not win he received a personal phone call from one of the editors to try harder. 
Within a few months of the call, Toriyama released Wonder Island, his first published Manga, in the Weekly Shōnen Jump magazine issue 52 in 1978. It did not do well and Toriyama received no further offers of work, save a moderately successful manga called Tomato, Girl Detective in 1979.
Success at last: Dr. Slump
Toriyama had his first taste of success in the early 1980s with a manga called Dr. Slump!
It was published in the Weekly Shōnen Jump between 1980 and 1984. The character was extremely popular and Toriyama received loads of feedback and encouragement from readers, kickstarting his long-term career. 
The success of Dr. Slump made it easier to find work, win competitions, and make career contacts in the industry. During this period he met and married his wife, the shojo manga artist Nachi Mikami and became close friends and collaborated with Masakazu Katsura, another famous manga artist. 
With more creative freedom, Toriyama was free to experiment and include some of his favorite influences in his work, particularly Star Wars. Akira also founded his studio called Bird Studio where he developed his most famous manga Dragon Ball. 
Creating Dragon Ball
Dragon Ball was the manga that made Akira Toriyama famous.
This manga that ran between 1983 and 1997 went international and sealed the success of Weekly Shōnen Jump for many years.
During the 11 years that Dragon Ball ran, Toriyama created over 500 chapters and 42 tankōbon volumes, each of 200 pages! The original Dragon Ball manga ran to more than 9,000 pages. 
In the 1990s, the rights were purchased to Dragon Ball and it became an internationally popular TV series, shown on Cartoon Network and other satellite and cable channels.
Dragon Ball and Dragon Ball Z were based on Toriyama's manga but the later Dragon Ball GT was not. Toriyama was a consultant for the series, providing ideas for character progression and artwork ideas. At least 500 episodes of the hit cartoon were made. 
Later projects by Akira Toriyama
As a prolific artist, Akira Toriyama has managed to work on numerous manga characters, some of which have been used in gaming and animation.
Other successful projects by Toriyama include:
Hetappi Manga Kenkyūjo, a manga that teaches how to create a manga
Character design for the Dragon Quest/Dragon Warrior series of role-playing games
Puppet characters for Apple Pop, a Japanese children's animation. 
Cashman – Saving Soldier, a manga published in V-Jump in the early 1990s.
Go! Go! Ackman, a manga that was adapted into a series of PacMan-style platform games.
Development of the QVolt, an electric car, in 2005.
A  2009 commission from the record company Avex Trax to create a manga portrait of the J-Pop star Ayumi Hamasaki.
Akira Toriyama 鳥山 明 personal life
Akira Toriyama has been married to the manga artist Yoshimi Katō for over four decades.
When they got married, she put her career on hold to support his talent. She often assisted Toriyama with finishing artwork when he was pressed for time. They lead a very private life.
Akira and Yoshimi share two children, a son, and a daughter, born in 1987 and 1990 respectively. 
In his downtime, Akira Toriyama enjoys animals, plastic models, and motorcycles. 
Facts about Akira Toriyama
In 2013, Akira Toriyama was honored at the 40th Angoulême International Comics Festival, Europe's second-largest comic festival held in Angoulême, France. 
Though Toriyama is famously reclusive he collaborated with Shōnen Jump to appear in a video that asked for public support for survivors of the 2011 Tōhoku earthquake.
Many of Akira's original manga included cover flaps that had some photos of him and aspects of his real life, including his pets and his children when they were young. 
Akira Toriyama quote
"What I regret most after becoming a cartoonist is having used my real name. At first, I figured there was no way I'd sell anyhow, so I didn't even consider using a pen name."
Rounding up
Akira Toriyama is a Japanese cultural phenomenon. His Dragon Ball character earned him generations of fans around the world.
It's no surprise that Toriyama has such a substantial net worth, which will likely keep him and his children well-off in the long term.