I recently visited one of the 9 Hours Capsule hotels in Japan. And all I can say is that this was an absolute superstar in the capsule hotel industry.
It offers luxurious, tranquil, and serene experiences to anyone that patronizes 9 Hours properties across Japan's cities.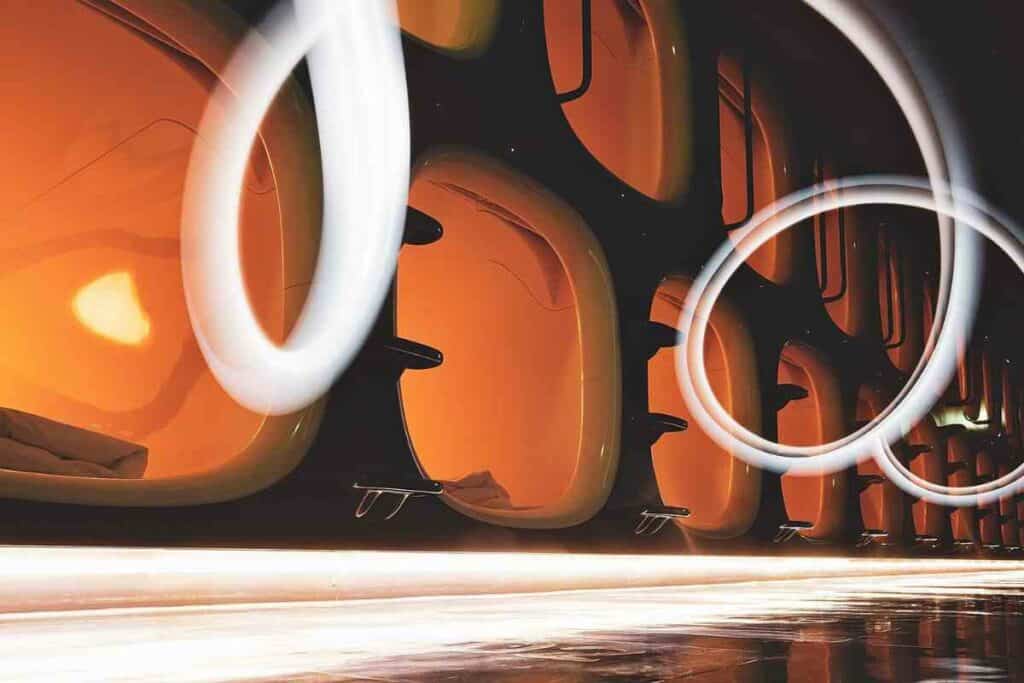 The iconic capsule hotel brand consistently ranks top of capsule hotel lists.
Here's everything you need to know about 9 Hours capsule hotels. 
Key Facts About The 9 Hours Capsule Hotel
First and foremost, let's walk you through a few basic facts about 9 Hours.
In this section, we'll cover what 9 Hours are all about, what it is, and how it came to be.
Let's dive right in. 
What Is 9 Hours?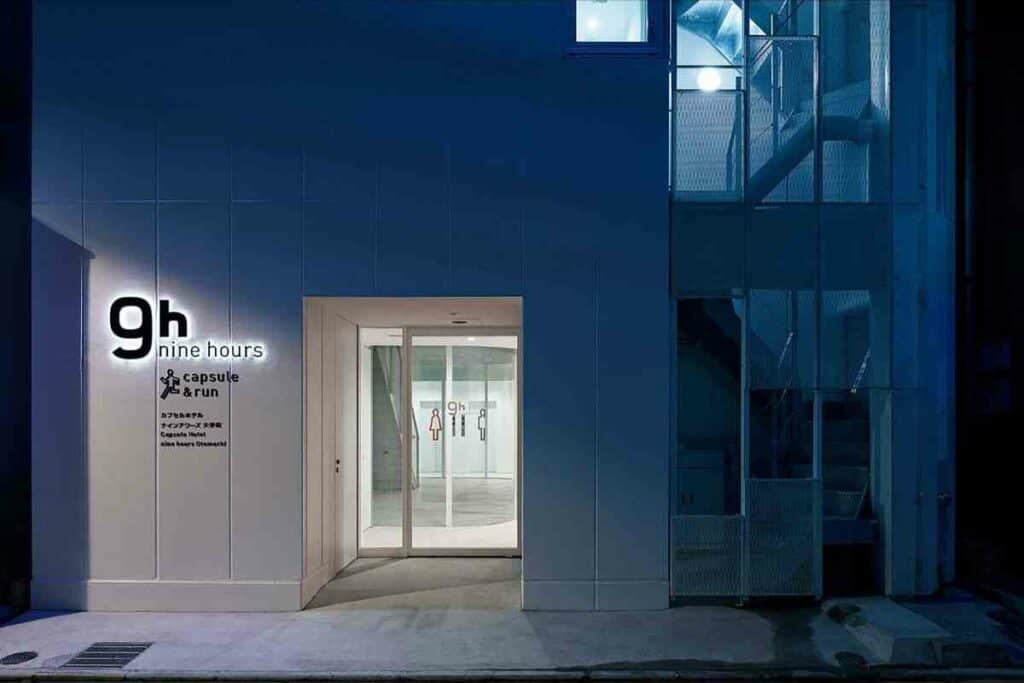 9 Hours is a trendy capsule hotel chain based in Japan.
The idea behind the 9 Hours brand is the simple form of staying in a hotel; you get:
one hour to shower
7 hours of sleep
and one hour to get dressed in the morning
That's nine hours, hence the name '9 Hours.' 
However, that's not to say that you'll be kicked out of a 9 Hours property literally after nine hours have passed.
Guests can spend up to 17 hours at 9 Hours capsule hotels if they are inclined. 
History Of The 9 Hours Capsule Hotels
The concept of capsule hotels is not a new one. The first ever capsule hotel opened in 1980 in Osaka, Japan.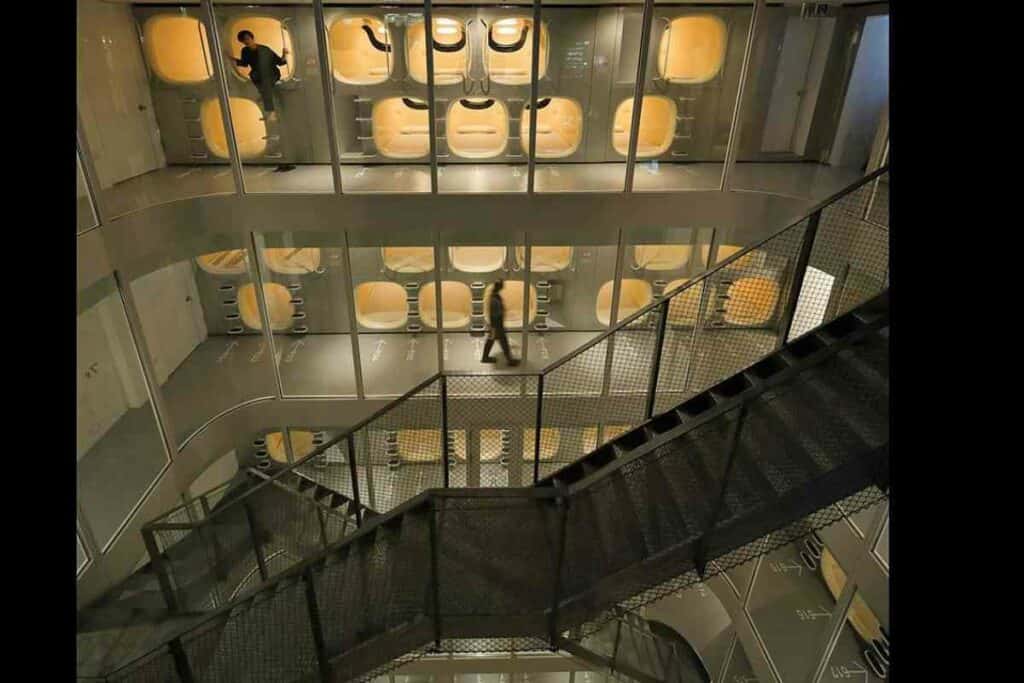 However, the capsule hotel format used to get a bad rap as simply a place to get some shuteye after missing the last train home. 
In 2009 Tokyo-based Cubic Corp decided to try a different approach to capsule hotels and managed to turn the whole thing on its head.
Cubic Corp partnered with Fumie Shibata of design studio S to build the first 9 Hours capsule hotel. 
Their creation on Teramachi Street, a few minutes from Kawaramachi station, has won numerous accolades over the years due to its breathtaking design.
Over the past decade, the folks behind 9 Hours have turned the moribund lodging format into a desirable accommodation option. 
How Many 9 Hours Locations Are There?
The 9 Hours hotel chain has numerous outstanding locations in Tokyo, Narita, Kyoto, and other major cities in Japan.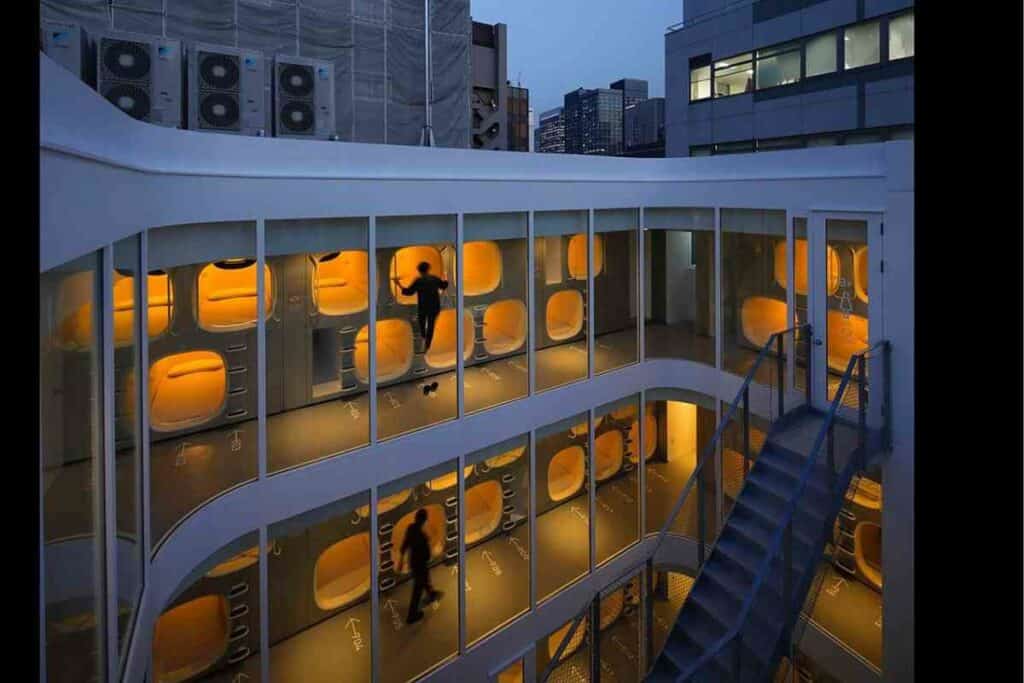 They have nine locations in the capital.
No matter where you visit Japan, there's always a 9 Hours location for you to retreat to after a day of exploring. 
Regarding the actual locations, 9 Hours properties are usually within minutes of major city centres, airports, and train stations. 
Book 9 Hours Capsule Hotel In
How Much Do You Pay To Stay At A 9 Hours Location?
The exact amount depends on various factors, including demand, the city you are in, and the duration of your stay.
We paid $100 for a night, but I also noticed the prices vary depending on the location of the 9 Hours hotel.
Features Of 9 Hours Capsule Hotels
Regarding features, the folks over at 9 Hours stick to the basics and are pretty good at it.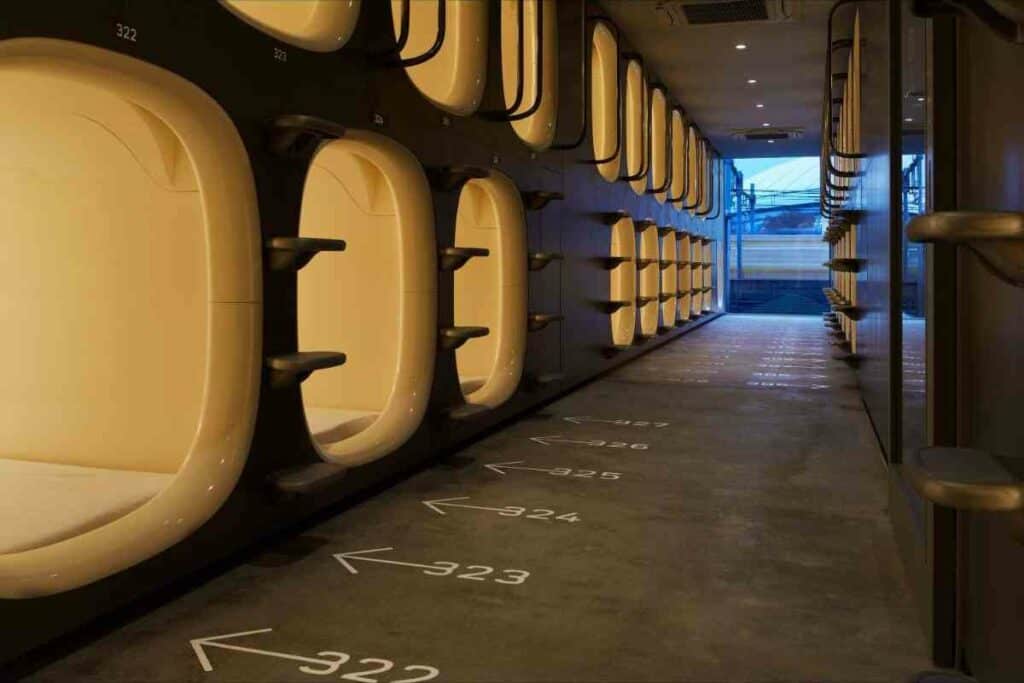 All 9 Hours are eerily similar in design, features, amenities, rates (these may vary slightly based on location), staff, and everything else. 
Here are the basic features you'll notice in every 9 Hours capsule hotel in all Japanese cities:
Standout visual identity. Think of a simple design with a futuristic twist, like something from a Sci-Fi movie. Everything is in black and white. 
Architecture. Despite being designed by different architects, there's a consistent brand feature across all 9 Hours properties.
Hospitality. Each location provides guests everything they need, from toiletries to pajamas to comfy mattresses. 
Minimalist approach. The minimalistic theme is evident in how the properties are run, only providing the necessities.  
Uniformity. In traditional Japanese fashion, everything from soap to towels is uniformly arranged. 
Staying At A 9 Hours Hotel
So, what is it like to stay at a 9 Hours capsule hotel? As a foreigner, you don't need to worry about staying at a 9 Hours property.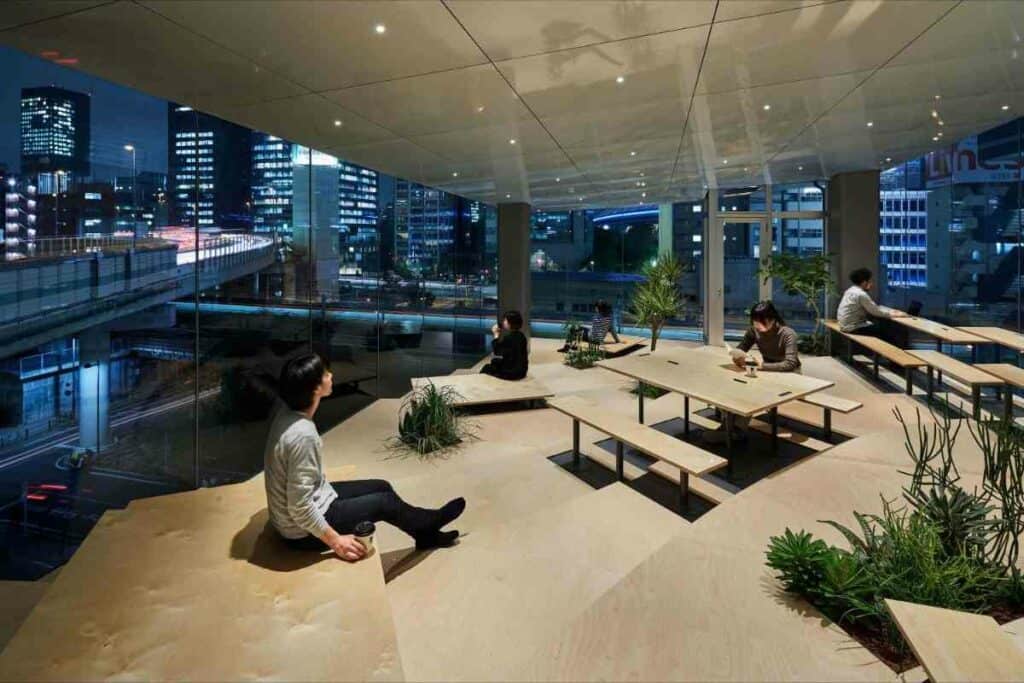 You will be okay, even if you don't speak the language.
Here's what to expect when staying at one of these capsule hotels: 
Capsules. The capsules at 9 Hours properties are larger than other capsule hotel brands. The ceiling is taller to prevent claustrophobic feelings. You can get up in the morning without hitting your head. 
Hotel corridors. The pods are usually arranged in rows, separated by a corridor. The halls are well-lit at night to help guests see where they are going. 
Gender-segregated capsules. Keeping men and women separate is still an essential part of Japanese culture. Typically, male and female pods are on different floors with dedicated elevators. 
Elevators. The gender-segregated elevators are marked, and the markings glow at night. It's impossible to board the wrong one, even at night. 
Pictograms. Everything is shown. The whereabouts of the bathroom, dorms, shoe storage, etc., is revealed via styling pictograms on the floor.
Storage. As mentioned earlier, the capsules are pretty spacious. There's enough room for your items and luggage. Lockers are also available for each guest. You must store your belongings before checking in to your pod.
Staff. The staff at 9 Hours capsule hotels are helpful and friendly. There is always someone in the reception area to assist when needed. 
The Bathroom Facilities at a 9 Hours Capsule Hotel
One of the most important considerations before booking a capsule hotel is the state of its bathroom facilities.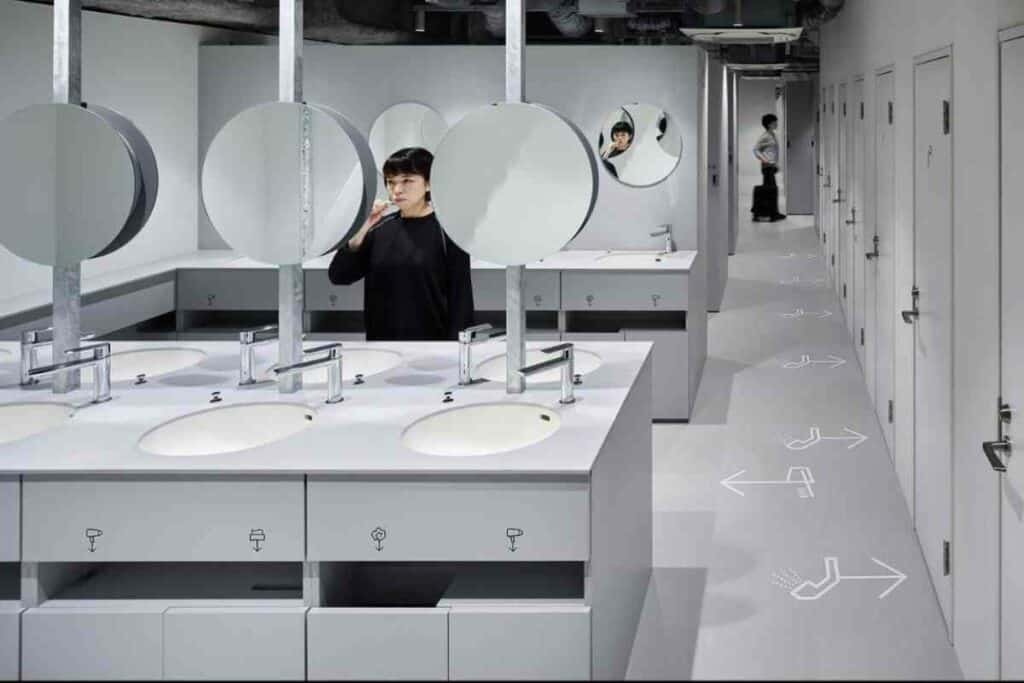 Here's what to expect at a 9 Hours capsule location when it comes to bathrooms, showers, and toilets:
Communal. You should already know by now that bathroom facilities in capsule hotels are shared. 9 Hours is no different. You will be sharing the bathroom facilities with the other guests at the hotel.
Design. Like the rest of the capsule hotel's premises, the shared bathrooms follow the same minimalistic state-of-the-art design.
Sanitation. If you are worried about how clean the communal bathrooms will be at the hotel, don't. The staff at 9 Hours strive to ensure that bathrooms at their capsule hotels are always squeaky clean. 
Toilets. Just like every other aspect of the 9 Hours property, the toilet follows a clean, minimalistic design. It's designed for practicality, not aesthetics. 
Book 9 Hours Capsule Hotel In
A Few Considerations 
There are some critical considerations before booking a room at a capsule hotel.
For instance:
If you are a light sleeper, you might want to pack some earplugs.
There are no proper doors on pads, just a shutter curtain or tent for privacy. 
In most cases, though, fellow guests are considerate and will keep noise to a minimum. 
It would be best if you also kept in mind the written and unwritten rules when staying at a 9 Hours capsule hotel.
Please adhere to the shoe etiquette regulations, smoking within the hotel premises, and eating or drinking within the pods. 
Conclusion
When in Japan, you've got to experience the capsule hotels. The 9 Hours are a great option for a short stay, especially if you are traveling on a shoestring budget.
By reading this article, we hope you know what to expect when checking into one of 9 Hours properties.