Hokkaido, a culturally rich region of Japan, is home to many annual festivals. As well as the Sapporo Snow Festival, Sounkyo hosts the Ice Waterfall Festival (Sounkyo Hyoubaku Matsuri).
Cold temperatures from the beginning of November time, allow for numerous ice sculptures to be created and displayed in fantastic exhibitions of colourful lights.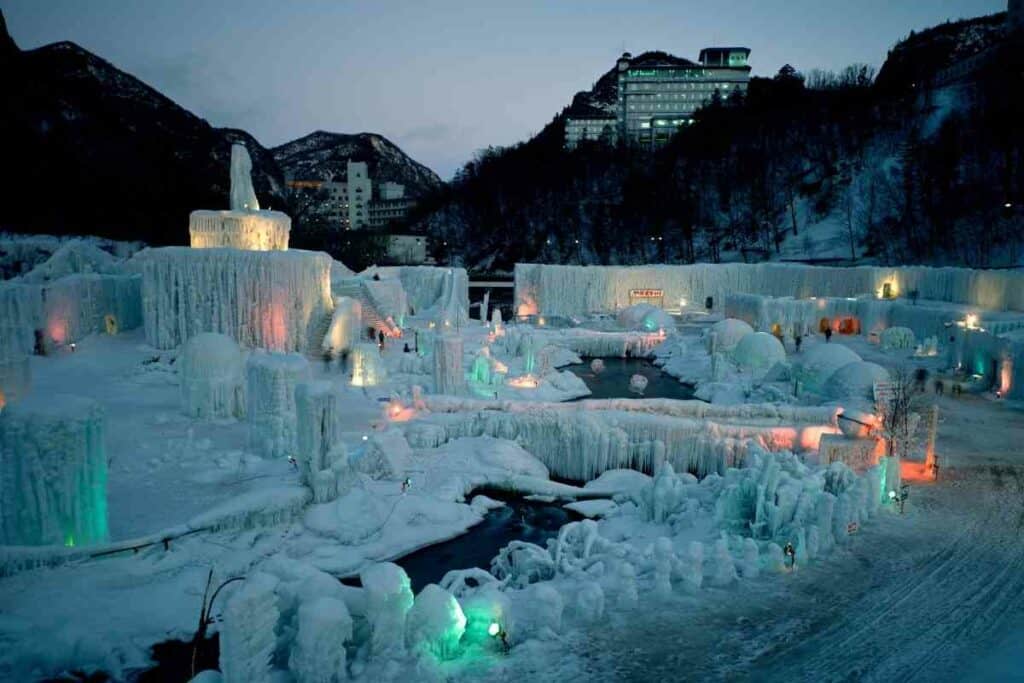 In an area of over ten thousand square meters, you will find a plethora of interesting and fun activities to get involved in.
From incredible snow slides to astronomical firework displays, Sounkyo Ice Waterfall Festival is fun for all the family.
In This Post – We will provide you with a touch of history, an overview of the event and its activities and provide you with some travel guidance for this stunning Kamikawa Winter festival.
Where is the Ice Waterfall Festival held?
Sounkyo Onsen – a relatively remote place that is considered 'kam inmintara' (The Garden Where the Gods Play) to the locals.
Home to river Ishikari, this part of Japan is famous for its hot springs and the exquisite beauty of the Daisetsuzan alpine landscapes.
Being situated in the northern region of Daisetsuzan National Park, it is a gorgeous place all year round and there are many sites to see, such as: the two cascading waterfalls.
Milky Way Falls (Ginga no Taki) and Shooting Star Falls (Ryusei no Taki), drop water over a 100 meters down cliff faces and make for brilliant photographs.
The landscapes are perfect hiking terrain and the white water of the river allows for adrenaline rafting. 
What is the history behind Sounkyo Ice Waterfall Festival?
Organised and run for more than four decades, the festival was founded in 1976 by sculptor: Takenaka Toshihiro.
Ever since it has been situated along the banks of Ishikari River, taking advantage of winter waters which fall and freeze in the negative temperatures of extreme cold.
The river runs through Sounkyo Onsen, historically renowned as one of the coldest yet best places to visit in the Hokkaido region in the Winter months.
When is the festival held?
Being one of the major Winter festivals in Japan, the Ice Waterfall Festival runs from the latter end of January right through March – lasting over two whole months.
From November, temperatures drop to negative levels and the Ishikari River begins to freeze.
With a number of falls, this picturesque pocket of Japanese culture becomes a winter wonderland of frozen beauty resembling a fairy tale, particularly at night time.
Is the festival easy to get to?
The shirt answer is no. It can be a little challenging to arrange your trip and get to the area.
Sounkyo Onsen has a population of hundreds and is considered to be in the middle of nowhere.
There are, however, both buses and trains to take advantage of.
Public transport is often reliable but limited, so planning a trip takes some time, care, and attention. Taking the bus can be a lengthy journey and can take a few hours.
Combining the bus and train will save some time and is another viable option.
The bus will drop you off very close to the festival site and booking return travel should be done in advance.
Travel Tips
Get there early – the festival begins at sunset and you will have time to stay for a while before heading back to where you are staying. It is open late but transport can be challenging after 8pm.
Book/plan return travel in advance of your journey – there is not always a returning bus or train and if you miss it, a taxi can be a bit difficult to arrange. Locals will be friendly enough to help out tourists but you won't find many taxis in this secluded area.
To avoid travel tumult, you could hire a car and drive. This can be treacherous terrain, however, so you will have to expect a car with snow chains and drive very carefully!
How much does the festival cost?
The festival is shockingly cheap to access, being just a few dollars (around 500 yen), to enter the grounds.
Although you will obviously require some more funds for refreshments and travel, public transport is apparently very reasonably priced and the trip costs very little in total, once you're in Japan.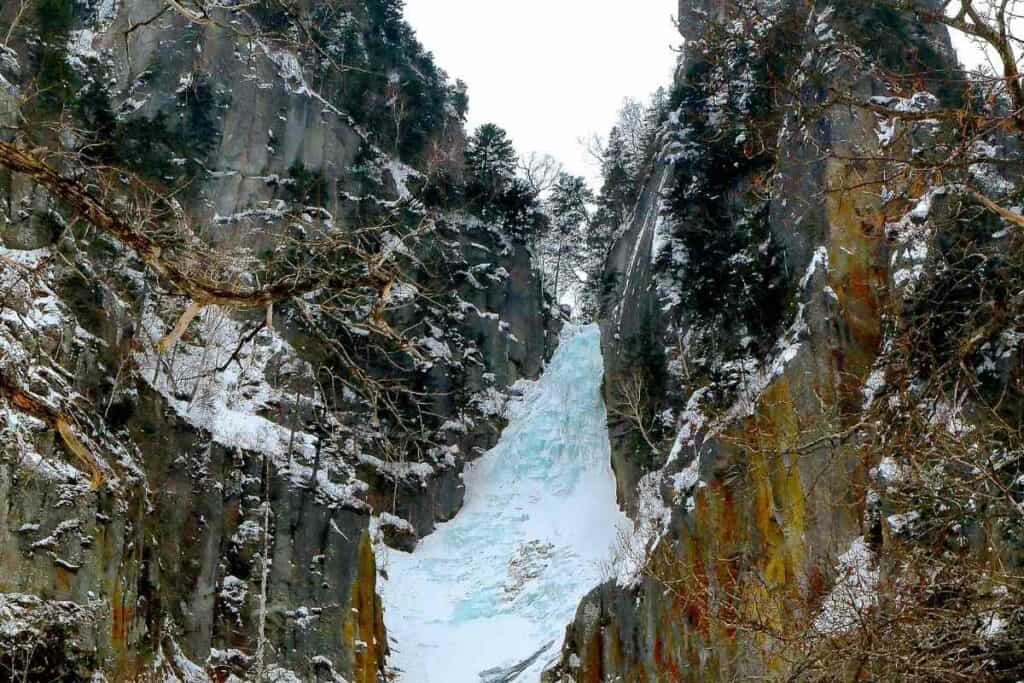 Some people have even walked to the festival, staying in a local hotel which is just a 15 minute hike from the grounds.
Thanks to the friendly hotel staff, others have reportedly called taxis from there, to get back into the city.
What kind of events take place?
Not only will your eyes be treated to a magical display of Winter literally frozen in motion, forming naturally occurring structures and ice caves to explore, but you will also be able to enjoy various organised events.
On selected evenings, there are fantastic firework displays filling the sky with fiery flowers. This is usually at the weekends and every night throughout an anniversary year.
A heated pavilion hosts gift shops for souvenirs, reasting areas, live entertainment, and food and drinks are available.
Sculpturing competitions take place, as well as sledding, ice slides, folk entertainment including traditional Ainu and taiko drum performances.
Did You Know? People even get married there in extravagant, ice waterfall wedding events. Take part in ice climbing or take a chilly seat while having a drink at the immensely popular ice bar.
What is the main attraction of the festival?
At the heart of this magnificent festival, stands a multi-storey structure that is constructed entirely from ice.
This main structure is different each year, designs have ranged from colossal English-style castles to traditional Japanese buildings – rivalled only by those built as part of the Sapporo Snow Festival.
The main attraction is surrounded by an array of snow structures like snow pathways, towers, and domes which line the entrance to the site.
Navigating the tunnels and ice caves makes even entering this festival a miniature adventure!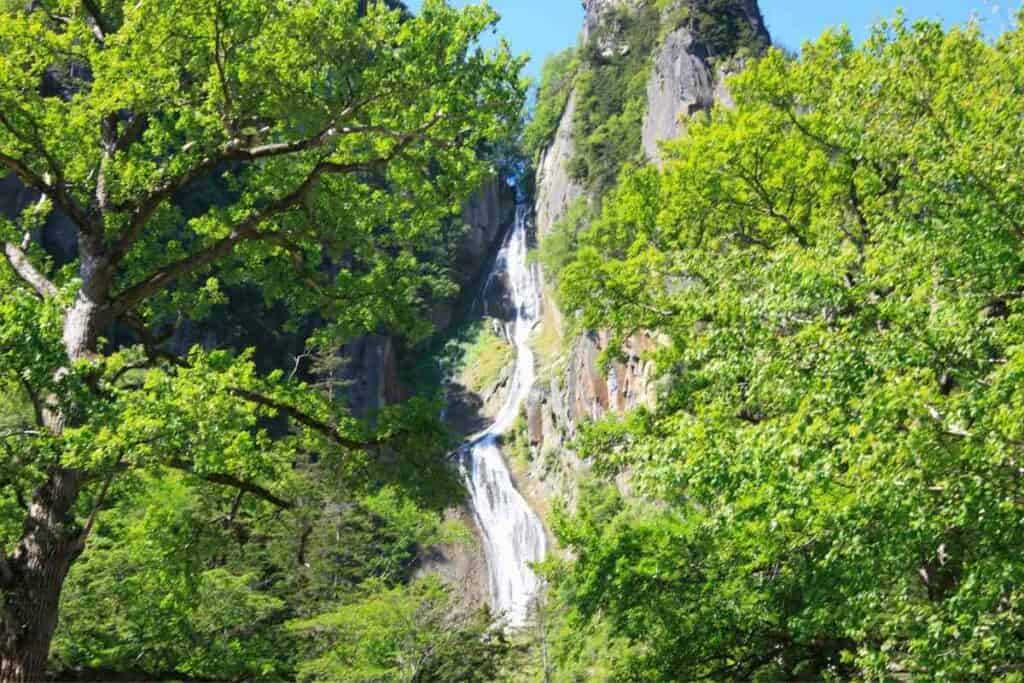 Is there anything else to do in and around Sounkyo?
Aside from hiking terrains, breath-taking views of tall cliffs, massive waterfalls and mountainous landscapes, and the festival itself, try your hand at fishing, cycling, white water rafting, climbing, skiing, and other outdoor activities in the local area.
Immerse yourself in Japanese history and culture while enjoying the local cuisine.
Relax in an onsen or day-use Spa, traverse the local Kurodake ropeway, or simply soak up the views in this astonishing alpine plane.
Located not too far from Sounkyo, are other stunning areas to visit: Sobakudai and Fudo Rock are both with two miles of the resort which are great additions to an itinerary, next to the falls local to Sounkyo itself.
Sounkyo also boasts a visitor center, a man-made Blue Pond, Shirahige Falls, Asahiyama Zoo, and the Tokachidake Bogakudai Observation Tower, where you can learn about Biei's history.  
Is it worth visiting neighbouring city Kitami?
An apparently a charmingly quaint little city, as Japan goes, Kitami is an interesting place to spend the day.
Aside from a cute little Mint Memorial Museum, there is also a number of different things to see and do.
Along with amusement parks, flower festivals, their own Winter festival and skiing grounds, Kitami has a whole lot to offer.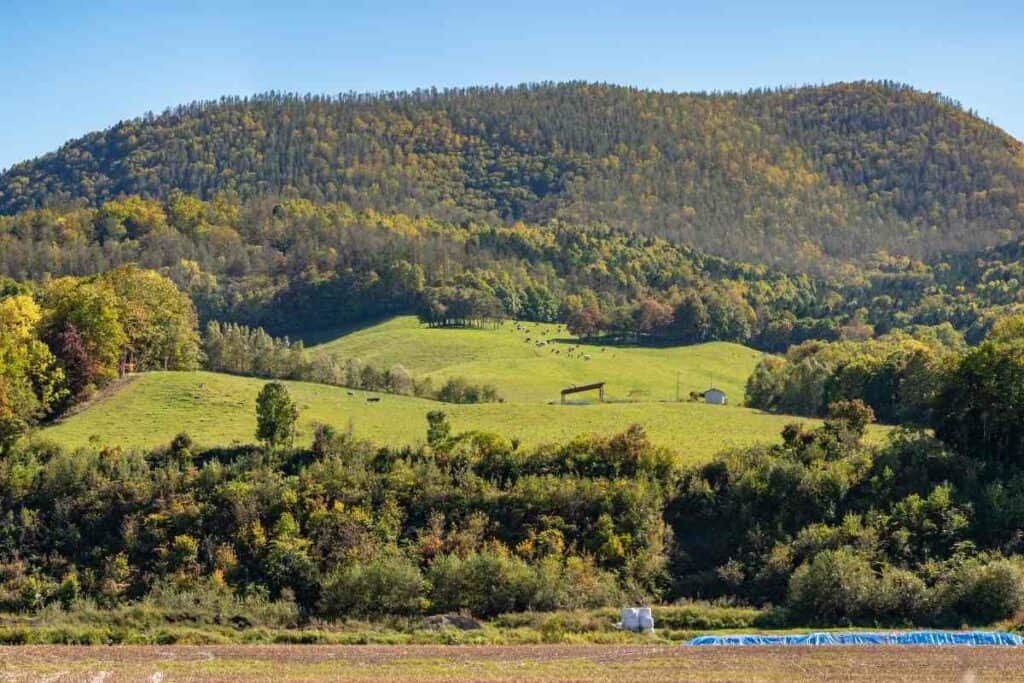 Visit the Pierson Memorial House, as well as a number of other memorial sites in the city.
You can even take an essential oils course for just 3,000 yen per person, at the Mint Distillery Hall, but you need to reserve places a few days in advance.
Kitami is also, as with most Japanese towns and cities, richly infused with history and culture to both learn and experience.
Pay a visit to the animals of Kitakitsune Farm or Wakka Nature Centre, watch the sun set over Lake Saroma, go cycling, take a thrill ride in Kitami Family Land and serenade yourself in the Japanese lifestyle.
Immerse yourself in the Forest of Tokoro Remains, enjoy the Art and Culture Hall or take a walk in Sanji Park.
Without a Doubt – Kitami is a place where everyone will find something to entertain them.
Final Thoughts
A hugely popular destination, Sounkyo Onsen resort attracts millions of tourists each year.
Newly renovated, the area has been modelled on Canadian mountain towns and is a beautiful place to stay.
Many tourists take advantage of the fact that Hokkaido hosts a number of Winter festivals which crossover this two-month long event.
Visit in February and you will be able to add the Sapporo Snow Festival to your itinerary.
Both amazing festivals to attend, they are very different and each worth a visit should you choose to go to Japan in the Winter time.
Although Sounkyo's unique festival has ice sculptures which are on a much smaller scale to Sapporo, there are those who prefer its less extravagant atmosphere and the lack of business in comparison the millions crowding to visit the city.
Attracting around 120,000 visitors, it still gets quite busy and if you need to remember anything, it is that you should wrap up very warm…
Read Next