The filmmaker, actor, director, and comedian Takeshi Kitano (AKA Beat Kitano) is a household name in Japan.
You may have also been entertained by his legendary game show Takeshi's Castle which was a worldwide hit.
Such a prominent Japanese celebrity is bound to be extremely rich, or is he?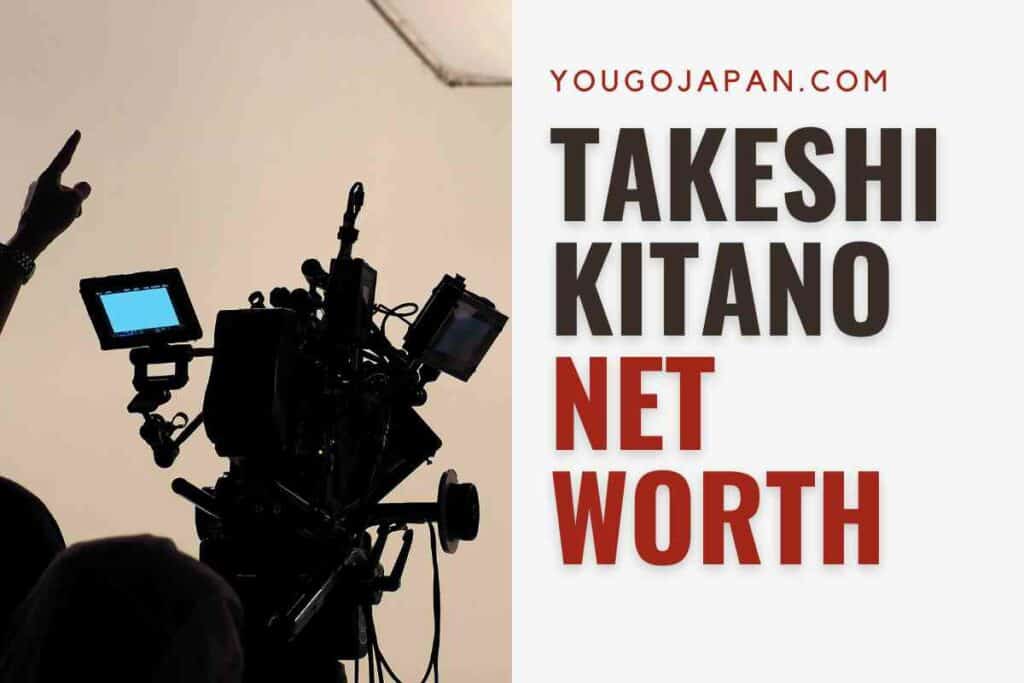 In this article, we look at the net worth of Takeshi Kitano and the intriguing story of how he lost it all…
The net worth of Takeshi Kitano 北野 武
In 2023, 76-year-old Takeshi Kitano is estimated to have a net worth of anywhere between $5 and $20 million.
However, up until 2019, Kitano was worth as much as $152 million! What happened?
Read on to discover the remarkable story of Takeshi Kitano's missing millions.
Where does Takeshi Kitano's wealth come from?
His wealth primarily comes from his prolific film and media career, which has seen him:
direct over 18 films
act in more than 48 films
produce and perform in over 28 TV shows and series
present at least 4 syndicated radio shows
publish 8 books
design and act in video games
What happened to Takeshi Kitano's net worth?
Takeshi Kitano is one of Japan's most famous people and a media heavyweight. With such an expansive filmography and production and directing credits, he should be worth much more than $20 million.
Takeshi Kitano has been active in show business since 1969, and over his multi-year career accrued billions of yen in wealth. However, his fortunes took an intriguing turn in 2019.
Takeshi Kitano lost the majority of his net worth through divorce
Takeshi Kitano's financial fortunes took a turn for the worse when he divorced his wife of almost 40 years, Mikiko Kitano who is 68 years old.
The 2019 divorce shocked Japan, despite the couple reportedly living separately for many years. Mikiko Kitano has also worked in show business but largely remained out of the limelight throughout Takeshi Kitano's career. 
To obtain his divorce Takeshi Kitano signed over the vast majority of his personal fortune to his wife.
According to media sources, Kitano directly transferred almost all property and assets to Mikiko, leaving just a $2.29 million house! This has shocked Japan, especially as Takeshi was over 70 years old at the time. 
Takeshi Kitano 北野 武  biography
In 1947 Takeshi Kitano was born in Adachi City to working-class parents. He has 2 elder brothers and a sister.
During his formative years in Adachi, Kitano has reported that members of the yakuza, Japan's organized crime group, were living in his community and even that his father may have had connections to them.
His mother was a strict disciplinarian and kept him away from the street culture, despite his looking up to it.
He was able to obtain a place to study engineering at Meiji University but dropped out at 19  and headed to the Asakusa district to commence his comedy career. His bestselling memoir, Asakusa Kid, explains his journey to fame in depth. 
Takeshi Kitano the comedian
Takeshi Kitano started out as a comedian as part of the Two Beat (ツービート) comedy duo alongside Nirō Kaneko.
Tsū Bīto is where his nickname Beat Kitano comes from. The pair were masters of manzai, a popular form of Japanese comedy with high-speed exchanges between a straight man called the tsukkomi and a funny man called the boke. 
Takeshi's risqué boke, which smashed through the boundaries of Japanese polite society made him famous and after a 1976 performance, they became extremely successful.
He often required censorship and received a 5-year ban from NHK for exposing his body on TV, a forbidden act.
In the 1980s, Beat Kitano went solo and became a famous comedian in his own right and had an impressive run with his crazy game show Takeshi's Castle. 
Takeshi Kitano in film
Takeshi Kitano's film career has eclipsed his accomplishments in comedy.
He routinely plays yakuza characters in films that are generally dark and violent. He is apparently popular with yakuza who have invited him for drinks and tell him accounts of their deeds. 
Initially, Japanese audiences did not take Takeshi Kitano seriously in his acting roles, but he has continued acting and directing in serious films, including collaborations with David Bowie and Omar Epps. Abroad, he is better known for his acting than his comedy.
Famous Takeshi Kitano films and TV shows
Here are some of Takeshi Kitano's most famous films and TV shows:
Takeshi's Castle 風雲!たけし城 (1986 – 1990):  In this Tokyo Broadcasting System gameshow, Kitano played a count who had a castle full of obstacles. Up to 142 contestants per episode were forced into humiliating physical challenges to compete for a 1 million yen ($8000) prize.
Violent Cop その男、凶暴につき (1989): This was a Japanese film noir where Takeshi Kitano starred as an immoral police detective trying to penetrate a yakuza drugs ring.
Sonatine ソナチネ (1993): Another violent yakuza drama written, directed, and starring Kitano, that was released to critical acclaim in Europe and shown at the Cannes film festival. 
Hana-bi / Fireworks (1997):  Yet another ultra-violent yakuza-cop drama starring Kitano. This film won the Golden Lion award at the Cannes Film Festival.
Takeshi Kitano 北野 武 personal life
Takeshi Kitano married Mikiko Kitano in 1983. Mikiko Kitano worked in show business as a comedian before marrying Takeshi.
The couple was reportedly estranged for a prolonged period before a divorce in 2019 where Kitano transferred the majority of his wealth to his wife.
Takeshi and Mikiko Kitano share a daughter and son: 
Atsushi Kitano, born in 1981. Atsushi Kitano lives and works in London with his family. 
Kitano Shoko, born in 1982. Shoko Kitano is an actress and singer. She had a cameo role in Takeshi Kitano's hit film, Hana-Bi. Shoko also had a singing career with record releases in Japan. 
Facts about Takeshi Kitano 北野 武 
In 1994, Takeshi was in a near-fatal motorcycle accident that left him with horrific facial injuries and partial paralysis of the right side of his face. He was in intensive care in a coma for a prolonged period.
Takeshi had a role in the infamous 2000 film, Battle Royale. This film featured teens and was so violent that it was condemned and censored by the National Diet.
Takeshi Kitano 北野 武  interview
This is an interview with Takeshi Kitano, where he talks about his 1991 feature film A Scene at the Sea:
Tadashi Yanai quote
'Humor is like violence'
Rounding up
Takeshi Kitano has never failed to shock Japanese society with his willingness to venture into taboo areas. It has been the making of his fortune, but it seems that losing his wealth through a divorce was the biggest scandal of all.