How do you take a 29-year-old bankrupt fishmonger and turn him into one of Japan's richest men?
Hirotake Yano, the founder of the 100 Yen behemoth DAISO, knows the answer!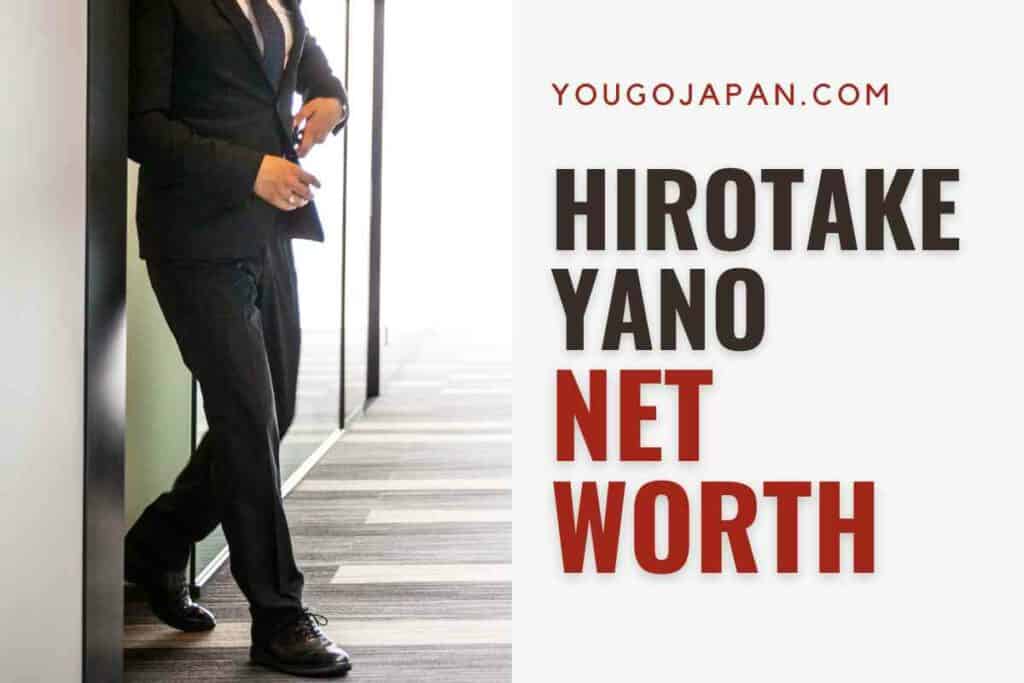 The rise of Hirotake Yano and his thousands of DAISO stores has to be one of the most remarkable rags-to-riches stories out there.
In this article, we take a look at the net worth of Hirotake Yano and the amazing life story of the founder of one of Japan's most popular stores.
The net worth of Hirotake Yano 矢野 博丈
80-year-old Hirotake Yano is the founder and president of DAISO, Japan's equivalent of the dollar store where everything costs 100 yen ($0.75).
Those 100 yen bills have added up over the years because, in 2023, Hirtake Yano's net worth is estimated to be more than $1.6 billion, down from a peak of $1.9 billion in 2017. 
A breakdown of Hirotake Yano's net worth
Hirotake Yano's net worth comes from his ownership of Daiso Industries Co., Ltd. which is a privately held company.
This retail juggernaut consists of:
3,620 Japanese stores
Over 2,300 international stores in 25 countries that include, including Bahrain, Mexico, South Korea, Brazil, and the U.S.
DAISO's annual revenues have exceeded $7 billion, with sales of its 100,000 product lines continuing to climb.
Hirotake Yano 矢野 博丈 biography
DAISO retail magnate Hirotake Yano was born in Beijing, China in 1943.
His family surname is Kurihara. Though he was Japanese, his father worked as a doctor in China, and the family stayed there during the war years, only returning to Japan at the end of WWII.
In Japan, the family settled in the town of Higashi-Hiroshima in Hiroshima prefecture, his father's hometown. In high school, Yano showed great potential as a featherweight boxer and prepared for selection to participate in the Olympic Games.
However, his father was determined that he would pursue an academic career as his two brothers were doctors. Hirotake's father refused to fund anything other than science or engineering studies, which Hirotake reluctantly studied, after failing entrance exams for 16 different universities.
Eventually got into Chuo University where he met and married his wife, Katsuyo Yano. Hirotake took his wife's surname Yano because he felt it would offer him better career and business prospects. 
A name change and employment struggles
After graduating in 1967 from the Faculty of Science and Engineering at Chuo University, Yanno struggled to find a steady job.
He took up his father-in-law's yellowtail fish farming business, but within three years the family went bankrupt.
To make a fresh start and escape the stigma of his debts, Yanno took his wife and son and left Hiroshima for Tokyo. 
Tokyo was just as tough with Yano undertaking a wide range of menial jobs including selling books, working in a bowling alley, and a recycling facility.
Little by little some of the family's debts began to be repaid. Soon, the family had the confidence to return to Hiroshima. 
Starting DAISO
In 1972, aged 29, Hirotake Yano started a company called Yano Shoten.
The shop was little more than a mobile wooden stand with his goods stored in the back of a truck. Five years later, Yano changed the name of the store to DAISO Industries. DAISO meant 'creating something big'!
He also decided to introduce a universal flat price of 100 yen for all of his items. When questioned about why he created this price, he explained that he and his wife found managing an inventory of items with varying prices too time-consuming. By charging 100 Yen, the couple saved time attaching numerous price tags to the items they were hawking. 
This genius move made him one of Japan's first retailers with a single-price model. People embraced the simple and affordable price and the business began to grow. DAISO became a successful business that was able to provide great-value items during the economic crisis in 1970s Japan.
Yano wanted to ensure that people would not skip buying his products because they thought the quality was bad. So he bought quality items and maintained wafer-thin profit margins.
This is a business strategy that the company has maintained to the present day and distinguishes DAISO from its competitors. As sales grew, DAISO had the purchasing power to drive down unit prices on its massive bulk buys from manufacturers. 
By 1987, Hirtake Yano had created the 100 yen Daiso company and in 1991 the first directly managed DAISO store opened in Takamatsu City, Kagawa Prefecture. The timing of this store opening was explosive as it followed hard on the heels of the bursting of Japan's economic bubble which had left millions of Japanese consumers looking for a better deal.
DAISO completely bucked economic trends, with the company accelerating its growth during recessions. Because of Yano's emphasis on quality, the company grew without needing to spend much on marketing, with word-of-mouth, particularly among housewives doing all the promotion the company needed.
Hirotake Yano 矢野 博丈 personal life
Hirotake Yano married his wife, Katsuyo Yano in the 1960s. She walked with him through his many failures and partnered with him in running the early hawking business that gave rise to DAISO.
The couple has at least one son, Seiji, to whom he passed on control of the private company when he turned 75 years old while becoming chairman. 
Facts about Hirotake Yano 
Hirotake Yano is known for being a workaholic but has taken things easy since suffering a stroke in 2018. 
In 2019, Hirotake Yano was honored by Ernst & Young with an Entrepreneur of The Year Award. 
Approximately 40% of DAISO goods are manufactured in China.
In 2004, DAISO diversified its price model to include products priced between 200 and 500 yen. 
Hirotake Yano quotes 
"I have failed many times, and I thought that whatever I tried, nothing was going to succeed, but I kept going because I thought there was nothing else I could do."
"I am not a smart person. I have no talent. I just try my best and work hard to sell my products."
Rounding up 
Hirotake Yano has created a uniquely Japanese retail business and a legacy that transformed the way the Japanese shop.
DAISO is now an international brand and with his son Seiji at the helm, this family business looks set to keep on growing!