Japanese brands are known for their quality and reliability, with many brands achieving cult status around the world.
Over the last century, Japanese companies have emerged as market leaders in the manufacturing of pencils. 
In particular, the Japanese are key innovators of the mechanical pencil and have made this modern writing implement an international success.
In This Article – We'll take a look at 9 of the best Japanese pencils, including the key writing, drafting, and coloring pencils to add to your stationery collection.
The 9 best Japanese pencils
Japanese pens and pencils are some of the best in the world and many of the brands featured here are instantly recognizable.
Japanese pencil companies produce a comprehensive range of pencils making it easy to find the pencil that is perfect for the job.
Here are the need-to-know brands.
1. Zebra Co., Ltd. ゼブラ株式会社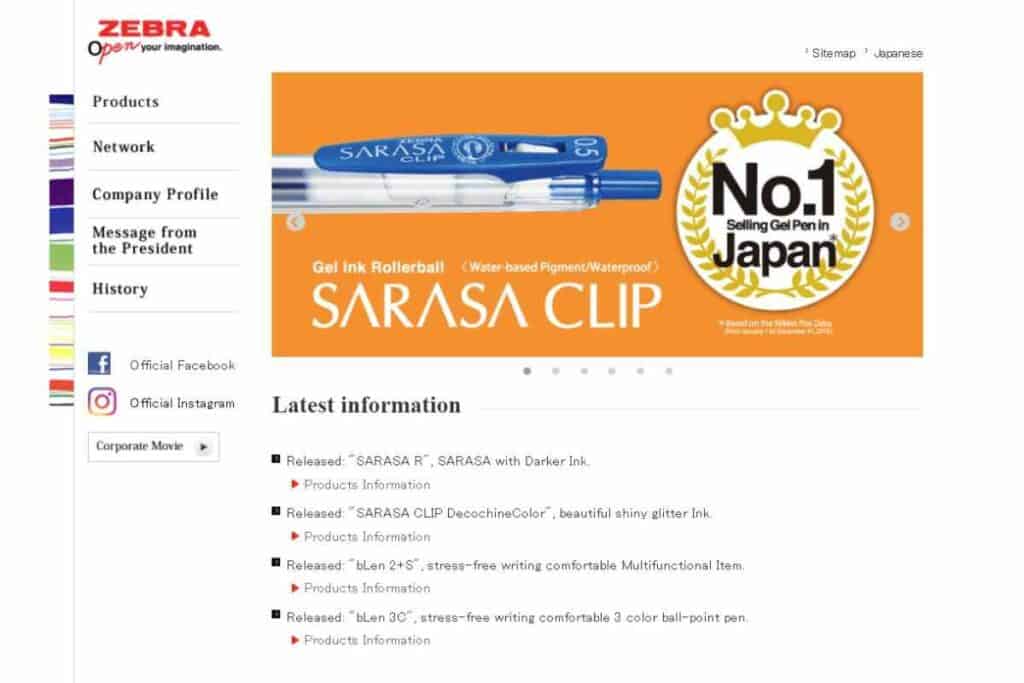 Zebra is one of Japan's leading manufacturers of pencils.
Its global exports have made it an international brand with subsidiaries across Europe, Asia, and The Americas.
Aside from pencils, mechanical pencils, and coloring pencils, its inventory includes a variety of pens and highlighters.
About Zebra
Headquarters 
Shinjuku-ku, Tokyo, Japan
Founded
1914
Founder
Tokumatsu Ishikawa
Products
Pencils
Mechanical pencils
Coloring pencils
Brush pens 
Gel pens
Fountain pens
Ballpoint pens
Markers
Highlighters
URL
www.zebra.co.jp/main/index.html
Social Media
www.instagram.com/zebra_global_official/
Zebra was founded in 1914, by craftsman Tokumatsu Ishikawa, a producer of homemade nibs.
He named the company Zebra, after the animal's strong herding instinct and its black stripes, which looked like pen strokes.
Like many manufacturers in WWII, Zebra suffered the destruction of its factories, which were gradually rebuilt in the 1950s.
By 1959 – Zebra had launched its first ballpoint pen, expanding to include markers, pencils, and brush-tip pens.
Its first mechanical pencil was introduced in the 1970s and in the 1980s the company started to manufacture the DRAFIX line of pencil leads.
Why choose Zebra pencils?
Zebra was one of the first manufacturers of mechanical pencils and their simple refined design has gained a cult following over the years.
They are favored for their smooth writing and good-quality, hard leads that do not continually break.
Despite their low price, you'll be impressed with their performance, especially the strong stainless-steel barrels, supportive rubber grips, and good-quality erasers.
Try great Zebra pencils
Zebra Pen M-301 Mechanical Pencil 2-Pack
Want more? Check out these!
Zebra #2 Mechanical Pencil 28-Pack:

A plastic mechanical pencil that looks like a conventional #2 wood pencil with an eraser
Disposable
0.7mm point size line
Graphite pencil lead (HB lead)
3 pencil leads per mechanical pencil 
Large eraser
Zebra Delguard Mechanical Pencils 3-Pack

Graphite pencil lead (HB lead)
Novel design protects the pencil lead from mechanical stress/breaking
0.5mm fine point line
Rubber grip for writing
Multicolor barrels
Chrome push button with replaceable eraser underneath
2. Muji Ryohin Keikaku Co., Ltd. 株式会社良品計画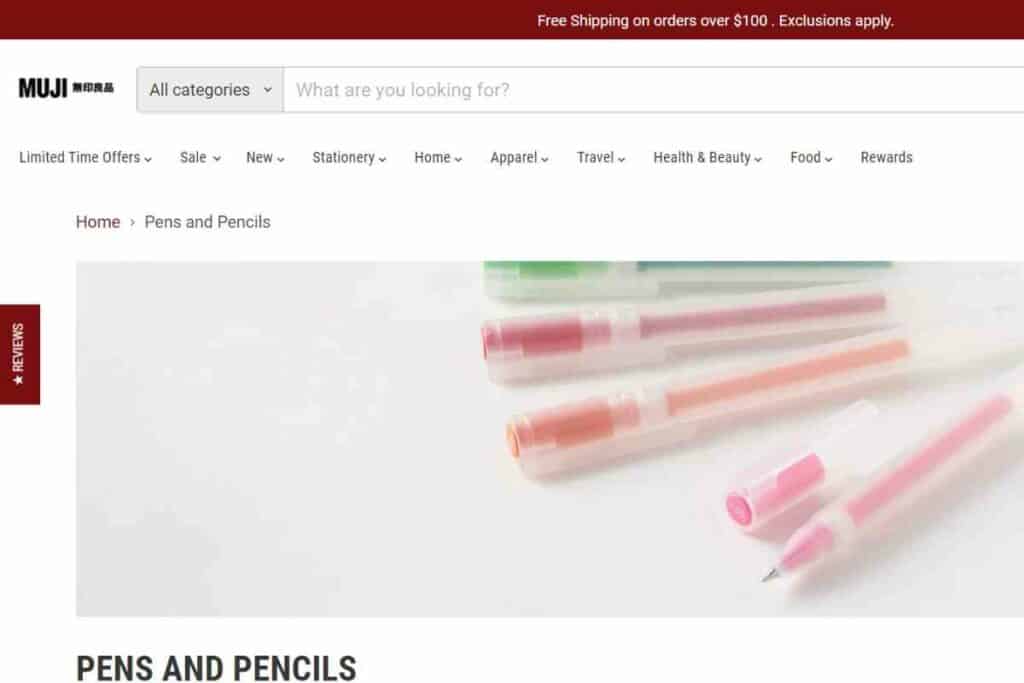 If you're a millennial, you'll know and love Muji as an iconic Japanese brand.
The name Muki Ryohin means 'no-brand quality goods'. This Japanese consumer goods company is renowned for its varied inventory and staunch minimalist aesthetic.
This stylish brand is stripped of logos, and excess packaging and prioritizes sustainability. Muji produces high-quality stationery with a range of conventional and mechanical pencils. 
About Muji
Headquarters 
Toshima-ku, Tokyo, Japan
Founded
1980
Chairman
Masaaki Kanai 
Products
Household goods
Stationery
Clothing
Food
Bodycare
Appliances
URL
www.muji.com
Social Media
www.instagram.com/mujiusa/
Muji is a spin-off of the product line of Seiyu, a Japanese supermarket brand.
From 1980, products were sold with the slogan 'Lower priced for a reason'.
The classic clear cellophane, plain labels, and basic fonts garnered a cult following leading Seibu Ryutsu Group, the supermarket owners to open dedicated stores for Mujirushi Ryōhin products with the first store opening in 1983 in Tokyo. 
The first Muji stores were so successful that the separate company Ryohin Keikaku Ltd. was formed.
Demand for Muji goods sparked international interest with stores opening in London and New York in the 1990s.
Why choose Muji pencils?
Muji pencils and stationery are a hit with schoolchildren, students, and creatives. Its pencils are designed to be simple but highly functional.
In line with the company's brand values, Muji pencils are great value for money, though they are a little more expensive outside of Japan. 
Try these great Muji pencils
If you don't have a Muji store near you, you can keep your pencil case stylish by stocking up on Muji pencils via Amazon.
Here are some top picks.
MUJI Polycarbonate Mechanical Pencil with MUJI Eraser 3-Pack
Want more? Check out these!
MUJI Mechanical Pencil with Low Center of Gravity 

White plastic mechanical pencil with metal clip
0.5mm fine point line
Heavier tip for more stable writing
Graphite pencil lead 
Removable eraser cap
MUJI ColoRed Pencils in Tube 60-Pack

60 packs of coloring pencils in iconic MUJI cylinder
Pastel wooden pencils
Professional quality art materials
Strong pigments and blendable
MUJI Small Pencil Sharpener (White)

Classic white pencil sharpener
MUJI quality
Efficient function
Made in Japan
3. Uni-ball ユニボール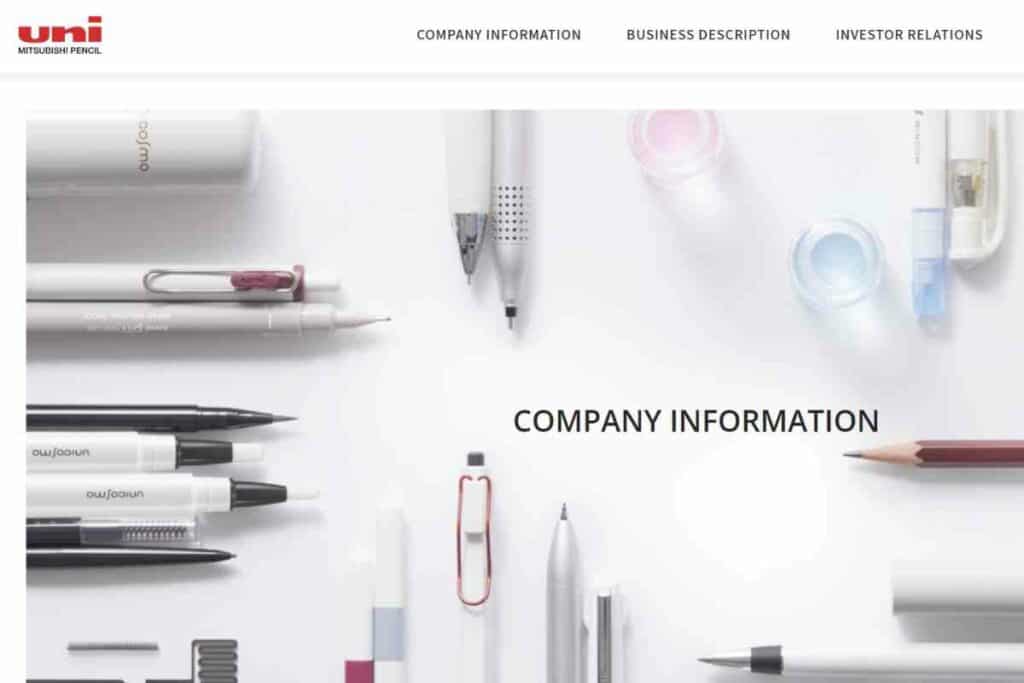 Uni-ball, Uni or Yuni, is a subsidiary of the Mitsubishi Pencil Company Limited 三菱鉛筆株式会社.
Uni-ball's parent company is unrelated to the Mitsubishi conglomerate.
The Uni brand specializes in gel rollerball pens and mechanical pencils, with over 3,000 product lines that are distributed worldwide. 
About Uni-ball
Headquarters 
Shinagawa, Tokyo, Japan
Founded
1887
Founder
Niroku Masaki
Products
Mechanical pencils 
Ballpoint pens
URL
www.mpuni.co.jp/en/company/
Social Media
www.instagram.com/uniballco/
Niroku Masaki founded the  Mitsubishi Pencil Co., Ltd. in Tokyo in 1887.
From its Tokyo base, the company manufactured pencils that were exported to companies that included Argentina, Belgium, Portugal, and India.
In the late 1940s, the Mitsubishi Pencil Company introduced the '9800' pencil which was extremely successful and has been continually manufactured until the present day.
The first Uniball product was released in 1966 as the company focused on developing innovative writing implements.
The Uniball rollerball pen would go on to become one of the company's most successful items and the impetus for creating a dedicated subsidiary. 
The company's first mechanical pencil hit the market in 1961.
Uni has continued to innovate mechanical pencils with self-sharpening pencils and a near-complete departure from producing conventional wooden pencils.
Why choose Uniball mechanical pencils?
Uniball is a convenient choice for good quality, great value mechanical pencils that deliver great writing quality.
There is a massive range of pencils to choose from, and Uniball's global distribution means that they are carried by most good stationers.
Try these great Uni pencils
Uniball mechanical and conventional pencils last a long time and write beautifully.
Here are some of Uniball's best pencils to buy.
Uni Standard Kurutoga Mechanical Pencil 
Want more? Check out these!
Uni 2B Pencils – Box of 12

12-pack of classic wooden pencils from the Mitsubishi Pencil Company
Extremely high quality and hard to break
Smooth and even writing and drawing
Slightly blendable
Uni Kurutoga Advance Upgrade Mechanical Pencil

Limited edition red design
Robust metal barrel with black rubber nubs for grip
Metal parts within the pencil keep the core sharp for prolonged writing quality
Internal core-break protection for lead
0.5mm point line
Graphite pencil lead 
4. Pentel Co., Ltd. ぺんてる株式会社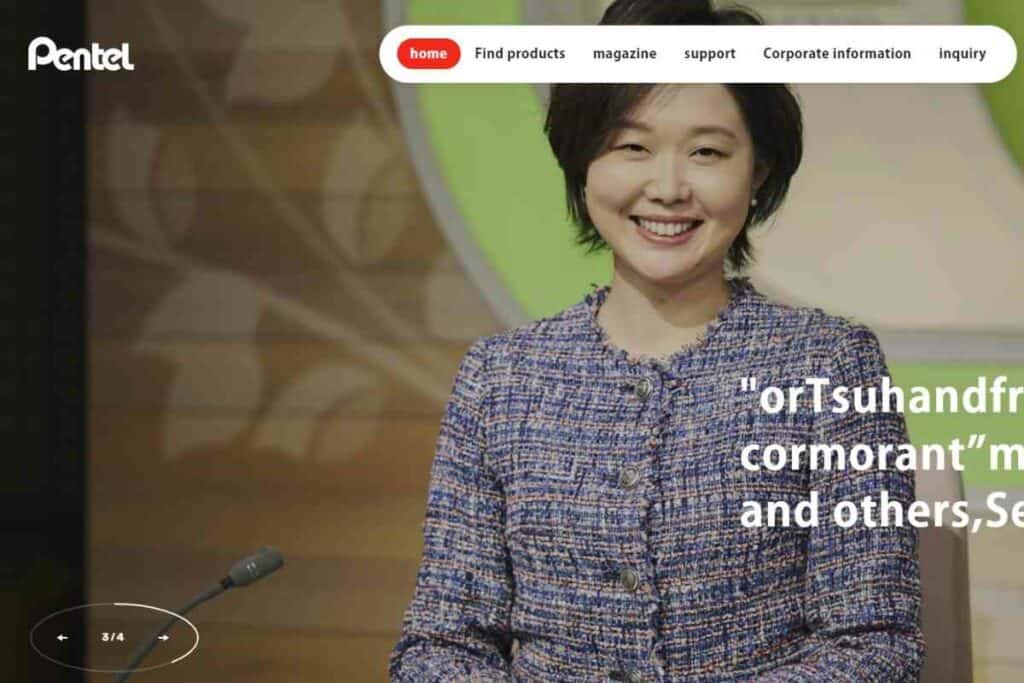 Pentel is a privately owned Japanese stationery company, which distributes its pens, pencils, art, and office supplies worldwide. 
The inventor of the felt-tip pen. The name is a play on the English words 'pen' and 'tel'.
Pentel conventional and mechanical pencils are a reliable buy that is manufactured in Japan, Europe, and Southeast Asia.
About Pentel
Headquarters 
Tokyo, Japan
Founded
1946
Founder
Yukio Horie
Products
Art tools and material
Writing implements
Office consumables
Electronics
Production equipment
URL
www.pentel.co.jp/
Social Media
instagram.com/pentel_official/
Pentel was founded by Yokio Horie in the late 1940s as Japan Stationery Limited.
It started to be making crayons and pastels and moved to pencil manufacturing in the early 1950s.
Pentel's felt-tip pen invention called the Sign Pen led to massive company growth as it was popular in America and even adopted by NASA for space missions.
More than 2 billion of these pens were sold, making it Pentel's best-selling product of all time. 
The company name was changed to Pentel Co. Ltd. in the 1970s. Pentel continued to innovate in its sector producing rollerball pens and brush pens with replaceable ink cartridges.
The brush pens had a niche following from comic book artists who used them to color their drawings.
Why buy a Pentel pencil?
Pentel has a strong manufacturing base with high-quality standards, but also an innovative approach to their writing implements.
This means a Pentel pencil will be reliable and designed for maximum writing efficiency and comfort. 
Pentel mechanical pencils are some of the best on the market. Its firm leads produce dark writing that still erases easily. 
Top Pentel pencils
There are so many great Pentel pencils to choose from.
Take a look at these top picks.
Pentel Graphgear 1000 Automatic Pencil Set of 5
Graphite pencil lead 
Mechanical pencil with metal barrel and rubber nubs for grip
Durable and comfortable pencil set for draftsmen, artists, and writers
5 point line size pencils in set: 0.3 mm, 0.4 mm, 0.5 mm, 0.7 mm, and 0.9 mm
The pencil contains a dual-action retractor to either advance or retract the pencil tip
Want more? Check out these!
Pentel Quick Click Mechanical Pencil 36-Pack

36-pack of classic Pentel Quick Click mechanical pencils
Unique slide advance button that advances your lead without interrupting your writing
Transparent plastic barrel
Rubber grip for comfort
0.5mm point line
Graphite pencil lead 
Blue P200 Series Automatic Mechanical Drafting Pencil

Specifically designed for draftsmanship
Blue polymer barrel with metal clip
0.7mm point consistent line width
Suitable for professional use
5. Tombow Pencil Co., Ltd. 株式会社トンボ鉛筆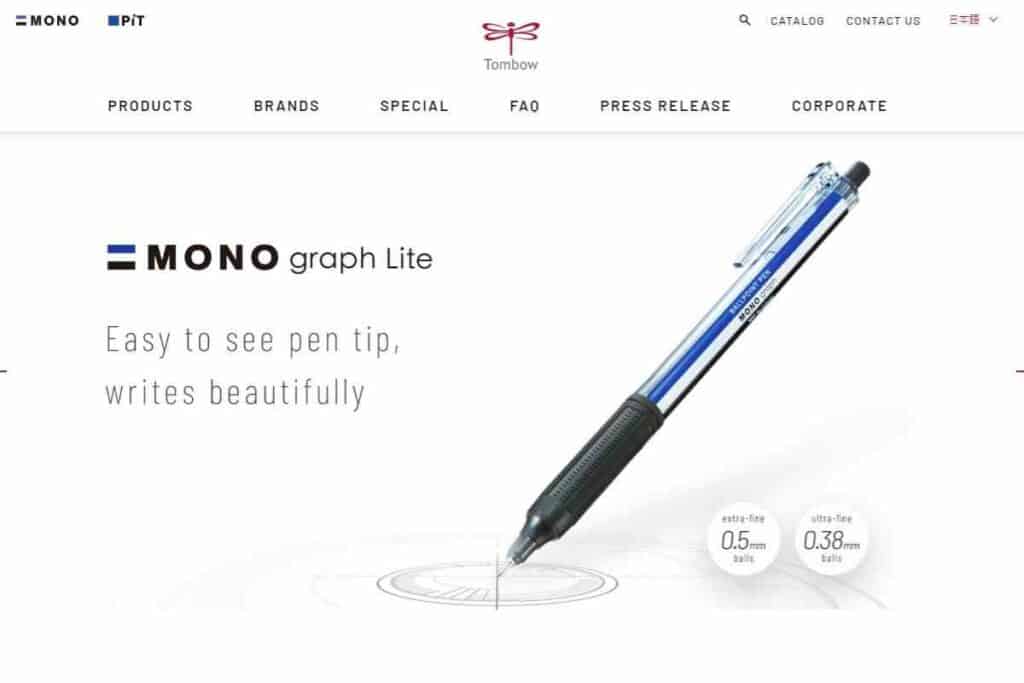 Tombow is one of Japan's best pencil companies and has been manufacturing pencils and other stationery products for over a century.
Their pencils, pens, art, and office supplies are produced in Japan and across Southeast Asia with exports across the world. 
Popular products by Tombow include water brush pens that are used for painting and Japanese calligraphy effects.
Its conventional and mechanical pencils are favored by artists from across the world. 
About Tombow
Headquarters 
Kita-ku, Tokyo, Japan
Founded
1913
Founder
Harunosuke Ogawa
Products
Pens
Water brush pens
Crayons 
Erasers
Ballpoint pens
Pencils
Mechanical pencils
Office Supplies
Art materials
URL
www.tombow.com/en/
Social Media
www.instagram.com/tombowpencil/
Tombow started as a shop in Asakusa called Harunosuke Ogawa Pencil, opened by Harunosuke Ogawa in 1913. Over the following decade, Ogawa developed a range of pencil designs that proved popular.
In 1927 the company adopted its iconic dragonfly or 'Tonbo' logo.
By 1939 the company had been renamed Tombow Pencil Manufacturing Co., Ltd. and continued to develop and manufacture novel pencil and eraser designs. 
In the 1950s, Tombow relocated to Tokyo and became established as a manufacturer of varied writing implements and accessories, including ballpoint pens, markers, mechanical pencils, and electric pencil sharpeners.
Subsequent business growth has enabled Tombow to establish subsidiary companies in the United States, Europe, and Asia.
Tombow has several contemporary product lines, including:
Mono:  Tombow's signature pencil line includes wooden and mechanical pencils and erasers.
Pit: A line of gluesticks by Tombow.
Zoom:  a popular line of ballpoint pens and mechanical pencils.      
Why Tombow?
According to President and CEO Akihiro Ogawa, Tombow develops its pencils and stationery as tools for the expression and transmission of ideas.
This makes the company very innovative, and keen to deliver customer excitement and satisfaction. 
Tombow products are of great quality with a minimalist aesthetic that is distinctly Japanese.
They continue to innovate with fun and quirky product like their scented glue sticks and illustrated special edition products.
Best buys from Tombow 
Tombow has an outstanding range of writing and colored pencils.
Whether you have a new manga project or an architectural brief, these are the Tombow pencils that are just right for the job.
Tombow Woodlands Irojiten Colored Pencil Dictionary Set
Want more? Check out these!
12-Pack Tombow 2558-B Pencils with Rubber

Vintage B pencils with rubber
Firm leads
Smooth writing
Easy to erase
Perfect for your office
Sharpens beautifully
Tombow Mechanical Pencil

Classic Tonbow shaker mechanical pencil
White plastic with metal clip
0.5mm point line
Quality graphite pencil lead and MOMO eraser
6. Felissimo Corporation ぬいぐるみプレゼント!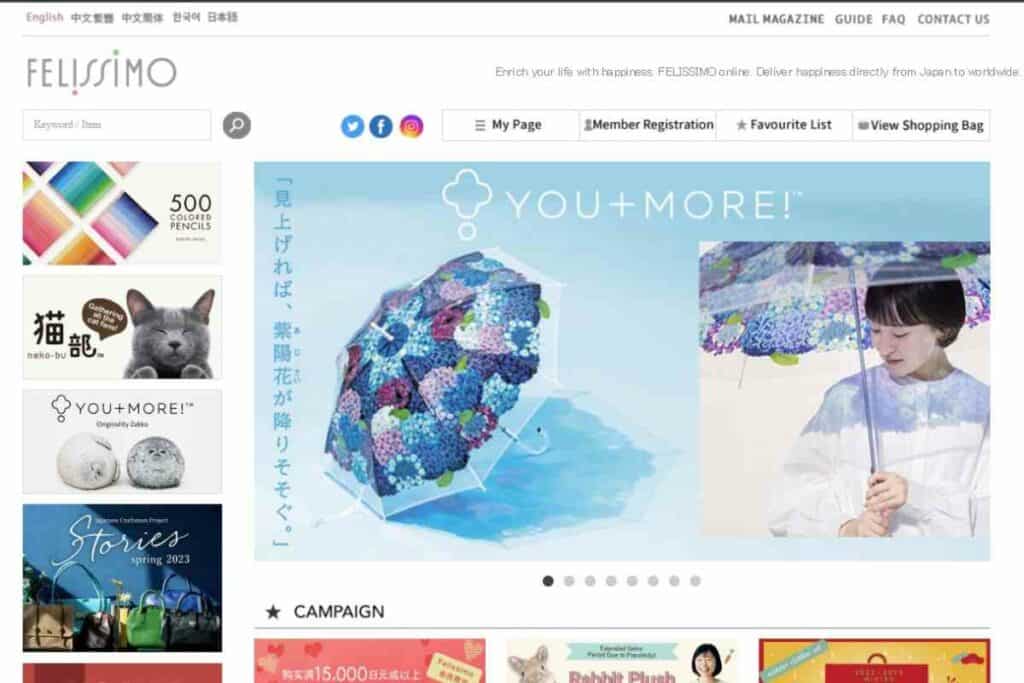 Felissimo is a popular Japanese mail-order company that is known for its great stationery and art supplies.
Products are sold via its classic catalog or online. The company makes the list because of a remarkable offer of 500 high-quality coloring pencils that were delivered to customers in packages of 25 each month. 
These pencils have become best-sellers with people buying them across the world and tentatively waiting for the pencils to turn up.
This now famous set of coloring pencils called the 'Tokyo Seed Collection' is a true collector's item and is even displayed in special display cases as an ornament. 
About Felissimo
Headquarters 
Shinkocho, Chuo-ku, Kobe
Founded
1965
President and CEO
Kazuhiko Yazaki
Products
Homewares
Clothing
Tools
Stationery
Art materials
Toys
Fashion accessories
Food and Drink
URL
https://www.felissimo.co.jp/int/
Social Media
https://www.instagram.com/felissimo_int_ltd/
Felissimo Corporation was founded in 1965 and has grown to become one of Japan's leading catalog companies.
The products it sells are original and unique and the company also imports interesting products from other countries to introduce to Japanese customers.
Apart from its direct marketing activities, Felissimo also champions customer and community engagement with a variety of design competitions and subsidized production projects in partnership with UNESCO.
Why Felissimo?
If you love art and coloring, this encyclopedic collection of coloring pencils is one of the best in the world.
Felissimo now ships its 500 coloring pencils and partner crayon collection via Amazon with a range of limited-edition production runs.
Felissimo 500 coloring pencils Tokyo Seed 
Award-winning pencil selection (Red Dot Award 2019)
This is a unique collection of Japanese coloring pencils that is perfect for any artist or pencil collector. 
The 25 color schemes each have a unique name and set of pigment-rich tones
Each pencil has a unique square-shaped design
Colors carry individual cute names
High-quality break-resistant wax leads can be used for coloring, shading, blending, or painting
You can store and display Felissimo coloring pencils in the modular display case also available online like this one.
FELISSIMO Original Design Acrylic Display/Organizer Blocks

Set of 3 boxes, each box contains 10 pencil holders
Stackable and interlocking boxes
Organize your desk!
7. Kitaboshi Pencil Co. Ltd 北星鉛筆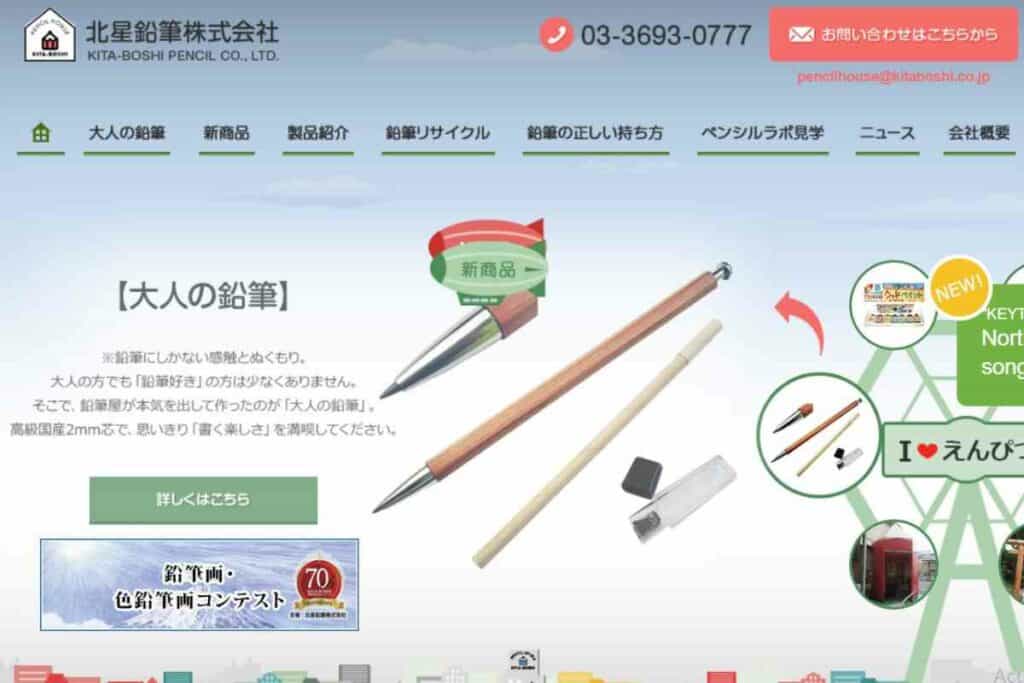 Kitaboshi Pencil company is a lesser-known Japanese pencil company that manufactures a lot of OEMs for other companies.
The name Kitaboshi means 'North Star'.
Kitaboshi has a good reputation in Japan for producing high-quality pencils and a rich heritage that extends back at least a century.
Its product range is limited outside of Japan but there are some unique Kitaboshi pencils available to a growing non-Japanese following.
About Kitaboshi           
Headquarters 
Yotsugi, Katsushika-ku, Tokyo
Founded
1913
Founder
Yasuzaemon Sugatani 
Products
Pencils
Coloring pencils
Mechanical pencils
OEM pencils 
URL
www.kitaboshi.co.jp
Kitaboshi began in 1913 as the Sugatani Lumber Company, located on Hokkaido Island in the north of Japan, Founder Yasuzaemon Sugatani set up the lumber firm to produce slats of wood for the growing cased pencil industry.
It is thought that Sugatani knew pencils through ancestors who had worked for the Shogun of the Tokugawa.
The Shogun was one of the first people to own a graphite pencil in Japan several centuries prior.
Japanese pencils were made with a Basswood species that was plentiful in northern Japan.
In 1944 the Sugatani family switched from supplying wood to making pencils, renaming the company the Kitaboshi Stationery Sales Company.
Kitaboshi relocated its manufacturing operation to Tokyo in the 1950s and began to import American cedarwood to make its pencils.
The company remains family-run with Kuzutoshi Sugitani, the company president, a third-generation descendant. 
Why Kitaboshi pencils?
Kitaboshi's wooden conventional and mechanical pencils, continue to feature the quality wood that the company is built on.
Its wooden mechanical pencils are pretty unique too. This pencil company has also embraced sustainability, using its waste wood to produce products like modeling clay and only sourcing wood from sustainably-managed forestry suppliers.
Kitaboshi pencils for sale
If you're looking for a unique Japanese pencil, Kitaboshi is a great find.
They manufacture a lot of OEM for companies like Disney in Japan, but their own-brand pencils display beautiful craftsmanship and write beautifully.
Here are some favorites.
Kitaboshi 2mm Mechanical Colored Pencil Set
Want more? Check out these!
Kitaboshi Wooden Barrel 1B Mechanical Pencil

Classic mechanical pencil with a real wood barrel
Looks and feels like a normal pencil
1B pencil lead hardness
2.0 mm diameter (thick lines)
Lead sharpener included
Mushroom knock button to release and retract the lead
Ideal for carpenters
Hokusei HB Pencil #9500 – Set of 12

12 quality pencils by Kitaboshi
A vintage product that remains in production
Hexagonal shaft
Premium cedarwood and high-quality graphite for dark, consistent lines
Suitable for study or office use
8. Pilot Corporation 株式会社パイロットコーポレーション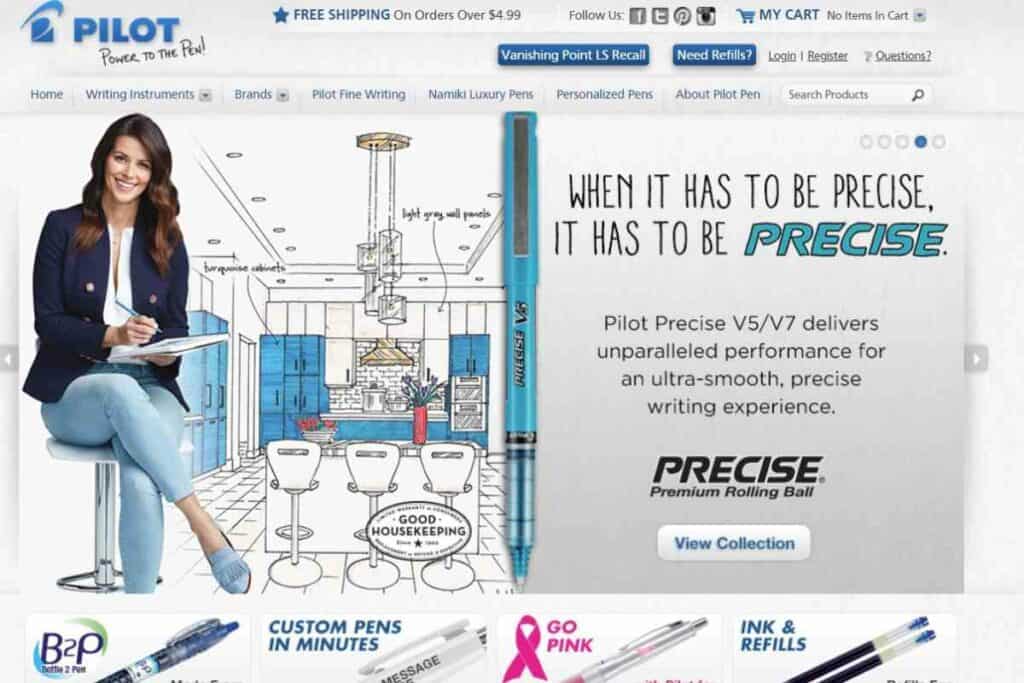 Pilot Corporation is a well-known producer of pens, but they produce mechanical pencils too.
Pilot is Japan's largest pen manufacturer with subsidiaries throughout the world. Pilot stationery is manufactured in Japan, France, and the U.S. and is rated internationally for its quality and precision. 
About Pilot        
Headquarters 
Chuo City, Tokyo, Japan
Founded
1915
Founder
Ryōsuke NamikiMasao Wada 
Products
Pens
Fountain pens
Calligraphy pens
Erasable ink pens
Ballpoint pens
Mechanical pencils
URL
www.pilotpen.com/
Social Media
www.instagram.com/pilotpenusa/
Pilot was founded in 1915 by Ryōsuke Namiki, a professor from the Nautical College in Tokyo.
He left his academic work to make gold pen nibs and within a year had started mass-producing writing instruments. In 1918 he established the Namiki Manufacturing Company in partnership with Masao Wada.
The company grew quickly with Namiki and Wada establishing offices in Europe, America, and Southeast Asia in the early 1920s.
They changed the company name to Pilot Pen Co., Ltd in  1938 with a later change to Pilot Ink Company. 
Highlights of the history of Pilot include the acquisition of the Nagoya Ink Plant to manufacture inks for Pilot pens.
In the 1950s Pilot released its first oil-based ink markers. The 1960s brought innovations in precision mechanisms for mechanical pencils which are used to the present day.
Are Pilot mechanical pencils worth it?
Pilot produces a great selection of cost-effective mechanical pencils.
This company has almost 70 years of mechanical pencil manufacturing experience, meaning you can choose from a range of pencils for everyday writing, sketching, or drafting work. 
Best Pilot pencils
Pilot pencils are a great buy if you are looking for quality Japanese pencils.
Pilot has a vast product range, making it easy to find a pencil that meets your need.
Here are some great examples.
Pilot Color Eno Mechanical Pencils
Want more? Check out these!
Pilot Dark Brown (DBN5) Mechanical Pencil 

Smart mechanical pencil with dark wood effect barrel
0.5mm line diameter
Barrel-shaped for comfort and writing efficiency
Chrome metal clip
Refillable leads and eraser
PILOT Dr. Grip Mechanical Pencil

Ergonomic grip mechanical pencil
Silver plastic finish
0.5mm line 
Shaker pencil
Eraser included
9. Sakura Color Products Corporation 株式会社サクラクレパス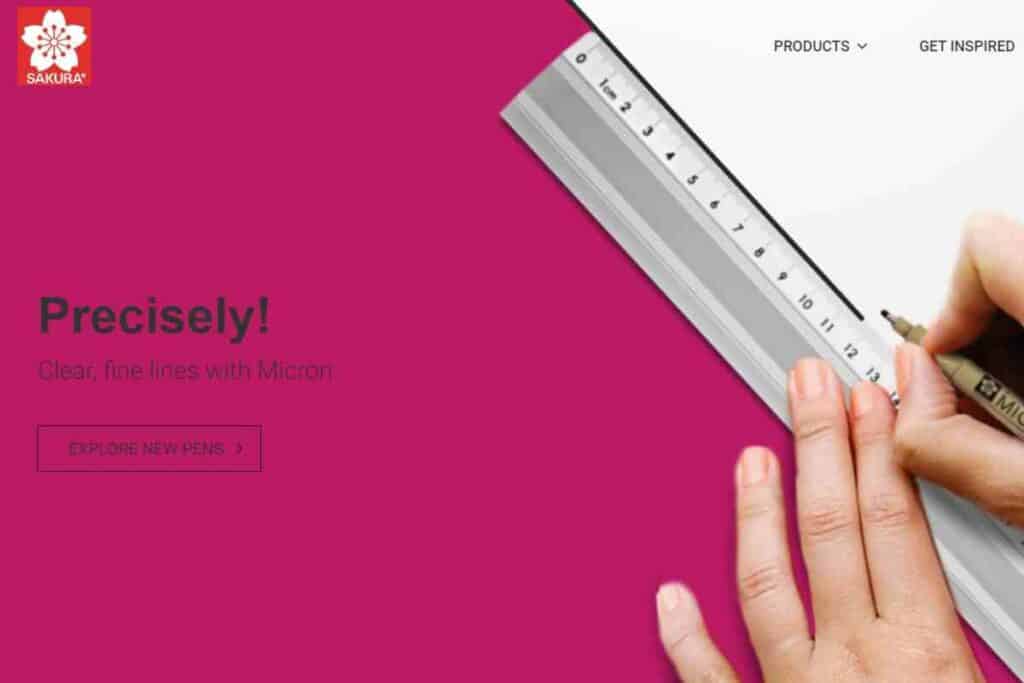 Sakura is named after the iconic cherry blossom of Japan.
The name is apt as the company is one of the leading producers of art supplies for the country and is famed for its rich pastels and coloring pencils.
The company is also known for its popular annual art competitions held in America and Japan.
They recently held a centenary celebratory contest that invited artists of all ages to submit work created with their CRAY-PAS pastels. 
About Sakura      
Headquarters 
Morinomiya-chūō, Chūō-ku, Osaka,
Founded
1921
President
Nishimura Hikoshiro
Products
Art materials
Pastels
Coloring pencils
URL
www.sakuraofamerica.com/
Social Media
www.instagram.com/sakuraofamerica/
Sakura was founded in 1921 and within 4 years the company had brought its proprietary CRAY-PAS oil pastels to market.
From the 1950s onwards, the company developed numerous art materials, including a novel semi-transparent watercolor and later, tough industrial markers, gel-based inks, and sign pens. 
The uniqueness and quality of Sakura pigments spurred its international growth, with Sakura Color Products of America, Inc. being its leading overseas subsidiary.
In the 1990s – Sakura acquired two Dutch art materials companies; Royal Talens 1991 and Bruynzeel, a pencil-making company.
Sakura's dedication to promoting human expression shines through in the quality and care with which its products are made.
Sakura pigments are always rich and their coloring pencils are known for their longevity with some people owning a single set for decades.
Why Sakura coloring pencils are a great buy
This niche art company is a specialist in producing fine-quality coloring pencils.
The pencils are available in a wide range of colors with the rich pigments Sakura is known for.
Sakura coloring pencils are extremely accessible and used by children, and amateur and professional artists, with equally stunning results. 
Buy Sakura coloring pencils 
Sakura coloring pencils are sold under the Sakura Coupy-Pencil brand.
They always come in a brightly colored tin. Though they are relatively expensive, your Sakura Coupy Pencils will last a long time.
Here are the best buys.
60-color Sakura Color Coupy Pencil
Want more? Check out these!
Sakura Color 30

Tin of 30 Sakura Coupy-Pencil coloring pencils
Hard to break type 1 coloring pencils
Sakura pastel colors 
Pack includes a color map in Japanese
SAKURA COUPY-PENCIL 18 colors 

Canned Sakura coloring pencils
Easy to sharpen and erasable
Sharpener and eraser supplied
18 rich colors 
4 times the color volume of a traditional pencil because they are wood-free
Best Japanese Pencils FAQs
What is a mechanical pencil?
Mechanical or clutch pencils are modern writing implement that differs from conventional wooden pencils. A mechanical pencil carries a thin, solid graphite pigment core called a lead that can be mechanically advanced or retracted for writing. Unlike wooden pencils, they do not require sharpening.
What is a shaker pencil?
Shaker pencils are mechanical pencils that are shaken to make the pencil lead advance for writing rather than using a push button at the top of the pencil.
What is an HB pencil?
The term 'HB' refers to the degree of hardness of the pencil. An HB pencil is medium-hard, but you can get harder (H) or softer (B) pencils or mechanical pencil leads.
In conclusion
Japanese pencils are interesting and diverse. Because they are exported around the world, you probably have already used Japanese pencils for work, study or hobbies.
The quality and craftsmanship of these Japanese pencils make them great collector items and if you are new to using them you'll be impressed if you give them a try!