Japan is known for its excellent craftsmanship, and when it comes to fashion, it really is on top of its game.
Japanese designers take great pride in their work, resulting in beautifully made bags that often feature unique and innovative designs.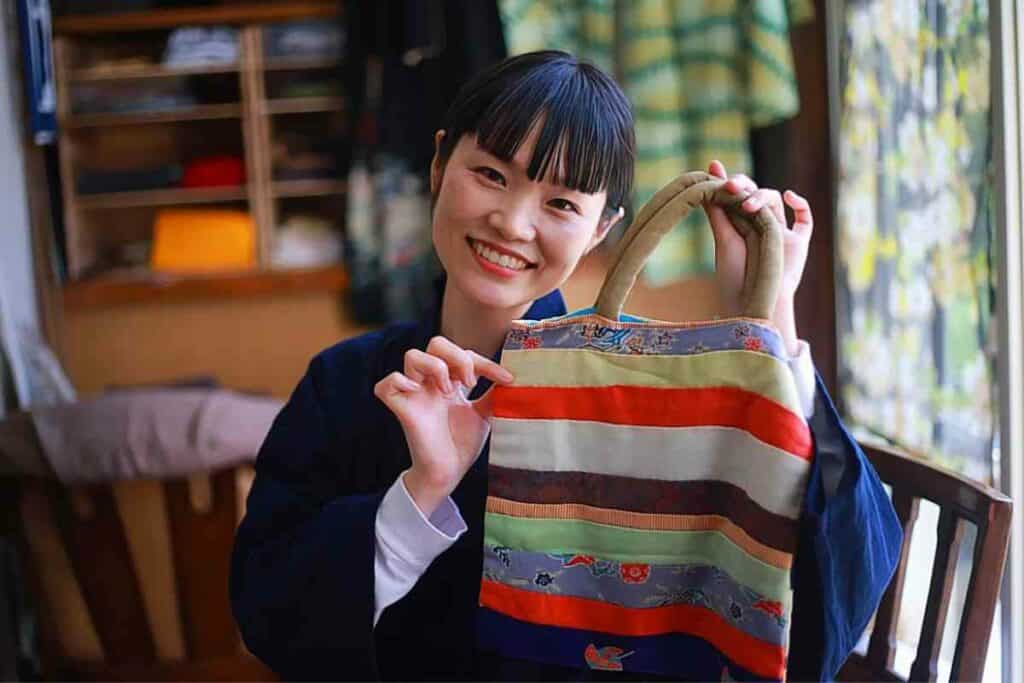 Let's take a look at five of the most popular styles of Japanese bags for women.
09/30/2023 10:50 am GMT
1. Kawaii Bags
"Kawaii" means 'cute' in Japanese, and these sweet bags are distinguished by their playful and adorable designs.
They are a perfect choice for those who enjoy a more lighthearted and youthful approach to fashion.
Anime Heart Purse
STEAMEDBUN Kawaii Ita Bag
The STEAMEDBUN Kawaii Ita Bag is a stylish Japanese school tote made from premium oxford and PVC.
With a capacity of about 10L, this versatile bag has various pockets for all your essentials and a heart-shaped window to showcase your favorite pins and badges.
Made of durable oxford and PVC with streamlined stitching.
Measures 14.84.811 inch with a 10L capacity.
Multiple pockets: main pocket, compartment for iPad/pens, outside and inside zip pockets, and a coin bag.
Heart-shaped window for displaying enamel pins, brooches, and stickers.
Great for multiple uses: school, work, gym, travel, and even cosplay.
Perfect for those who love kawaii items and want to DIY their bag with personal touches.
We earn a commission if you make a purchase, at no additional cost to you. Thanks!
Some popular designs for kawaii bags include:
Animal-inspired bags: Bags shaped like cute animals, such as cats, bears, pandas, or bunnies are incredibly popular. They often feature fluffy tails, cute button noses, and floppy ears.
Fruit-themed bags: Bags shaped like fruits, such as strawberries, watermelons, and pineapples, are incredibly popular. These bags are often very vibrant and eye-catching, adding a fun, youthful touch to outfits.
Cartoon character bags: These often feature cartoon characters such as Hello Kitty, Rilakkuma, Pikachu, or Totoro. As these characters are known for their engaging and sweet appearances, they make popular choices for kawaii fans.
Pastel-colored bags: Light, soft pastel colors are commonly associated with the kawaii style. Popular colors include shades of light pink, lavender, mint green, and baby blue. Other soft hues are used too by those looking to adopt the kawaii style.
Plush backpacks: These sweet bags resemble cute animals or characters and are a staple for followers of the kawaii style.
Bubble tea bags: The popular Asian drink has even inspired kawaii bag designs. Bags shaped like bubble teacups, with boba pearls and featuring bubble tea slogans or incredibly popular with kawaii enthusiasts.
Allowing wearers to make a unique fashion statement, the kawaii style of bag offers a departure from more mainstream fashion, enabling people to showcase their individuality.
This is an important part of Japanese youth culture, as many young Japanese people are now heavily influenced by social media and influencer culture, where many styles of kawaii bags are popular.
2. Wicker and Straw Bags (Wagasa bags)
Also known as "wagasa" or "wappa", these traditional bags have been used in Japan for centuries and can be made with wicker, straw, or bamboo.
Handmade in Bali
Novum Crafts Round Rattan Bag
The Novum Crafts Rattan Bag is a handmade purse from Bali, crafted from natural grasses and genuine leather, offering both durability and style.With its versatile designs and lightweight build, it's a blogger-favorite, setting it apart with its authentic attention to detail.
Natural Materials: Crafted from handpicked grasses and genuine leather.
Variety in Design: Available in multiple shapes with surprise interior fabrics.
Wearable Specs: About 7 3/4" diameter, 2" 7/8 width with a 22″ leather strap.
Blogger-approved: Stands out for its authenticity and detail in the sea of straw bags.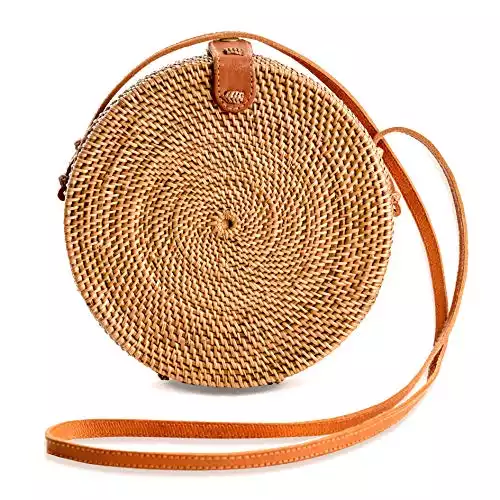 We earn a commission if you make a purchase, at no additional cost to you. Thanks!
Wicker and straw bags are increasingly popular in Japan in the warmer months. They offer the perfect rustic and natural look, making them perfect for beach trips or summer shopping trips.
Typically handwoven, wagasa bags often feature intricate designs and eye-catching patterns. They can be cylindrical or rectangular in shape, and some have a lid or drawstring closure.
Some wagasa bags have additional trimmings such as decorative accents, leather straps, or fabric linings.
They are most commonly used for carrying personal belongings and as picnic bags. The eco-friendly, natural materials make them ideal for picnics as the air can circulate and keep the contents of the bag cool.
The popularity of wagasa bags has exploded in recent years. They are seen as fashion accessories and people are drawn to their eco-friendly appeal.
They are found in stores all over Japan, including boutiques or online marketplaces that offer Japanese-style products.
When considering a wagasa bag there are a few things that are important to consider:
Materials: Materials should be natural and sustainable.
Weaving: Check the weaving for tightness and durability.
Price: Traditionally made wagasa bags can be pricy due to being handmade, but they are seen as an investment due to their cultural significance and long-lasting appeal.
3. Kimono bags
Kimono bags are an incredibly popular choice for women's bags in Japan and are also known as "kincaku" or "kinkaku".
Strong & durable cotton
NUOBESTY Kimono Purse
The NUOBESTY Japanese Drawstring Bag is a beautifully designed kimono-style pouch featuring cherry blossom embroidery.
Perfect as a unique gift, this beige bag is not only aesthetically pleasing but also practical, making it great for carrying cosmetics, phones, and other essentials.
Japanese Aesthetics

: Kimono-style design with cherry blossom embroidery.

Ideal Gift

: Perfect for special occasions and for those who appreciate unique designs.

Functional

: Comes with a drawstring closure for easy use.

Versatile Storage

: Suitable for cosmetics, phones, cards, coins, jewelry, and keys.

Quality and Durability

: Made of good quality cotton with fine craftsmanship.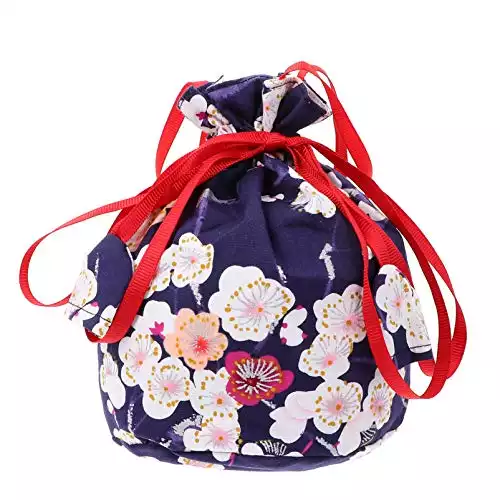 We earn a commission if you make a purchase, at no additional cost to you. Thanks!
They are traditional Japanese-style bags, made from beautiful fabrics such as silk or brocade. Many will have delicate embroidery and intricate patterns.
These bags are traditional drawstring bags, often made from leftovers from vintage kimono fabric. They are typically small and are used to carry personal items and small accessories, such as a small amount of money and a cell phone.
The kimono bag usually has a rectangular or square shape and a drawstring closure at the top. The drawstrings are called "himo" and will typically be made from silk or cotton cords. When these are pulled together, the contents of the bag are secured.
Kimono bags are often covered in intricate patterns, vibrant colors, and delicate decorative elements.
All of these things combined reflect the beauty and professional craftsmanship that goes into the production of these Japanese textiles.
Popular materials for a kimono bag include:
Silk is the most popular material for a kimono bag. It is lightweight, durable, and gives a luxurious feel to the bag. Vintage silks are often used in the making of a kimono bag, but new kimono silk can be used also. Vintage materials are usually available at a higher cost.
Cotton is the second most popular material for a kimono bag. It is easy to work with, can be cleaned easily, and comes in a wide range of colors and patterns.
Linen: This is a lightweight, natural fabric, known for its strength and durability. It provides a more casual and rustic look and is more popular in summer due to it being natural and lightweight in appearance.
Synthetic fabrics: Some kimono bags are made from synthetic materials such as nylon and polyester. These are a more affordable option for those wishing to have the kimono style bag, at a fraction of the cost of a silk bag. These fabrics are also water resistant.
Brocade: This is a richly decorative fabric mainly used for one-off special occasions. Brocade bags usually feature delicate patterns and opulent metallic thread.
Leather or faux leather: Leather is used in more modern variations of the kimono bag. These bags often fuse traditional and modern elements to create a contemporary bag.
The fabrics typically used to make kimono bags may feature geometric patterns, fans, cranes, and cherry blossoms.
Centuries ago, kimono bags were used to store small items such as coins.
Now, they are a popular gift for special occasions, or worn as a fashion accessory. Many designers have created contemporary versions of the kimono bag, incorporating modern fabrics and styles.
They are available in specialty stores across Japan, especially in areas known for their traditional crafts or kimono production. They can also be purchased online, through websites that specialize in Japanese fashion accessories.
4. Bento bags (Furoshiki bags)
Bento bags are inspired by the traditional Japanese furoshiki, a type of traditional Japanese wrapping cloth.
With button closure
Japanese Furoshiki tote bag
The Japanese Furoshiki tote bag boasts a "Retro Flower" design and is made in Japan from 100% cotton fabric.
Designed for convenience, this bag can be quickly transformed into a simple sub-bag, and it's machine washable with a durable design that doesn't shrink or rust.
Authentically Japanese: Made in Japan with a design inspired by the traditional "NOREN."
Material: 100% Cotton front with Tetron Cotton (65% Tetron / 35% cotton) on the back.
Design: Features a retro flower pattern and a button closure.
Versatile: Can be folded compactly, but easily transforms into a larger tote when needed.
Machine Washable: Cotton fabric ensures it can be cleaned in a washing machine without shrinking, and its snaps won't rust.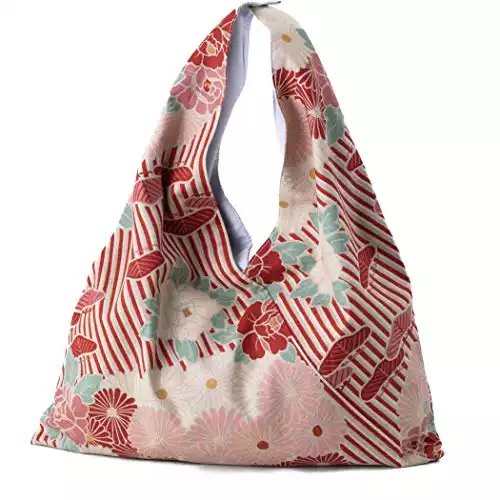 We earn a commission if you make a purchase, at no additional cost to you. Thanks!
They are usually square or rectangular and can be folded and tied in different ways, making them incredibly versatile.
Often made from lightweight fabrics, they can be used as grocery bags, lunch bags, and handbags. Bento bags have recently become popular outside of Japan for their minimalist style and practicality.
There is a wide range of colors and patterns available to choose from, with every fashion style and preference catered to.
Many people appreciate the versatility of the bento bag, as they are easy to fold and keep with you to use when needed.
In Japan, bento bags are commonly used as a lunch bag, to carry a bento box. These are traditional packed lunches consisting of rice, vegetables, fish, or meat.
They are seen as a cool, eco-friendly alternative to disposable plastic or paper bags.
5. Japanese Knot Bags (Kinchaku bags)
Japanese knot bags, also known as "kinchaku" bags, are traditional bags known for their unique shape and closure method.
They are usually made from fabric and have a flat, square, or rectangular base that secures the bag.
Premium cotton
BAR AUTOTECH Japanese Knot Bag
The BAR AUTOTECH Cotton Japanese Pattern Wrist Bag is a chic, high-quality cotton tote with canvas lining, designed for comfort and convenience.
It's a versatile accessory perfect for carrying essentials and can be machine-washed, making it a fantastic gift choice for a range of occasions.
Key Points:
Versatility: Great for carrying personal items from beauty products to essentials for various occasions.
Machine Washable: Ensures your stylish bag remains clean and fresh.
Thoughtful Gift: Suitable for various occasions and audiences, with unique patterns potentially varying due to fabric production.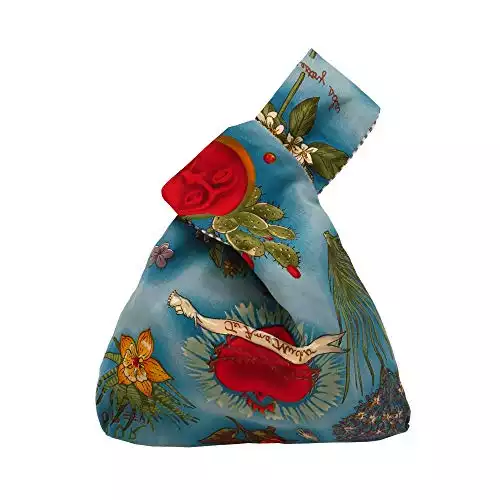 We earn a commission if you make a purchase, at no additional cost to you. Thanks!
Traditionally used to carry small items or as gift bags, Japanese knot bags were traditionally used in Japan for many centuries. Often decorated with beautiful patterns, delicate embroidery, and traditional Japanese motifs reflecting Japan's rich cultural heritage.
One of the main characteristics of the bag is its clever closure system. Knot bags have a longer handle or strap that is threaded through a short loop on the opposite side. This creates a knot that ensures the bag is closed securely.
It is easily adjustable, which appeals to many people, as it's a convenient and versatile design.
Known for their versatility, they have gained popularity worldwide over the past few years due to their unique design. Available in a wide range of fabrics and colors there is a bag out there to suit all tastes.
Many people appreciate the elegance and simplicity of the Japanese design.
Recently, there has been an increase in people making their own Japanese knot bags. Patterns and tutorials are available online, allowing people to take on a fun sewing project and create a custom knot bag.
Japanese knot bags offer a stylish and functional option for people wanting to combine Japanese craftmanship and simplistic design with a traditional twist.
Final Thoughts on 5 Styles of Japanese Bags for Women
There are so many cool styles out there to choose from.
Whether you are wanting something fun and playful, like a kawaii style bag, or stylish and practical like a Japanese knot bag, you can find the perfect bag for you.
With sleek, minimalist designs, or stunning geometric prints to choose from, there really is something to suit all tastes.