Coffee lovers will appreciate the smooth, rich flavorful lightness packed in a hojicha latte.
It is the perfect Japanese all-day any-weather drink that one can enjoy piping hot or ice cold.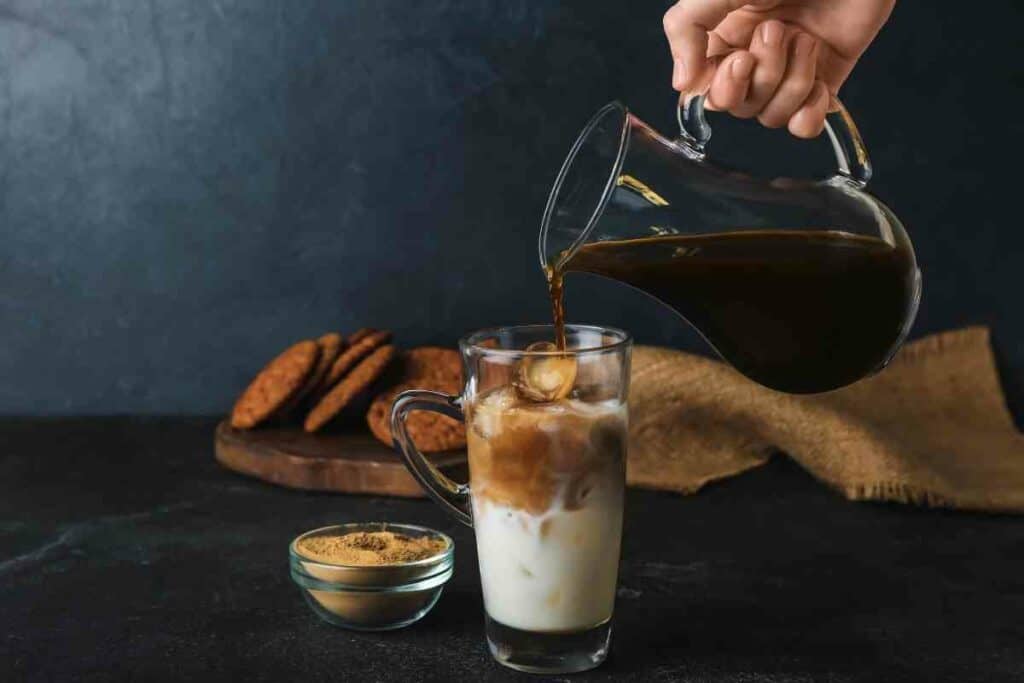 Keep reading to discover how to make a hojicha latte whether hot or iced.
What is a hojicha latte?
A hojicha latte is a Japanese beverage made from roasted green tea powder known as hojicha.
For the drink to be a real latte, it must include:
hojicha powder
milk
water
One also drinks the tea leaves whole in a latte, usually in powder form.
It, therefore, means they completely dissolve into the drink.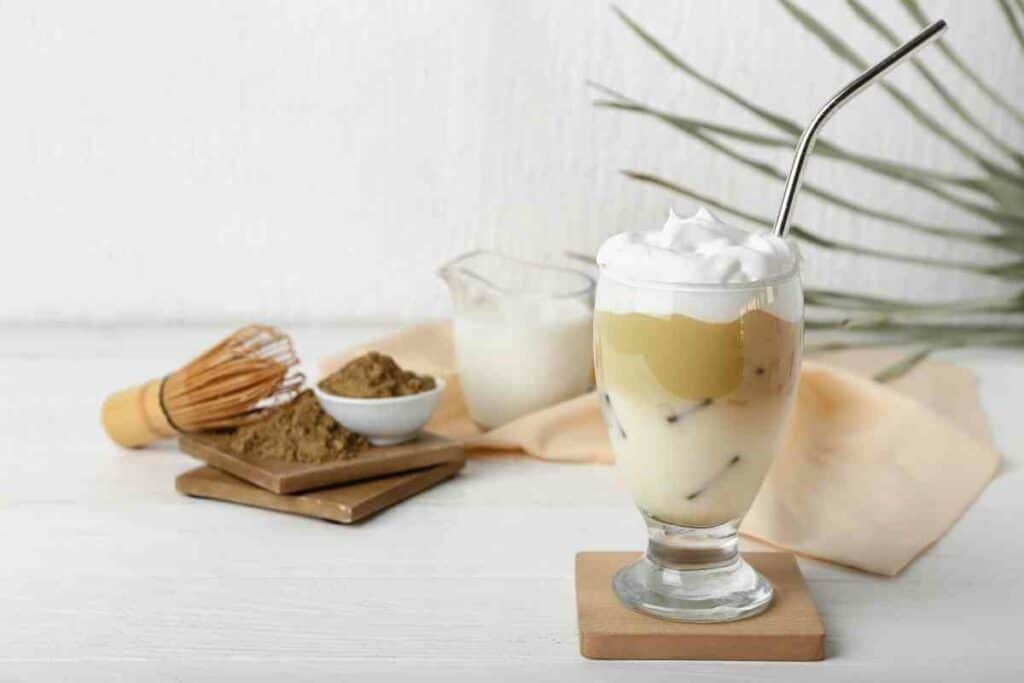 Hojicha, in Japanese, means to roast, the process used to turn the green tea leaves into powder.
To make hojicha powder, brewers use dry tea leaves, twigs, stalks, and stems.
Then, they roll and tightly pack them together to roast slowly in a clay pot over a charcoal fire.
In the Heat – The toasting process turns the leaves from green to a deep brown color. Additionally, the smoke from the coal adds a rich smoky flavor.
They then crush the leaves into a powder which can go into a tea bag or completely dissolve in hot water.
How does a hojicha latte taste?
A hojicha latte has a slightly sweet and delightful spicy aroma with a naturally roasted down-to-earth flavor.
As a unique tea brew latte, hojicha has undertones of decadent caramel and cocoa, the perfect combination for coffee enthusiasts.
Tea drinkers and hot chocolate lovers will enjoy the well-done hojicha latte variations.
Is there caffeine in a hojicha latte?
Hojicha latte is almost caffeine free.
However, a single serving contains less than 7.7mg of caffeine, missing the effects of regular coffee.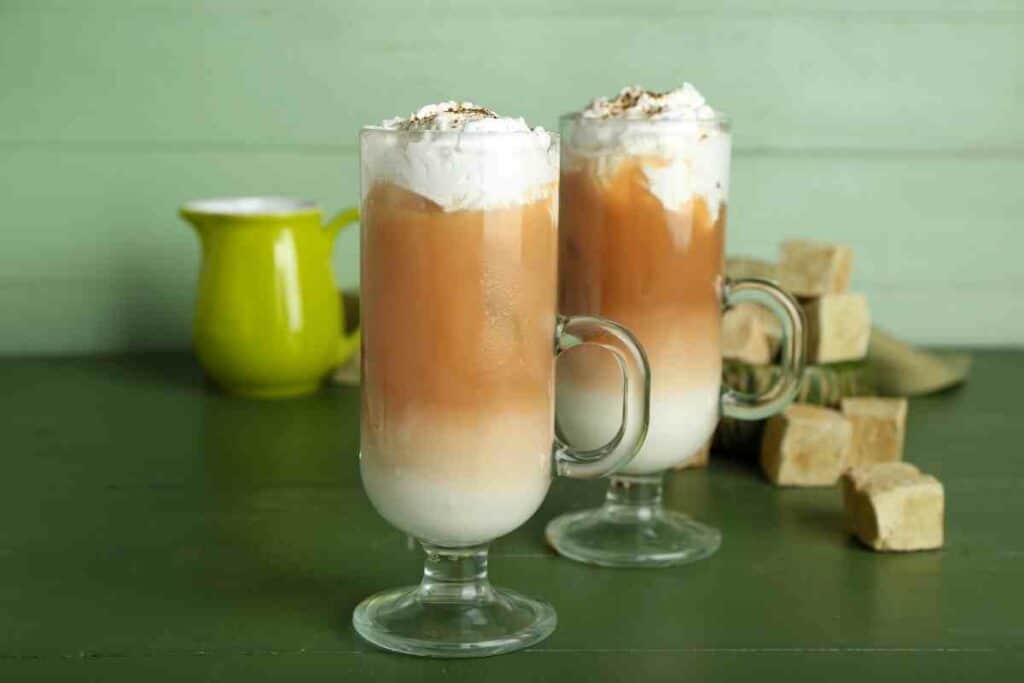 In Japan, of all green tea varieties, hojicha has been proven to have the least amount of caffeine.
They attribute it to the fact that the leaves undergo the roasting process, which lowers the amounts significantly.
As a Result – Hojicha lattes make perfect dessert drinks for any time of the day, including late evenings. Japanese children even enjoy the brew if their parents allow it.
Ingredients of hojicha latte
Besides the hojicha powder or leaves, a hojicha latte contains your choice of milk, water, and the preferred sweetener.
Although oat milk pairs well with roasted tea leaves, you can use whole, almond, or coconut milk for your hojicha latte.
As for the water, you need to get the correct temperature and quantity of filtered water.
Finally, although hojicha is naturally sweet, you can add sweeteners and additional flavors for an extra kick.
Benefits of drinking hojicha latte
Drinking a hojicha latte has lots of health and nutrition benefits.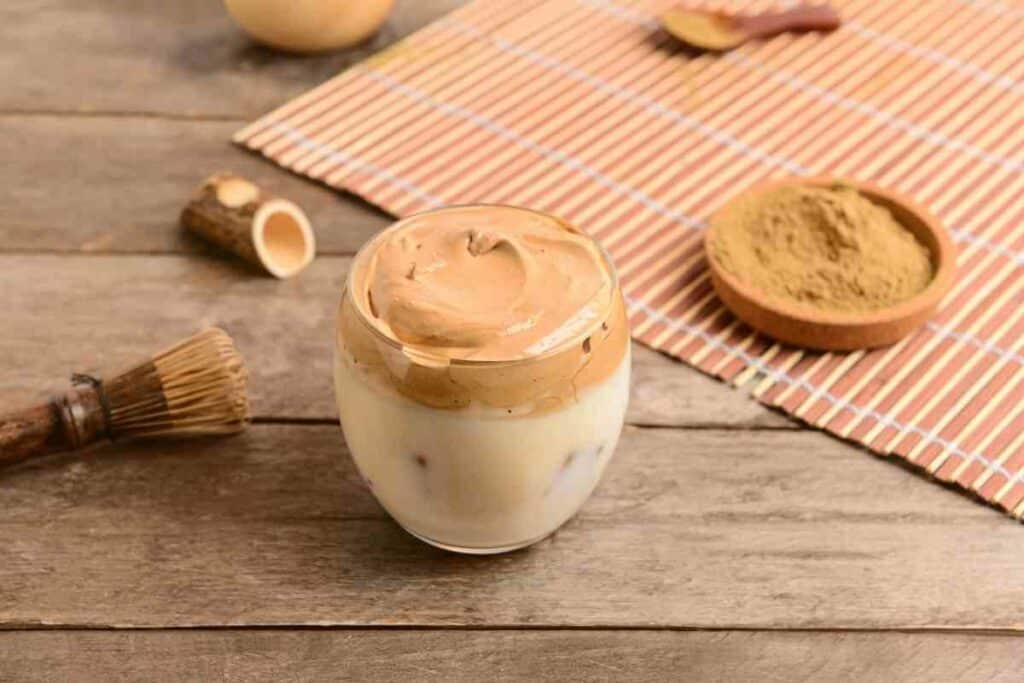 They include:
Hojicha is a natural toxins cleanser and detoxing medium. As a green tea, it contains antioxidants that are perfect for removing harmful toxins in your body.
Antioxidants are also essential for you as they keep your skin smooth, making you look and feel younger.
Hojicha is a stress reliever. In addition, it relaxes your mind and body as its amino acids are well known for promoting physical and mental well-being. For example, drinking a hojicha latte will help lower your cortisol levels and heart rate if you suffer from high blood pressure.
Green tea is perfect for reducing cholesterol levels. Hojicha is a green tea containing catechins, essential for lowering cholesterol, inflammation, and heart disease risk.  
Since hojicha latte has low caffeine, it is excellent for people with caffeine sensitivity. It provides a natural energy lift without the anxious feeling brought on by coffee.
Differences between hojicha and matcha
Hojicha differs from matcha in color, caffeine content, and aroma.
Although some people make matcha lattes, the hojicha latte is well-loved due to its smoky aroma.
It also comes in a rich dark brown and red color, unlike matcha which is bright green.
Lastly, matcha has higher caffeine content than hojicha or other popular Japanese green tea.
How to make hojicha latte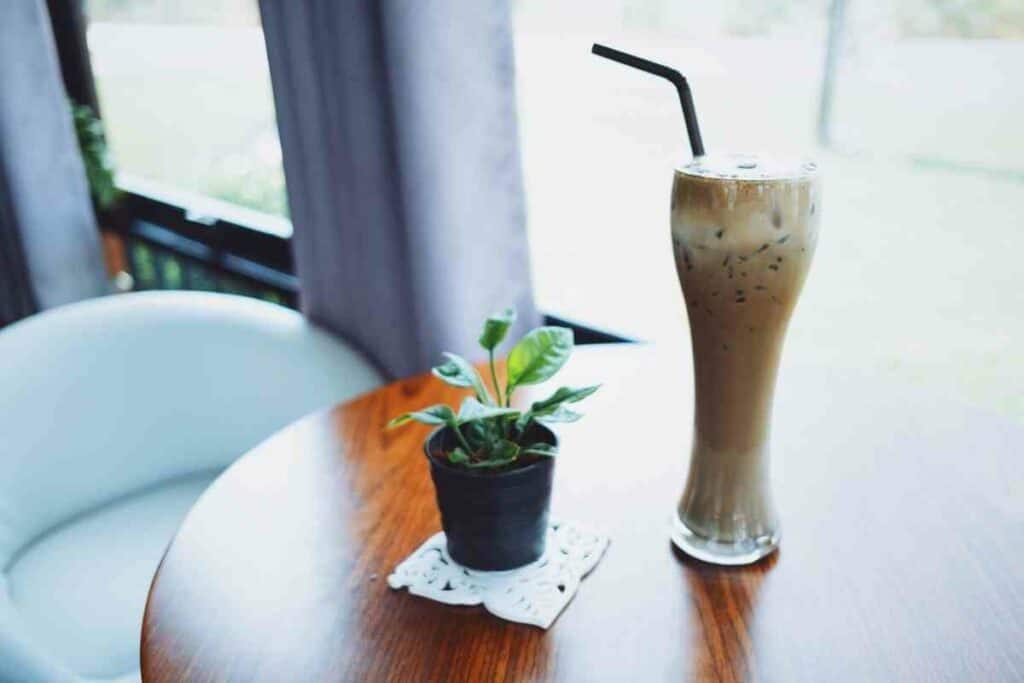 When preparing a hojicha latte drink, there are various things to consider.
Water temperature
The ideal temperature for the water is 175 F or 80 degrees.
At this temperature, the tea will steep slowly, extracting the most flavors, unlike boiling water which may make the tea bitter.
For a Frothy Latte – Use a whisk to dissolve the hojicha powder into the water. You can also use room temperature water to dissolve the tea for an iced latte.
The best milk to make hojicha latte
For a creamy latte, consider using rich oat milk.
Its thick texture and flavor combine well with hojicha making great lattes.
However, ensure the choice of milk you use does not drown the aromatic taste of hojicha.
Additionally, lattes are best frothy so consider adding steaming milk to your drink or sweetening the milk.
Sweetening a hojicha latte
Hojicha has a naturally sweet taste that some people may take without a sweetener.
However, if you prefer your latte sweeter, we recommend maple syrup as it does not overwhelm the earthy taste of hojicha.
Maple syrup dissolves quickly, but you can also use honey in the quantity you prefer.
Creating a more robust hojicha latte
If you like your latte stronger, switch the water to milk ratio by using more water and less milk.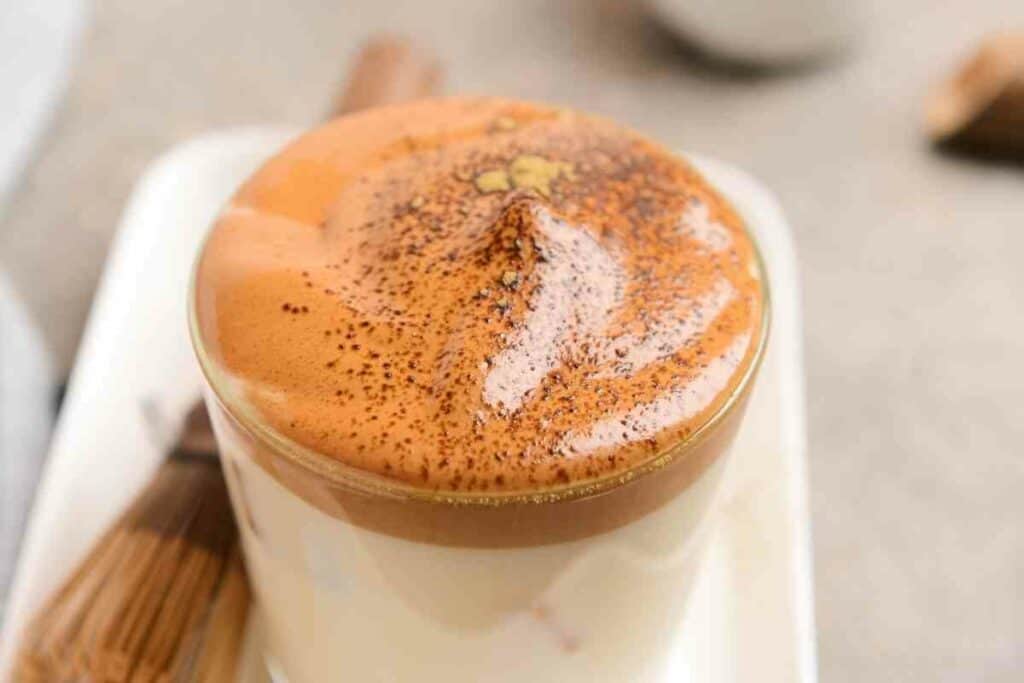 Alternatively, add more hojicha powder to your latte.
A standard cup requires about 3 to 4 teaspoons of hojicha powder.
Hojicha latte art
In most coffee shops, baristas make beautiful art with every latte order, and hojicha latte is no exception.
To make the art, reduce the foam by mixing the hojicha powder using less water.
Instead – Form a thick paste and add water, whisking lightly to prevent foaming. Alternatively, cold or room temperature water produces little to no foam on your latte.
Mixing a hojicha latte
Although a whisk provides the best froth for a hojicha latte, you can use a spoon to mix it in.
Pick the readily available tool, as hojicha powder dissolves easily in water.
If you use a hojicha tea bag or leaves, use a tea steep or strainer to infuse your drink slowly.
Difference between hojicha powder and leaves
Ground hojicha is easy and convenient to use as it dissolves in water.
If you prefer using the leaves, let them sit in the water for a few minutes, then sieve. 
Hot Hojicha latte recipe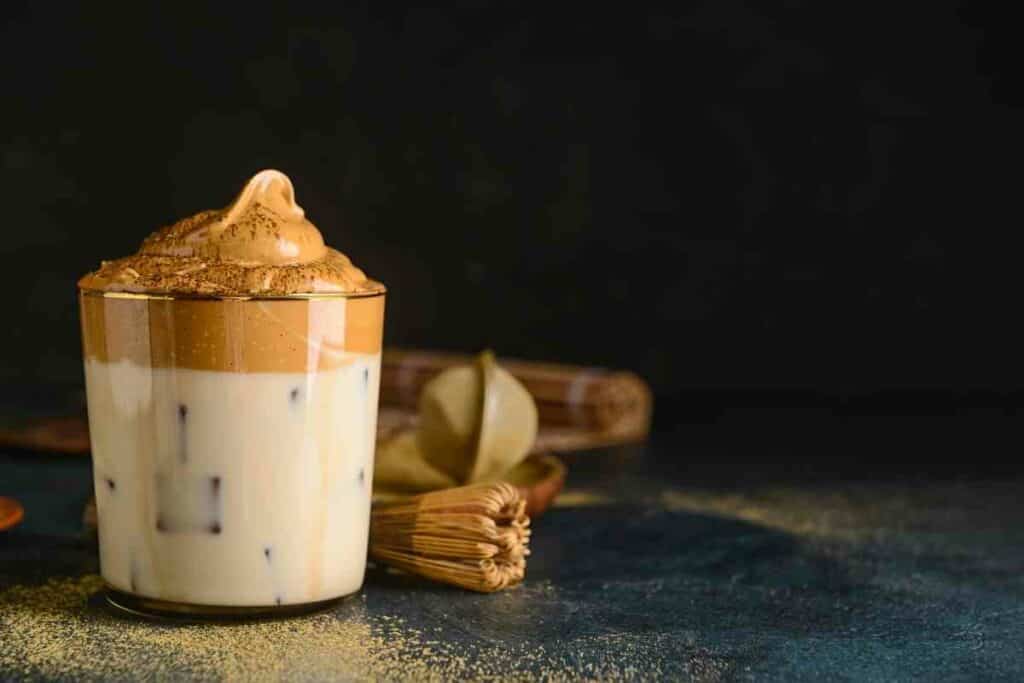 Ingredients:
180 ml of milk
60 ml of water 
Three teaspoons of hojicha powder
Maple syrup sweetener (optional)
Instructions:
First, warm the water to 80 degrees or 175 F
Then mix in the hojicha powder until smooth.
Next, add the milk and maple syrup to a pan and bring to a boil.
Lastly, pour the smooth hojicha mixture into a mug and add the steaming milk.
Stir and enjoy.
Iced Hojicha latte recipe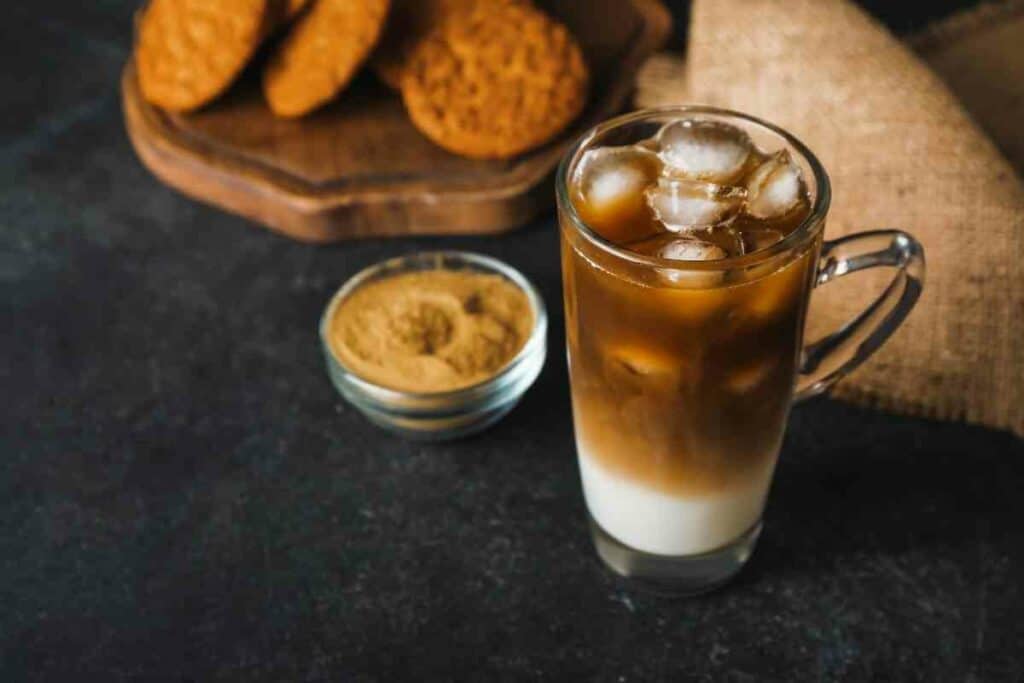 Ingredients:
60 ml of water 
180ml of milk
Ice cubes
Three teaspoons of hojicha powder
Maple syrup sweetener (optional)
Instructions:
First, mix in the hojicha powder using room temperature or cold water until smooth.
Next, add the maple syrup sweetener to taste.
Then, pour the ice cubes in your desired quantity into a tall glass.
Finally, pour the smooth hojicha mixture onto the ice and add the cold or room temperature milk.
Stir and enjoy.
Conclusion
Hojicha latte is a favorite tea drink among the Japanese and is gaining popularity worldwide.
You can now conveniently get quality hojicha powder from online stores around you.
Whether it is your first time or you love the drink, hojicha latte is popular due to the various ways you can make it.
To make your hojicha latte more flavorful, add vanilla or steep flowers such as lavender, roses, or cherry blossoms.
Additionally, get the most out of hojicha's therapeutic properties by taking your time to prepare and savor your drink.