It is no secret that Japan has the best Anime and Manga theme parks in the world.
From the iconic Hello Kitty to the famous Pokemon, Japan has given tribute to these amazing characters and made sure that they will live forever.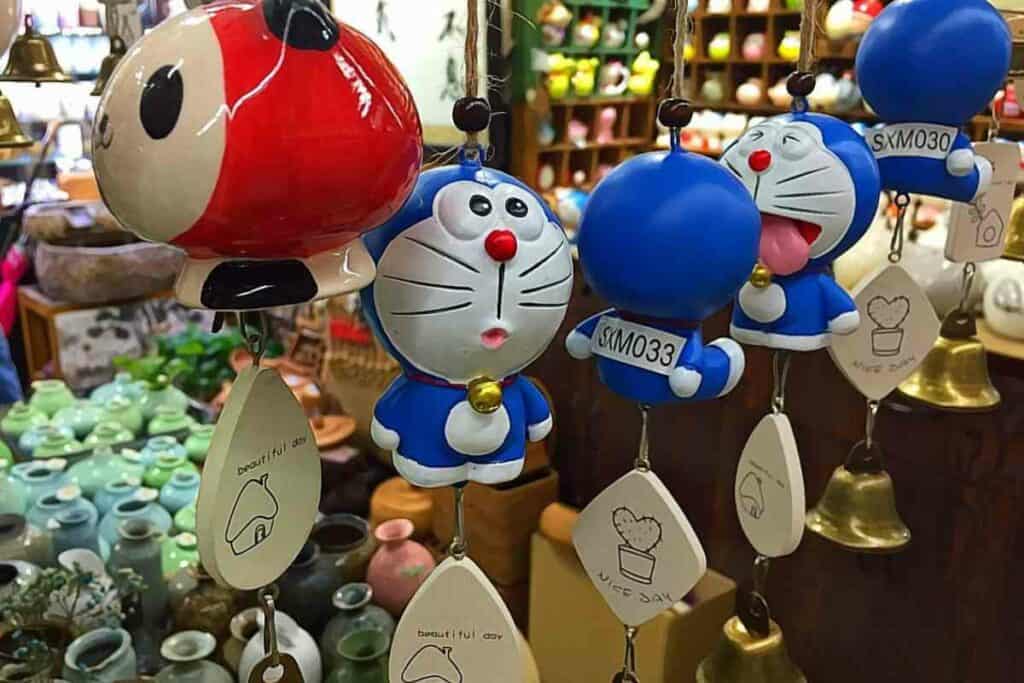 If you plan on making an Anime and Manga tour while in Japan, here are the best places to visit.
1. Naruto x Boruto (Awaji Island)
The Naruto x Boruto theme park found on Awaji Island is a dream come true for any anime and manga fan, like me!
With all the themed attractions and shows, it's an immersive experience that brings to life our favorite characters in their fast-paced ninja world.
I was particularly excited about trying out the Ninja Battle Attraction where you get to go through obstacles as if you were part of Team 7 from Konoha.
The Ninjutsu Training Dojo allowed me to test my might against other fans via virtual reality simulations.
Interactive experiences such as these offer fans moments that they could only imagine back when watching the series or reading the manga themselves!
One attraction truly stood out – Rise of Naruto Tower allowed us visitors to have real-life battles alongside famous characters like Naruto Uzumaki himself!
There's even a replica Hokage room so we could feel just how important those ninja meetings are first-hand.
It isn't only fun inside either; looking at one side offers picturesque sea views while another provides access points straight into nature reserves nearby – this place has everything any Otaku would need for maximum enjoyment during their time here too!
Everything combined makes coming alive right here on earth with endless excitement await all who visit this unique location.
2. Tokyo Joypolis (Tokyo)
As an anime and manga fan, I was ecstatic when I discovered Tokyo Joypolis. This indoor theme park is a haven for any otaku with its numerous attractions based on popular anime/manga franchises.
One of the highlights for me was the VR attraction centered around Attack on Titan.
The experience puts you in the shoes of one of humanity's soldiers as you navigate through Titans to protect your city.
It was truly thrilling! Other must-see attractions include those dedicated to:
Evangelion
Detective Conan
Sonic the Hedgehog
There are also interactive games that let fans test their knowledge about various shows like One Piece or Naruto.
And speaking about "Naruto", there's even a full-fledged ninja training challenge that'll test your agility as it immerses you into Konoha Village!
Of course, no visit would be complete without experiencing some anime-style mini-games along with themed snacks available at cafes within this amusement park zone.
Overall, Tokyo Joypolis caters brilliantly to all types of otakus /anime enthusiasts out there by providing exclusive experiences audiences won't find anywhere else under one roof!
This place should definitely not be missed out on anyone's itinerary – totally worth every penny spent!
3. Fujiko F. Fujio Museum (Kawasaki)
The Fujiko F. Fujio Museum is a unique and fascinating attraction located just outside of Tokyo, in the city of Kawasaki.
The museum is dedicated to the work and legacy of the famous manga artist, Motoo Abiko (also known as 'Fujiko F. Fujio'), who created beloved characters such as Doraemon, Perman, Kiteretsu Daihyakka, and more.
Fujiko F. Fujio museum itself is an architectural wonder that stands out for its striking white exterior with rounded corners showcasing different works from the creator's collections.
Read later – 5 Best Hotels in Kawasaki
It features multiple floors filled with interactive exhibits featuring original artwork from Mr.Fujimoto's prolific career on display.
The reconstructed sets are inspired by his animated series complete with figurines & scenes tracing Japan's cultural heritage through fantasy-themed vignettes that hark back to times gone by.
One notable highlight at this venue is the life-sized versions of popular cartoon characters like Doraemon, or some games built around concepts featured in them which definitely delight visitors young and old alike!
A particular favorite among children visiting the site happens to be ​the Rooftop Garden where they can find attractions like huge statues or animal toys scattered about perfect for photo ops.
4. Ghibli Museum (Mitaka)
Nestled in the lush greenery of Mitaka City, the Ghibli Museum is one of Japan's most popular tourist attractions.
The museum was built to showcase the works and vision of Hayao Miyazaki, one of Japan's greatest animation filmmakers.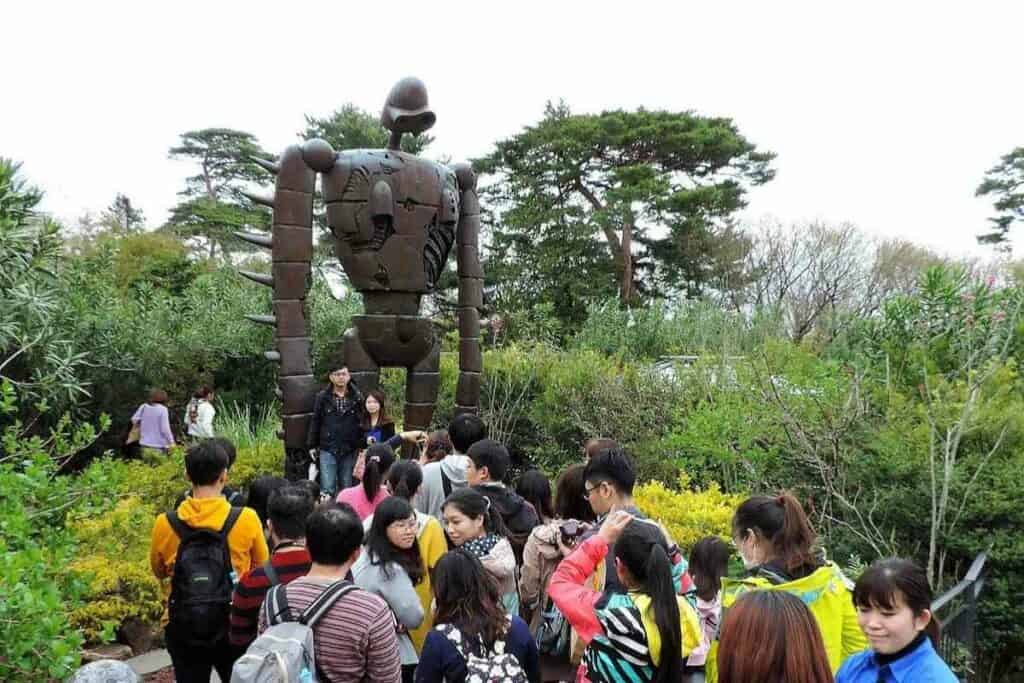 The building itself stands out with its whimsical design and antique look that evokes a feeling reminiscent of something straight from one of Miyazaki's anime films.
Inside are exhibits that feature original drawings, sketches, and animation cells highlighted by vibrant hues showcasing some uniquely creative worlds full of animated characters.
One section features realistic recreations representing different aspects such as the process involved during the production stages required for animation creation.
Things you can see at the Ghibli Museum include:
Robot Soldier
Spirited Away
My Neighbor Totoro
Princess Mononoke
Others include props used in various movies created at Studio Ghibli including intricate woven carpets made exclusively for use within movie sets themselves creating an atmosphere fitting into numerous scenes produced on film!
The 'Cat Bus Room' exhibit definitely stands out among other areas due to its playful decor highlighting where children can play inside makeshift animal transportation!
Probably kids who love Totoro will feel like riding this quirky transport!
Visitors have many souvenirs available when visiting including limited edition items exclusive only found there. Souvenirs make the visit memorable, so be sure not to forget to take them back while leaving.
5. Gundam Factory Yokohama (Yokohama)
Gundam Factory Yokohama is an exciting and innovative attraction located in the bustling city of Yokohama, Japan.
This futuristic complex offers visitors a one-of-a-kind experience that blends entertainment with technology in a unique way.
The highlight of this awe-inspiring venue is undoubtedly its life-sized Gundam robot that stands an impressive 60 feet tall.
Project RX-78: Mobile Suit Gundam, which is the main feature within the factory itself, represents everything awesome about fighting giant robots!
Visitors can marvel up close and personal as they walk around it during certain times and travel from level to level by escalator until arriving at 'the cockpit'.
Inside you'll find two seats where breathing-taking photos can be taken while pretending like real pilots!
In addition to the robot, there are many interactive exhibits on display throughout Gundam Factory Yokohama related not only to anime culture but also robotic engineering for both adults and children alike – all providing invaluable insights into how these heroic behemoths come about!
6. Nijigen no Mori (Hyogo)
Nijigen no Mori is a fascinating amusement park situated in Hyogo prefecture, Japan.
Upon arrival at the entrance of this enchanting theme park, you are greeted with an impressive sight that immediately captures your attention; two gigantic mechas – RX-78 Gundam and Eva Unit-01 standing almost 20 meters tall.
Once inside Nijigen no Mori there's so much to do!
The Park features numerous attractions designed for families and individuals who love anime or gaming-themed activities.
Fans of arcade games will be delighted by the inclusive selection available throughout many venues within the park while visitors seeking something more thrilling can enjoy adrenaline-rushing rides.
A highlight of visiting Nijigen no Mori has to be taking part in one of their innovative experiences: from becoming a virtual swordsman battling enemies on screen through modern VR technology or attempting to escape puzzles as if trapped in another universe — these unique encounters guarantee lots excitement across various ages ranges!
Read Next – 5 Best Hotels Near Nijigen no Mori
7. Sanrio Puroland (Tokyo)
Sanrio Puroland is a uniquely immersive theme park, located in the bustling metropolitan city of Tokyo.
A haven for fans of all ages and backgrounds alike, this attraction boasts an array of one-of-a-kind interactive experiences that allow visitors to get up close and personal with beloved characters from Sanrio's iconic roster.
From Hello Kitty herself to less well-known but equally charming personalities like Cinnamoroll or Keroppi, there are endless opportunities for guests to snap selfies and make lasting memories surrounded by colorful backdrops straight out of their favorite anime series come alive before them.
Sanrio Puroland offers live performances throughout the day featuring popular Sanrio stars singing catchy tunes while donning delightfully over-the-top outfits.
Meanwhile, rides such as "My Melody Drive" whisk passengers through vibrant dreamlands filled with whimsical set pieces dotting every turn on a track created exclusively for these thrill seekers' adventures.
The onsite gift shop features everything under the sun which will complete any collection including plush toys mascots & apparel galore – just waiting patiently (or not so!) until they can be brought into someone's loving embrace outside once again!
8. Toei Kyoto Studio Park (Kyoto)
Toei Kyoto Studio Park is a delightful theme park, located in the heart of the historical and picturesque city of Kyoto.
This expansive complex offers visitors a unique insight into Japan's entertainment industry with scenes from popular TV dramas and movies brought to life through captivating sets, colorful exhibits, immersive performances, and exciting simulations.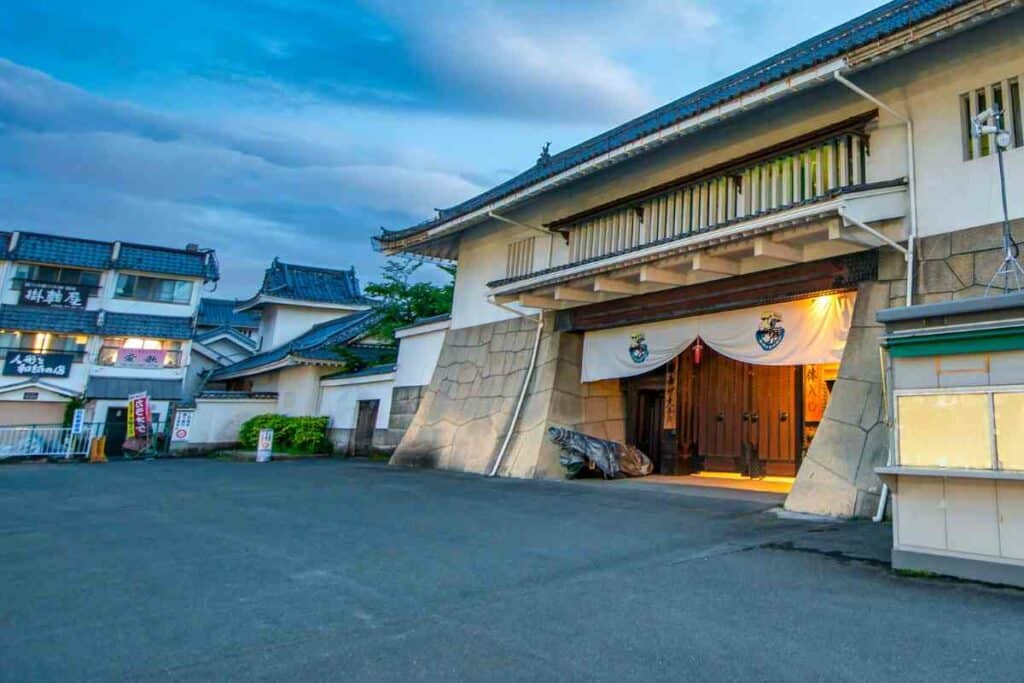 The spacious grounds are further enlivened by costumed performers recreating nostalgic scenes from various periods while skilled craftsmen demonstrate traditional techniques such as pottery making or glass-blowing among others.
Visitors can also observe live-action demonstrations that showcase thrilling samurai fights replete with dazzling swordplay stunts.
Another key attraction for budding filmmakers seeking professional training set against stimulating backdrops is significantly highlighted here at Toei Studios where you have masterclasses on scriptwriting, acting & directing classes offered throughout the year.
Additionally, capturing your favorite anime characters just got more fun-filled thanks to contemporary virtual reality gaming options accessible at this amazing facility adding modern flair to traditionally rich Japanese Martial Arts culture offerings!
9. Crayon Shin-chan Adventure Park (Hyogo)
Crayon Shin-chan Adventure Park in Hyogo is a dream come true for any anime fan. This theme park features everything you could ever want from the beloved manga and anime series, Crayon Shin-chan.
First of all, there are life-sized statues of all your favorite characters scattered throughout the park.
You can pose with Shin-chan himself or take a selfie with his mischievous sister Himawari. Walking around this place feels like stepping into a giant comic book!
One of the most exciting features in the park is definitely the roller coaster – it's designed to look like one of Shinnosuke's adventures!
There are also other rides themed after typical Japanese games that you might recognize if you're already familiar with Japanese pop culture.
Another highlight at Crayon Shin-chan Adventure Park is taking pictures inside replicas of famous locations such as Action Mask's house or kindergarten where The Nohara Family study together and often have playdates!
There are plenty more amazing details here too; including merchandise shops filled with items such as:
Toys based on our heroes' everyday objects (like their school bags)
Unique snack stands modeled after popular cartoon snacks featured heavily in Kyoto animation works (a perfect opportunity to get a taste!)
Wonderful events during seasons which change each year
10. Kyoto International Manga Museum (Kyoto)
The Kyoto International Manga Museum is a fantastic destination for anyone who loves the art of Japanese comics, otherwise known as manga.
This massive museum in central Kyoto boasts an impressive collection of over 300,000 original prints and manuscripts covering every imaginable genre and style.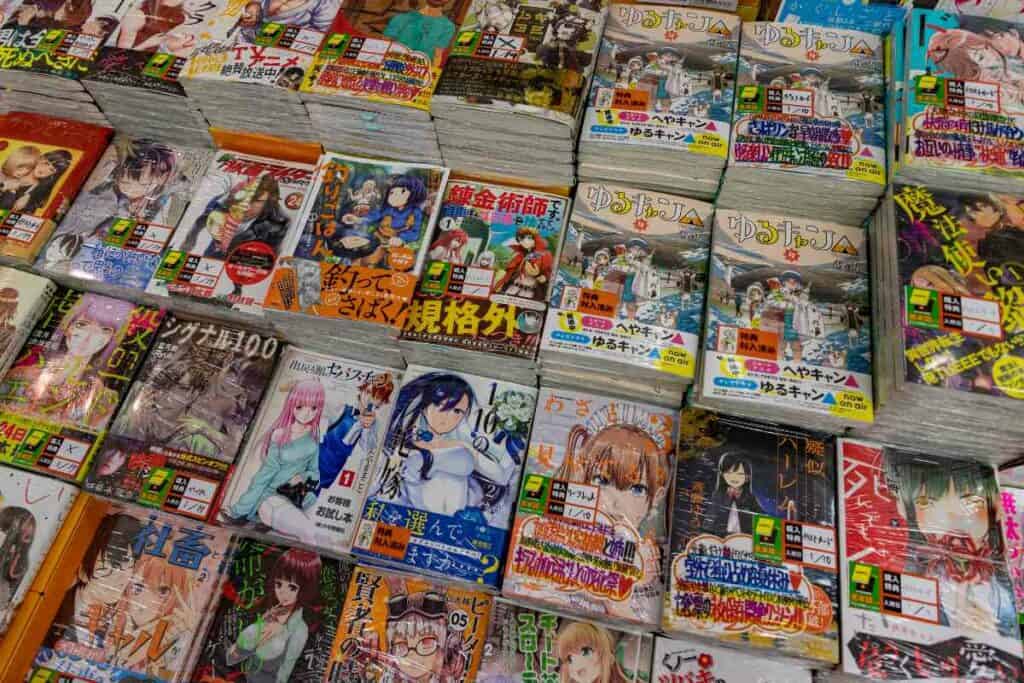 One thing I love about this place is that it's not just a boring static display – there are plenty of interactive exhibits that engage visitors with hands-on activities like reading booths and drawing workshops where you can learn to draw your own mangas.
Moreover, the library there has comfortable seating areas so you can spend hours on end pouring through some classic titles while taking advantage of their language-learning materials which run throughout various languages including English.
The institution offers programs such as free guided tours (in multiple different languages) providing additional insight into the history behind the fascinating world created by these comic book artists; they also have events running based upon newer works launching within mainstream publishers across Japan- featuring Q&A sessions from industry professionals at times too!
In Conclusion
Japan is truly the best place to visit if you are an Anime and Manga fan.
These themed parks will make you feel like you are part of the movies.
Apart from getting to meet your heroes, you can also shop for some souvenirs and take a piece of these incredible places with you.