Onigiri, or rice balls, are a delicious and convenient way to pack a meal.
They're also incredibly versatile, as they can be filled with virtually anything you like.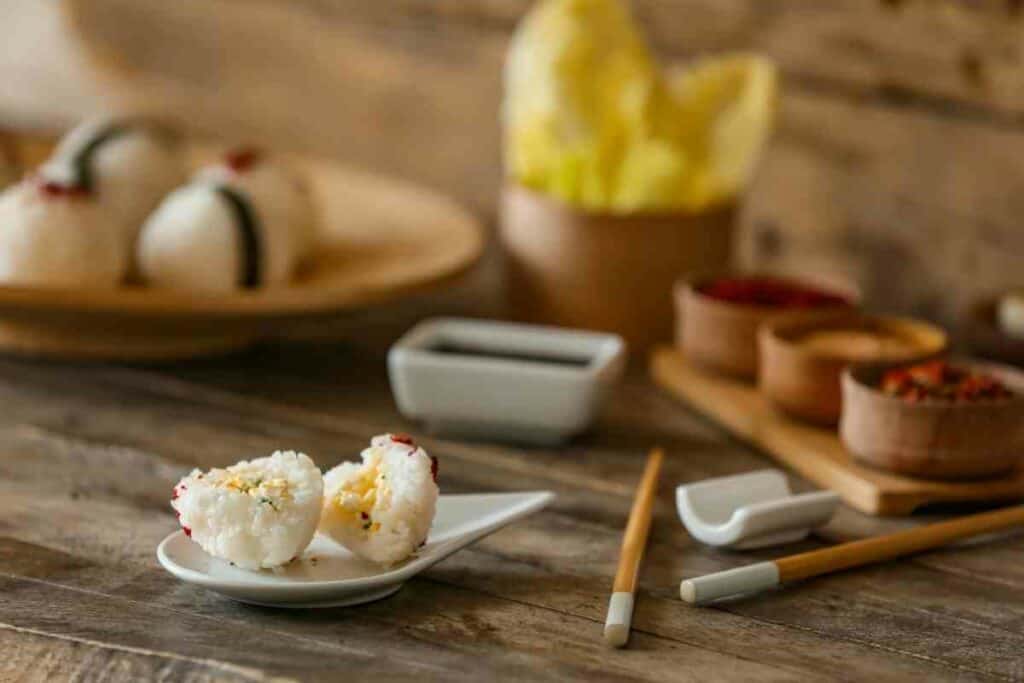 If you're looking for some new ideas for onigiri fillings, look no further!
Here are fifteen of the best traditional and unique onigiri fillings and how to make them.
1. Salted Salmon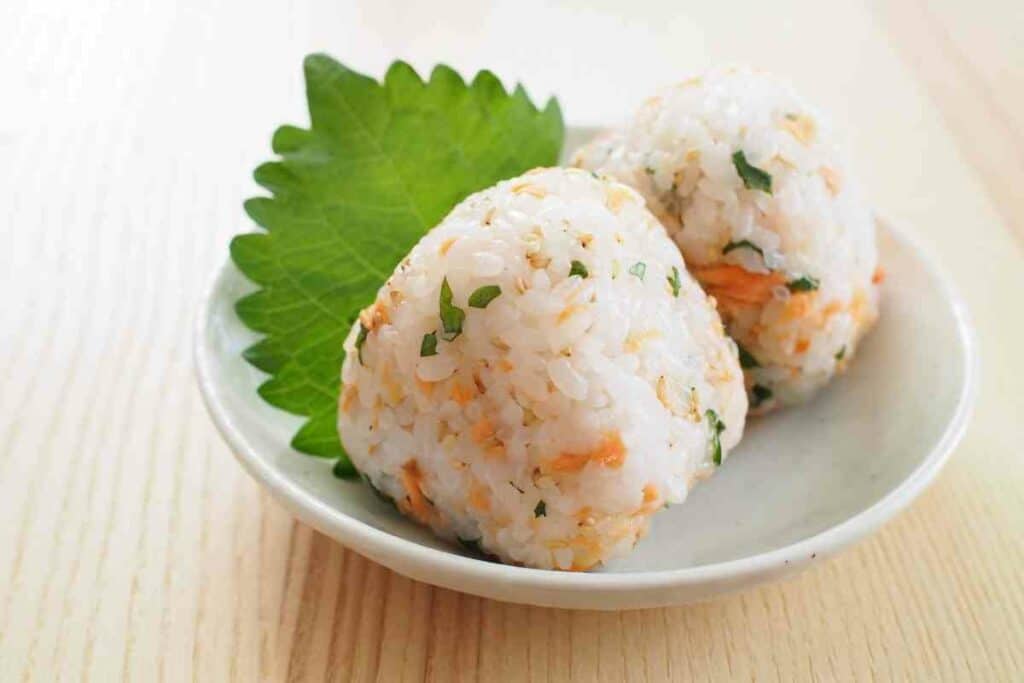 This is probably the most popular onigiri filling and it's easy to see why. The salty, fatty flavor of salmon pairs perfectly with rice.
To make the filling you need:
1 salmon fillet
1/2 teaspoon of fine salt
Steps to follow:
Sprinkle the salt on all sides and edges of the fillet. Wrap it in a couple of layers of paper towel, and leave it in the fridge overnight.
When you're ready to make onigiri, set your oven to 350 Fahrenheit, and bake on a tray for 10 minutes. If your fillet has skin, bake it skin side up.
When it's cooked, take it out of the oven remove the skin and shred the salmon into smaller pieces using a fork.
2. Tuna Mayo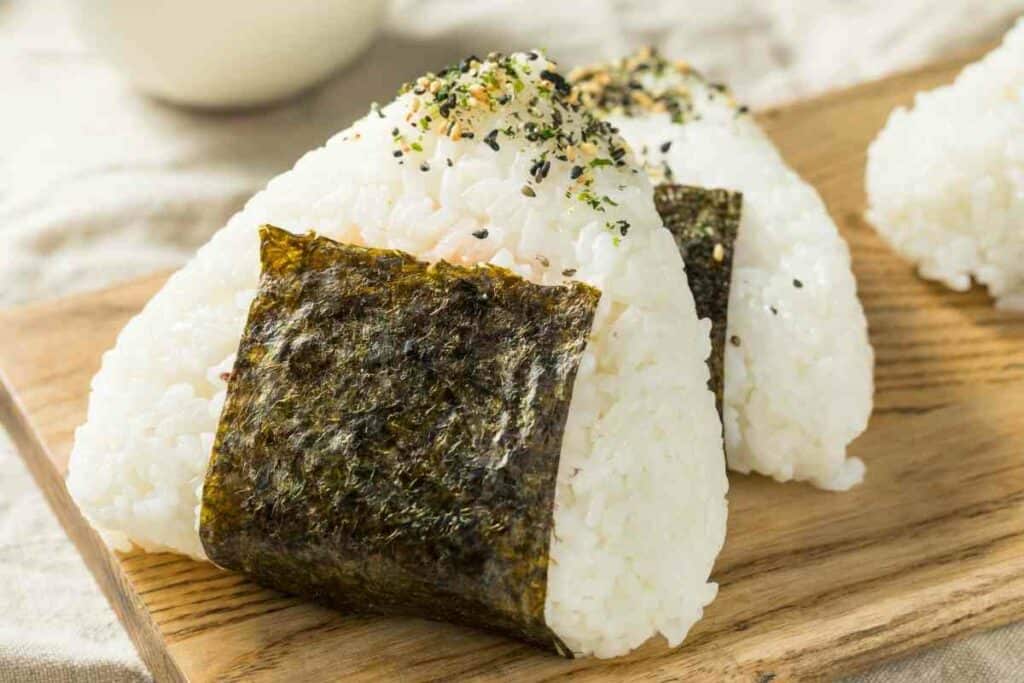 Another classic onigiri filling, tuna mayo is a delicious and easy way to make onigiri.
To make the filling:
Combine one tin of tuna, three tablespoons of Japanese mayo, and one teaspoon of soy sauce.
Continue mixing until there are no more large chunks of tun left and it looks like a paste.
As a side note, Japanese mayo might be difficult to find, but it is going to make your filling sweeter and eggier.
If you can't find Japanese mayo, the jar you already have in your fridge will work as a last resort.
3. Umeboshi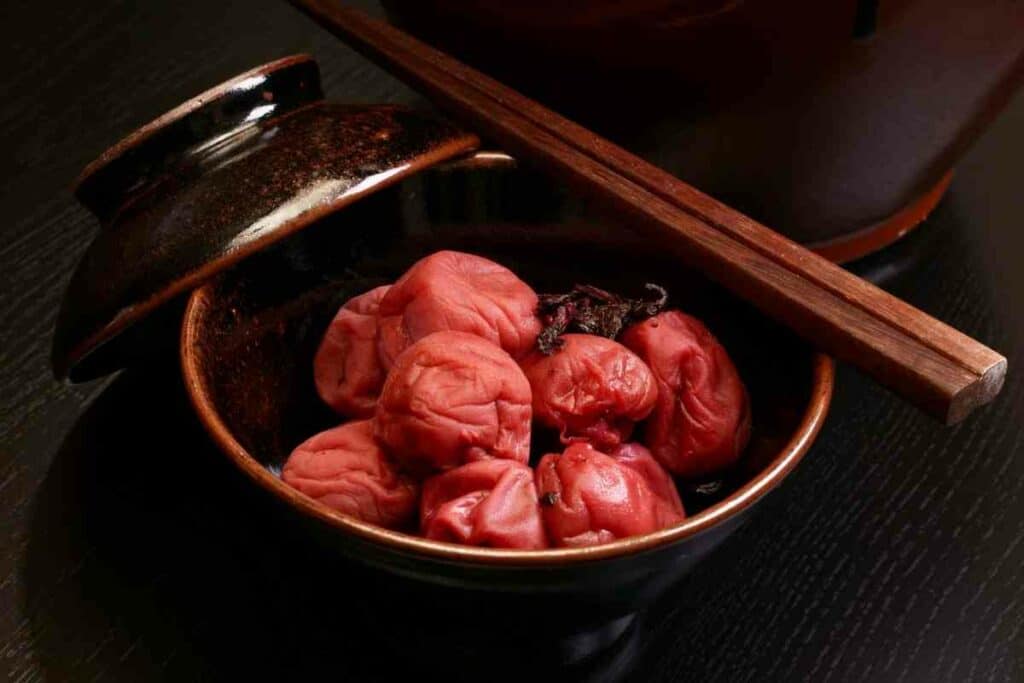 Umeboshi translates directly to "dried plum."
They are pickled in salt and left out to fully dry. Umeboshi is incredibly salty and has a sharp tang to them.
To make the filling:
Start with two medium umeboshi. Remove the pits and cut the umeboshi into small pieces. If they're too tough to cut, you can soak them in water for 10 minutes first.
Mix the umeboshi with a teaspoon of sugar and a tablespoon of rice vinegar.
Set it aside for at least 15 minutes so the flavors can come together.
When you have your rice ready, spoon the umeboshi into a pocket of the onigiri and cover it with more rice.
4. Tsukudani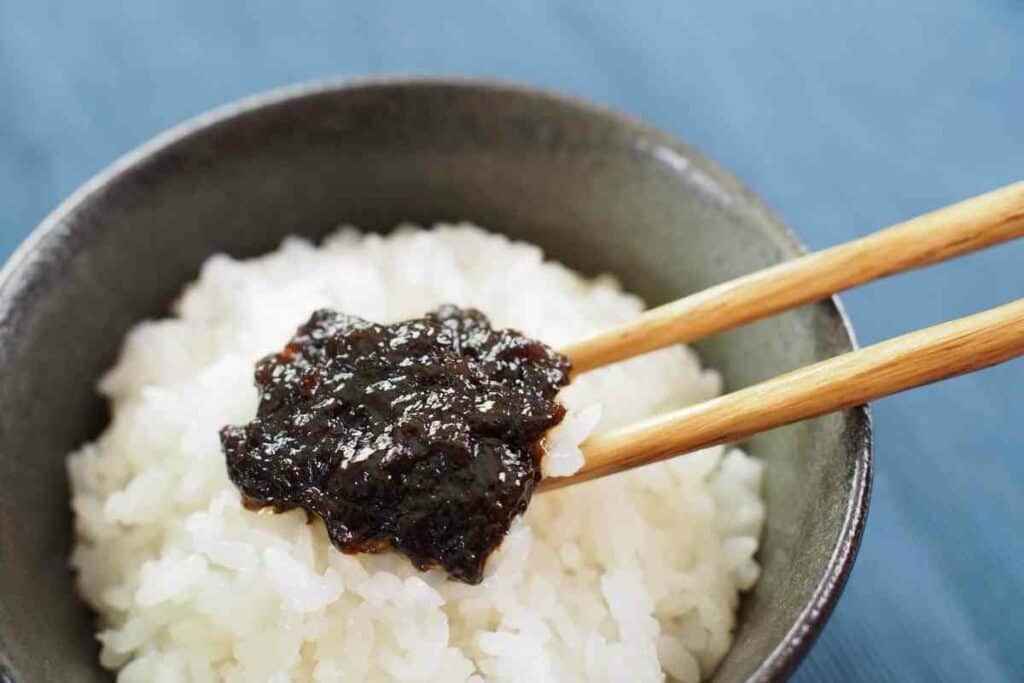 Tsukudani is made with boiled kombu, an edible seaweed that is often used in Japanese cuisine.
It has a high umami content and is therefore used to add flavor to dishes.
To make tsukudani filling, you'll need:
50g of boiled kombu
2 tablespoons sake
1 teaspoon rice vinegar
1 tablespoon brown sugar
1 tablespoon mirin
2 tablespoons soy sauce
1/2 tablespoon sesame seeds
If you haven't already cooked your kombu and it's dry, soak it in water with 1 tablespoon of sake for 24 hours and then boil it until the water content is gone.
Steps to follow:
Put your cooked kombu in a pot with 500ml of water and add the sake, and rice vinegar.
Cook over medium heat until the kombu mixture boils.
Reduce the heat and let simmer until half of the water has boiled off.
Add the brown sugar, mirin, and soy sauce and mix well.
Return to medium heat and let boil until only a thin glaze remains on the kombu.
Remove from heat and add the sesame seeds.
Let the mixture cool slightly and then it is ready to be used as a filling.
5. Takana Mustard Greens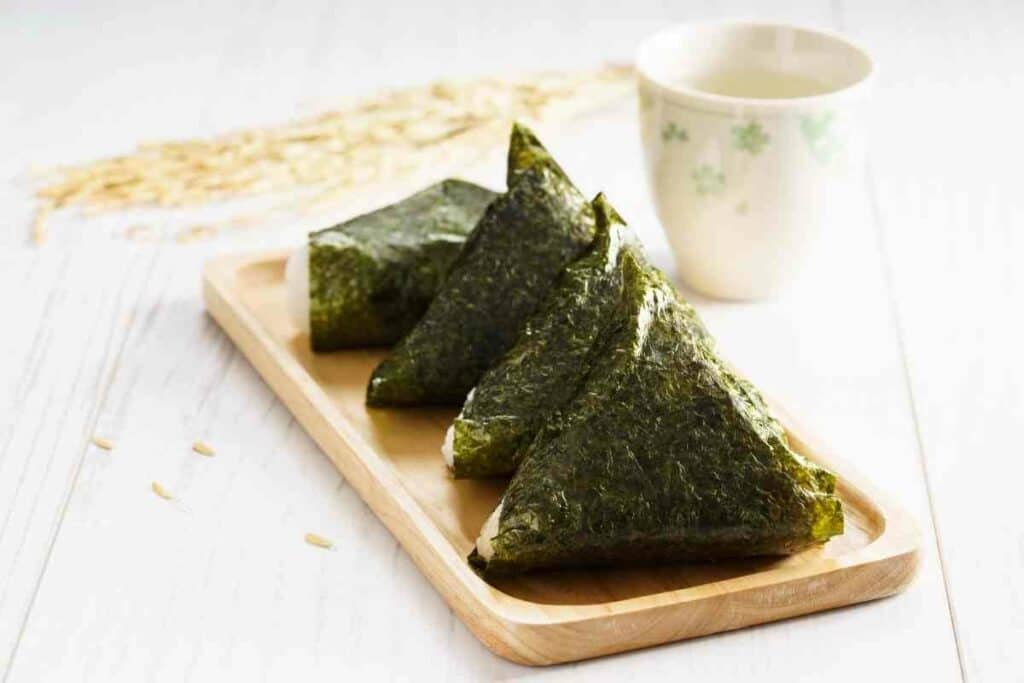 Takana are mustard greens that have been pickled in salt.
They're a common ingredient in Japanese cuisine, and their sharp flavor pairs well with rice.
To make the filling, you'll need:
1/2 cup takana
1 tablespoon sugar
1 tablespoon sake
2 tablespoons mirin
2 tablespoons soy sauce
1/4 cup water
Steps to follow:
Start by mixing the takana, sugar, sake, mirin, and soy sauce in a bowl. Let it sit for 15 minutes so the flavors can come together.
Next, bring the water to a boil in a pot and add the takana mixture.
Let it cook for 3-5 minutes until the takana is wilted.
Once it's done, remove the takana mixture from heat and let it cool slightly before using it as a filling.
6. Tarako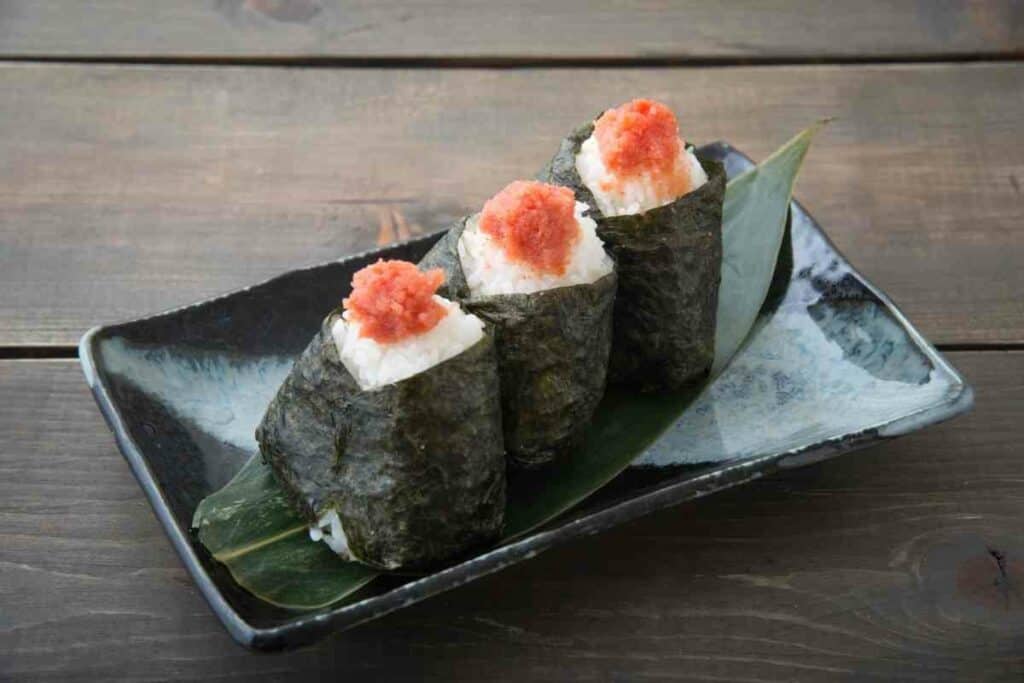 Tarako is a type of salmon roe that is often used in Japanese cuisine.
It has a delicate flavor and a slightly fishy smell.
When used for onigiri, you can make it regular or spicy, but regular is used most often.
To make the filling for tarako onigiri, you'll need:
1/2 cup tarako
3 tablespoons Japanese mayonnaise
1 teaspoon lemon juice
Combine all of the ingredients in a bowl.
Be sure to break down any large pieces of tarako so it forms a paste that will be easy to use.
7. Okaka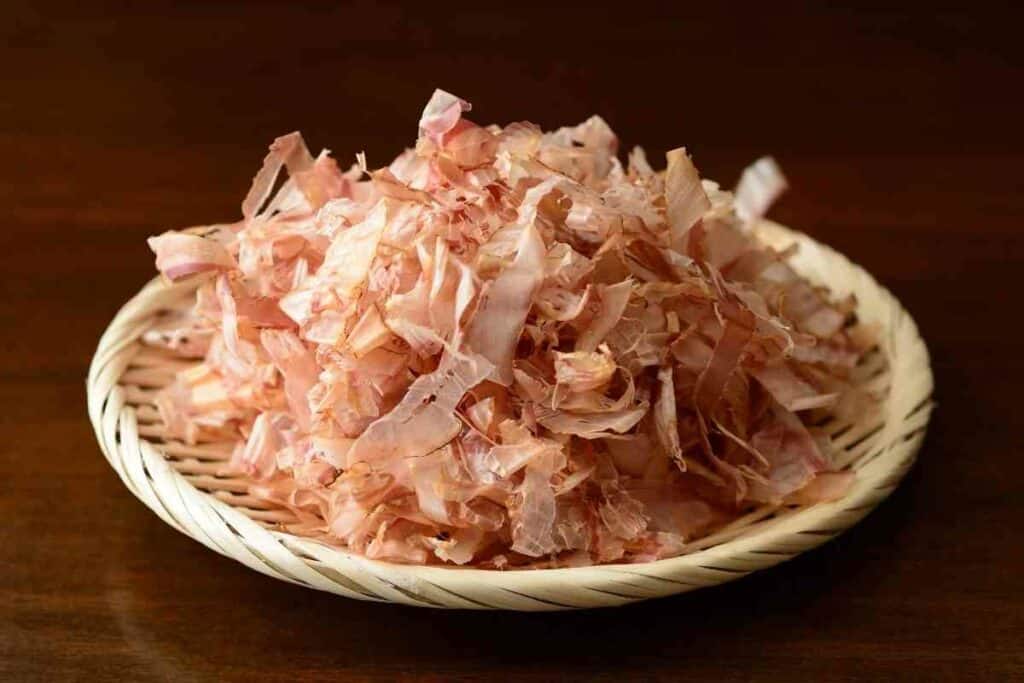 Okaka is a seasoning that is made from bonito flakes and soy sauce.
Bonito flakes come from dehydrated skipjack tuna, which gives the seasoning a fishy taste.
To make okaka filling, you'll need:
1/2 cup dried bonito flakes
3 tablespoons soy sauce
1 tablespoon sugar
1 teaspoon rice vinegar
2 tablespoons water
All you need to do is measure the ingredients and combine them well in a bowl.
8. Omurice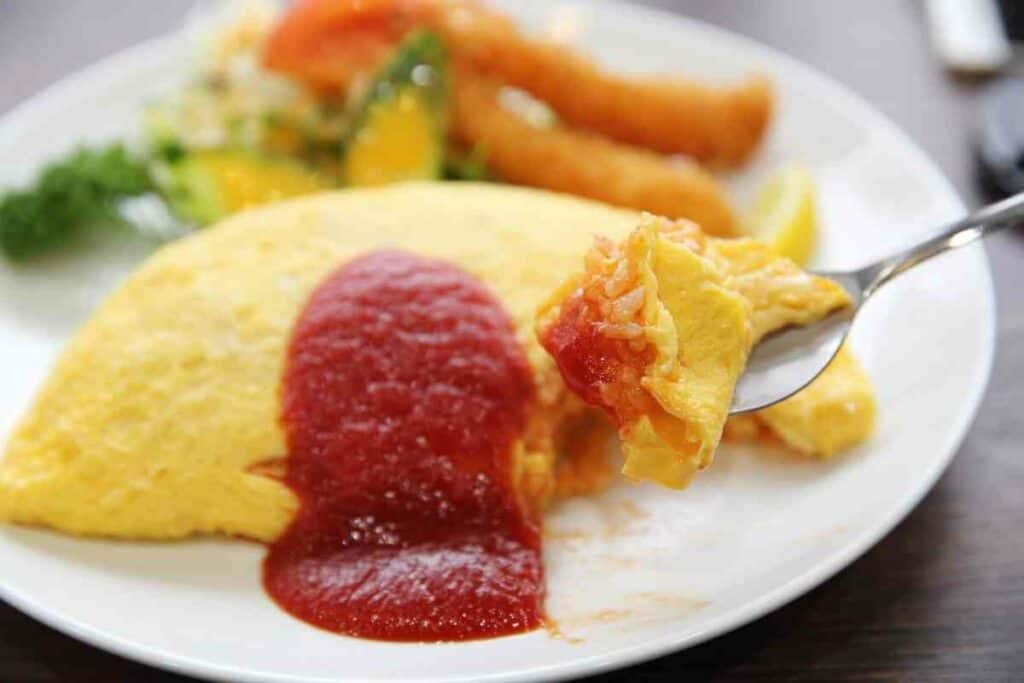 Omurice onigiri is a spin on the classic Japanese staple, omurice.
It's a rice omelet that is usually made with chicken and vegetables, but the onigiri version makes it more of an egg scramble.
To make the omurice filling, you'll need:
vegetable oil
1/2 onion (peeled and chopped)
1 chicken breast (cubed)
1/2 cup frozen mixed vegetables
4 eggs
1 teaspoon Worcestershire sauce
2 teaspoons chicken stock powder
1/2 clove garlic (peeled and minced)
2 tablespoons ketchup
Steps to follow:
Start by heating the oil and adding the chicken breast, onion, and frozen vegetables. Cook until the chicken is fully cooked.
In a separate bowl, whisk the eggs to scramble them, and then add the eggs to the pan with the chicken. Mix the eggs while they cook to make a scrambled mix.
Add the Worcestershire sauce, chicken stock, garlic, and ketchup. Mix well, breaking any large chunks down. Use a hand mixer if you find the chunks of eggs, chicken, or veggies hard to make smaller.
9. Chicken and Spicy Mayo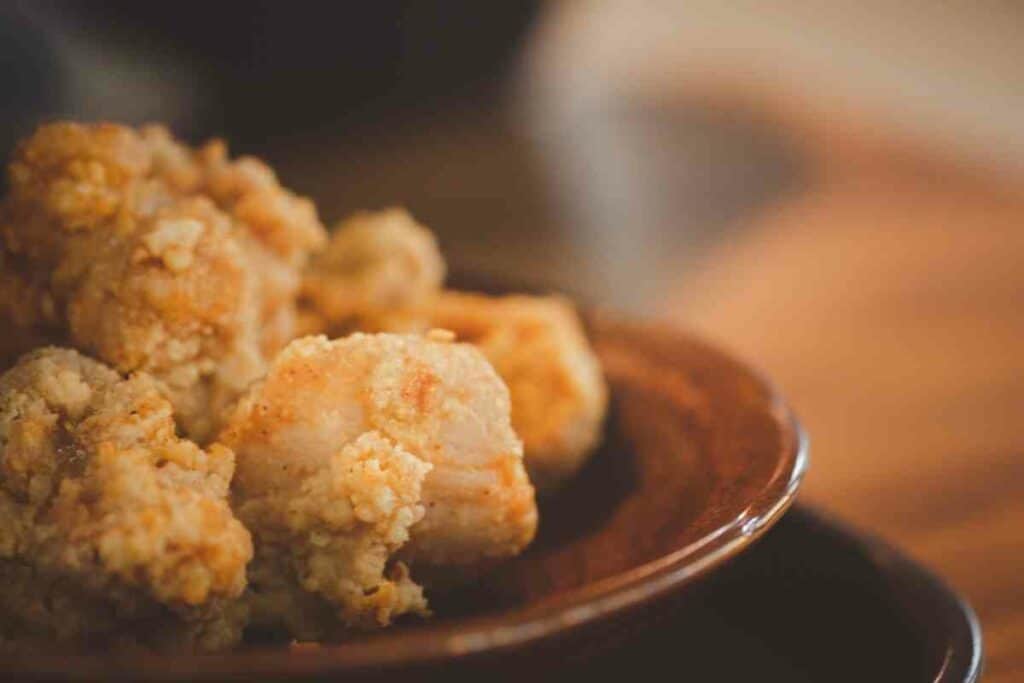 This onigiri filling is a play on the popular Japanese dish, karaage chicken.
Karaage is fried chicken that is marinated in soy sauce, ginger, and garlic.
The result is a juicy, flavorful piece of chicken that pairs well with rice.
If you don't like spicy foods, the same recipe can be used, just omit the sriracha sauce.
For this recipe, you'll need:
1 chicken breast (cubed)
1 small piece of ginger (minced)
1 scallion (chopped)
1 tablespoon soy sauce
1 tablespoon sake
1 tablespoon vegetable oil
2 cloves garlic (minced)
2 tablespoons Japanese mayo
1 tablespoon sriracha sauce
Steps to follow:
Add the chicken, minced garlic, soy sauce, and sake to a bowl, mix, and set aside to marinate for 30 minutes.
Grab a pan and add the oil, chicken mixture, and ginger. Remove from heat when chicken is cooked through and transfer to a bowl.
Add the mayo, sriracha sauce, and stopped scallion to the bowl and mix well.
Use a fork to shred any chunks of chicken.
10. Tenmusu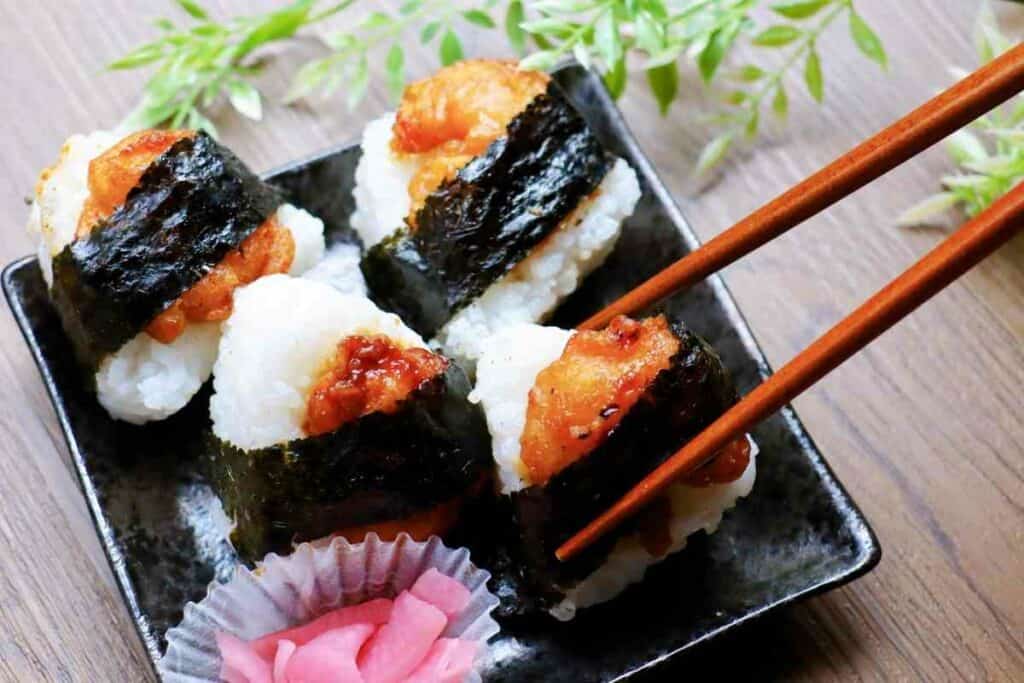 Tenmusu is a Japanese dish that is made with shrimp tempura and rice.
The shrimp is battered and fried, then served in a ball of rice
You'll need the following ingredients to make tenmusu:
12 medium shrimp
1 tablespoon corn starch
2 cups vegetable oil
1/2 cup cake flour
1 tablespoon corn starch
1/3 cup ice water
1 tablespoon rice vinegar
1/2 tablespoon sake
Steps to follow:
Prepare your shrimp by removing the shell and tail, and using a skewer to remove the black vein that runs along the back of the shrimp.
Heat the oil in a small, deep pot. There should be enough space to deep fry the shrimp, but enough space left at the top of the pot to contain some of the splashing oil.
Sift the cake flour and corn starch into a bowl. Add the ice water, rice vinegar, and sake. Mix until combined leaving any lumps.
When the oil is around 350 Fahrenheit, dip the shrimp into the coating and fry a few at a time until they are golden brown. It should only take a couple of minutes before your shrimp is cooked.
Remove the cooked shrimp, dip it in a bowl of mentsuyu sauce, and place it on a wire rack.
Fold one piece of shrimp into each onigiri.
11. Omusubi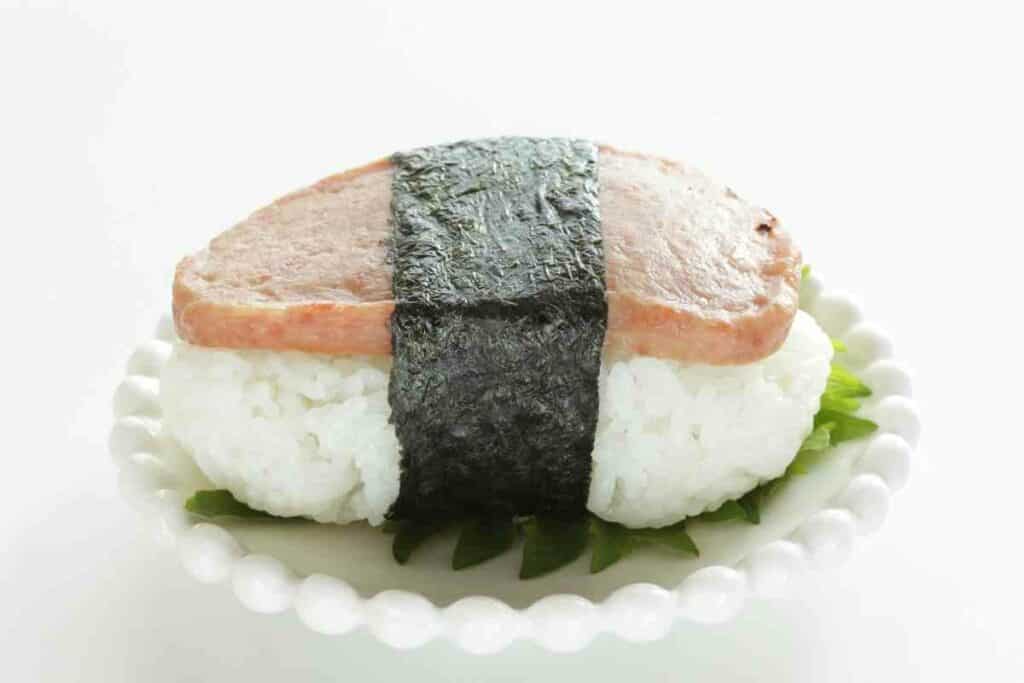 Omusubi is a mushroom filling used for onigiri.
To make it you'll need:
2 tablespoons butter
1 cup shimeji mushrooms (finely chopped)
1 cup shiitake mushrooms (finely chopped)
1/2 cup enoki mushrooms (finely chopped)
1 tablespoon soy sauce
1 tablespoon mirin
1 teaspoon sesame oil
Steps to follow:
Melt the butter in a pan over medium heat and add all of the mushrooms.
Let the mushrooms cook until they are soft, which will take only a couple of minutes.
Add the soy sauce, mirin, and sesame oil. Mix occasionally and cook until the liquids become a thin glaze.
Transfer to a bowl and allow to cool before filling your onigiri.
12. Pesto Chicken and Provolone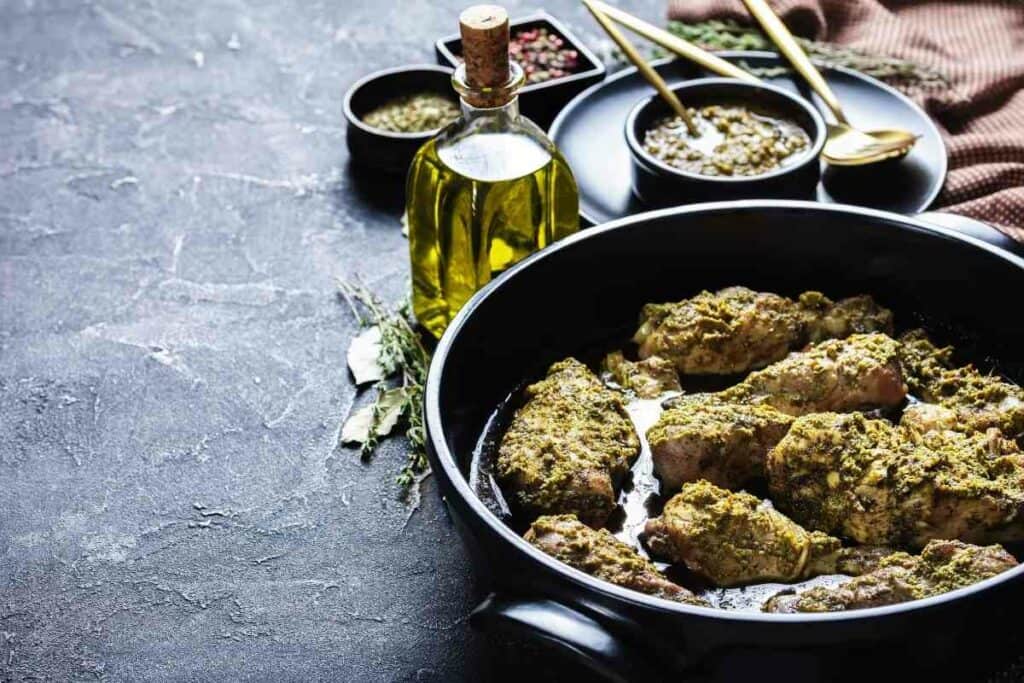 This is where we break from the traditional recipes and incorporate some Western favorites into the handheld rice 'cakes'.
Starting with a pesto chicken and provolone cheese-filled onigiri.
For this filling you'll need:
1 chicken breast (cubed)
2 tablespoons pesto sauce
1/2 cup provolone cheese (finely diced)
Steps to follow:
Start by frying your chicken breast until cooked through.
Remove the chicken breast from the stove and transfer it to a bowl. Add your pesto sauce and mix well with a fork, breaking down any large pieces of chicken.
Keep the provolone cheese separate until you are ready to put your onigiri together.
Place one or two small pieces of provolone in a small dimple in your rice, and add a scoop of the chicken mixture.
13. Pizza Onigiri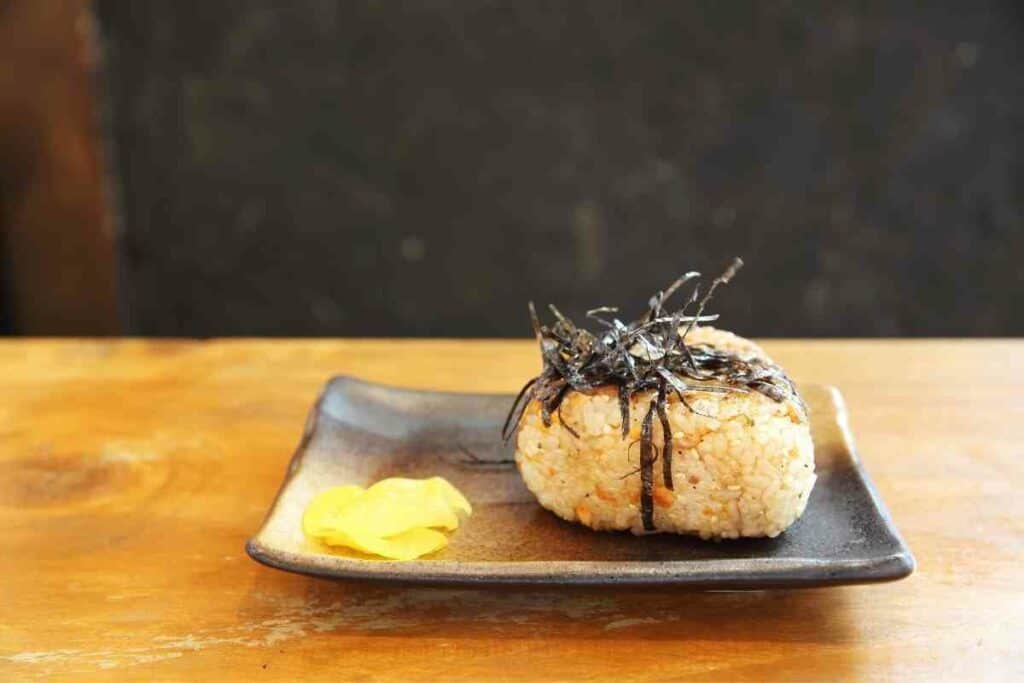 Pizza is a global favorite and everyone likes their pizza a certain way.
For a pizza filling, you'll need the pizza toppings you love the most, pizza sauce, and shredded mozzarella cheese.
This is an ingredient list you'll need to make yourself so your "pizza" is exactly how you like it.
If you need some ideas, you could use:
pepperoni
bacon crumble
ground beef
olives
pineapple
green peppers
broccoli
or anchovies
Combine all of the ingredients in a bowl and scoop them into your onigiri.
If you want to step up your unique pizza onigiri, deep fry or bake your onigiri and dip them in marinara sauce.
14. Breakfast Onigiri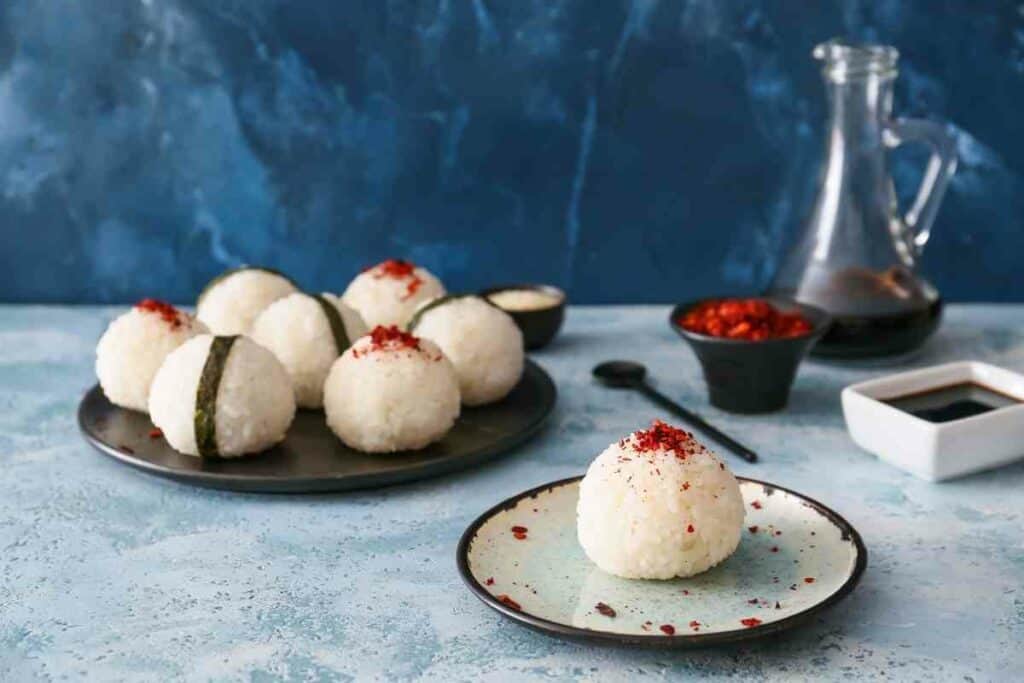 All the other onigiri seem like they are good for lunches and dinners, but what about a breakfast onigiri that you can take to go on busy mornings?
Absolutely.
For a breakfast onigiri, you'll need:
3 eggs
4 strips of bacon (chopped small)
3 breakfast sausage links (chopped small)
1/2 cup shredded cheddar cheese
1/2 cup frozen potato hash
2 pans
Steps to follow:
In the first pan, cook your bacon and sausages until browned.
In the second pan at the same time, cook the frozen potato hash until crispy. You may need to add a tablespoon of butter to get a nice crispy potato taste.
In a bowl, whisk the eggs. Add the eggs to the potatoes and stir constantly to scramble.
Drain the fat from the pan with bacon and sausages, and add the meats, potato, and egg mix to a bowl. When cooled, add the cheese and stir. Use this mix to fill your onigiri.
Be creative and add sriracha, ketchup, or salsa to your mix to add a little extra flavor.
15. Mango-Stuffed Onigiri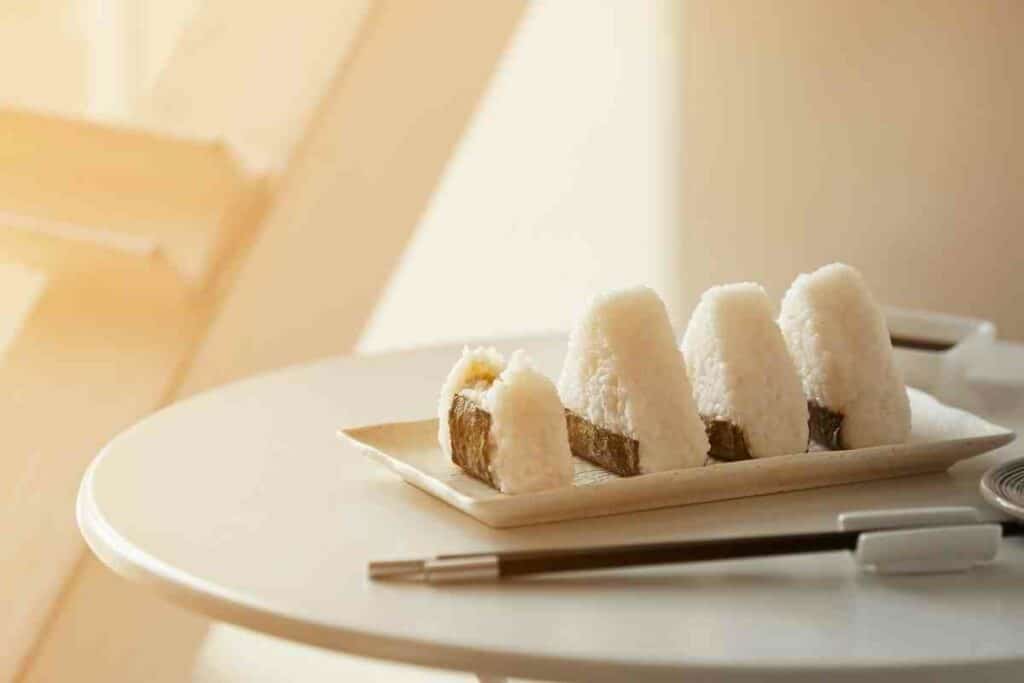 Not all onigiri needs to be a meal.
You can make it as a dessert for after, or as a quick sweet to take with you.
You can use the same rice recipe (minus the salt or seasonings) to create a sweet mango-stuffed onigiri.
The ingredients you need are:
3 mangoes (diced)
1 1/4 cup unsweetened coconut cream
4 tablespoons sugar
Steps to follow:
Combine the coconut cream and sugar in a pot and heat on high until it comes to a boil. Reduce the heat and let the coconut mixture simmer for 10 minutes.
Remove from heat when the sauce has thickened.
Transfer to a bowl or blender when cooled and add the mango. Puree until the contents form a paste.
Use this paste just as you would any filling for onigiri. Serve them hot or allow them to cool.
Final Thoughts
Onigiri is a versatile dish that can be filled with whatever you like.
You can use traditional ingredients or get creative and add your own spin.
We've given you 15 amazing ideas to start with, but the possibilities are endless.
So what are you waiting for?
Get cooking!