Unless you're a hardcore crafter, you may not have heard of washi tape.
But this cool Japanese paper tape proves itself indispensable in a wide range of craft and home decor projects.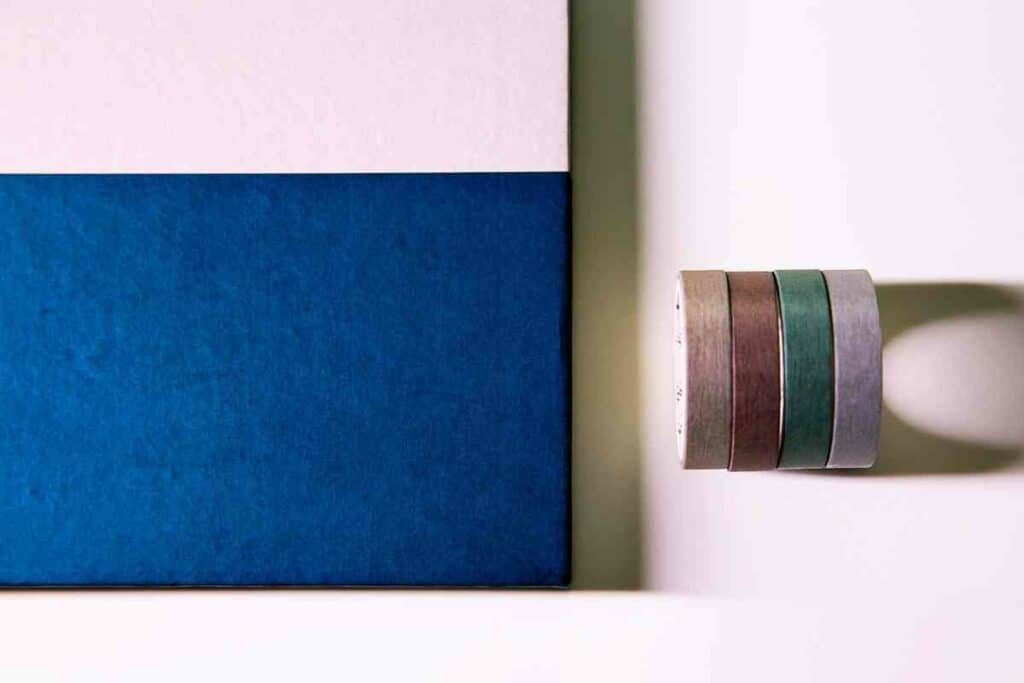 If you're wondering 'what in the world is washi tape?', this article will explain everything you need to know, plus share the best washi tape to start your craft or home decor collection. 
What is washi tape?
Washi tape is Japanese masking tape. It takes its name from the traditional Japanese paper called Washi (和紙). Interestingly, people in Japan do not call this tape washi tape.
In Japan, washi tape is called masking tape (マスキングテープ). However, this type of tape (and its numerous variants) is routinely called washi tape in the West.
Classic washi tape is made from washi paper. This tape benefits from washi paper's unique properties that make it ideal for a wide range of home and craft projects. Other versions of washi tape are made from other materials and are much closer to regular masking tape.
Washi tape is also known for its colorful and decorative presentation. The paper tape often uses colors and patterns inspired by Japanese art.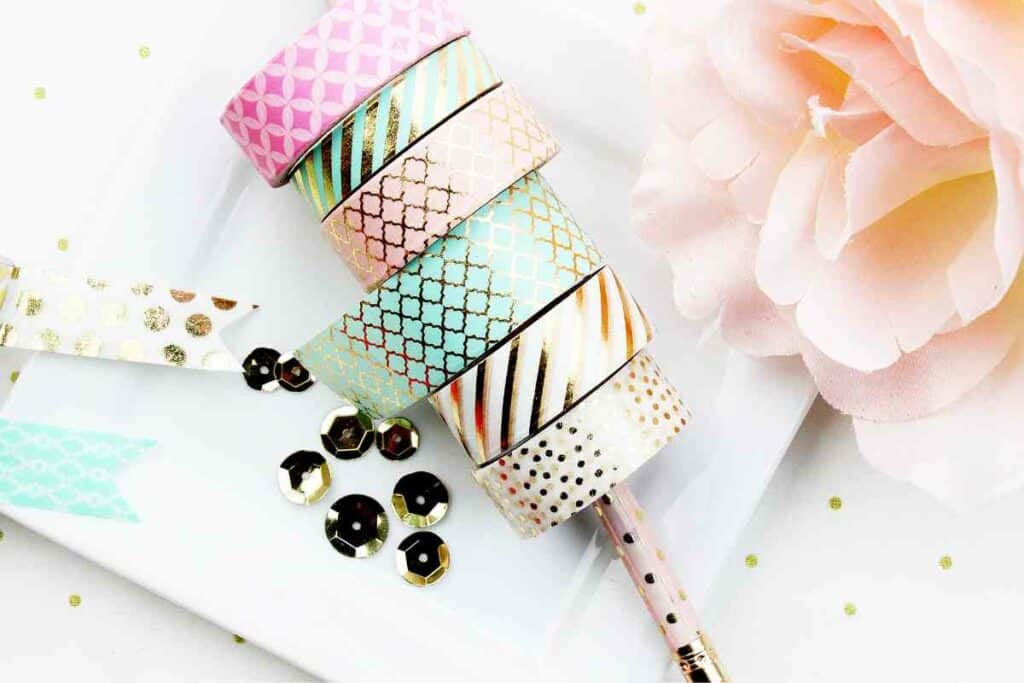 This tape has had great success because of its utility. You can use washi tape to decorate all sorts of objects, with patterned designs.
It has a great adhesive hold, but with a stickiness that leaves no residue. You can use the same piece of tape again and again and good-quality washi tape is also completely biodegradable.
The history of washi tape
Washi tape is made from washi. This is a traditional form of paper that is unique to Japan and protected as a UNESCO intangible cultural heritage.
The Japanese make washi paper using plant fiber that has been processed by hand.
Sources for the material for making washi paper include:
the mitsumata shrub
paper mulberry
and the inner bark of the gampi tree
Washi paper is incredibly strong, lending its use to a wide range of Japanese crafts spanning origami to clothes making.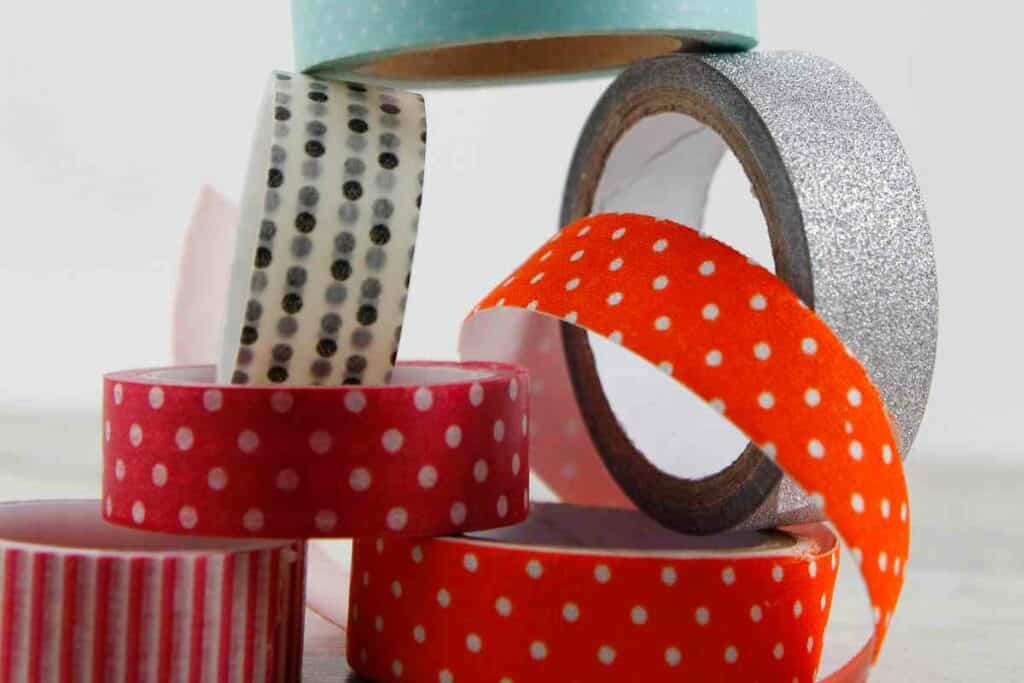 It is esteemed globally as a paper that is strong, thin, pliable, and low in impurities. It also removes easily and cleanly with moisture. This has led to it being used in restoration projects in places like the Louvre. 
The best quality washi tape is an adhesive tape made from washi. The adhesive is derived from natural rubber, so it is an extremely sustainable product. 
As mentioned above, washi tape is just regular masking tape to the Japanese. However, many housewives and crafters used washi tape in domestic and creative projects. 
Washi tape started its global ascent in 2006 when three Japanese housewives approached the paper mill of Toshiro Kamoi to enquire about his tape manufacturing process.
They showed the company designs and decorations they had made using its masking table and requested that the factory would produce washi tape with multiple colors and designs. Kamoi was intrigued, but decided to diversify his tape…and the rest is history!
Composition of washi tape
This paper adhesive tape is usually made from washi or kraft paper.
Manufacturers coat this base material with a range of adhesives, depending on the application of the masking tape. 
The paper used for making washi tape can be embellished with a wide range of designs and colors.
Toshiro Kamoi's washi tape, sold under the MT masking tape brand, is one of the very best washi tapes around.
Why use washi tape?
Washi tape is an amazing decorative tape that works well in all sorts of projects. Not only does it come in thousands of colors and patterns, it will pretty much stick to anything. And it's super cheap!
40 Rolls
KUNMINGER Washi Tape Set
The KUNMINGER Decorative Tape Set offers 40 uniquely designed, high-quality rolls of washi tape, suitable for various crafts, easily repositionable, and is an ideal gift for creative individuals.
Contains 40 distinct washi tape designs.
Dimensions: 0.59 inches width and 9.8 feet length per roll.
Designs range from cute and cartoon to universe and geometry themes.
Crafted with high-quality Japanese paper; repositionable without residue.
Ideal gift for teens and artsy kids with decorative and craft potential.
Excellent customer service for any inquiries.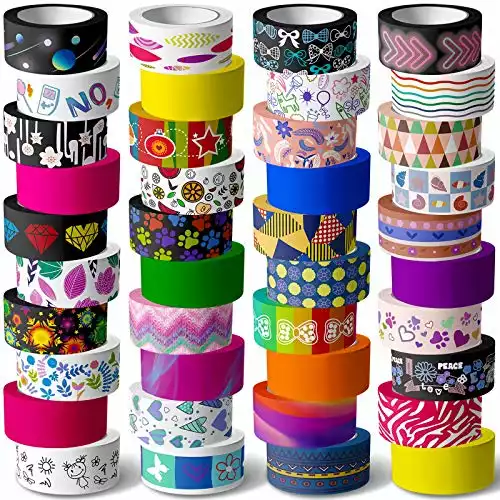 We earn a commission if you make a purchase, at no additional cost to you. Thanks!
You can use washi tape as a reusable table on wood, plastic, and metal. Good quality washi tape can even be applied to walls and removed without causing damage.
This makes washi tape ideal for use by:
Homemakers
Crafters
Scrapbookers
Interior designers
Renters
Children
What can I do with washi tape?
There's so much you can do with a colorful roll of washi tape.
This versatile tape can be used to decorate books, photo frames, and journals, or decoratively stick photos and posters to your walls! And the best thing is, everything is non-permanent.
Here are 10 great washi tape projects that anyone can try:
Best washi tape for home decor 
Washi tape is perfect for adding coordinated accents to your home.
And whether you rent or own, if it's time for a change, you can remove it without wrecking your paintwork.
If you decide to use washi tape on walls, opt for good quality tape to ensure that the adhesive will lift off without problems.
Here are our best washi tapes for decorating your home.
10/01/2023 11:08 pm GMT
Best washi tapes for crafts 
Let your imagination run wild with craft washi tape. If you have children, this tape is perfect for creative work as it is easy for them to handle and leaves zero mess.
Here are some of the best craft washi tapes online.
10/02/2023 04:08 am GMT
Rounding up
Washi tape is a really neat Japanese product that is popular around the world.
I love that you can use this tape to customize anything and remove it without the headache of adhesive residue.
It's well worth having a few rolls on hand, but once you see the cool designs you can find, you will want to buy more and more rolls!