Known for some of the most innovative technologies in the world, Japan is at the forefront of exciting technological developments.
Working for a tech company in Japan will no doubt offer an exciting and rewarding experience for workers.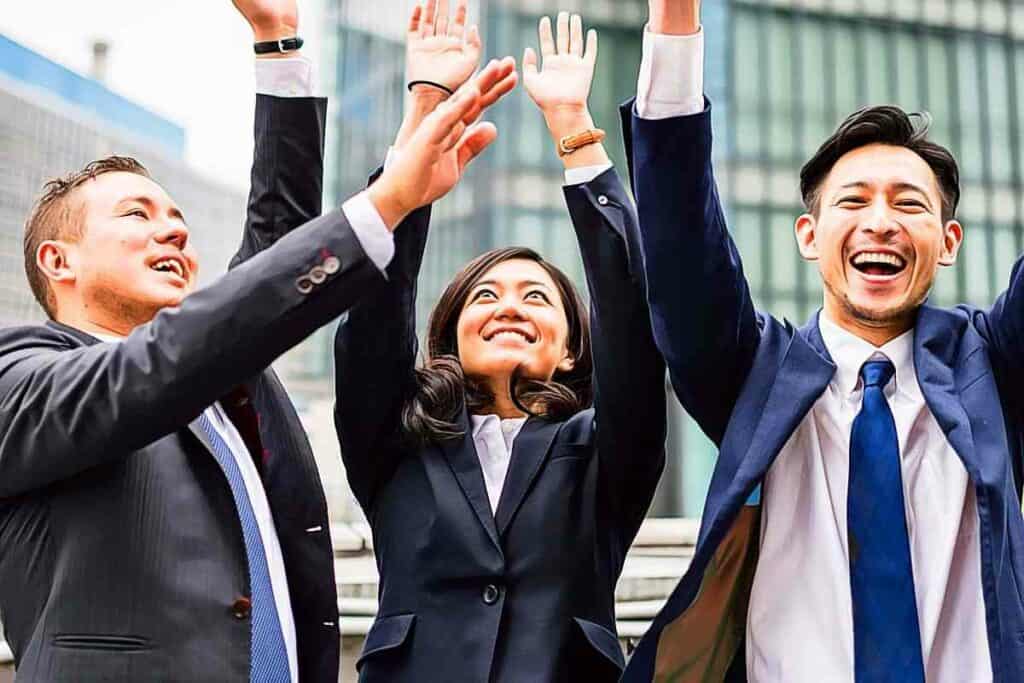 Let's take a look at some of the top tech companies to work for in Japan.
Sony Corporation
Founded in 1946 by Masaru Ibuka and Akio Morita, Sony originally started as Tokyo Telecommunications Engineering Corp, an electronics shop.
It was in 1958 that it changed its name to the Sony Corporation and became a leading manufacturer of electronics, such as audio equipment, televisions, and video game consoles.
Recognized worldwide for its innovative technology, Sony also shows a commitment to social responsibility and sustainability. A large, multinational company, it now operates across a variety of industries including electronics, gaming, finance, and entertainment.
Sony employs over 110,000 people worldwide and in 2021 had a revenue of over 75 billion USD. With its headquarters still in Tokyo, Sony has offices in many countries around the world.
There are many benefits of working for Sony in Japan including:
Career growth opportunities: Sony has a vast range of business interests and is a globally recognized company.
Competitive benefits: Sony is known for offering their employees competitive benefits, including health insurance, retirement plans, and top salaries.
An introduction to cutting-edge technologies: As a leader in the technology industry, you can expect to be at the forefront of developing new technologies.
Sony is known for having a hierarchical corporate culture. Teamwork and respect for authority are highly valued here. How you are perceived will depend a lot on your role within the company, and how senior you are.
Traditionally, in Japan, there was always a strong emphasis on work, with employees working long hours and having little vacation time.
In recent years, this has changed, with companies in Japan realizing they need to promote a better work-life balance.
Working for Sony can offer a challenging experience, with opportunities to work on products in an innovative industry with dynamic technologies.
However, there may be some cultural differences when working in a foreign company, so familiarize yourself with any important customs that may crop up.
Toshiba Corporation
Toshiba places a high value on teamwork and dedication to quality. At Toshiba, you can expect to be put through a variety of training programs.
This shows their high commitment to treating their employees well, ensuring they have good career advancement options.
The company places a lot of value on career development so recruits can expect to be given frequent training and mentoring to ensure they get to where they want to be. Moreover, Toshiba offers competitive salaries, health insurance, and many other benefits.
Known for its innovative technology in the areas of infrastructure, healthcare, and energy, working for Toshiba puts the employee at the forefront of these exciting technological developments.
Overall, Toshiba offers:
A global experience: As a multinational corporation with operations in many countries, working for Toshiba can provide you with valuable experience working with people from around the world.
Job security: A well-established and financially stable company, Toshiba has enjoyed a long history of success. This is a great comfort to its employees who can enjoy stability even in uncertain economic times.
Many career development opportunities: Toshiba looks after its employees well, ensuring they are well-trained and mentored to ensure they reach their full potential.
It's common for Japanese businesses to put a lot of emphasis on collaboration, so workers may find that decision-making can be more time-consuming than in other cultures. Communicating concisely is key; direct communication can be seen as confrontational or even rude.
Also consider that Japanese values include politeness, teamwork, and respect.
To have a successful career in a Japanese tech business like Toshiba you must dress professionally, be punctual, and be respectful to your colleagues and superiors.
SoftBank Group
SoftBank Group is a multinational company with headquarters in Japan.
Founder Masayoshi Son's strong investment strategy is well known, as is his vision for SoftBank in the future.
SoftBank Group employs a diverse workforce, offering a wide range of businesses and career paths for employees to choose from.
For example, it owns various businesses in:
internet services
AI
robotics
telecommunications
and investment management
Working across different areas, employees can grow and develop their skills over time.
As well as this, SoftBank Group offers its employees competitive salaries, bonuses, and exciting benefits packages. SoftBank cares about its employees' mental health and offers many wellness packages too.
Their innovation-driven culture attracts potential employees who are creative and think strategically. This type of environment is inspiring to work in for people who are passionate about innovation and technology.
Social responsibility is something that SoftBank Group takes very seriously. The company aims to make a positive impact on society through various initiatives such as the SoftBank Vision Fund. This creates a rewarding atmosphere for employees who are keen to make a difference in the world.
People who are passionate about technology and innovation will thrive at SoftBank.
The company employs people from many different backgrounds, nationalities, and cultures. Popular career opportunities can be found in engineering, marketing, finance, and operations.
As with many Japanese companies, there is the possibility of long working hours, but many people accept this as they are paid handsomely and enjoy many benefits.
If you're thinking of looking for opportunities there, it's wise to remember that you'll likely need to speak Japanese as it's the primary language used in the office environment.
Fujitsu Ltd
Established in 1935, Fujitsu Ltd is a multinational company with headquarters in Japan.
Fujitsu provides a wide range of products and services including IT Consulting, software, and hardware. The company enjoys a strong presence in Japan and is seen as one of the industry's leaders when it comes to providers of IT services.
Fujitsu is very proud of its involvement with many social and environmental initiatives. Sustainable business practices and community engagement programs are interwoven in everything it does.
As Fujitsu employs a global workforce operating in many countries, many workers find that working for Fujitsu in Japan is different from working for Fujitsu elsewhere in the world.
Japanese culture tends to value loyalty, respect for authority, and dedication to the company. This may be difficult to navigate if your cultural background is different.
It would be beneficial, if considering a role here, that prospective employees research specific job positions and departments, to gain a more in-depth understanding of what it's like working for Fujitsu in Japan.
Hitachi Ltd
Hitachi Ltd is a multinational company founded in 1910 and based in Tokyo.
It has grown to be one of the largest, most diversified companies in the world. Hitachi runs a wide range of industries, including power systems, construction machinery, and high-functional materials and components.
Known for its technologies and innovative products, Hitachi prides itself on producing top-quality semiconductors, digital media products, and disk drives.
It also provides a range of services, including financing, consulting, and maintenance services to its customers worldwide.
More recently, Hitachi has focused on expanding its Social Innovation Business, aiming to help social issues by using advanced technologies such as AI and robotics.
Hitachi is also involved in the production of smart cities, sustainable energy systems, and healthcare solutions.
Enjoying a global presence, Hitachi has operations in over 50 countries. In 2021, they had over 300,000 employees worldwide and a reported annual revenue of $80 billion.
With a reputation for being a stable and reliable employer, Hitachi earns the respect of its employees by treating them well and offering a competitive pay package with added benefits such as:
healthcare
retirement savings plans
and many exciting training opportunities
As with many Japanese companies, there is an emphasis on the importance of punctuality, attention to detail, and teamwork.
Culturally, many people notice that there is more emphasis on a hierarchical structure in Japanese businesses than in other parts of the world, and it is no different at Hitachi.
Hitachi is known for looking after its employees and ensuring they reach their full potential.
Therefore, employees can expect to have access to many different areas of training and mentoring. Hitachi likes to check in frequently with their employees to see if anyone can assist them with any areas for development.
People who work here can enjoy many opportunities for growth and development and the reassurance of working for a well-respected and financially stable company.
Final Thoughts on Top Tech Companies to Work for in Japan
Overall, many of the top tech companies in Japan are offering similar exciting benefits packages.
Workers must be mindful that working hours can be longer compared to other parts of the world, and vacation time can be significantly less.
There are endless training opportunities, enabling workers to grow professionally.
So, which would you choose? Sony, Toshiba, SoftBank Group, Hitachi or Fujitsu?