NYC is one of the best places on earth to have Japanese food cravings.
The five boroughs are home to some of the world's best-rated Japanese restaurants outside of Japan, with Brooklyn fast becoming a must-visit destination for delicious Japanese cuisine.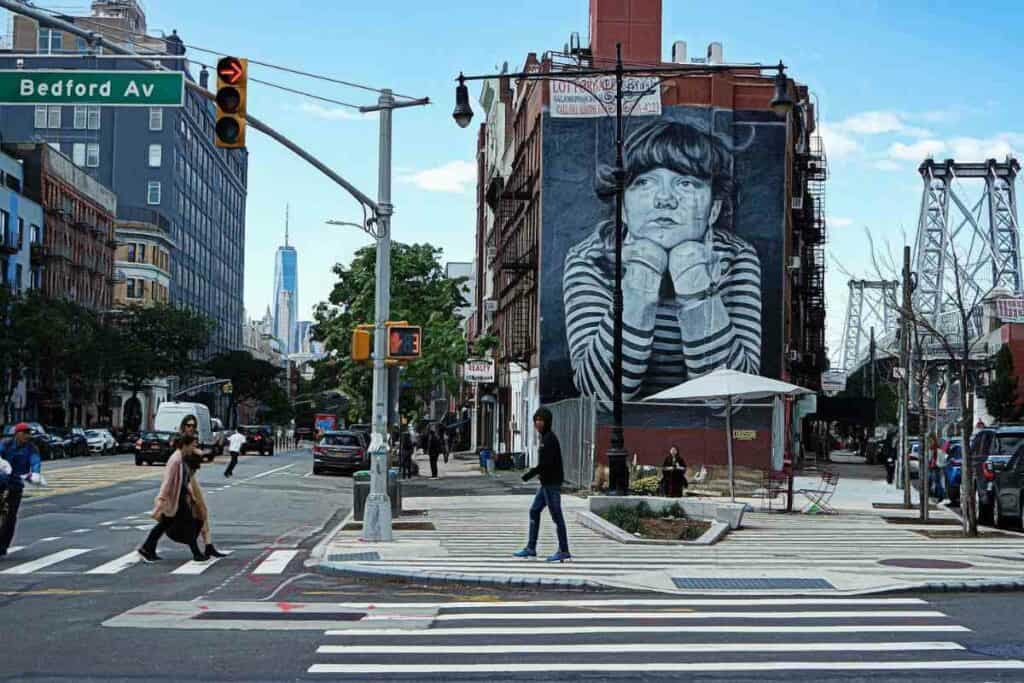 In this article, we share the best Japanese Brooklyn can offer with 6 outstanding restaurants that are making waves in Brooklyn's thriving dining scene. 
Brooklyn is home to NYC's 'Little Tokyo!'
Brooklyn is well on its way to becoming the essential destination for authentic Japanese cuisine and groceries.
Japanese ex-pats and immigrants have a long history with the borough. Tough over 30,000 Japanese nationals are residents across the five boroughs, their communities were historically most concentrated in Brooklyn.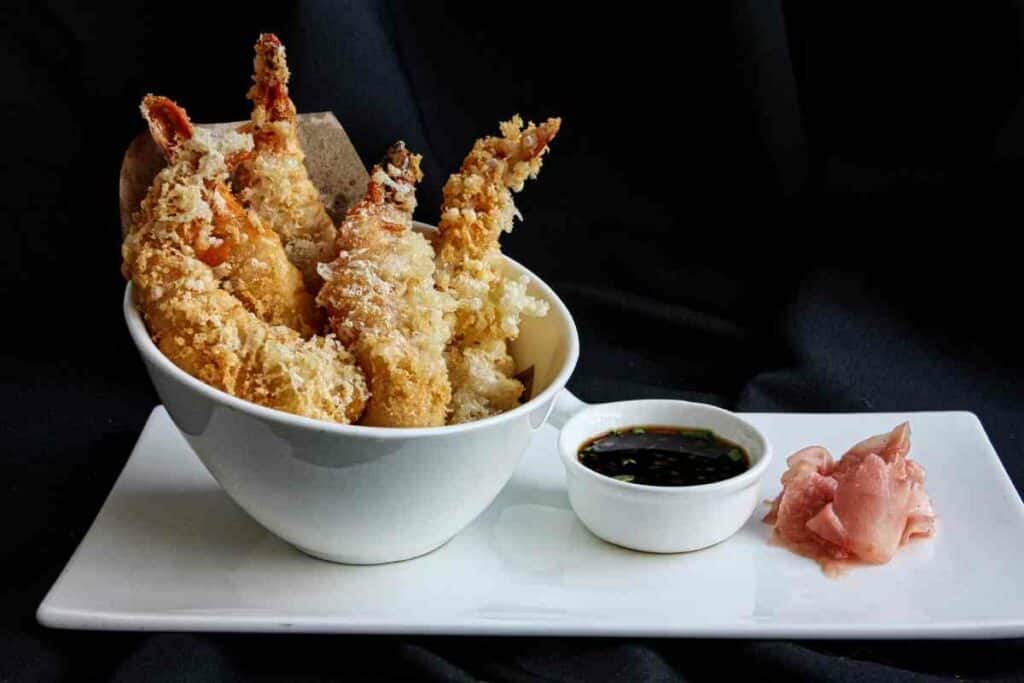 Following the arrival of Japanese diplomats in 1860, New York City's first Japanese community sprang up around the  Brooklyn Navy Yard.
These immigrants were largely mariners, who had been drawn to the U.S. to start a new life.
By 1900, the first-generation Japanese or 'issei' community was three thousand strong with their own boarding houses, shops, and restaurants.
Japanese families established themselves by laboring or domestic work and soon dispersed from Brooklyn as their fortunes improved.
There is currently a revival of Japanese food, culture, and community in Brooklyn, with tentative talk of a Little Tokyo becoming established on Guernsey Street in Greenpoint, Brooklyn.
This neighborhood has a constellation of excellent Japanese restaurants and stores which is attracting Japanese people from as far as New Jersey with its authentic Japanese businesses and cuisine.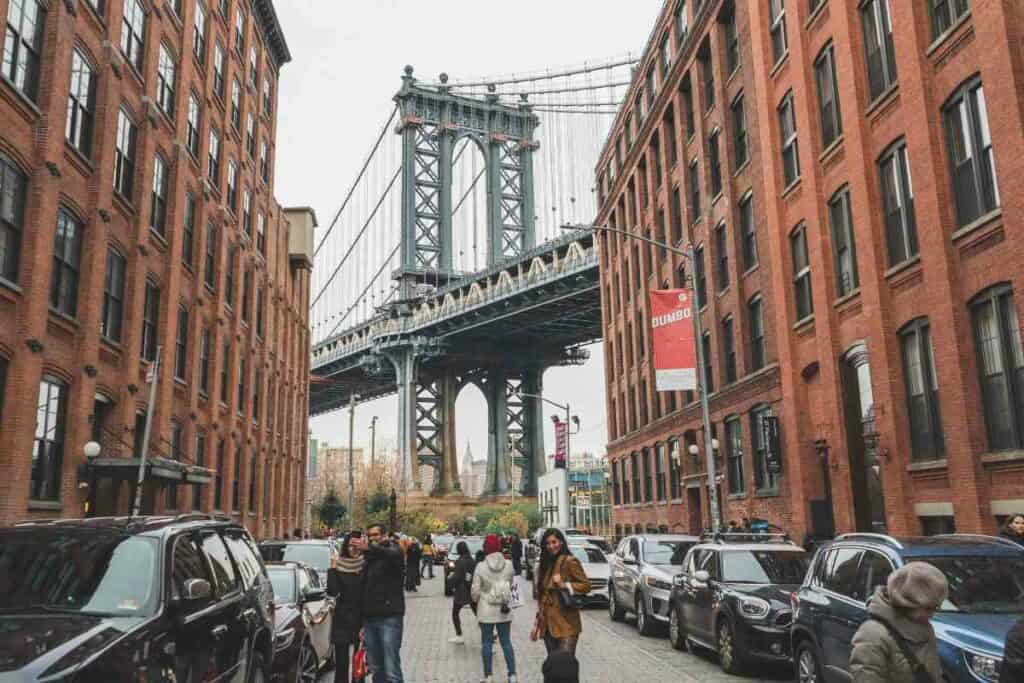 Some Japanese are now actively moving into this neighborhood, where Japanese is spoken openly and freely in the streets.
Further afield, Brooklyn's Industry City is home to Japan Village, a 20,000-foot loft space that is home to all things Japanese.
This cultural center has events, food, and outstanding homewares that attracts visitors from all five boroughs. 
Here are some great contenders for the best Japanese Restaurants Brooklyn can offer
Brooklyn's Japanese restaurants are putting the borough on the map for excellent Japanese food.
Many of Brooklyn's Japanese eateries have been started by chefs who got their experience and reputations in Manhattan and have brought their take on sushi, sashimi, udon, and ramen across the East River.
Here are our top picks for Brooklynites who want a delicious Japanese meal.
1. Wasan Brooklyn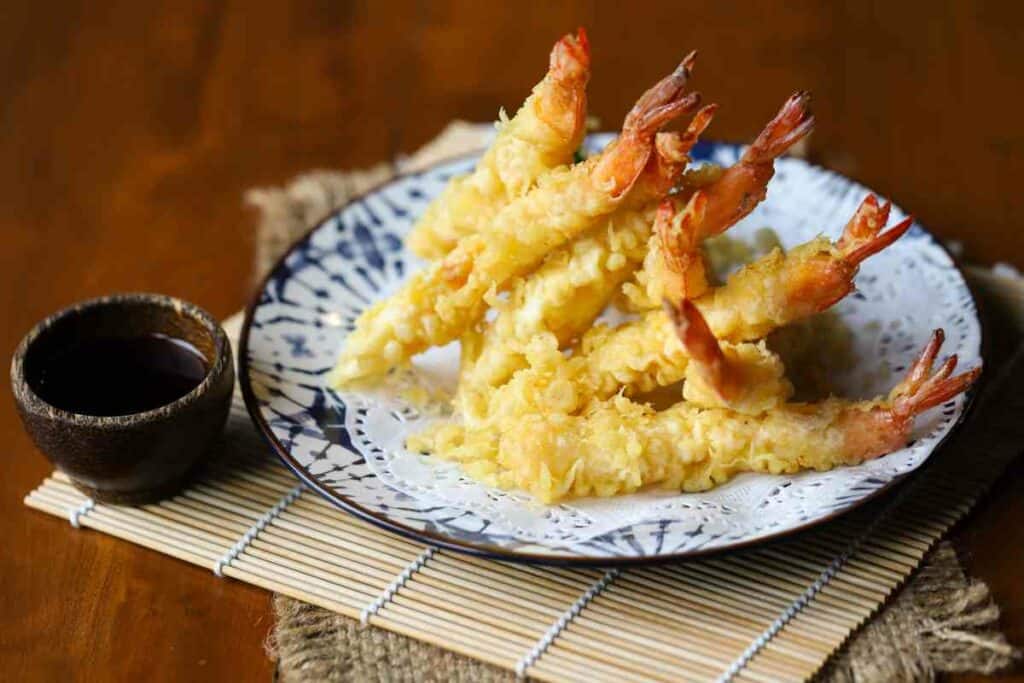 If you want to know where the Japanese go to eat in Brooklyn, the answer is Wasan, one of the borough's most authentic Japanese restaurants.
This intimate and traditional eatery, just moments away from the Barclays Center serves up the full spectrum of Japanese cuisine, from fresh sushi to moreish dumplings, comforting bowls of ramen, and amazing unagi bowls!
Despite the unassuming appearance, this is one of the City's best destinations for sake.
Wasan holds a sommelier-certified selection of sake, including the restaurant's own Jummai sake.
About Wasan Brooklyn 
| | |
| --- | --- |
| Address | 440 Bergen St, Brooklyn, NY 11217, United States |
| Telephone  | +1 718-864-3549 |
| Opening hours | Mon to Sun: 11:30 am to 9:15 pm |
| Reservations? | No |
| Take-out/Delivery? | Yes |
| Dress code | Smart casual  |
| Price point  | 🍣🍣🍣 |
| Are children welcome? | Yes |
| Website  | www.wasan-ny.com/ |
| Email | [email protected] |
| Social media | www.instagram.com/wasanbrooklyn/ |
Wassan Brooklyn opened in 2010 and is owned by chef Kakusaburo Sakura and sake sommelier Toshiyuki Koizumi who are from Japan.
In addition to its excellent dining, this popular Japanese restaurant offers take-out, delivery, and an innovative create-at-home sushi box featuring fresh fish, sushi rice, seaweed, avocado, and cucumber. 
Wasan has made Brooklyn its home and is giving back with its sponsored community group, Big Apple Beautifiers (BAB).
Volunteers and restaurant staff regularly gather to clean up the neighborhood, fuelled by generous portions of Wasan cuisine!
Wasan Brooklyn menu and specials
Wasan is committed to fresh, local, and seasonal ingredients, with delicious offerings for lunch and dinner along with a fabulous drinks menu.
Here are some of Brooklyn's finest Japanese dishes from Wasan:
Sandwich tempura with shrimp and lotus root, seasoned with green tea salt
Oyster in a ceramic plate served with vegetables and ponzu sauce
Panko fried oysters and mackerel
2. Samurai Mama
Have you got an udon craving? If yes, you need to familiarize yourself with Samurai Mama, Brooklyn's popular udon restaurant.
You can feast on a delicious bowl of udon soup which is perfected over two days with Japanese ingredients that include shiitake mushrooms, mackerel, konbu seaweed, and katsuo bonito, loaded with noodles that are freshly prepared in-house.
Samurai Mamai draws on the wide geographical variation of Japanese udon dishes to create a menu filled with distinctive flavors and textures.
The udon is also expertly prepared using Kaiki Water, a special ceramic filtered water that purifies the water for exquisite taste and vitality.
About Samurai Mama 
| | |
| --- | --- |
| Address | 440 Bergen St, Brooklyn, NY 11217, United States |
| Telephone  | +1 718-864-3549 |
| Opening hours | Mon to Sun: 12 pm to 4:30 pm and 5 pm to 11 pm |
| Reservations? | No |
| Take-out/Delivery? | Yes |
| Dress code | Smart casual  |
| Price point  | 🍣🍣🍣 |
| Are children welcome? | Yes |
| Website  | www.samuraimama.com/ |
| Social media | www.instagram.com/samuraimama_ig/ |
Samurai Mama has been a Williamsburg staple since 2010, with nearby sister establishments, Brooklyn Ball Factory and Bozu, and the father of the family, Samurai Papa.
It is just as cozy as its food with three rooms that are softly lit with a communal table where udon dishes are served.
Everything is fresh including the hand-rolled udon which is satisfyingly glutinous and chewy. 
Samurai Mama served up to 20 udon varieties, reflecting their commitment to the traditional preparation of this Japanese staple.
In addition to udon, Samurai Mama serves sushi, tofu, and a banging fried chicken. 
Samurai Mama menu and specials
Fresh, seasonal, and even foraged food makes it onto the Samurai Mama menu.
Here is a selection of their very best Brooklyn Japanese dishes: 
Sushi tacos, with 5 pieces of succulent sushi served with tuna guac, salmon avocado, and yellow tail sushi served in seaweed 'tacos'.
Kinoko Kake Udon, filled with exotic mushroom varieties in a pungent broth
Ebi Tempura Udon, an NYC classic, Samurai Mama style!
3. Sushi Lin Brooklyn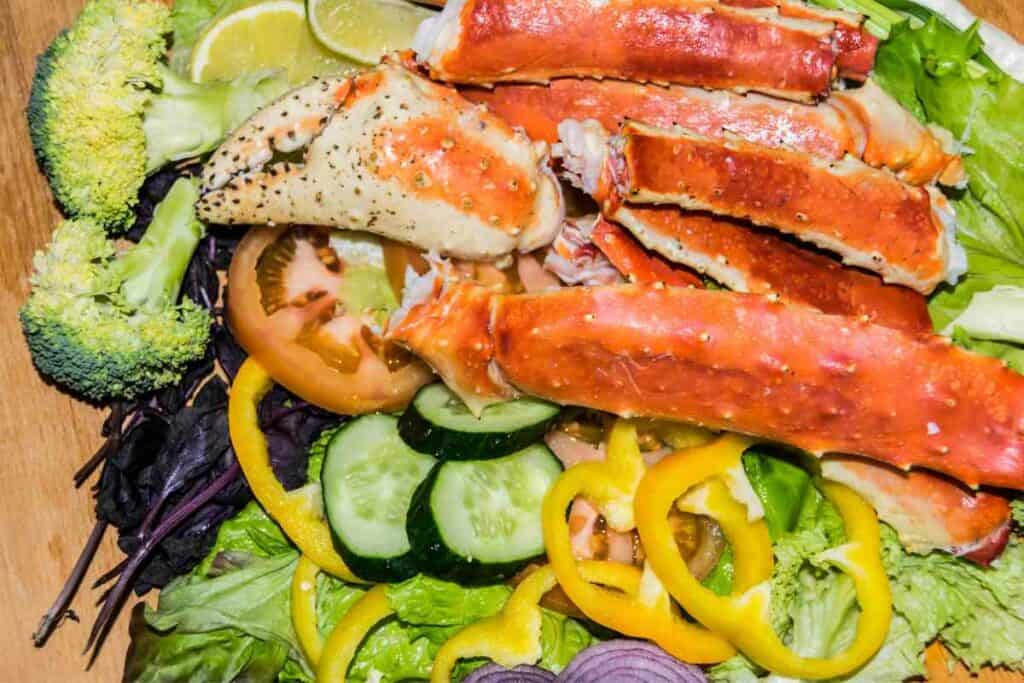 Sushi Lin has an enviable reputation as one of NYC's most popular sushi joints with successful eateries on both sides of the Brooklyn Bridge.
Sushi Lin in Brooklyn occupies an unassuming position on Flatbush Avenue, at the heart of the gentrification wars.
It specializes in delicious and delightfully seared seafood, often flown in fresh overnight from the fish markets of Tokyo. 
Sushi Lin is a great box to tick on the NY sushi scene. Dedicated chefs prepare the menu artfully for an authentic flavor.
You can select from the menu or opt for a great value omakase that is around $60 for 10 dishes. If you want take-out or delivery, the entire menu can be ordered online and delivered to your desk or door.
About Sushi Lin Brooklyn
| | |
| --- | --- |
| Address | 335 Flatbush Ave, Brooklyn, NY 11217, United States |
| Telephone  | +1 347-627-6027 |
| Opening hours | Mon to Sun: 5 pm to 10 pm |
| Reservations? | No |
| Take-out/Delivery? | Yes |
| Dress code | Smart casual  |
| Price point  | 🍣🍣🍣 |
| Are children welcome? | Yes |
| Website  | www.sushilinny.com/ |
| Social media | www.instagram.com/p/CnaASOoBURK/ |
Lenny and Ryan Lin, along with chefs Ray Chen and Jerry Liang are the founders of  Sushi Lin.
These chefs have been making sushi in NYC for years, putting in the time and training to become masterful sushi chefs.
Following positions at Roppongi restaurant in New Jersey, the sushi bar at Blue Ribbon, and 15 EastI, Lenny paired up with veteran sushi chef Ryan Lin and opened Sushi Lin in late 2017. 
Sushi Lin sets itself apart by sourcing its seafood from the renowned Tsujiki Market in Tokyo.
They have developed a delicious omakase experience, featuring considered sushi selections with great freshness, flavor, and texture.
Their Greenwich Avenue restaurant offers a similar but more intimate experience, for up to 14 guests, on the other side of the East River. 
Sushi Lin Brooklyn menu and specials
Sushi Lin has some delicious sushi offerings, alongside a range of fine entrees featuring premium fish, and delicate deserts to round off your meal.
Here are some of the highlights of the Sushi Lin menu: 
The King Crab Salad, featuring king crab, cucumber, and mixed seaweed
Salmon Avocado handrolls
The Yaki Salmon Don with seared salmon and salmon eggs over rice
4. Mirakuya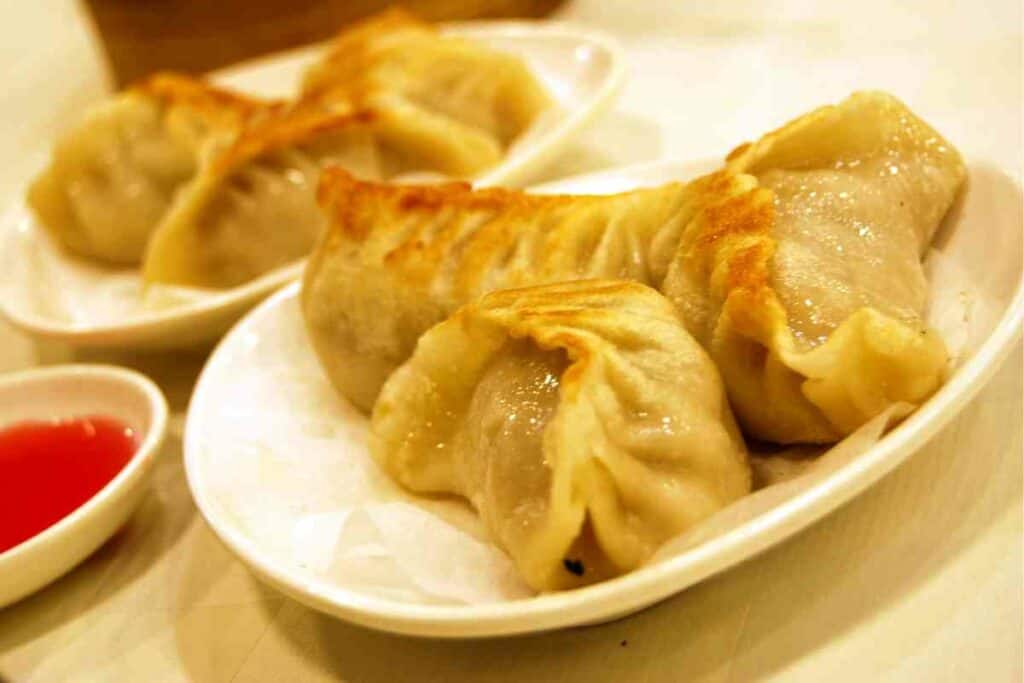 If you are looking for the nearest sushi restaurant on Flushing Avenue, Mirakuya is a great option.
This Brooklyn staple is open throughout the day every day with great-value pricing and delicious take-out and delivery options on its menu. 
Mirakuya doesn't have the most sophisticated sushi menu, but it does do the basics well.
You can eat to your heart's content and still have change from $20 which is unusual for a NY sushi restaurant.
Online reviews indicate that regulars are loyal, but the price is the priority for this Brooklyn establishment.
About Mirakuya
| | |
| --- | --- |
| Address | 727 Flushing Ave, Brooklyn, NY 11206, United States |
| Telephone  | +1 718-576-3279 |
| Opening hours | Mon to Sun: 11 am to 9:30 pm |
| Reservations? | No |
| Take-out/Delivery? | Yes |
| Dress code | Casual  |
| Price point  | 🍣🍣 |
| Are children welcome? | Yes |
| Website  | www.mirakuyabrooklyn.com/ |
Mirakuya Japanese Restaurant is conveniently located on one of Brooklyn's busiest thoroughfares.
The restaurant works hard to provide its delicious cuisine at affordable prices that all Brooklyn residents can enjoy.
All ingredients are fresh and high-quality. Diners also appreciated the relaxed atmosphere and prompt service.
Mirakuya menu and specials
Mirakuya Japanese Restaurant provides a menu of Japanese classics including sushi, tempura, noodle soups, and yaki udon.
You cannot go wrong with these great choices:
Tokyo Fried Chicken Rice
Beef Teriyaki Platter
California Roll with Deep Fried Whitebait
Pork Gyoza
Oshinko Roll
5. Uotora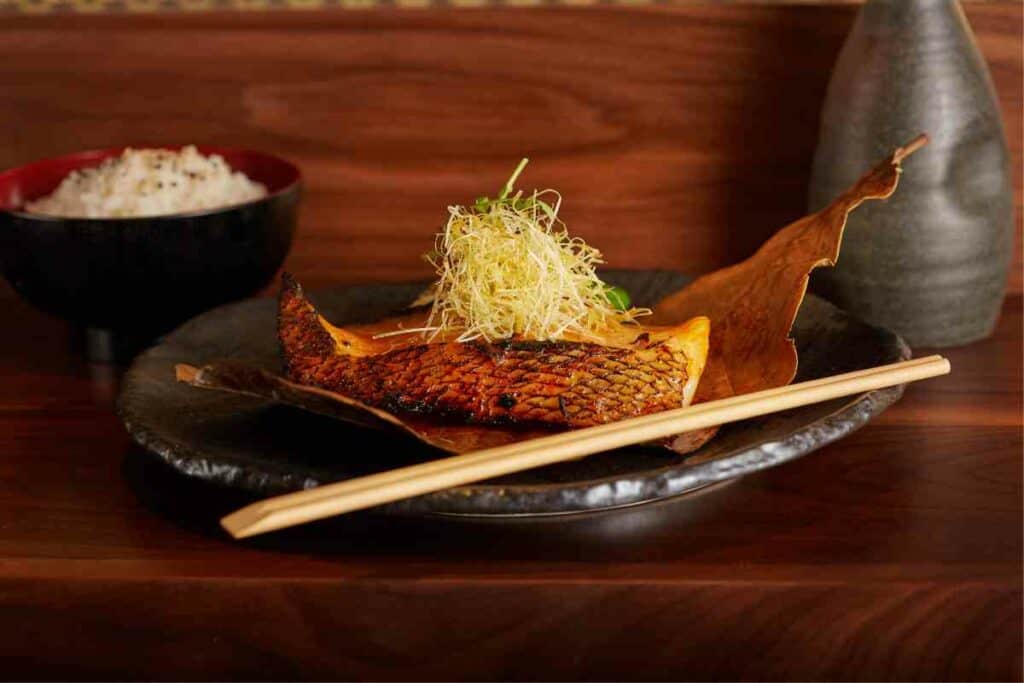 Uotora of Crown Heights is a Brooklyn restaurant that serves premium sushi in an intimate setting.
Locals also enjoy to-go menu selections that include hand rolls, miso soup, and crisp seaweed salad.
You'll find it between Rogers and Nostrand Avenues.
Most of the fish is sourced and flown in direct from Japan, with expert preparation by Chef Atsuomi and Chef Hiroyuki.
With over 20 years of experience in sushi making, the chef selected omakase is not to be missed.
It is one of the borough's best-priced at just $75 for 10 pieces. Just make sure you have a drink before or after your meal as Uotora does not have a liquor license. 
About Uotora 
| | |
| --- | --- |
| Address | 1075 Bergen St, Brooklyn, NY 11216, United States |
| Telephone  | +1 718-513-0724 |
| Opening hours | Mon to Sun: 5:30 pm to 9:30 pm |
| Reservations? | Yes |
| Take-out/Delivery? | Yes |
| Dress code | Smart casual  |
| Price point  | 🍣🍣🍣 |
| Are children welcome? | Yes |
| Website  | www.uotorabk.com/ |
| Email | [email protected] |
| Social Media | www.instagram.com/uotorabk/ |
Uotora was established in Crown Heights by Chefs Atsuomi Hotta and Hiroyuki Kobayashi, two NYC sushi vets that have worked in a number of leading Japanese restaurants.
Their small restaurant only seats eight at the bar, but the pair do not scrimp on any aspect of their Japanese dining experience.
They have become rated in NYC for their omakase, which is great value given the quality and freshness of the fish and the upmarket setting. 
At Uotora, the chefs take their time to explain to you the different dishes which include beautifully aged fish that easily competes with its Manhattan counterparts.
Other dishes from the menu can be enjoyed at tables in the small seated area. 
Uotora menu and specials
Uotora is somewhere to visit for a special Japanese meal.
Here are some of its exquisite and memorable selections:
Rich and fatty Spanish tuna
Nagasaki mackerel with sliced shallots and sesame salt
Fresh seaweed, dressed with sesame soy
Sushi deluxe including one piece of chef's choice sushi
Grilled miso cod.
6. Bozu Brooklyn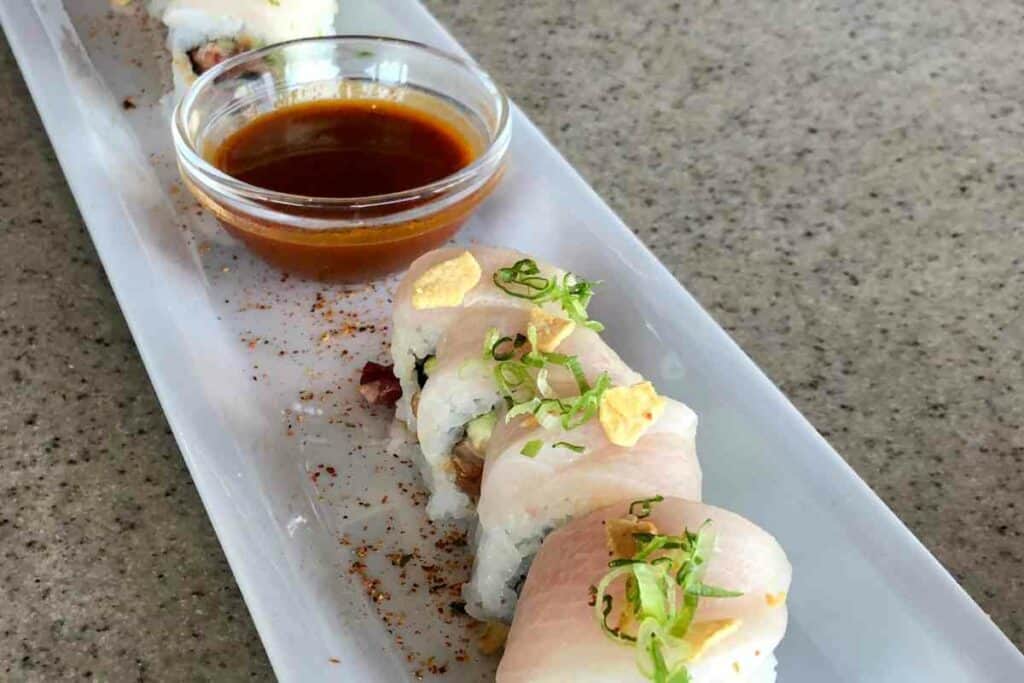 Bozu Brooklyn is the big sister to Samurai Mama.
Instead of serving big bowls of udon, Bozu delivers a completely different vibe, with a Japanese tavern setting where hip sushi plates are served with sake and strong cocktails, tapas-style.
If you have a big appetite and a short attention span, you'll love the fast-moving menu of small dishes, including their famed sushi bombs which are flavorful mouthful-sized sushi portions.
Bozu has been around for a long time and has known the pre-gentrification days of Williamsburg when things were a little rougher.
However, its quirky take on Japanese cuisine has outlasted the drama and it has come into its own as a lively Brooklyn hangout.
About Bozu Brooklyn
| | |
| --- | --- |
| Address | 296 Grand St, Brooklyn, NY 11211, United States |
| Telephone  | +1 718-384-7770 |
| Opening hours | Mon to Sun: 5 pm to 10 pm |
| Reservations? | Yes |
| Take-out/Delivery? | Yes |
| Dress code | Smart casual  |
| Price point  | 🍣🍣🍣 |
| Are children welcome? | Yes |
| Website  | www.bozubrooklyn.com/ |
| Social Media | www.instagram.com/bozubrooklyn/ |
Bozu Brooklyn is the brainchild of the Japanese restaurateur Makoto Suzuki, who owns several Brooklyn Japanese restaurants including Brooklyn Ball Factory and Samurai Papa.
Bozu was first opened in 2004 and broke ground in the borough for Japanese cuisine. 
All food served at Bozu Brooklyn is MSG-free and prepared with special ceramic filtered Kaiki water, which is extremely pure and lively. 
Bozu Brooklyn menu and specials
The most famous and inventive dish on the Bozu menu is its sushi bombs.
When you see and try them, you'll wonder why you never tried them before!
Sushi bombs are simple and smart mouth-sized servings of sushi that give you an instant flavor hit.
Choose from varieties that include:
The McLow Bomb, featuring tuna, avocado, and wasabi cream
Yellowtail, with a spicy ponzu sauce and daikon radish
The Spicy McBomb with tuna, cucumber, and a hot and tangy mayo
FAQs About Best Japanese Restaurant In Brooklyn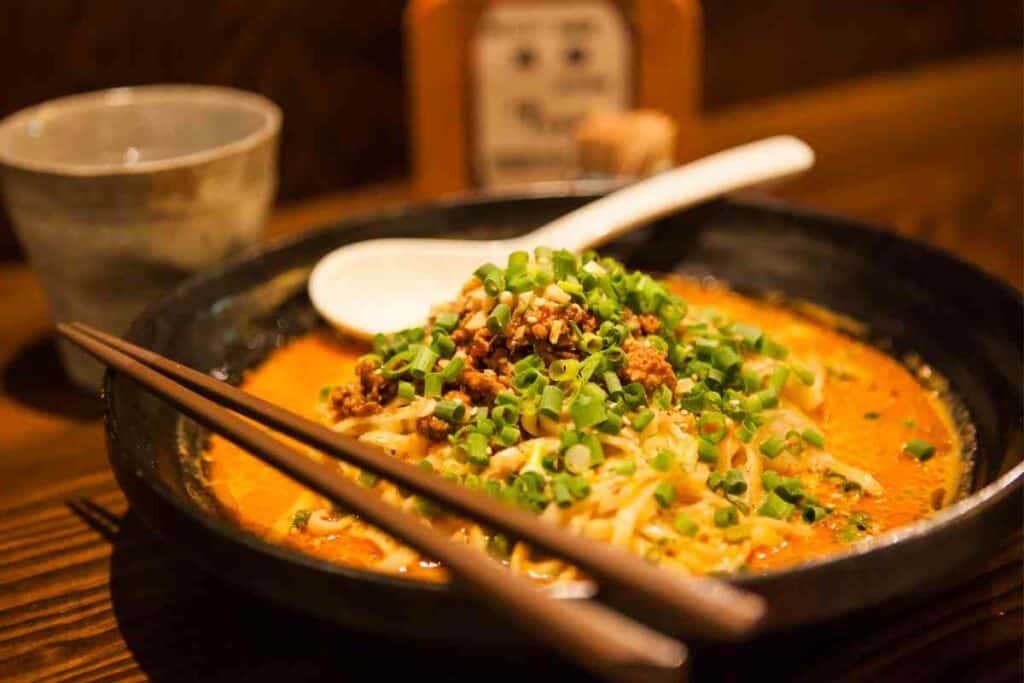 What is omakase?
Omakase (お任せ) means 'I'll leave it to you' or 'entrusting'. The word has been applied to a style of Japanese dining where the chef selects the dishes that are served to the diner. Japanese restaurants offer omakase menus where you can enjoy the chef's choices to create a multi-course meal for a set price. 
What is ponzu sauce?
Ponzu sauce (ポン酢) is a condiment made with simmered citrus, vinegar, seaweed, and fish flakes. It also can include soy sauce. The name ponzu comes from the Dutch word for the beverage 'punch' and 'zu' which means 'vinegar'. Ponzu sauce is a staple of Japanese cuisine and can be served with sashimi, or used as a dressing for other dishes.
What is Dashi?
Dashi (出汁, だし) is a distinctive, umami–rich Japanese stock that forms the basis of many broths and soups, including miso soup. It is used widely in Japanese cooking. Japanese chefs make dashi by simmering water with kelp, fermented tuna shaving, and dried oily fish.
Where can I buy Japanese groceries in Brooklyn?
Here are three well-known Brooklyn stores where you can buy authentic Japanese groceries and ingredients to make your Japanese cuisine:
– TenIchi Mart: 118 Smith St, Brooklyn, NY 11201
– Midoriya Japanese Grocery: 60 5th Ave, Brooklyn, NY 11217
– Ebisu Life Store: 1D, 5521 8th Ave, Brooklyn, NY 11220
In conclusion
Brooklyn's Japanese community is growing and thriving. Its restaurants will soon become formidable contenders to the better-known Japanese eateries. Stay ahead of the tourist hordes and enjoy the beautiful Japanese cuisine and culture in Brooklyn before it goes mainstream!