For many people, there is nothing more satisfying than ripping open a bag of your favorite chips, filling a bowl, and chilling on the couch in front of your favorite movies.
Snack foods are loved by the Japanese and they have their own, flavor-packed take on the humble potato chip that you have to try.
So if you're feeling hungry and fancy some Japanese food, forget the sushi, udon, and tempura, a great bag of chips is where it's at.
In This Article – We share 4 of the best Japanese chips with everything from fire-hot to chocolate-coated potato chips straight outta Japan!
The Japanese loooove potato chips
Despite having a relatively reserved society, where it is considered poor etiquette to eat openly in the street, the Japanese are a nation of snack lovers, with many citizens partaking in at least one snack daily.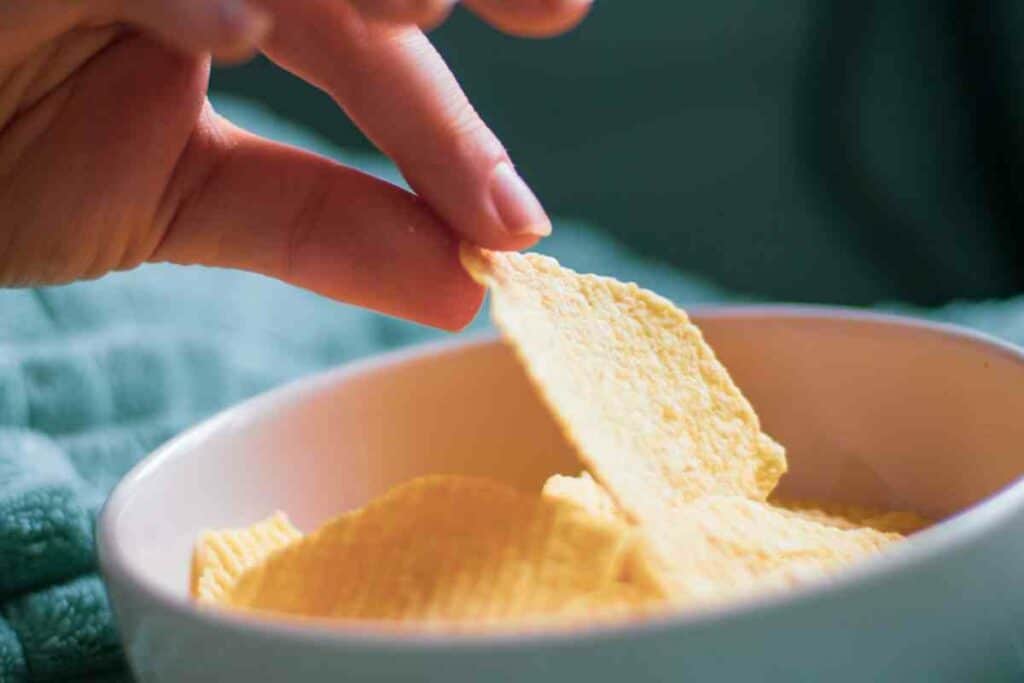 Potato chips are high on the list of preferred savory snacks. However, folks won't be hanging out on street corners crunching on them with their pals.
Instead, the Japanese purchase their chips at grocery stores or convenience stores and chow down on them with a refreshing cup of green tea or a coffee!
Best Japanese chips for snack lovers everywhere!
Only a handful of companies are responsible for producing almost all of the potato chips and other snack foods available in Japan.
You'd think that that would limit choice for the Japanese consumer but in fact, the opposite is true!
The Japanese are spoiled with hundreds of potato chip flavors and brands making Japan one of the world's best destinations for the snack addict.
Here are the brands to look out for.
1. Calbee, Inc. カルビー株式会社
Calbee is one of Japan's most popular snack brands with a great range of savory snacks and flavored potato chips.
This Tokyo-based company is probably best known for its Shrimp Chrips known as Kappa Ebisen and tasty snow pea Saya-endo chips.
The shrimp chips, based on the founder Takashi Matsuo's mother's shrimp tempura are a big hit on both sides of the Pacific with big sales in North America and Southeast Asia.
Buy Calbee snacks today!
If you need a Calbee fix, why don't you try these authentic Japanese chips with the classic shrimp flavor?
You don't need to go to an Asian store, get a pack delivered to your door.
Calbee Shrimp flavored baked chips 6 x 4oz packs
About Calbee, Inc.
This international snack conglomerate was founded in 1948 in Hiroshima by resident Takashi Matsuo.
His first product was a sweet called the Calbee Caramel, after the calcium and vitamin B1 it contained. The sweet was so popular that the company name was switched to Calbee in the mid-'50s.
The company expanded its product lines to include its popular shrimp snacks and potato chips.
In the mid-1970s the company acquired an import/export company to distribute the snacks in Singapore and later introduced the snacks to Hong Kong by partnering with Four Seas Group.
Clabee is a big part of Japanese popular culture, sponsoring anime cartoons and motorsports.
Calbee's most recent acquisitions included British company Seabrook Crisps (2018) and the American company, Warnock Food Products. (2019).
Brand Profile
| | |
| --- | --- |
| Company Headquarters | Chiyoda City, Tokyo, Japan |
| Founded | 1949 |
| Founder | Takashi Matsuo |
| Snacks produced | Calbee, Shrimp Chips, Potato Chips, Lightly Salted, Kataage Potato, Pizza Potato, Jagariko, Jagabee, Sapporo Potato, Kappa Ebisen, Otsumami, Jagarico, Beef Tongue salt sauce, Cereals Miino mix – edamame, kuromame, cashewSayaendo |
| Website | https://www.calbee.co.jp/shop/#shop_02 |
| Social media  | https://www.instagram.com/calbee_jp |
What makes Calbee snacks great?
Calbee is a master of flavors with delicious and zany seasonings for their massive range of potato, corn, pea, bean, and nutty snacks.
The bright foil packaging and umami flavors are distinctively Japanese and often craved by people across the world who have tried them on travels to Japan
2. Koike-YA Inc.
Koike-YA is another classic Japanese snack producer and is known and loved for its incredibly spicy Karamucho potato chips.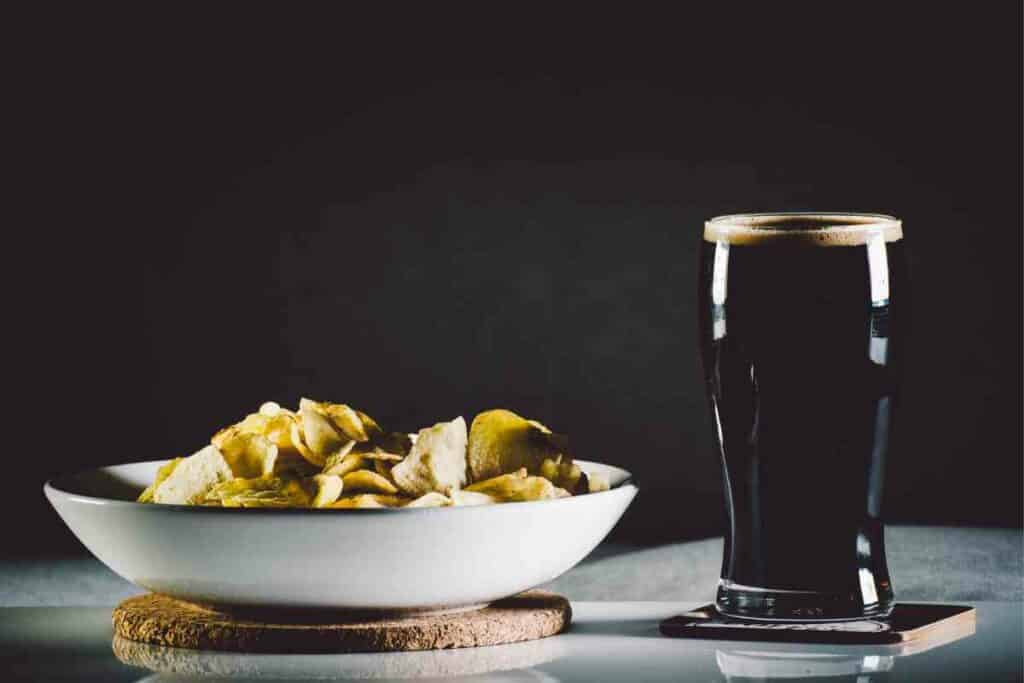 The company has been making snacks and health foods in Japan since the 1950s and is now expanding its reach by exporting its classic flavors throughout the world. 
This company takes pleasure in being distinctively Japanese, so you know when you open a bag you'll be experiencing real Japanese flavor.
Go hunting for remarkable Japanese potato flavors that include:
Medicinal Salt
Koikeya Imperial Consomme Flavour Chips 
Enchanted Broiled Wagyu Beef 
Fragrant Matsutake Mushroom 
Sour Plum Umeboshi
Feel the heat with a bag of Koike-YA Karamucho potato chips!
You haven't experienced Koike-Ya chips till you have tasted the fiery Karamucho chips.
It's pricey but incredibly moreish. Take a closer look.
Koikeya Karamucho Potato Chips, Hot Chili, 12  2-Ounce Bags
About Koike-YA Inc.
Koike-YA was founded by Kazuo Koike in 1953.
He was a champion of the potato chip in Japan having tried it for the first time in his early thirties while in a bar with friends. Koike was determined to share this great snack with the whole of Japan. 
Kazui Koike developed a method for mass-producing potato chips, slicing them thinly and frying them in hot oil before packaging.
Soon the company has become the biggest mass producer of potato chips in Japan. The key to Koike-YA's success was the diligent flavoring with tastes that the Japanese would find familiar.
The first chips, Koikeya Potato Chips Nori-shio, had a salty nori (seaweed) flavor that made them a big hit. 
Kazui Koike's next brainwave was the introduction of a super hot chili-flavored potato chip, the  Karamucho potato chip. This was thought to be a crazy idea and outside of regular Japanese tastes.
However, when the chips started turning up in convenience stores, young people started to try and buy them regularly.
Karamucho chips were a smash hit at the Seoul Olympics in 1988, making it an Asian classic snack.
Brand Profile
| | |
| --- | --- |
| Company Headquarters | Narimasu, Itabashi-ku, Tokyo, Japan |
| Founded | 1953 |
| Chairman | Takashi Koike |
| Snacks produced | Pride Potato, Original Hot Chili Potato Chips, Pure potato, Tacos, Corn Snacks, Polinky, Karamucho |
| Website | Koike-ya.com/en/ |
| Social media  | www.instagram.com/koikeya_official/ |
What makes Koike-YA snacks great?
The authentic Japanese flavors and tongue-numbing heat of the Karamucho potato chip have sealed the reputation of Koike-YA as one of Japan's best snack food companies.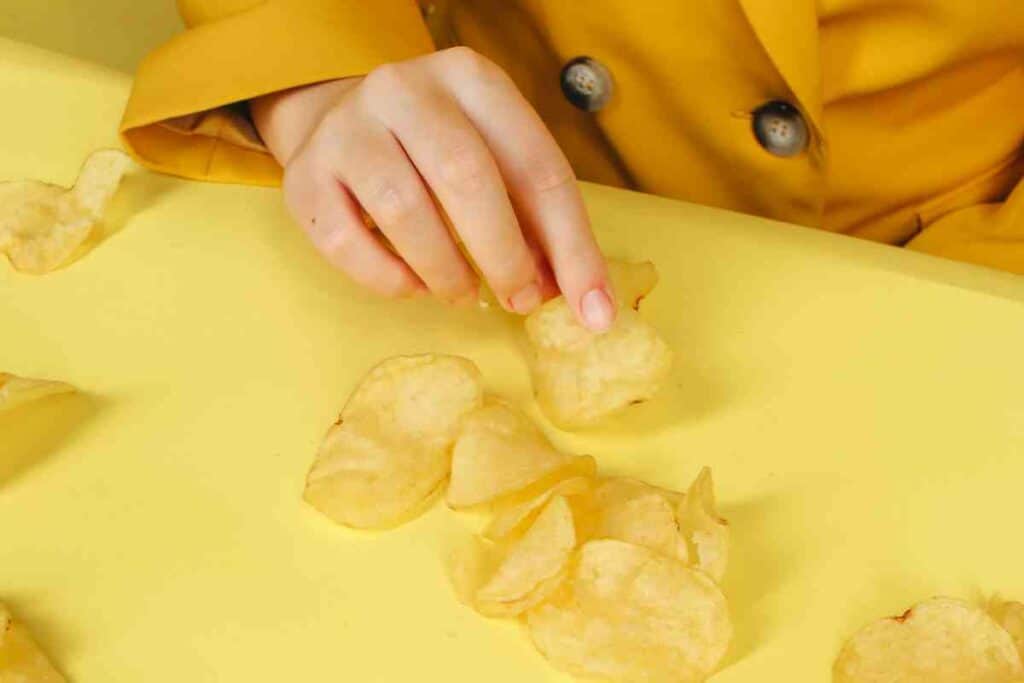 The company has taken something very Western, like potato chips, and made it authentically Japanese.
It's no surprise that exports of these unique potato chips have proven popular around the world.
3. ROYCE' Confect Co., Ltd. (株式会社ロイズコンフェクト)
ROYCE' is one of Japan's leading confectioners and specializes in chocolate foods, snacks, and desserts of all kinds. And yes, you've guessed it! They do make a chocolate-coated potato chip!
The Japanese love the nama chocolate of ROYCE'.
This rich ganache is made with melted cacao and cream, then dusted with rich cocoa powder. You can enjoy this nama chocolate on the ROYCE' Potatochip Chocolate Original.
This unique thick and crinkle-cut potato chip, made from quality Hokkaido potato has one side dipped in the rich nama chocolate and the other seasoned with salt. 
You have to try the ROYCE' Potatochip Chocolate Original
These smartly packaged chocolate-coated potato chips must be the world's most unique.
Get your hand on a pack to try or gift them to family and friends.
Potato chip Chocolate Original by ROYCE'
About ROYCE'
The name ROYCE' is derived from a reversal and simplification of the founder, Yasuhiro Yamazaki's name.
The company started in 1983 in Hokkaidō, in the north of Japan. Their first mass-produced product was a chocolate bar.
In the 1990s, ROYCE started to retail its chocolate in its own stores, with the first store,  Higashi Naebo Main Shop, opening in 1993.
The ROYCE' stores sold the company's chocolates and cookies as souvenirs. Thie nama chocolate line was introduced in 1995.
ROYCE' continued to pursue its direct selling approach with delivery centers and trucks for getting the chocolate to clients and customers.
The sales stores continued to expand with branches in Sapporo and a concession within the Mitsukoshi department store. 
In the late 1990s, on the back of company growth, ROYCE' expanded its manufacturing facilities and began retailing its chocolate in the airports of Hokkaidō.
Brand Profile
| | |
| --- | --- |
| Company Headquarters | Ainosato, Kita-ku, Sapporo, Hokkaido, Japan |
| Founded | 1983 |
| President | Yasuhiro Yamazaki |
| Snacks produced | Potato Chip Chocolate, Popcorn, Baton Cookies, Wafers, Prafeuille Chocolat, Royce' Chocolate Bars, Royce' Pure Chocolate, Criollo Chocolate, Namachoco Croissant, Dacquoise, Financier, Lurumaro Chocola, Madeleines, Nama Chocolate, Nutty Bar Chocolate, Petite Truffe |
| Website | www.royce.com/contents/english/ |
| Social media  | www.instagram.com/roycechocolate/ |
What makes ROYCE' snacks great?
ROYCE' produces premium chocolates that have a rich homemade feel.
The company has a close relationship with Hokkaido, and chocolate potato chips are often a special gift from the region.
ROYCE' chocolate is now sought after by chocolate lovers across the world. 
4. The Oyatsu Company, Ltd
Oyatsu company produces an unusual potato chip alternative that is made from discarded noodle scraps.
This sustainable snack food known as re-born food takes the waste noodle fragments, fries them, and seasons them as a dried snack bite so that you can enjoy hot water free!
The Baby Star snack bites come in loads of great favors to give you a satisfying ramen taste on the go.
If you are looking for a distinctly Japanese snack. These cute bags of noodle chips are designed to keep you 'plentiful and happy'.
Get your hand on Oyatsu Baby Star!
10-pack Baby Star Ramen Mini Chicken Taste Fried Noodle Snack 
About Oyatsu
The company has a simple name that means snack, referring to a traditional snacktime between 2 and 4 pm.
Oyatsu was founded in 1948 in Mie prefecture where it has continued to the present day.
It has grown to become Japan's third largest snack manufacturer with 70% of its sales coming from its Baby Star noodle snacks.
Anyone serious about snacking on Japanese food cannot pass by this popular brand with its cute mascots on the bag!
Brand Profile
| | |
| --- | --- |
| Company Headquarters | Ichishi-cho Tajiri, Tsu-city, Mie, Japan |
| Founded | 1948 |
| CEO | Fumio Teshima |
| Snacks produced | Snack food made from fried noodles, Mackerel snacks, Shrimp snacks, Snack bread, Ramen noodles, Jerky, Confectionary products |
| Website | www.oyatsu.co.jp/other/english/ |
| Social media | www.instagram.com/oyatsu.company.official/ |
What makes Oyatsu Baby Star snacks great?
Crunching on dried noodles sounds like it would not be tasty at all, but remarkably, Oyatsu's delicious snacks have a texture and flavor that keep you coming back for more.
Beware, this floury snack is not the most healthy and many people find it addictive!
Best Japanese Chips FAQs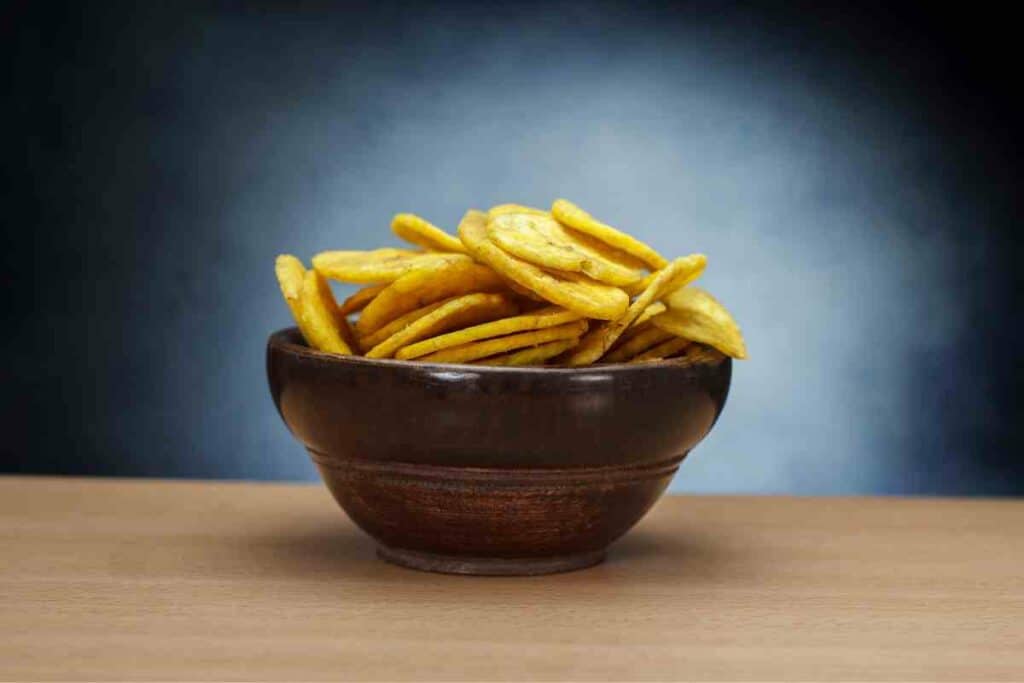 What is Japan's favorite snack?
Despite the proliferation of westernized snack foods, the traditional Mochi (もち, 餅), a  sticky and chewy Japanese rice cake remains a firm favorite for a tasty bite on the go.
Can you get Pringles in Japan?
Yes, you can 'pop' and not stop, as Pringles are widely available in Japan. And excitingly, you can enjoy Japanese Pringles in a range of local flavors. One of the best Japanese Pringle flavors is seaweed, with nori mixed in with the Pringle dough for maximum flavor.
What are the strangest potato chips in Japan?
If you thought that chocolate-coated potato chips were strange, chip conglomerate Calbees have outdone themselves with a sauce-slathered bag of wet potato chips. These chips are coated in a wet sticky soy-rich sauce. Delicious but you'll need wet wipes to enjoy! 
Are Japanese chips healthier than American chips?
It depends on the brand and flavor of the chips. Generally, Japanese chips tend to be lower in calories and fat compared to American chips. Additionally, many Japanese chip brands use natural ingredients and avoid artificial additives.
What are some popular Japanese chip brands?
Some popular Japanese chip brands include Calbee, Koikeya, and Frito Lay Japan. Other popular brands include Jagabee, Pizza-La Potato Chips, and Kameda Seika.
Are there any vegan Japanese chip options?
Yes, there are vegan Japanese chip options available, such as Calbee's lightly salted potato chips, Koikeya's vegetable chips, and Soyjoy's vegetable and fruit chips.
Do Japanese chips come in smaller portions than American chips?
Yes, Japanese chips often come in smaller portions compared to American chips. This is because smaller portion sizes are more common in Japan and are seen as more appropriate for snacking.
Are Japanese chips more expensive than American chips?
Japanese chips can be more expensive than American chips, particularly if they are imported or purchased from specialty stores. However, some Japanese chips sold on Online can be affordable and competitive in price compared to American chips.
Other Pringles Flavors:
Other amazing Japanese Pringles flavors for you to hunt include:
Hakata Mentaiko
Nagoya Chicken Wing
Hokkaido Butter Shoyu Scallops
Rounding Up 
The amazing range of  Japanese potato chip flavors is a great reason to pop open a bag of chips! However, these snacks are incredibly moreish and you will want more!
Snacks are always great to enjoy but moderation is key. Share that bag (or three) with friends and take care to ensure that these fatty and salty snacks do not end up dominating your diet.