Mochi is one of the most popular desserts in Japanese cuisine.
Essentially, it is a rice cake that is both sweet and savory.
If you love Japanese delicacies, then the chances are high that you have had this cake at some point.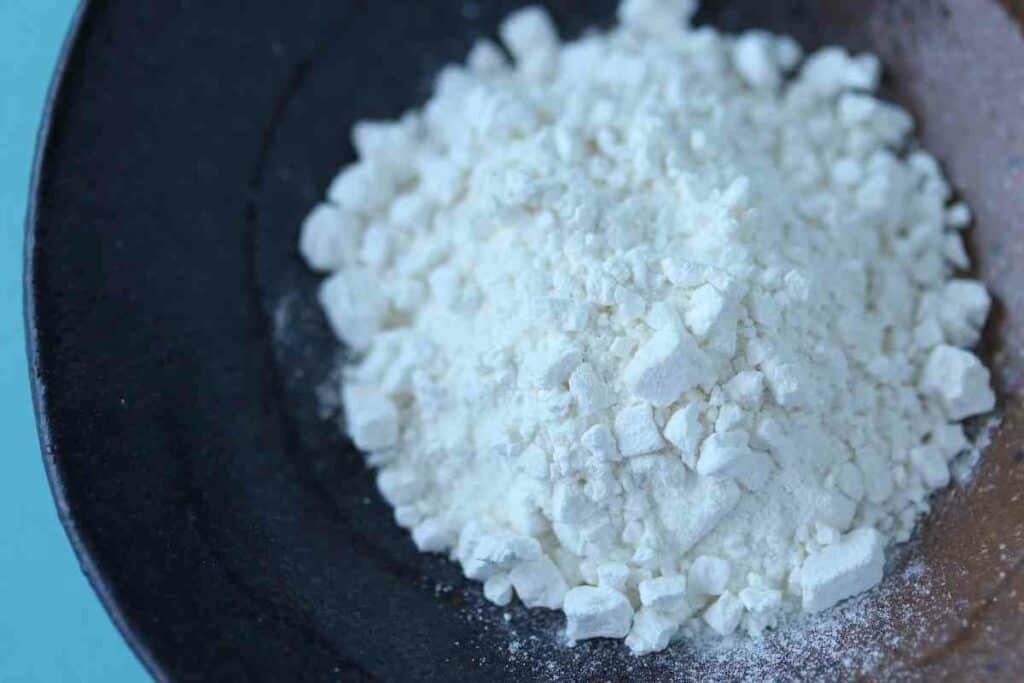 Rice is the primary ingredient for mochi, and glutinous rice flour is arguably the best flour to use when making it.
Read on to learn more about making mochi with glutinous rice flour.
What Is Mochi?
Mochi is a bun-shaped Japanese rice cake that is made with steamed white rice. If it is not steamed white rice, it is steamed brown rice or glutinous rice.
Glutinous rice is the most preferred for reasons that will be unveiled shortly.
Besides rice, mochi is also stuffed with savory and sweet fillings such as red bean paste.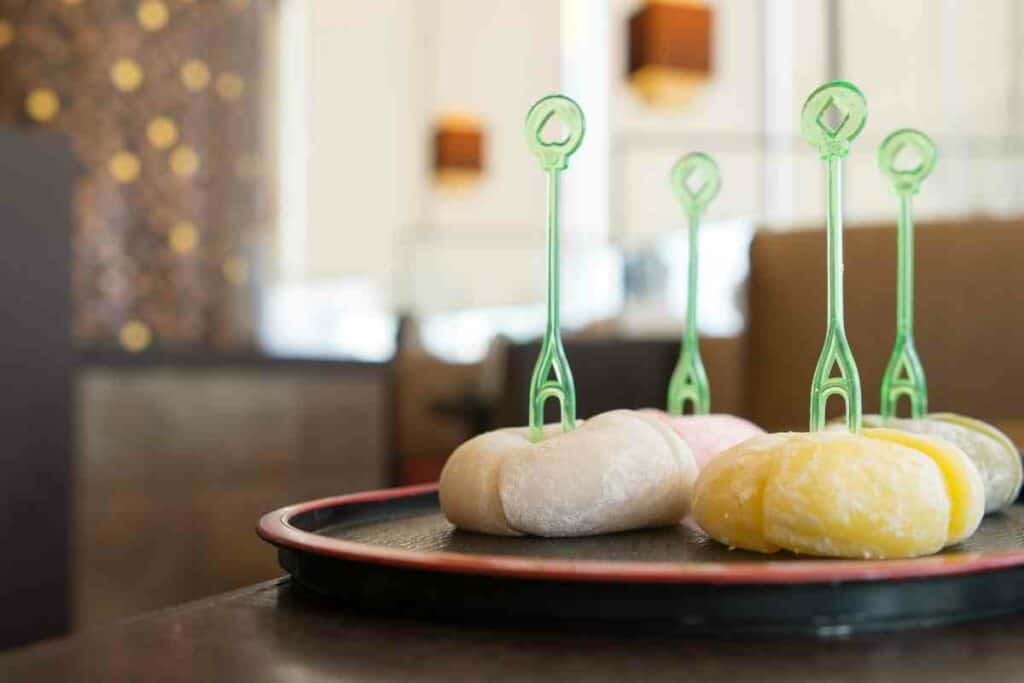 Mochi is mostly used as a dessert.
It can also pass for a mid-morning snack. Also, you can use it to make soup and various hot pot dishes. It is all up to your preference.
Additionally, mochi can be prepared through baking, frying, or grilling.
Mochi is best when it is hot and fresh, as this is when it is in its best form.
It is chewy, soft, and sticky. Therefore, you want to eat it the same day it has been prepared, or the next day at most.
When you wait too long, it hardens, losing its essence.
You can have it with a drink of your choice, but it goes so much better with hot chocolate or the usual green tea.
What Is Glutinous Rice Flour?
Glutinous rice flour is flour that is made by grounding short-grain white rice.
Unlike other forms of flour, glutinous rice flour is gluten-free, hence its name.
As such, it is the best option if you are looking to have gluten-free meals and a good alternative to wheat flour.
Also known as sweet rice flour or shiratamako, glutinous rice flour has a fine and powdery texture.
When Cooked – It is gluey and sticky. This texture should explain the stretchiness of mochi and other Asian dumplings.
Glutinous rice flour has a milky taste and is also subtly sweet. The sweetness is so subtle that, at times, it is hard to taste it.
For this reason, many people take the flour to have a neutral taste.
Glutinous rice flour is used in making different Asian desserts and sweets, including mochi. It is also used in the preparation of noodles and a variety of snacks.
Can You Make Mochi with Regular Flour?
Rice is the primary element of mochi- without it, the cake would not be the same.
It is also called rice cake, meaning that without rice, it is no longer mochi. So, you cannot make mochi with regular flour – the flour has to be rice-based.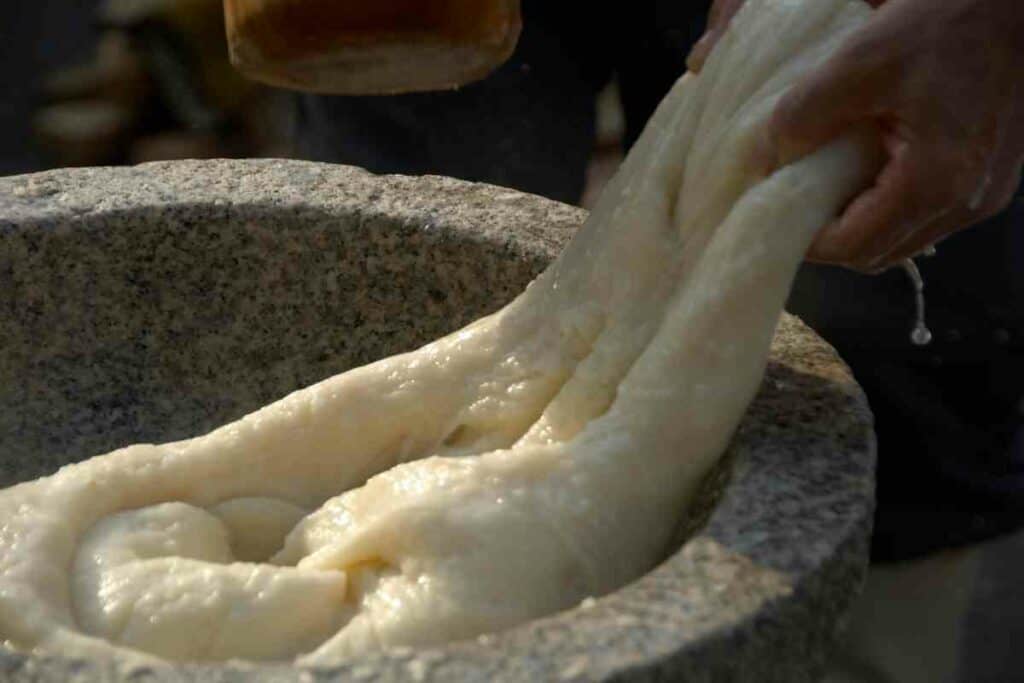 The beauty of mochi is in its stretchiness and chewiness, which can't be achieved if prepared with regular flour.
If you use, say, wheat flour, you are likely to end up with a thick flour paste that will not stretch.
Therefore, you can only make mochi with rice flour, most preferably glutinous rice flour.
Substitutes Of Glutinous Rice Flour for Mochi
Essentially, glutinous rice flour is the best for mochi.
Its gluten-free feature makes it all the more preferable.
However, if you can't find glutinous rice flour anywhere, there are other types of flour that you can use to make mochi.
One of them is the all-purpose flour, which you should use in a 1:1 ratio to glutinous rice flour.
You can also use:
arrowroot powder
tapioca flour
and coconut flour
If you are using coconut flour, you should use 1.5 cups for every cup of glutinous rice flour you would have used.
How To Make Mochi Using Glutinous Rice Flour
If you want to make mochi at home using glutinous rice flour, you will be delighted to learn that it is a simple process that takes way less than an hour.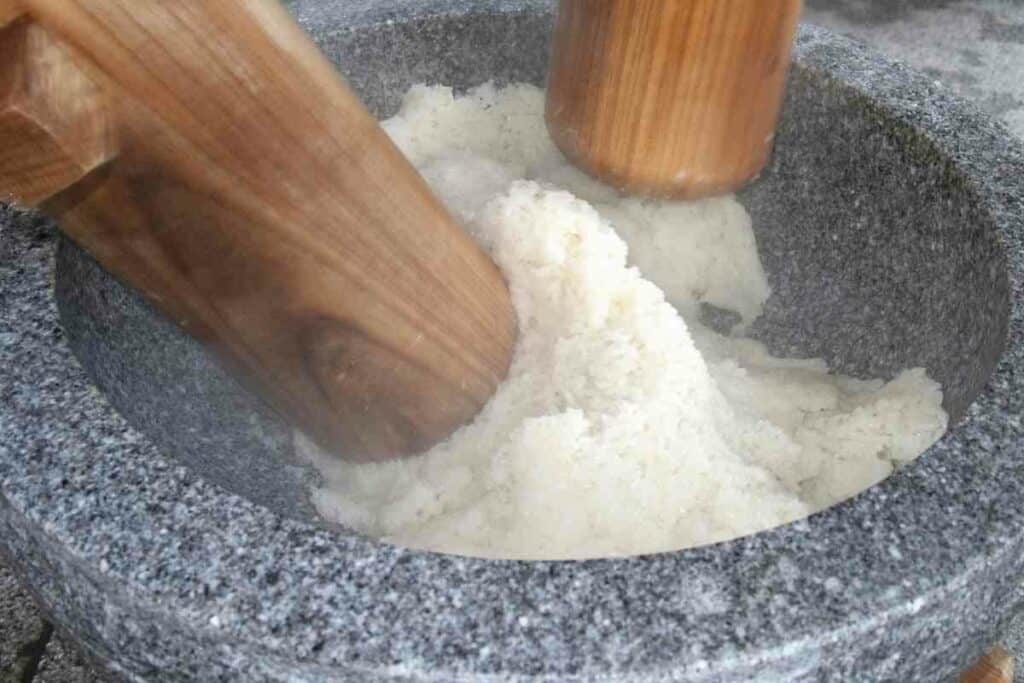 The following are the ingredients and directions to make mochi.
Ingredients
One portion of glutinous rice flour
One portion of sweetened red bean paste
¼ of a portion of white sugar
A teaspoon of green tea powder
A portion of water
½ of a portion of cornstarch for rolling the dough
Directions
Start by wrapping the red bean paste in aluminum foil and leaving it in the freezer for an hour.
Put the glutinous rice flour in a bowl and mix it with green tea powder. The powder gives the cake its lovely green color.
Add water and sugar to the mixture and stir until it is nicely smooth.
At this point, put the mixture in a microwave-safe bowl, cover it with plastic wrap and microwave it for about 3 minutes and 30 seconds.
Meanwhile, remove the bean paste from the freezer and divide it into the number of parts you want.
It's time to remove the rice flour mixture from the microwave.
Spread some cornstarch on the working surface to dust it so the dough does not stick together.
Roll a pinch of the hot rice flour mixture into a ball, and flatten it.
Place the red beans paste in the center of the dough and cover it all around with the dough.
Repeat the process until you have finished covering all the parts of the red beans paste with dough.
Serve it while hot and fresh.
How To Store Mochi
If you are not going to eat your mochi immediately, it is important to store it in a way that it will get spoiled before you get a chance to eat it.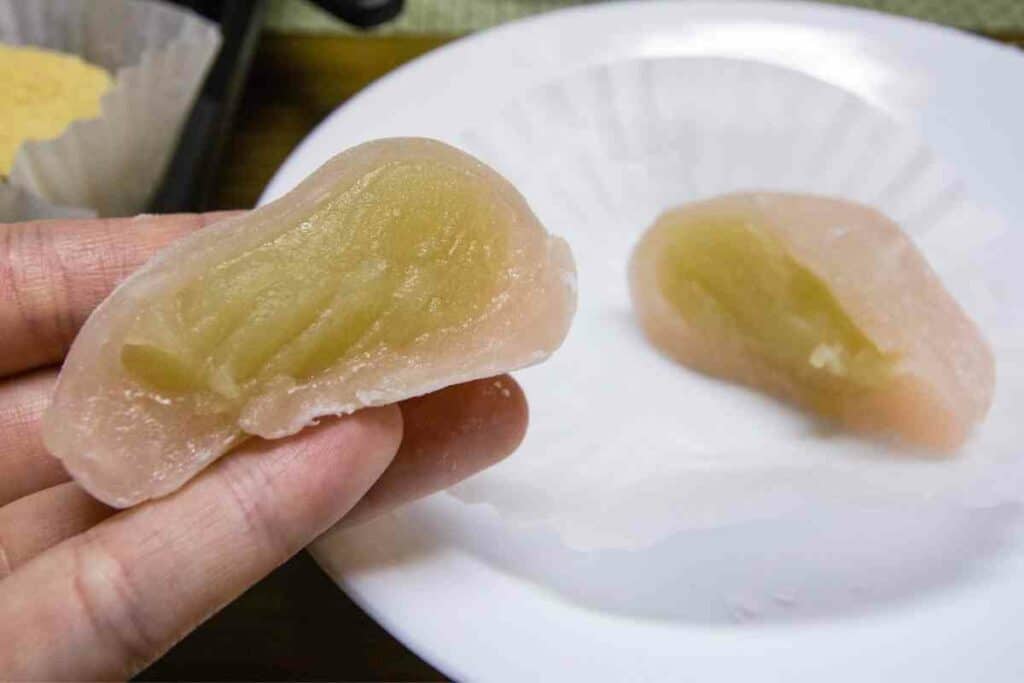 Leaving your mochi at room temperature is not advised because it starts forming mold in just one day.
Storing your mochi in the refrigerator hardens it such that it loses its sweetness.
The best way to mochi is to put it in an airtight container and put it in a freezer. You can leave it here for a couple of days.
Final Words
Glutinous rice flour is a gluten-free flour used in making several Japanese cakes and sweets.
One of the cakes is mochi, also known as rice cake. The flour produces a gluey, sticky cake with a savory and sweet taste.
Furthermore, the flour is gluten-free, making it perfect for people who prefer gluten-free diets.
If you wish to make mochi at home using glutinous rice flour, this article provides you with a simple and elaborate recipe.