If you're into braiding and knotting, then Kumihimo is definitely something that's worth trying out.
This ancient Japanese technique creates intricate patterns from colorful strings using a special disk or loom.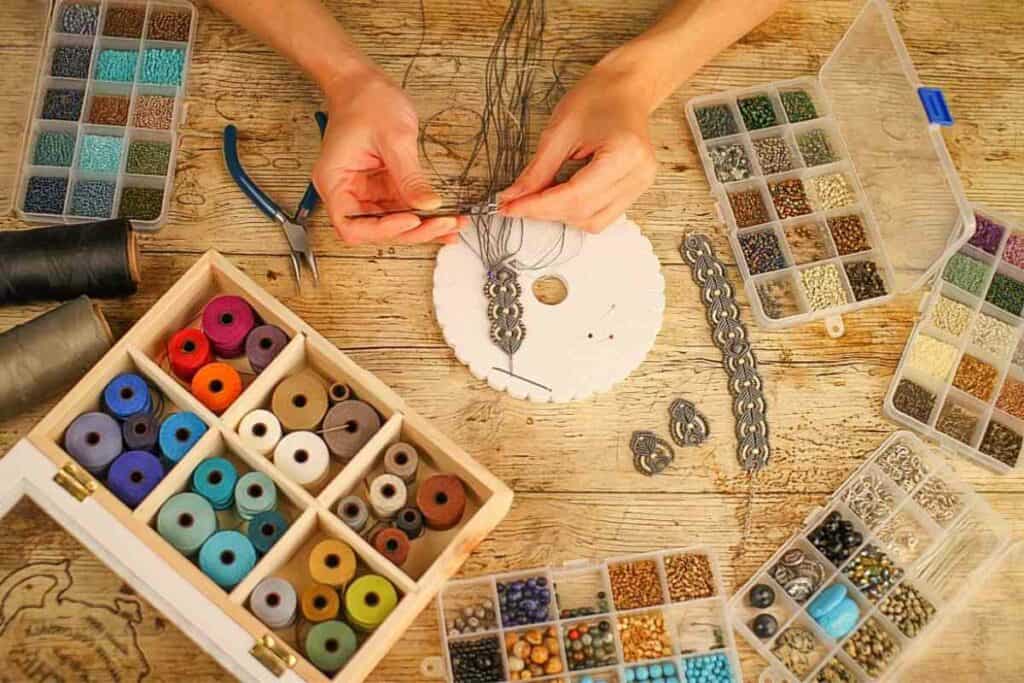 And to make things easier for beginners, there are dozens of Kumihimo kits available online!
In this article, we'll be taking a look at the top five options on Amazon and other websites – each with its own unique features and designs that will surely help unleash your creativity!
| Product Image | Product Name / Primary Rating / Price | Primary Button |
| --- | --- | --- |
| | | |
| | | |
| | | |
| | | |
| | | |
11/21/2023 07:08 pm GMT
What Is Kumihimo?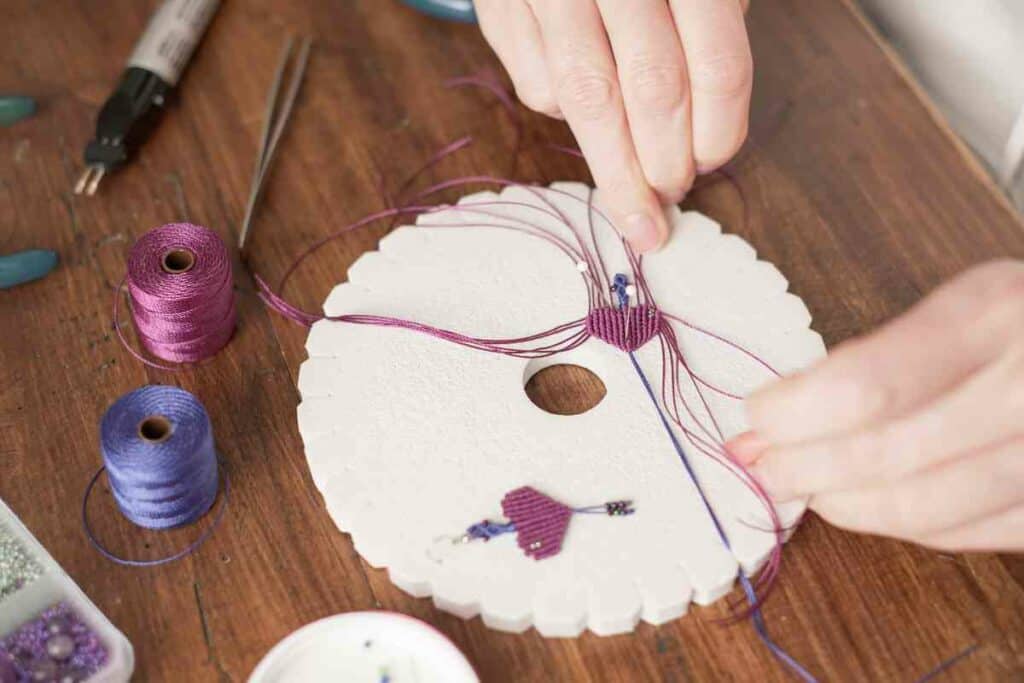 Kumihimo is a Japanese word that means "gathered threads". It refers to the ancient art of braiding cords using a special tool called a Kumihimo disk.
This technique has been used for centuries in Japan and other parts of Asia to create beautiful decorative:
Trim
Lanyards
Bracelets
Necklaces
Belts
The process involves weaving together multiple strands or colors of cord over and under each other on the disks until they form intricate patterns.
Kumihimo can be done with various types of fibers including silk thread, nylon string, or cotton yarns – as long as it's thin enough to fit through the center hole in your disc!
What Does a Kumihimo Kit Include?
Are you interested in the Japanese art of Kumihimo braiding?
Here's what a typical kit includes.
A Kumihimo disk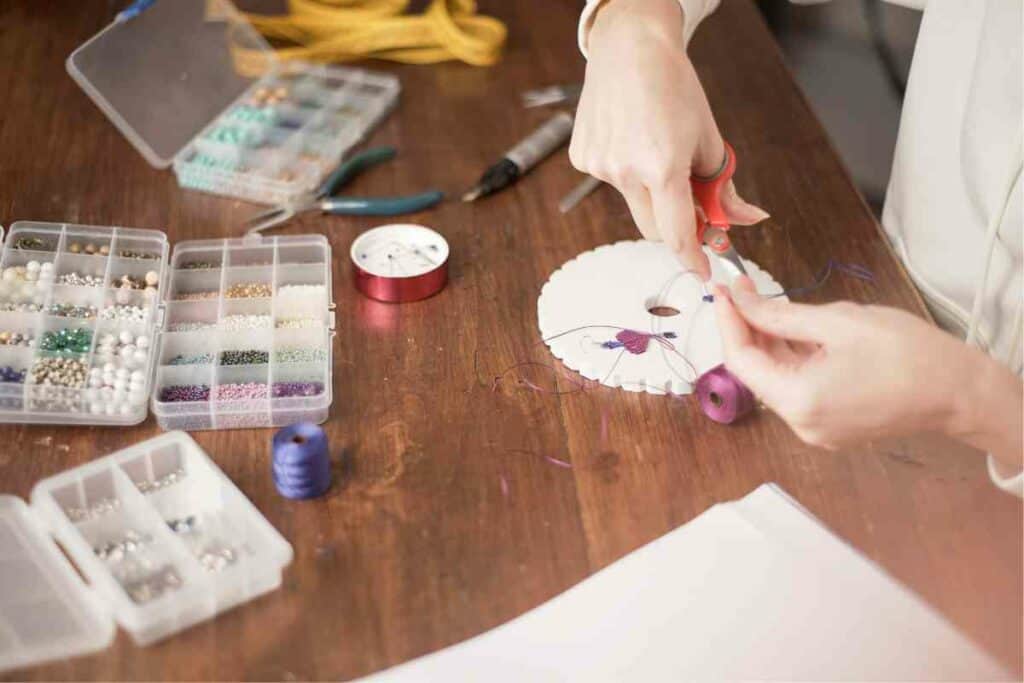 This foam or plastic round/square disc has numbered slots around its edges, which serve as a loom for holding and organizing strands of thread during your braid making.
Threads/cords
These come in various colors made from different materials including silk, cotton, and synthetic fibers to create intricate patterns on finished brads.
Bobbins (small spool-like devices)
They're used to manage single/multiple strands/tangles together while allowing even tension across all threads.
Weights (optional)
If required small weights can be added onto the braids being created maintaining even pressure throughout the process with ease.
Beads (on request)
Some kits include beads that could be incorporated into your design creating something unique & beautiful!
End caps/clasps
These secure ends allow connections between jewelry pieces/items and Additional instructions or pattern booklets are provided too!
Top 5 Kumihimo Kit on Amazon and Online
Kumihimo Friendship Kit
14 colorful and stylish friendship bracelets
Easy-to-use instructional manual
Multifunctional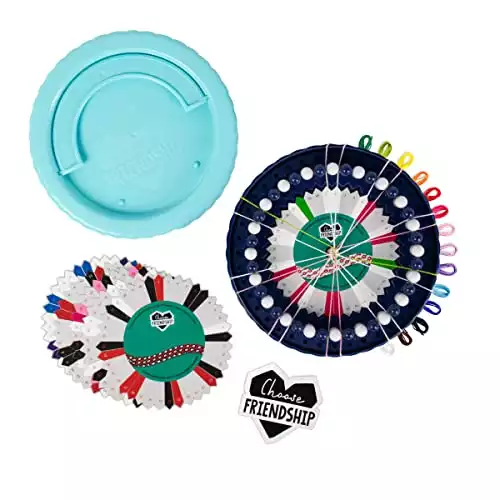 We earn a commission if you make a purchase, at no additional cost to you. Thanks!
The Kumihimo Friendship Bracelet Maker kit found on Amazon.com includes everything kids need to make up to 14 colorful and stylish friendship bracelets.
What's more, the pre-cut threads included come in a variety of bright colors that are perfect for adding extra fun and vibrance to any jewelry collection.
This craft set has several features which add value including its easy-to-use instructional manual beginners will find straightforward.
Aspiring jewelers can learn new braiding techniques with ease thanks to these instructions coupled with the user-friendly design utilized by makers at "Choose-Friendship".
The material used feels sturdy enough without being too stiff or hard for little hands creating soft but resilient finished pieces not likely easily fall apart when worn over an extended period.
Moreover, this beautiful bracelet-making kit is indeed multifunctional as it provides crafts lovers significant moments bonding while expressing their creativity through unique DIY projects using mostly high-quality materials sold within one neat package!
Overall, whether you're looking for a gift idea that will encourage your budding artisan's imaginative side, or simply seeking ways to gain closer ties amongst friends modeled after sweet little creations made from shared experiences & creative sewing project memories, the Kumihimo kit is perfect for you.
Designed for Beginners
The Beadsmith Kumihimo Starter Kit
This kit provides all essentials for your first Kumihimo project. Perfect for beginners, it lays the foundation for advanced designs. Beware, braiding can be addictive, and you'll be tempted to explore diverse textures.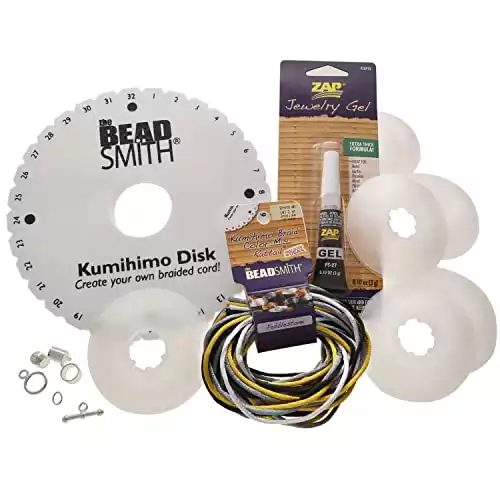 We earn a commission if you make a purchase, at no additional cost to you. Thanks!
The Beadsmith Kumihimo Starter Kit is a great way to try your hand at the Japanese art of braiding.
This kit includes everything you need to make beautiful and intricate jewelry designs from scratch.
The kit contains a Kumihimo disk for easy braiding, adhesive for keeping cords in place, and bobbins which are used as placeholders so that beads don't slip off while weaving or stringing them together onto bracelets.
Findings such as jump rings & clasps that help turn any woven cord into stunning wearable pieces like necklaces & earrings- all can be found inside this starter set!
Additionally, it comes with an instructional guide filled with projects designed specifically for beginners – making it perfect if you've never tried the craft before!
Finally, speaking about design inspiration there are plenty of Japanese traditional colors.
What makes this product particularly appealing is its accessibility- aspiring jewelers looking forward to learning how-to-braid ropes decoration now have access without needing previous knowledge.
KumiKreator
For Girls Ages 8 and Up
Premade patterns
60 Spools
We earn a commission if you make a purchase, at no additional cost to you. Thanks!
The Cool Maker 2-in-1 KumiKreator kit is a great, fun way for children ages eight and up to create beautiful bracelets and necklaces without any knots needed.
The package includes everything that's required to make custom friendship bracelets: from the spools of strings in five different colors (60 in total) to two design booklets that help inspire creativity.
The best thing about this kit is how easy it makes creating unique combinations – you can simply load, spin and create!
Choose one of the premade patterns included with the booklet or get creative by improvising your own designs quickly.
From there, all you need do is watch as your creation comes together before your eyes after just a few cranks on the handle!
In addition to being straightforwardly simple enough for anyone aged over eight years old to understand how it works immediately out of the box, we also love its sturdy construction built tough-enough-to-beat abuse but still lightweight making storage convenient.
Finally not worry again if breaking precious beads fall around like dominoes every time items shift during transport either assembled /disassembled.
I recently discovered the Clay Beads Bracelet Making Kit and I must say, it is quite impressive! This kit includes everything you need to create beautiful personalized jewelry pieces.
Firstly, there are an incredible 6000 flat clay beads in a variety of different colors included.
In addition to that, the kit comes with many other options such as charms and pendants which will add much more fun & interest when creating one-of-a-kind designs.
There are also A-Z letter beads so your creation can actually spell out words plus heart-shaped emoji smiley faces & animal eyes all feature for added personal touch!
The elastic strings make sure any bracelet size should be comfortable enough wrist without making them too loose or tight while including clasps on each string makes easy fastening support keeps from falling off easily like some cheap bracelets made elsewhere might experience issues.
No worries here though thanks do diligent testing by developers after perfecting numerous samples previously before releasing the ideal product into the marketplace.
This craft set offers limitless possibilities– not only limited to just necklaces or bracelets but allowing room for creativity to flourish: who knows what sort of things could come about?
One thing I appreciate about this product is how educational these kinds of activities end up being regardless of simply spending time working together with family members.
Young children can also be involved in the process of building handmade crafts.
They'll be proud to show anyone afterward fond memories sharing moments helping grow even closer futures ahead.
Overall, if you're looking for something new and exciting project that won't break the budget yet still allows discovering imaginative sides, then check out the Beads Bracelet Making Kit today!
Make It Real
10 unique Juicy Couture charms
390+ colorful beads
Fine-motor skill development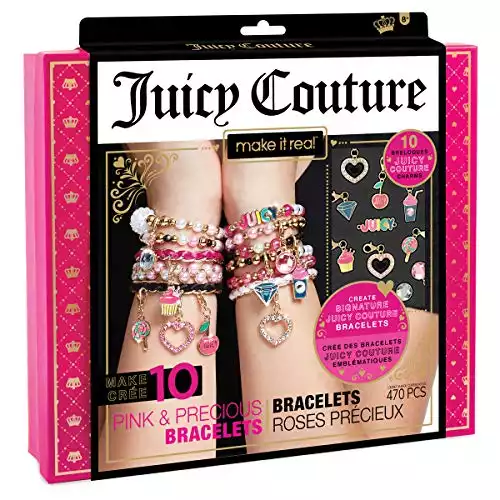 We earn a commission if you make a purchase, at no additional cost to you. Thanks!
This is an awesome jewelry-making kit for girls who love fashion and creativity and can be found on Amazon.com.
Firstly, this Kumihimi-making kit has everything you and your child need to make personalized bracelets that will reflect her style and personality.
It includes 10 unique Juicy Couture charms, over 390 colorful beads (yes!), and three chains in different colors of satin cord and elastic cord.
The best thing about Make it Real's development toys kits is promoting real-world skills such as fine-motor skill development – critical in developing small muscles found on fingers or hands used when conducting tasks like drawing/painting.
The visual-skill focus develops hand-eye coordination & perception ability required during cutting/creating art from objects while tactile sensory works by enhancing one's attention.
With enough supplies needed for up ten funky-looking bracelets, you can create limitless possibilities since mixing coordinating dry things together encourages experimentation.
The kit is highly engaging and interactive, making it perfect for girls aged eight or above.
Therefore, if you are looking to surprise that young fashion enthusiast with a gift they will undoubtedly love- Make it Real Kit would be an excellent selection; easy-to-follow instructions included!
I recommend this kit for parents who want their kids/teens interested in creative activities such as jewelry making where children identify strengths building tailored personality types benefiting societal-future leaders/makers of tomorrow.
In Conclusion
Overall, Kumihimo is a fun and versatile craft that allows for endless creativity. Whether you are new to the art form or an experienced braider, there is a kit out there to fit your needs.
After researching and reviewing various kits available online, we have identified some of the top options on Amazon – with different features suited towards varying skill levels & style preferences!
We highly recommend giving Kumihimo a try – it's sure not to disappoint!