You've likely heard of K-Pop, but have you heard of J-Pop or other big Japanese artists that have amazing tracks?
Japan is an awesome place for anyone who loves music. If you're into your music and love exploring new artists, you're in for a treat in Japan.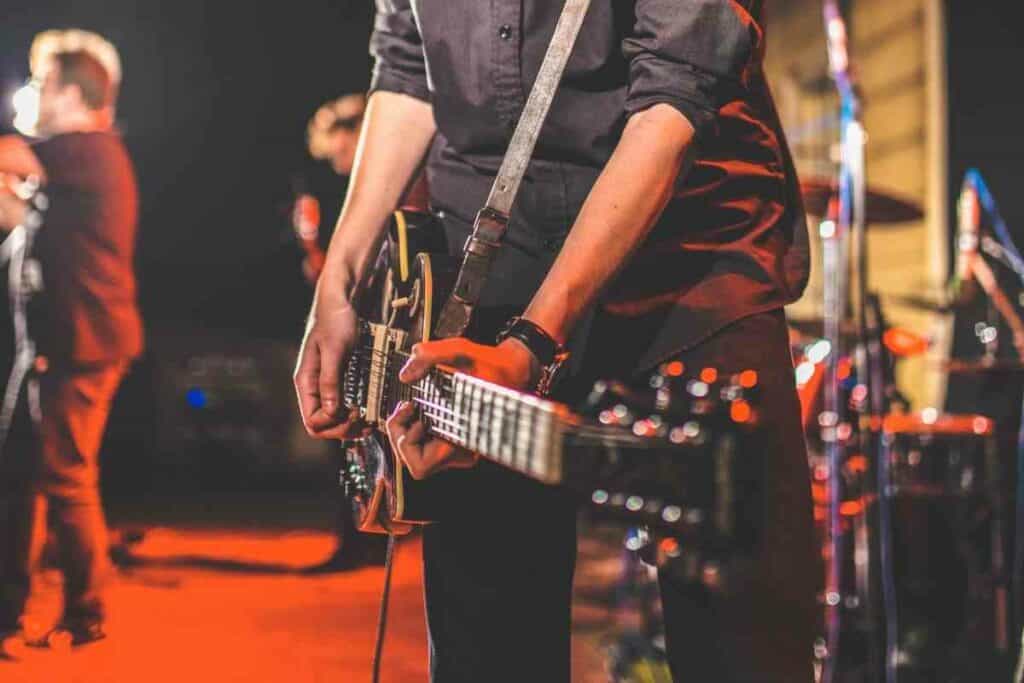 In this article, we'll introduce you to 11 of the best Japanese music artists to listen to today. Some are well-known, others perhaps, not so.
Each one offers listeners something unique and beautiful.
Let's take a look.
1. Teengenerate
This band only existed for around three years during the 1990s.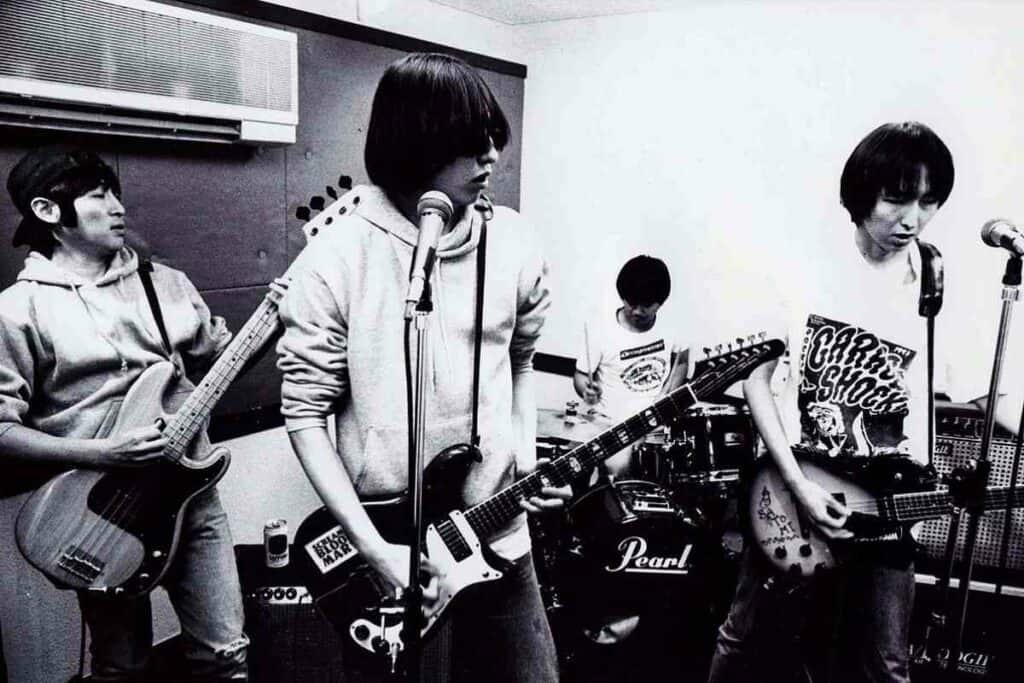 However, the group was truly masterful in how they handled noisy garage punk. Their songs are wonderful pop songs that have been messed up and set on fire!
Though to untrained, non-fluent ears, it's hard to understand what Fifi and Fink were singing (read yelling!) about the passion, energy and sense of fun in their performances mean that you don't even need to understand the lyrics to have a good time.
2. Babymetal
Fancy trying out some heavy metal that's a little bit 'softer'?
Meet Babymetal. This is a particularly polarising band but it certainly pushes musical boundaries. Babymetal's music might seem like a novelty, the songs are actually really good.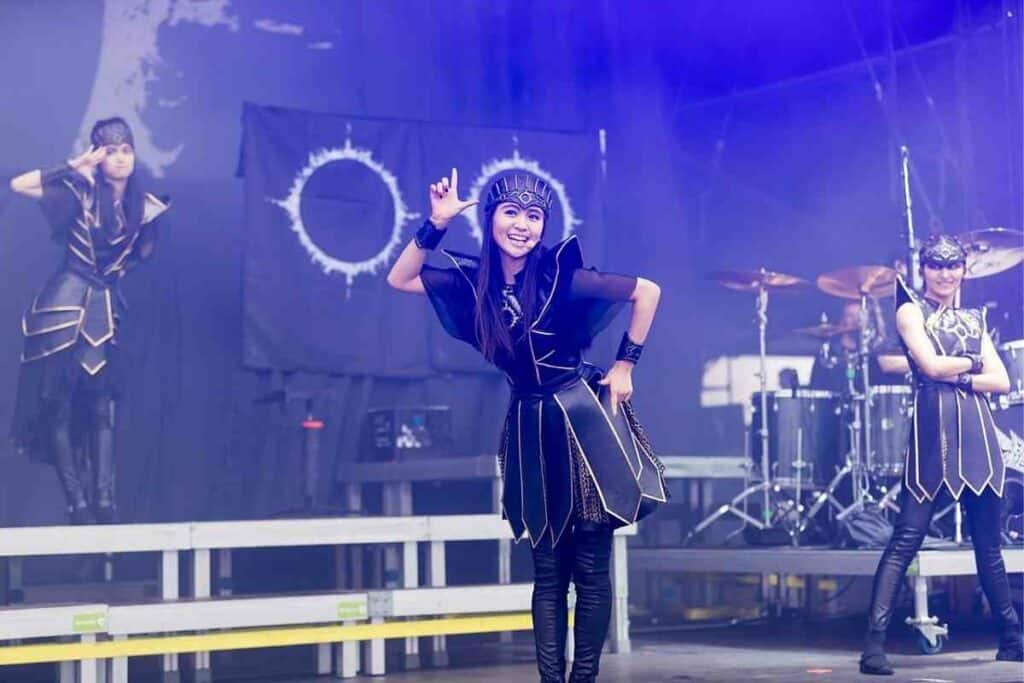 If you know a little about kawaii culture, you might see why kawaii metal might come about.
This new genre strips away heavy metal's hypermasculinity, focusing on themes that are more relevant for young Japanese people – especially women.
Again – Non-fluent Japanese speakers might not understand what's going on in the songs, but the music more than makes up for it.
3. Boris
Stepping away to a more mainstream sound is Boris.
This band mix punk rock, drone metal and psych together in a perfect blend. The album Pink, released in 2005, is a true wonder.
Even those who normally have tame tastes link this music. The band has fantastic ambient pieces too.
All in all, there are almost 40 Boris albums out there for you to get stuck into.
4. Soil and "pimp" sessions
This Tokyo-based sextet has been active since 2001.
They're well-known for coining "death jazz" as a term to describe their genre. They first came out of the club scene in Tokyo and did jam sessions live in DJ sets.
They have piano, keyboards, trumpet, double bass, and drums in their set-up.
They've been releasing albums since 2004 and have released a new album almost every year.
Their biggest album was Pimpoint in 2007, which sold 15,000 copies.
However, it was their 2013 album Circles that reached the highest position in the album charts, at number 15.
In Terms of Singles – Their track "Koroshiya Kiki Ippatust" featuring Ringo Sheena (who we also mention on this list), made it to number 14 on the Oricon singles charts and number 18 on the Billboard Japan Hot 100.
This single came from their album Circles.
5. Vizion/Kenjiro Sakiya
If you like funk, you'll probably like the Japanese funk band Vizion.
With three members Nobuo Ariga, Kenjiro Sakiya, and Akihiko Matsumoto, many call this city pop.
This genre was first mentioned only recently and it's now making its way across the cool clubs and bars of Tokyo and further afield. In this genre lies Vizion.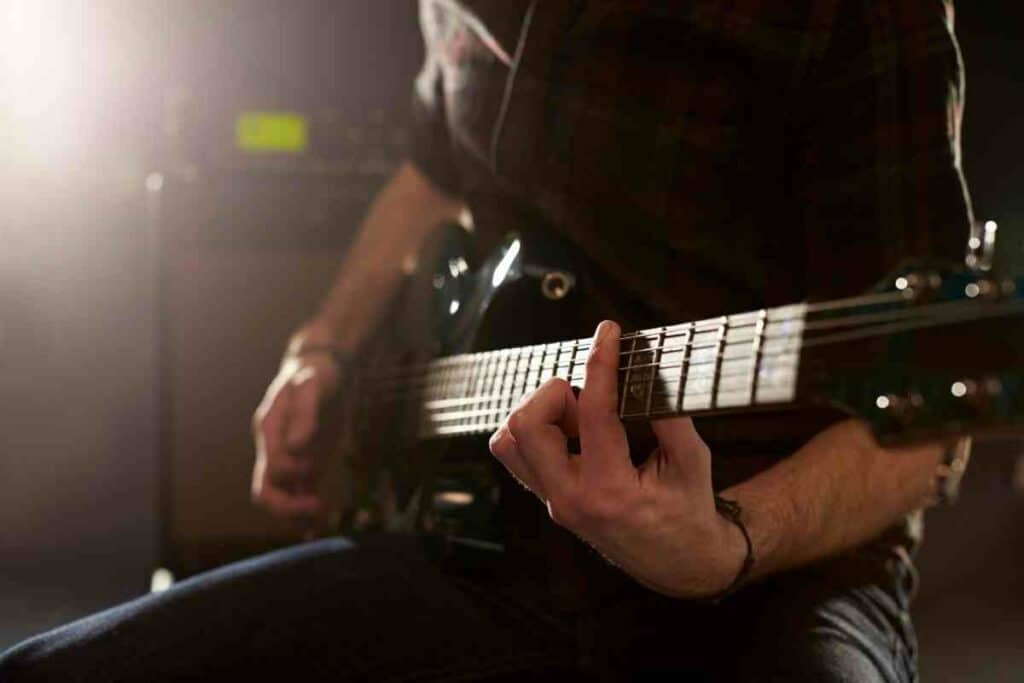 They only made one track together called Psychotic Cube in 1983.
The leader, Kenjiro Sakiya then went solo and made an album called Difference, which is pretty good (and has great artwork on the cover too).
However, what you will find is that this music isn't that easy to find – thankfully the internet can help!
City pop nowadays compared to the 80s isn't the same. For some unknown reason, newer bands have started using the term but they don't really bear resemblance to their 80s counterparts.
6. Perfume
If you like techno-pop, Perfume comes recommended.
Their music is more like a nostalgic version of techno-pop but their performances are always great with new technology.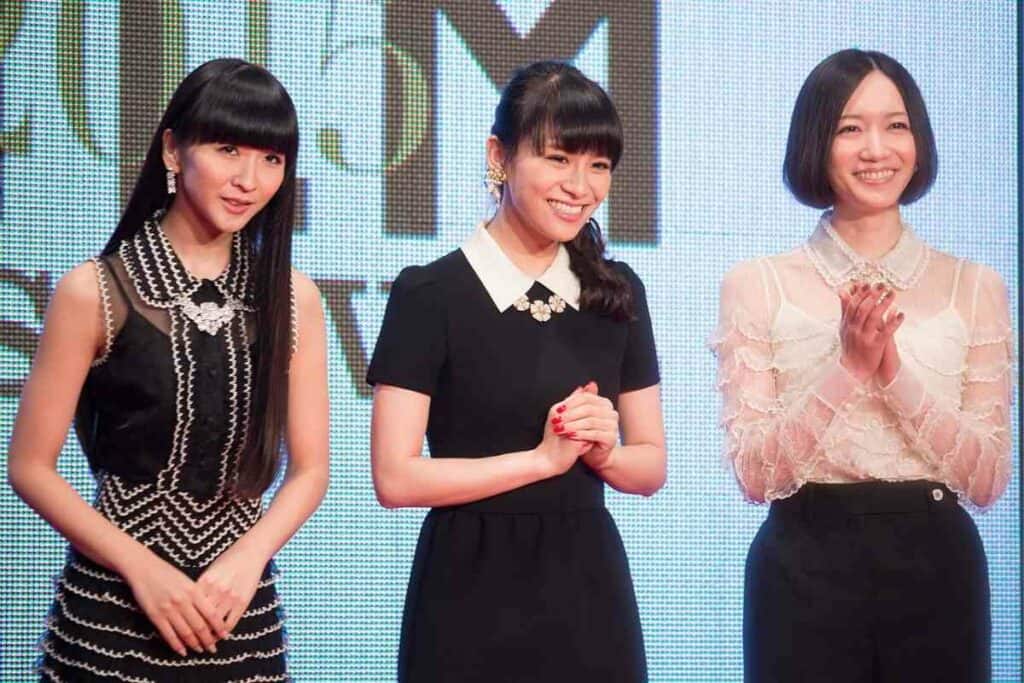 This girl group is from Hiroshima Prefecture and consists of Yuka Kashino, Ayano Omoto, and Nishiwaki.
They've been established since 2000 from a young talent academy. Their first signal was called "Omajinai Perori", released in 2002.
The group's first album was released in 2008 and was called Game.
It was their first album to reach number one. Their single "Love the World" was also released this year and went to number one. Altogether, they've sold more than five million records.
In 2022 – Perfume released "Flow", their 27th single. They're expected to release their 7th album "Plasma" in the fall along with a studio tour.
7. Suiyōbi no Campanera (水曜日のカンパネラ)
This Japanese music group was formed in 2012 and combines different musical elements like J-Pop and Hip Hop.
This three-piece consists of Dir.F., Kenmochi Hidefumi, and KOM_I, who is the main singer and vocal performer.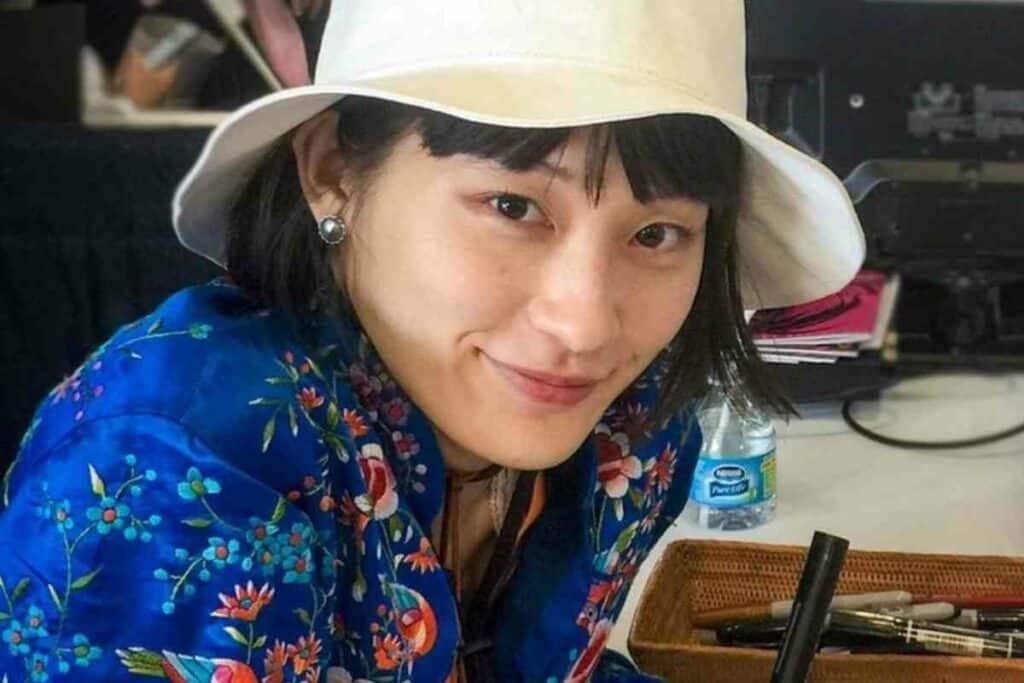 The name is Wednesday Campanella in English, which is the day they would rehearse together.
The lyrics tend to feature mythical creatures and people from folklore, pop culture and history. There's a lot of wordplay and creativity.
The first couple of songs "Kukai" and "Oz" were released in 2012 on YouTube and their first demo release was sold in the November at Design Festa Tokyo.
KOM_I left the group to pursue other interests in 2021 and the group have released new music without her.
8. Rie fu
If you love anime, you need to listen to Rie fu as she sands the theme tune to Bleach.
Rie fu (birth name: Rie Funakoshi) was born in Tokyo but lived in Maryland, USA for three years as a child.
She began playing piano and has been inspired by the likes of Carole King, The Carpenters, Joni Mitchell, and Yumi Matsutoya.
She sings in both Japanese and English and has recently made a move to the United Kingdom where she releases songs under the name Rié.
Her music depicts feelings that are nostalgic with a little sadness.
As well as being a singer, she's also an artist and designs her own record art.
9. Ringo Sheena
Ringo Sheena has been active in the music industry since 1998.
She sings J-Pop, rock, punk, art pop, jazz, and other genres.
She also plays instruments as well as sings.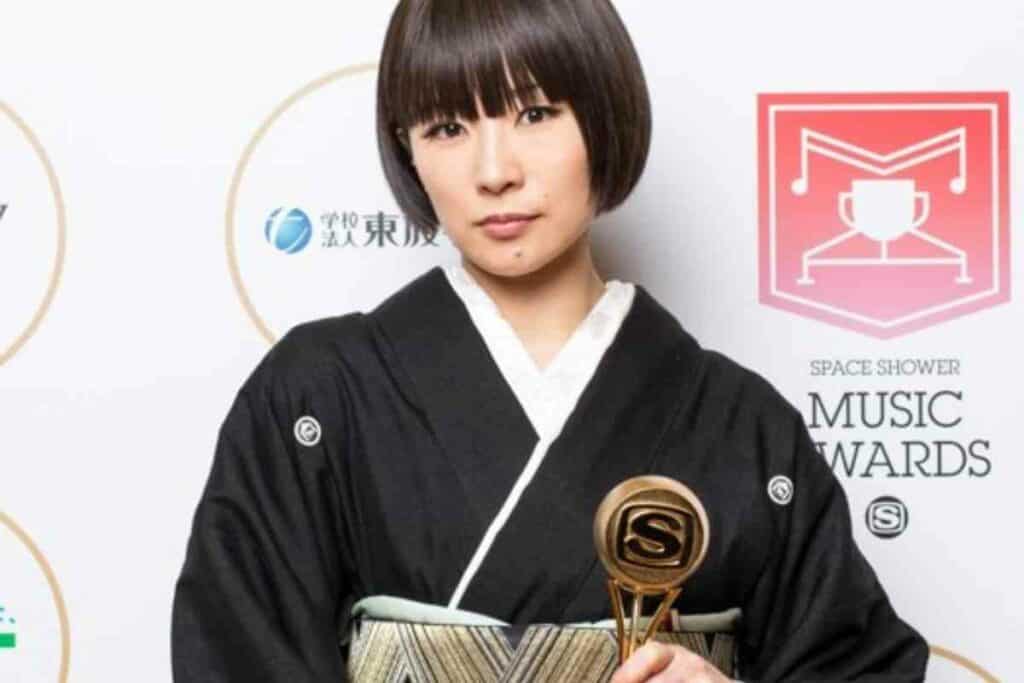 Her real name is Yumiko Shiina. As well as being a singer, musician, and songwriter in her own right, she also founded the band Tokyo Jihen and is the lead singer.
Ringo Sheena has released six studio albums, the latest of which was Sandokushi in 2019.
This is typical J-Pop and it peaked at number 2 on the Oricon Weekly Albums Chart. In total, over 57,000 copies were sold.
With Ringo's music, you really feel her Japanese performance style.
For Example – The music really brings out her personality and when singing live, her personality really shines through. She's a very popular artist with many Japanese fans.
10.  Go!Go!7188
This trio (also Go Nana Ichi Hachi Hachi or Gogo) is a rock band and surf rock band that was active between 1998 and 2012.
The band released 15 singles and 8 original albums. They also did cover albums and live albums as well as DVD releases.
If you like ethnic music, you'll love this group. Yu's voice is particularly impressive.
11. Utada Hikaru 宇多田 ヒカル (うただ ひかる)
Last but not least on our list of 11 best Japanese music artists is Utada Hikaru.
Utada is well-known in Japan and worldwide and has dominated music charts in the country since 1997.
She sings slow-paced, clear songs that even beginner learners of Japanese can get the gist of.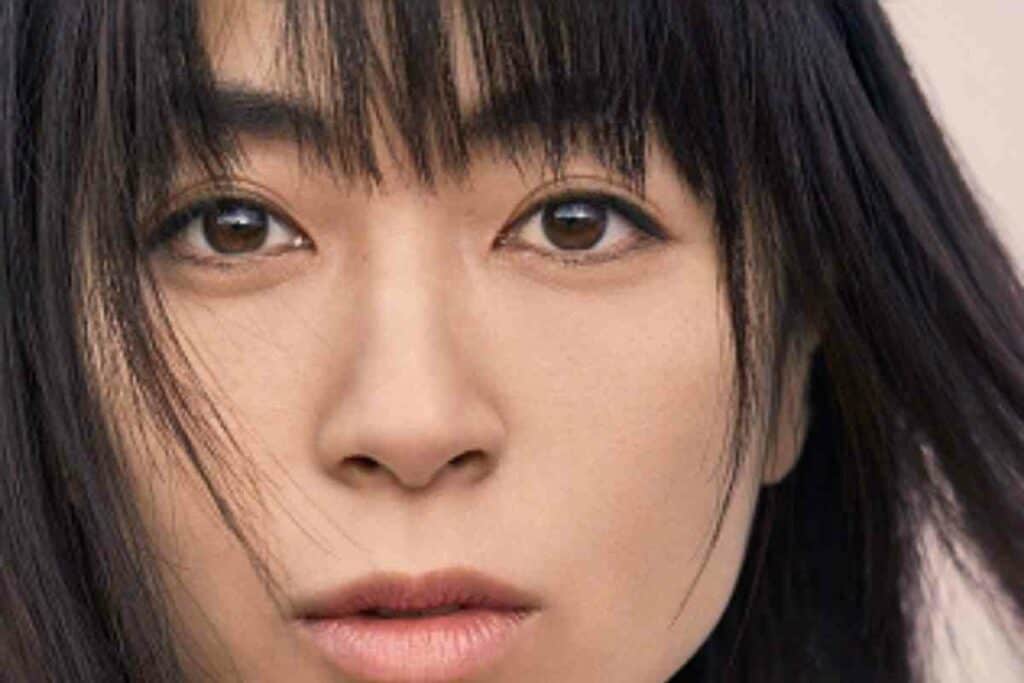 Her song "Heart Station" tells a story of two separated people that communicate secretly by radio signal.
One of her first songs, "First Love" has a few lines in English and is often still played in shops and restaurants around Japan.
This is a classic romantic song. Another song, "Sakura Drops" is about heartbreak.
Her biggest singles were "Addicted to You", "Can you keep a secret?" and "Wait & See (Risk)" from her 2001 album Distance.
Utada was actually born in New York City to Japanese parents.
She went to Columbia University and has been married and divorced twice. In 2022, she released "Hikaru Utada Live Sessions from Air Studios" on Netflix.
Final thoughts on the 11 best Japanese music artists
There are so many amazing music artists in Japan, that it's impossible to choose.
Even if none of these eleven float your boat, there's plenty more out there that will.
Whatever your favorite music genre, you're guaranteed to find a band or artist that you like in Japan. 
If you're really into music, culture and history, have a look at some of the most famous Japanese tracks and singers – even if they're not from your preferred genre.
Exploring a country's music can teach you so much about the culture and you might end up finding a song you can't stop listening to!