When it comes to Japanese cuisine, there's a lot to love.
Ramen, sushi, tempura… the list goes on and on.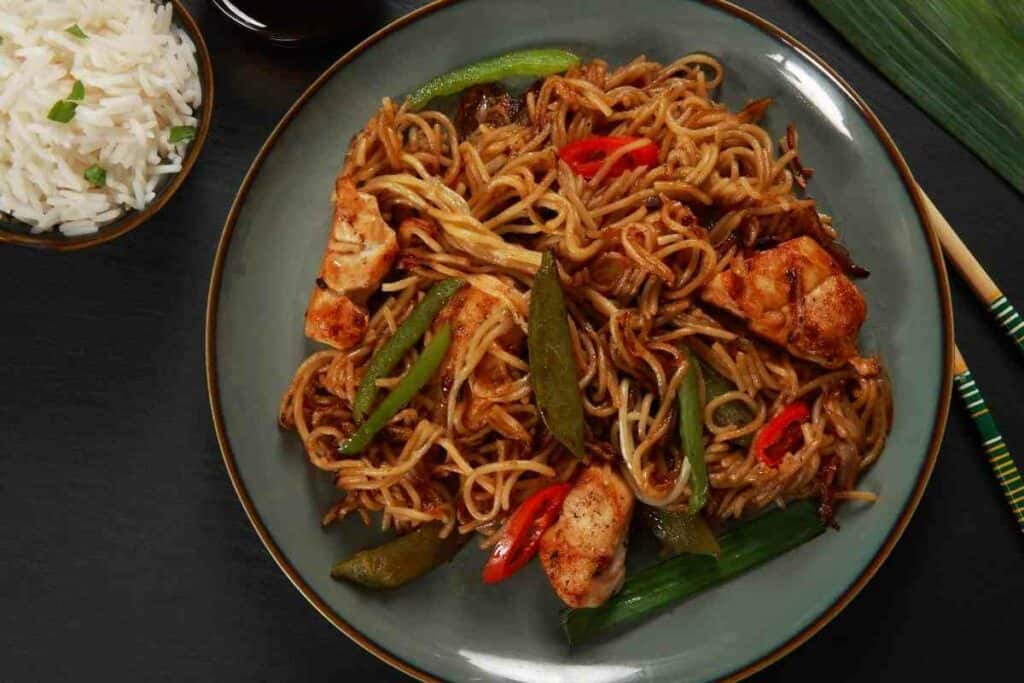 But if you're looking for a hearty dish that will fill you up without breaking the bank, you can't go wrong with yakisoba or chow mein.
In this article, we'll take a side-by-side look at these two dishes, explore their differences, and share recipes for each so you can try them out for yourself!
What is Yakisoba?
So what exactly sets these two dishes apart?
Let's start with yakisoba.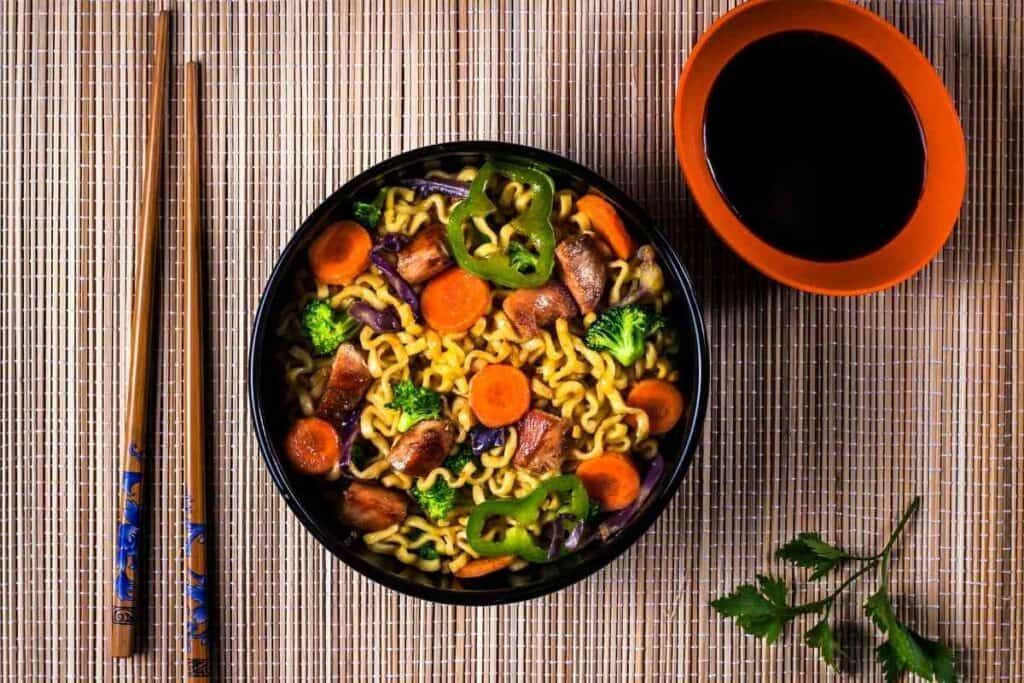 This is a Japanese dish that translates to stir-fried noodles.
With most Japanese dishes, flavors are gathered from the local area, and you might be familiar with soy sauce, sesame oil, or mirin to flavor common Japanese dishes.
Yakisoba, on the other hand, gets its flavor from a Worcestershire sauce that was introduced to Japan by the British. This gives yakisoba a sweeter flavor than most other Japanese dishes.
Yakisoba is thought to have originated in China, where it is called chow mein.
It was introduced to Japan in the early 20th century and quickly became popular due to its ease of preparation and delicious flavor.
Over the Years – Yakisoba has become a staple of Japanese cuisine, appearing on menus at restaurants and stalls across the country. 
Making yakisoba is a fairly straightforward process.
The noodles are cooked first, then stir-fried with the vegetables and meat of your choice.
Once everything is cooked through, the sauce is added to give the dish its signature savory flavor.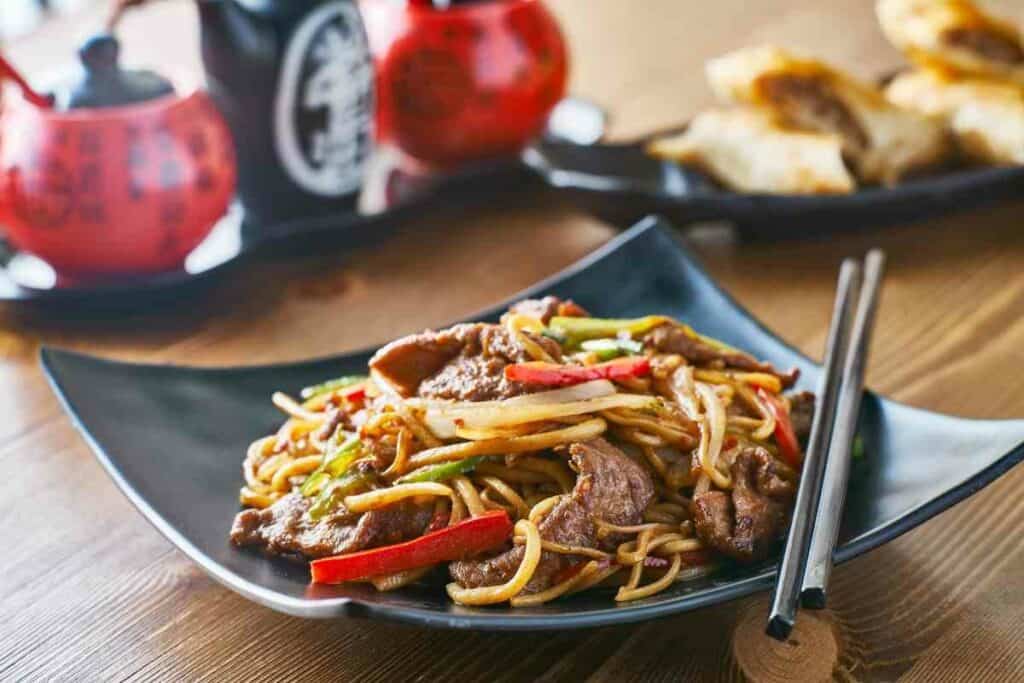 The sauce typically consists of:
soy sauce
Worcestershire sauce
vinegar
sugar
and pepper 
If you're feeling adventurous, there are many ways to customize your yakisoba.
Common additions include:
egg
cheese
bean sprouts
mushrooms
peppers, etc.
You can really make it your own by adding whatever ingredients you like!
Once you've mastered the basic recipe, feel free to experiment until you find your perfect combination.
What is Chow Mein?
Now let's take a look at chow mein.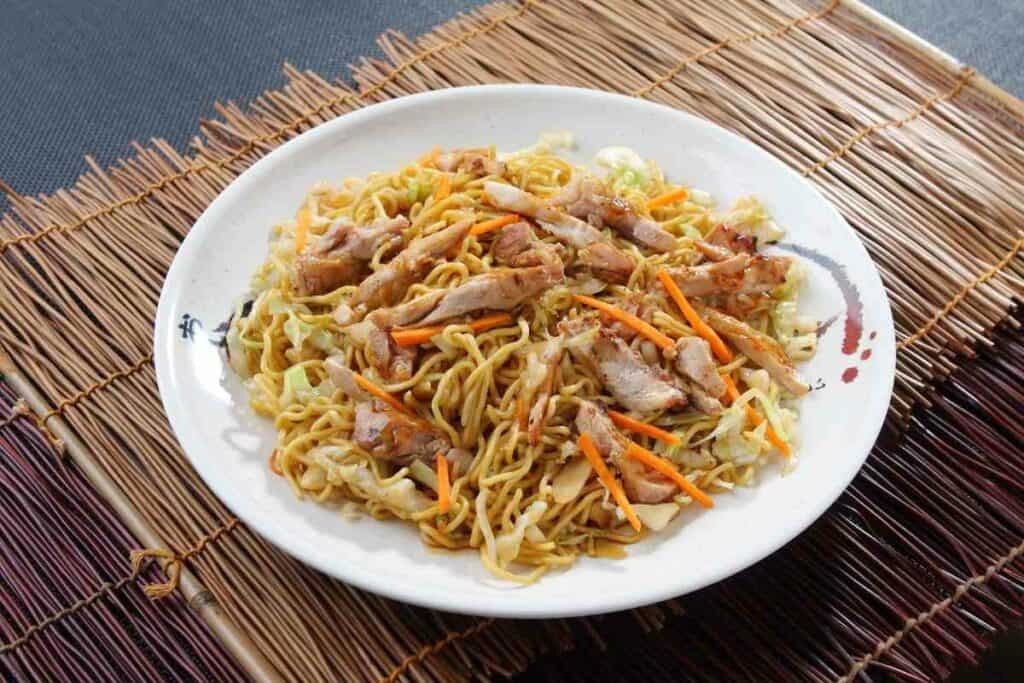 Chow mein is a Chinese dish that also translates to stir-fried noodles:
"chow" translates to "stir-fried"
"mein" means noodles
This is the dish that you probably think of when you think of a noodle dish.
There are many different types of chow mein, but the most common are Cantonese chow mein and Szechuan chow mein.
Cantonese Chow Mein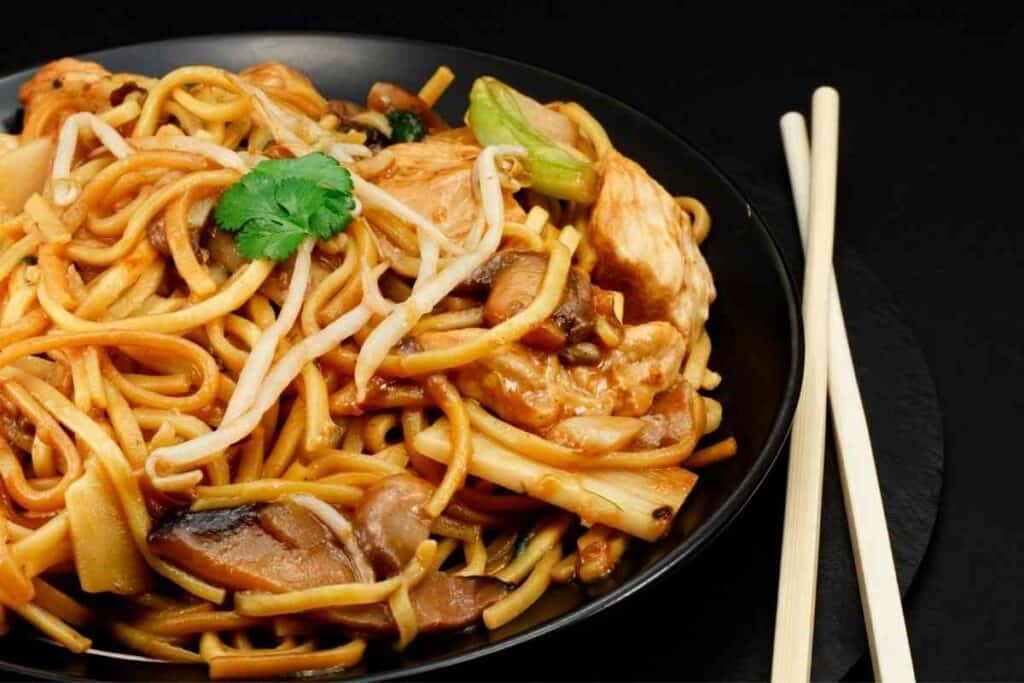 Cantonese chow mein is made with soft noodles and can be served with chicken, shrimp, or beef.
The noodles are cooked in a variety of sauces, including oyster sauce, soy sauce, and hoisin sauce. This type of chow mein is often served with vegetables on the side.
Szechuan Chow Mein
Szechuan chow mein is made with fried noodles and usually has a spicy flavor.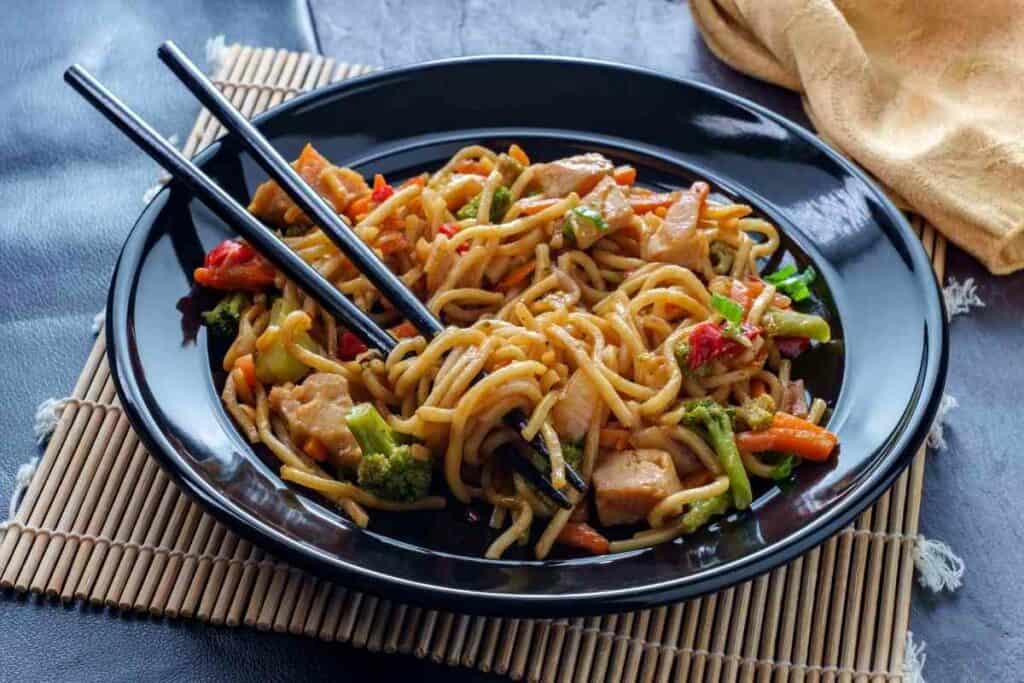 It is typically made with chicken or pork as the main protein, but can also be made with shrimp.
The noodles are usually stir-fried with vegetables such as cabbage, carrots, and onions.
Yakisoba Recipe
Are you ready to try the Japanese stir-fried noodle dish?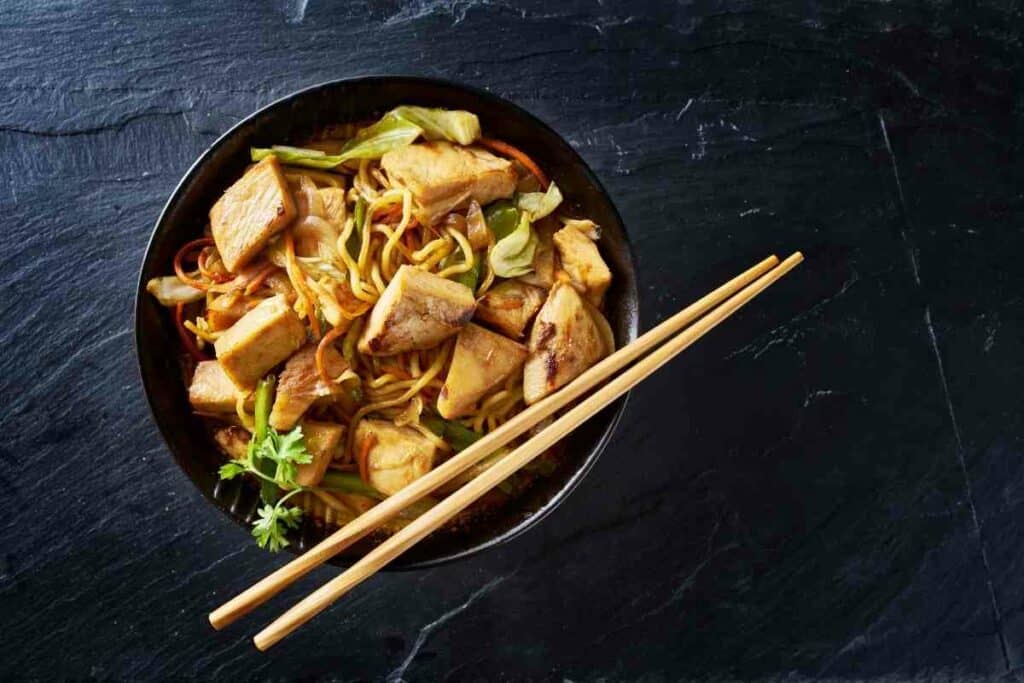 Here is everything you need to know to be able to make it at home.
Ingredients:
1 package of yakisoba noodles
½ teaspoon vegetable oil
1 green onion, thinly sliced
1 carrot, julienned
½ red pepper, julienned
8-12 ounces pork belly, thinly sliced
½ teaspoon salt
¼ teaspoon black pepper
3 tablespoons yakisoba sauce 
2 tablespoons water
1 teaspoon sugar
1 teaspoon cornstarch 
1 sheet nori (dried seaweed), toasted and crumbled
Instructions:
Cook the noodles according to package instructions. Drain and rinse with cold water.
Heat the oil in a large skillet over medium-high heat and add the onion, carrot, and pepper. Cook the vegetables in the oil for 3-4 minutes or until they are slightly softened.
Add the pork belly and cook for 5 minutes until crisp.
Add the noodles and salt and pepper, and toss to combine.
In a small bowl, whisk together the yakisoba sauce, water, sugar, and cornstarch. Pour over the noodles and cook for 2 minutes until the sauce has thickened.
Serve with crumbled nori on top.
Yakisoba Sauce Recipe
If you can't find yakisoba sauce at your local store, don't worry!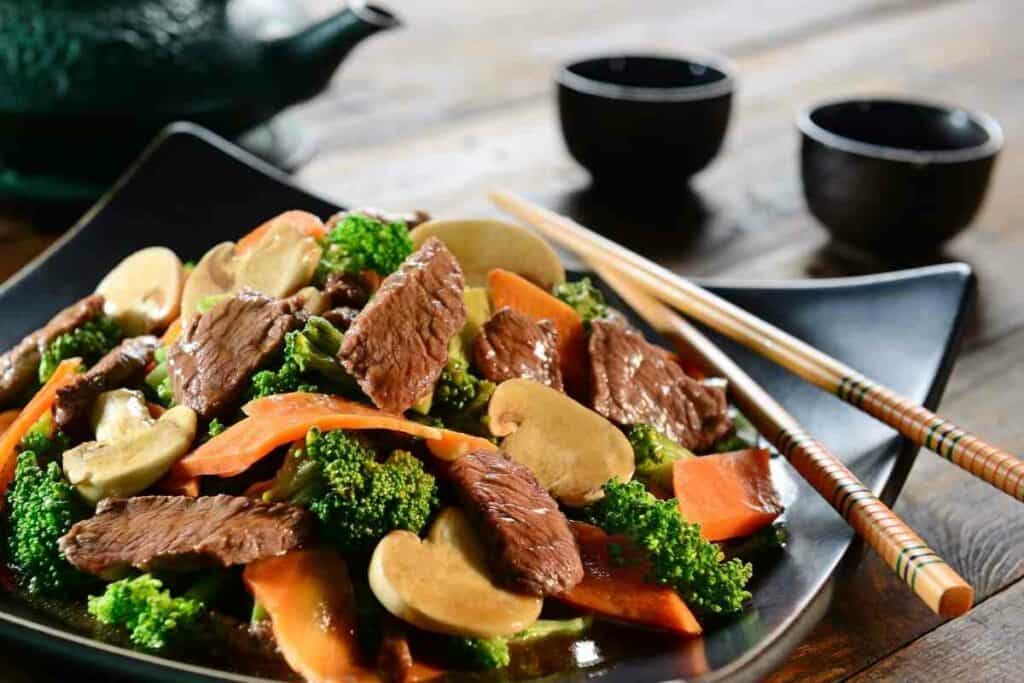 Yakisoba sauce is easy to make at home with just a few simple ingredients.
Ingredients:
3 tablespoons oyster sauce
2 tablespoons soy sauce
1 tablespoon Worcestershire sauce
1 tablespoon rice vinegar
1 teaspoon sugar
1 teaspoon sesame oil
¼ teaspoon black pepper
Instructions:
Mix all of the ingredients together in a bowl and whisk until combined.
You can store the sauce in an air-tight container in the fridge for up to 2 weeks, but with how tasty this dish is, chances are you won't have anything left to store.
Chow Mein Recipe
Ready to try your hand at chow mein?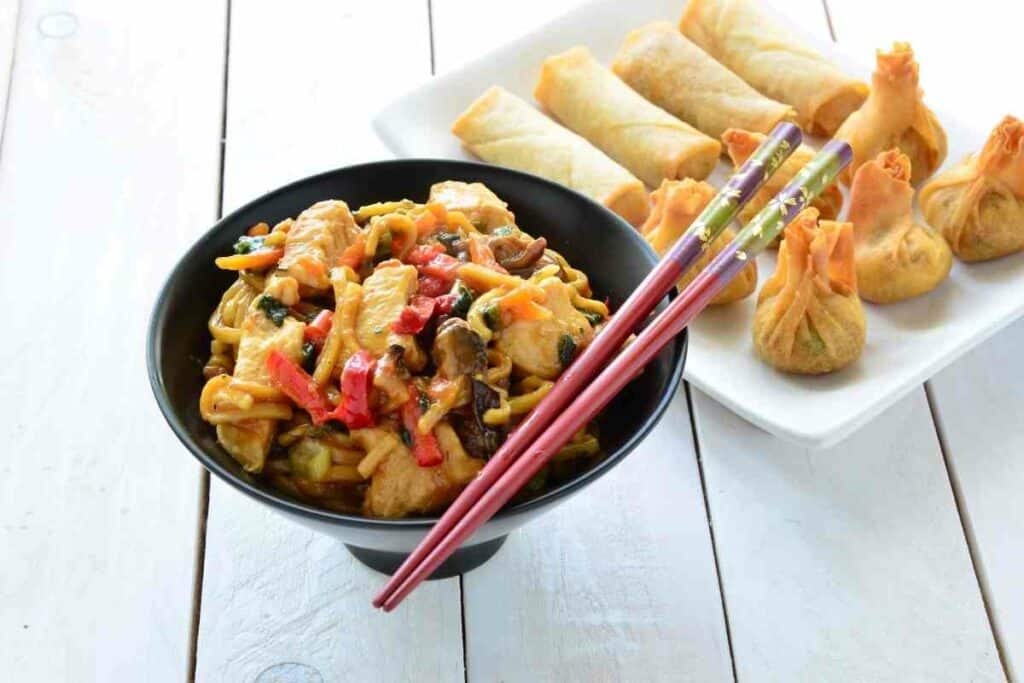 This chow mein recipe includes a full list of ingredients and simple instructions for how to make it. 
Ingredients: 
1 package of chow mein noodles 
2 cups of your choice of meat
1/2 cup of vegetable oil 
1/4 cup of soy sauce 
1 tablespoon of sugar 
1 teaspoon of salt 
1/4 teaspoon of black pepper 
1 clove of garlic, minced 
1 onion, chopped 
2 cups of cabbage, shredded 
2 carrots, shredded or julienned 
1 green bell pepper, julienned 
1 can of bean sprouts, drained (optional) 
1/4 cup of chicken broth or water (if needed) 
2 tablespoons of cornstarch dissolved in 1/4 cup of water (for thickening)
Instructions:
Cook noodles according to package instructions. Drain and set aside. 
Use a large skillet. If you prefer, the wok will do the job. Heat the oil over high heat, add the meat, and cook until it has browned. 
Add the soy sauce, sugar, salt, pepper, garlic, and onion to your wok and stir-fry for 2 minutes. 
Add the cabbage, carrots, bell pepper, and bean sprouts (if using), and stir-fry for 3-5 minutes until the vegetables are tender. 
Add the chicken broth or water if the vegetables start to stick to the pan. 
Stir in the cornstarch mixture and cook for 1 minute until the sauce has thickened. 
Add the cooked noodles and toss to combine. Serve immediately.
Final Thoughts
So, what's the verdict?
Chow mein or yakisoba – which is the best stir-fried noodle dish?
In our opinion, they're both delicious and definitely worth trying.
If you've never had either before, we recommend giving them both a go and deciding for yourself which one you like better.