From its rich cultural history to its inspiring nature, Japanese jewelry has grown and developed into many styles from traditional to more modern and contemporary jewelry.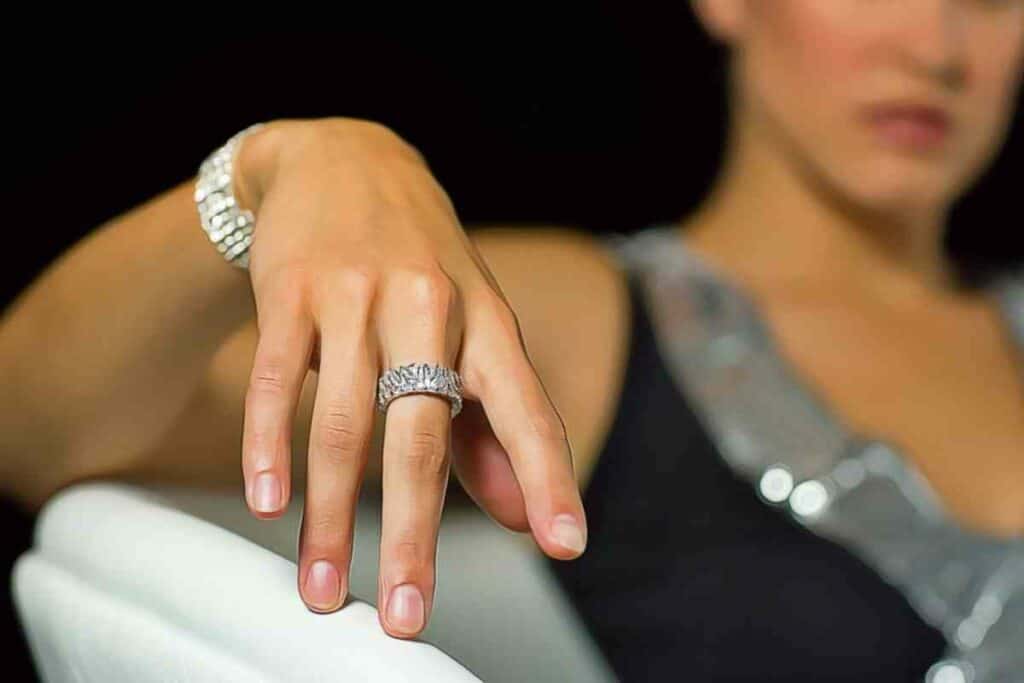 With its rich history in jewelry making, it's not just the women who are interested. Men from across the globe covet unique Japanese styles.
Let's take a look at some of the best brands of Japanese jewelry that you should know.
Mikimoto
Founded in 1893 by Mikimoto Kōkichi, Mikimoto jewelry is famous for its exquisite pearls.
In fact, Mikimoto created the first cultured pearls and the brand has sought to harness the pearls' allure ever since.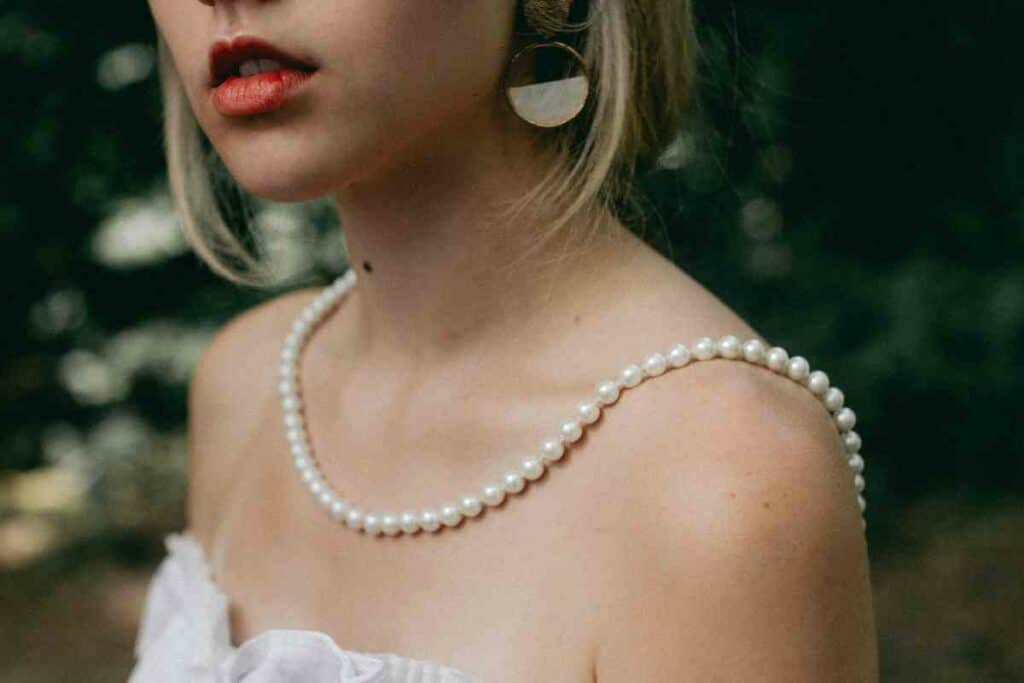 The creators aim to shape their hopes and dreams into their pearl jewelry and have done so for more than 130 years.
The pearls featured include:
South Sea Pearls
Tahitian Pearls
Akoya Pearls
And they're often paired with precious stones and diamonds.
The brand aims to embody a sense of aesthetic and artistry that is native to Japan but that has also been shaped by other cultures.
Read next – Mikimoto Pearl Island
The craftsmanship of their pieces is unparalleled and the makers are passionate about their craft.
They are one of the global leaders in pearl jewelry, using only the finest of pearls that meet their strict criteria, which equates to less than around 10% of their tested pearls.
Tasaki
Established in 1954, Tasaki is known for its minimalist, contemporary style.
Their designs are borne out of Japan's rich seascapes and natural environments, embodying true Japanese beauty.
In 1970, Tasaki was the first jewelry brand to farm a brown-lipped pearl oyster.
This propelled them into being one of the biggest names on the Japanese jewelry scene. They're also famous for superior techniques in diamond polishing.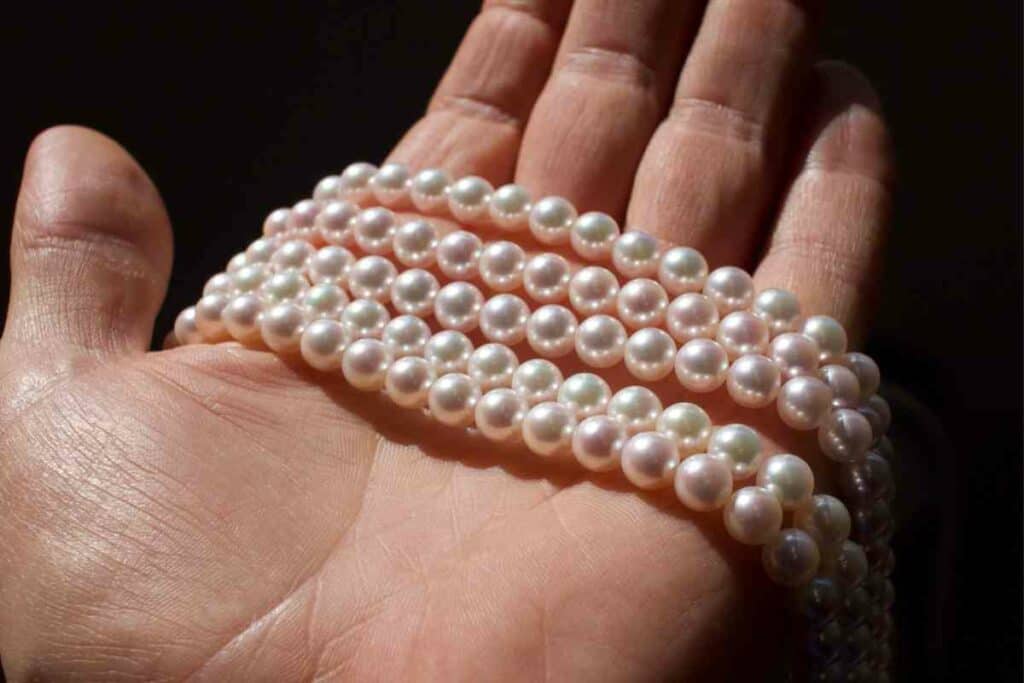 Tasaki jewelry incorporates a range of stunning pearls in its pieces, including:
South Sea pearls
Mabe pearls
and Baroque pearls as well as Akoya pearls
Their diamond jewelry is unique in its brilliance with Tasaki aiming to ignite each diamond's inner fire.
One of Tasaki's key pieces is its Sakuragold – gold that's based on the beauty of the cherry blossoms with a golden pinkish hue, that closely resembles some hues of human skin.
Hikaru Furuhashi
Tokyo-based Hikaru Furuhashi is known for her geometric and sculptural jewelry pieces.
Hikaru's designs often incorporate unique textures and shapes such as hammered metals and rough-hewn stones.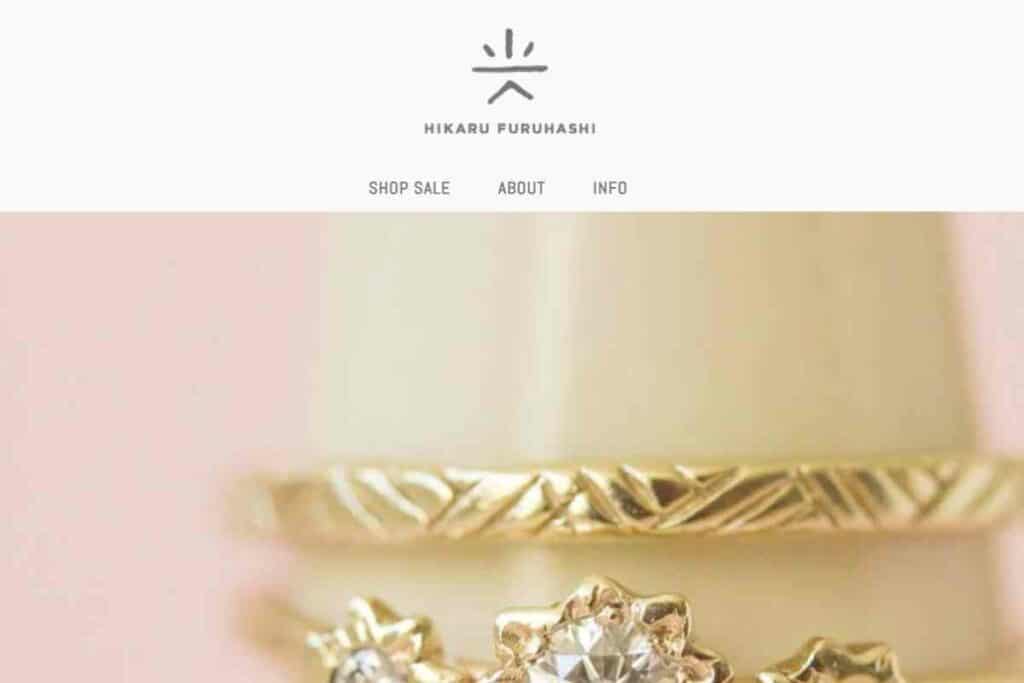 Hikaru's self-named jewelry brand brings together her interest in art and folk culture, both traditional and contemporary, from all over the world.
Hikaru grew up in Japan's mountains, with the contours and shapes inspiring her work and her travel exposing her to different shapes, lines and colors.
What's great about Hikaru's jewelry is that it's all hand-crafted in her private studio using only ethical and environmentally friendly materials and techniques. She uses gemstones that are ethically sourced as well as recycled materials.
Kashikey
This family-run jewelry brand started out in 1928 in a store "Kashiwa Kei Shoten".
This store had a range of haberdashery and a kimono line as well as other things that were aimed with Japanese women in mind.
Its designs, as you'd expect, are traditional and include things such as the "Mon" emblem worn by samurai warriors. The business has now expanded into wholesale after jewelry imports were liberalized in 1961.
Kashikey makes its jewelry with a great attention to detail in beautiful designs. They use their knowledge that has been cultivated throughout the generations as well as raw materials that they procure with the most accurate of eyes.
Diamonds, pink diamonds, brown diamonds and conch pearls all feature in their stunning pieces.
Hirotaka
Hirotaka jewelry is designed to be a lifestyle rather than just a piece of jewelry.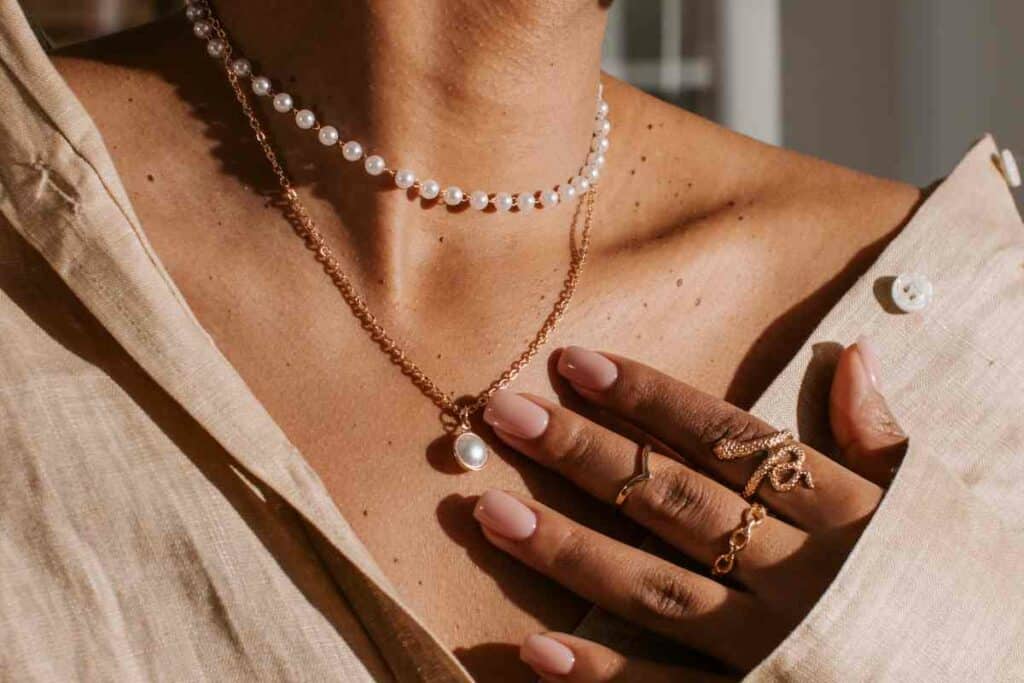 The company believes that our jewelry choices are truly personal and are akin to tattoos as they're worn so close to our bodies that they become a part of us.
As such, Hirotaka encourages people to have their own personal style when it comes to their jewelry choices, mixing abstract and conceptual pieces with their personalities.
Hirotaka presents its jewelry as a collection of layers, adding ear cuffs, earrings, necklaces and rings to create unique combinations.
Their themes are closely aligned with nature, finding beauty in silhouettes and shapes found in the deep ocean and amongst the wonders of the rainforest.
Hirotaka is one of the newer jewelry brands, first launching not in Japan but in Soho, New York, at a trunk show catching stylists' eyes in 2010.
It launched its flagship store in Tokyo six years later. It's now available all over the world with its stores created with intimacy in mind. The boutiques are all unique too with their own theme.
Niwaka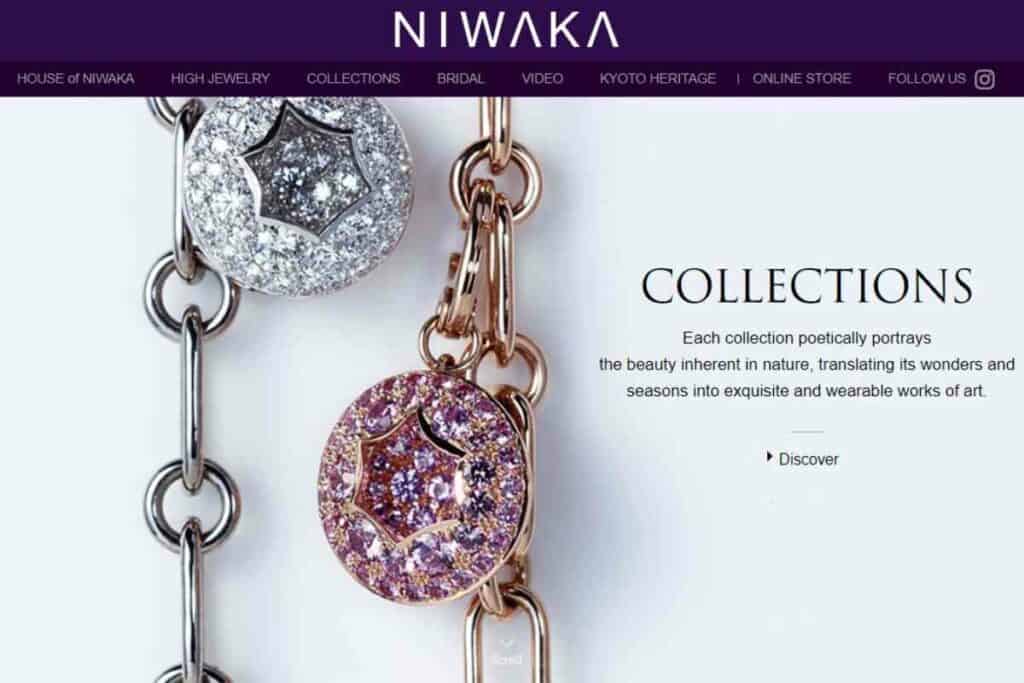 Launched in Kyoto, Japan, the jewelry brand embodies the city of its founding where art and traditional culture thrive.
The jewelry brand has blossomed thanks to its unique vantage point of being at the foot of Kyoto's glorious history and captivating beauty.
With superior craftsmanship and daring designs, the jewelry is made from the highest quality materials sourced with the strictest possible standards.
Niwaka is considered to be one of Japan's leading jewelry brands and states that it is a brand that stays true to its Japanese heritage.
Niwaka's pieces use the world as inspiration, with the design team working alongside the craftsmen to bring the jewelry to life so that it will endure for a lifetime.
Some of Niwaka's designs include nature's vibrant hues such as those of the cherry blossom trees and changing seasonal wonders seen across Japan.
Celebrities such as Kirsten Dunst have been spotted wearing Niwaka's fabulous pieces at prestigious events such as the Academy Awards.
Fujimori
Founded in 1970, Fujimori has grown rapidly as a popular Japanese brand of jewelry.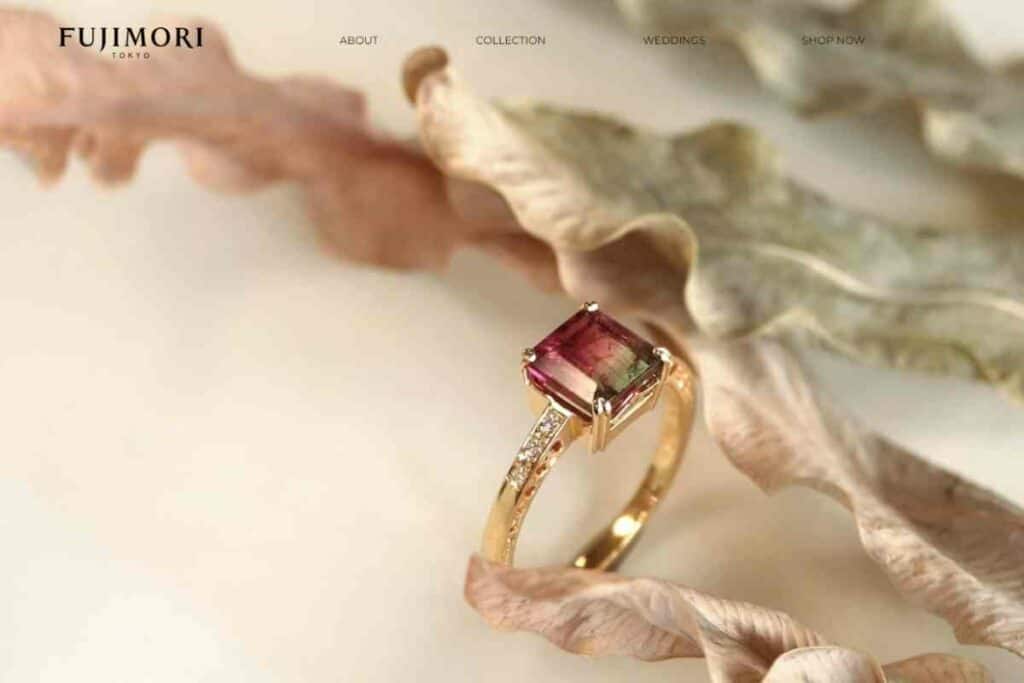 Specializing in playful, abstract designs, the brand cleverly merges the contemporary and classic to give a unique piece. Not surprisingly, the pieces appeal to the masses.
Kenji Fujimori, the brand's creator, studied how to make jewelry in Paris before founding a humble atelier.
Today, it's his son, Takashi, that has continued his father's legacy, creating avant-garde designs. With studying in Europe, it's no surprise that inspiration still comes from the time spent there.
With a collection of charm and beauty, the designs ignite curiosity with their eye-catching colors and contours.
The company make sure to pick each stone, carefully selecting only the very best to use in their class creations. Their talented team of artisans make their visions into the pieces you see before you today.
FAQs About Japanese Jewelry Brands You Should Know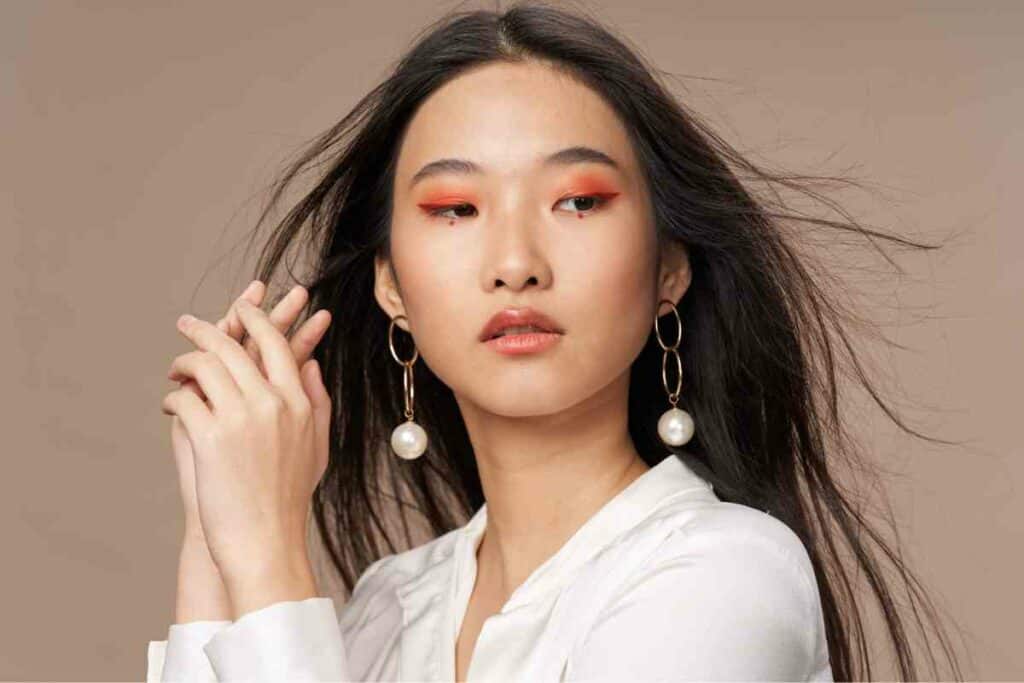 What types of materials are commonly used in Japanese jewelry?
Commonly used materials in Japanese jewelry include gold, silver, platinum, pearls, and gemstones such as jade, turquoise, and coral.
What Japanese regions are known for producing high-quality jewelry?
Japan has several regions that are known for producing high-quality jewelry, including Tokyo, Kyoto, and Kanazawa.
What occasions are Japanese jewelry typically worn for?
Japanese jewelry is often worn for special occasions such as weddings, traditional festivals, and formal events.
How does Japanese jewelry compare to other Asian jewelry brands, such as Korean or Chinese?
Japanese jewelry differs from other Asian jewelry brands in terms of design and cultural significance.
For example, Chinese jewelry often incorporates symbols and motifs from Chinese culture, while Japanese jewelry often reflects the country's natural beauty and traditions.
Are there any specific colors or gemstones that are commonly used in Japanese jewelry?
Red is a popular color in Japanese jewelry, as it is considered a lucky color. Gemstones commonly used in Japanese jewelry include amethyst, aquamarine, ruby, and sapphire.
Final Thoughts
Whether it's the pearls from Mikimono or Tasaki or Hikaru Furuhashi's hammered metals, Japanese jewelry has something for everyone.
From styles that date back to the times of the samurai warriors to the contemporary designs of Hirotaka, what you're sure to find is something that you love. There is a Japanese jewelry style for everyone.